In our continued Covid-impacted world, customers now expect more and businesses need to accept their increased demands or risk losing them to rivals. A new report from call validation and fraud detection company, Next Caller has highlighted that many businesses across the travel industry are failing as the ongoing stress of the pandemic on business practices has lessened the margin for error brands in the industry have when it comes to customer service.
It illustrates that with the widespread staffing crisis continuing to force teams to do more with less, the coming expectant surge of travel activity has brands facing a situation where they must find a way to keep up with the demand or risk losing customers. In fact, three in five (60%) consumers indicate that they would switch travel brands after just one or two poor customer service interactions, so the risks are clear to observe.
In order to help brands keep up with this ever-shifting landscape, Next Caller commissioned a study to over 1,000 consumers to analyse the experiences they've had during the 'return to travel' and illuminate what brands must do to navigate successfully through the next couple months and beyond.
The importance of good customer service is clearly evident. However, worryingly approaching half consumers (46%) noted their recent experiences when calling a travel or hospitality brand were "just OK", with an additional one in five (20%) saying it was "slow and frustrating." That means that together two-in-three are facing nothing more than average experience.
When consumers were asked to identify why they choose certain businesses for their travel needs, the top three responses were that "it's usually a great experience", that "when issues come up it is fast and easy to deal with customer service" and that "my experience is consistent every time".
The report shows the importance of customer service to consumers in the travel space and suggests that the industry is currently failing to meet expectations. As we continue the recovery businesses will need to adapt to ensure they better understand changing customer needs. After all, studies still show that most consumers are willing to pay more for a better customer experience.
They say 'a picture paints a thousand words'. In this regular section CTC – Corporate Travel Community offers an illustrative insight into a key industry observation or trend, this week highlighting further research from XM Institute from last year examining feedback from 10,000 US consumers across 20 industries that found a clear link between the quality of customers' experiences and their propensity to engage in behaviours such as purchasing more from a company, recommending the company, forgiving a bad experience and trusting the company.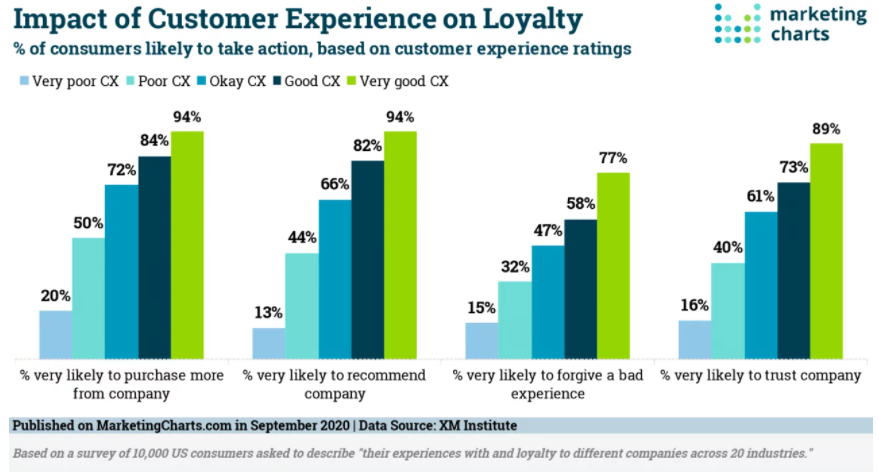 This regular section also now incorporates and expands on the charts produced in the 2020 air capacity series 'Coronavirus Statistics Snapshot'. These are based on an analysis of OAG schedule data and include a weekly look at how the pandemic is impacting global flight levels in the world's largest markets; a week-on-week and year-on-year comparison of flight departures by geographical region and a look at how weekly capacity is trending: the latter comparing levels to 2020 and also to the 2019 baseline performance.
HEADLINE FIGURES FOR WEEK COMMENCING 08-Nov-2021:
Departure frequencies down -2.65% versus last week; up+33.55% versus 2020 and down -28.51% versus 2019.
Seat capacity down -3.14% versus last week; up +37.84% versus 2020 and down -29.25% versus 2019.
CHART: Weekly change in global seat capacity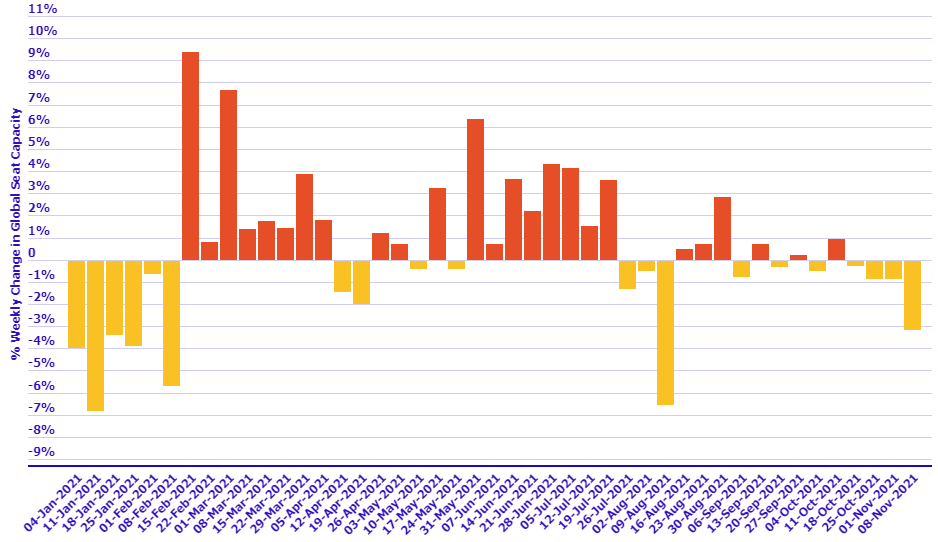 CHART: Week-on-week change in flight departures by region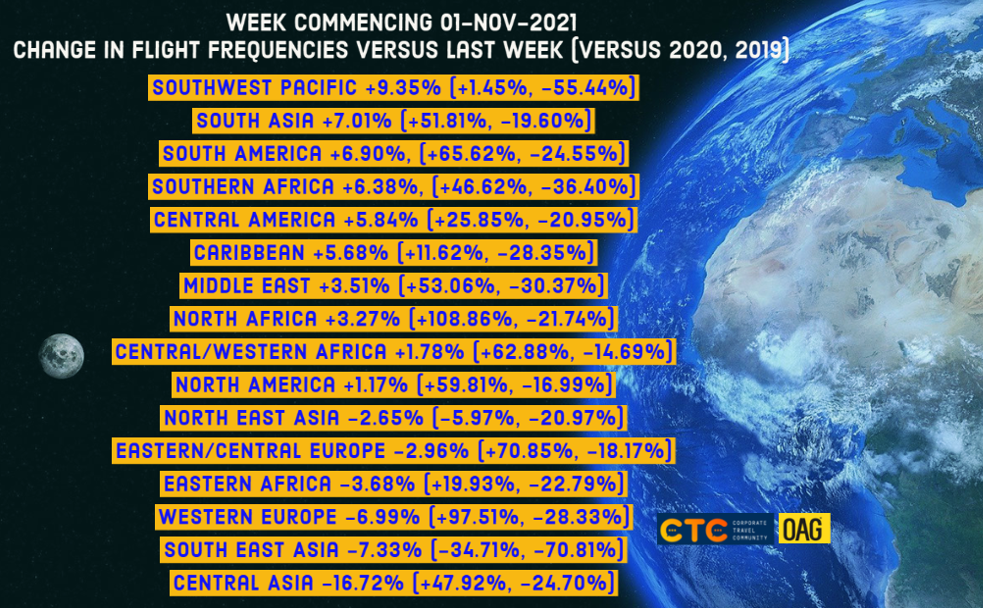 CHART: Year-on-year weekly departures performance for world's top 30 markets versus 2019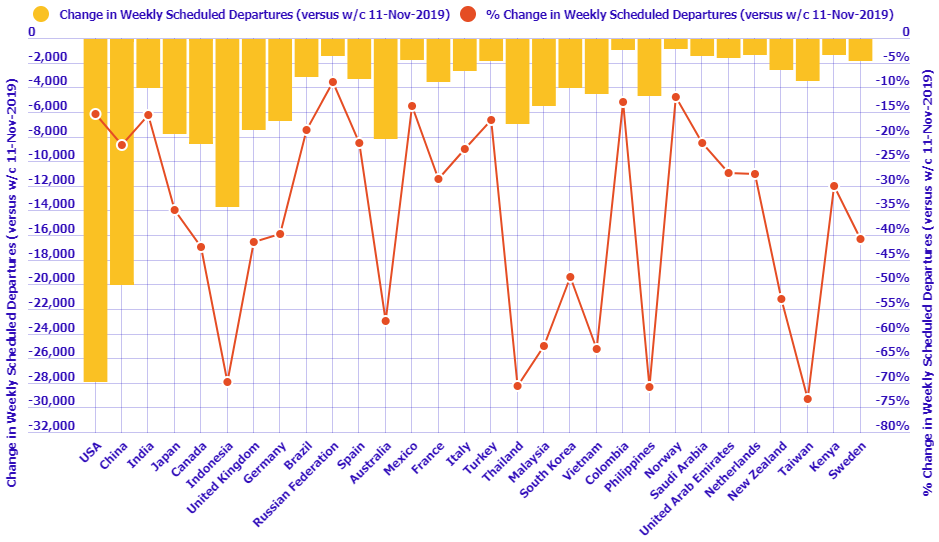 CHART: Year-on-year weekly departures performance for world's top 30 markets versus 2020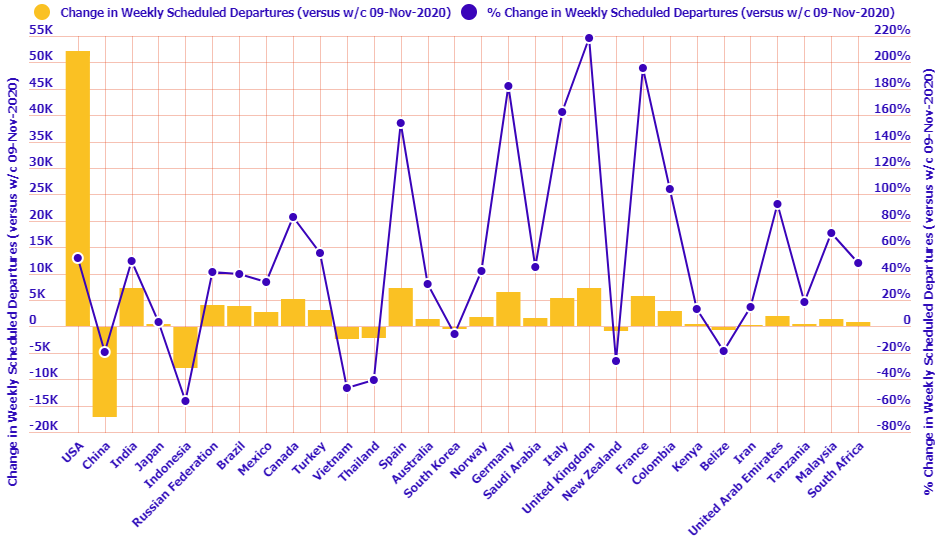 CHART: Departure capacity trends with year-on-year performance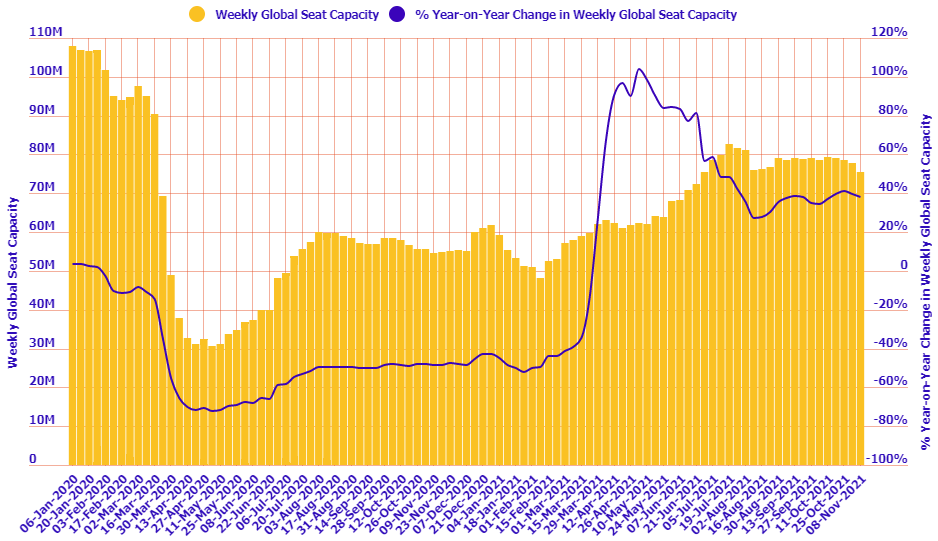 CHART: Departure capacity trends versus 2019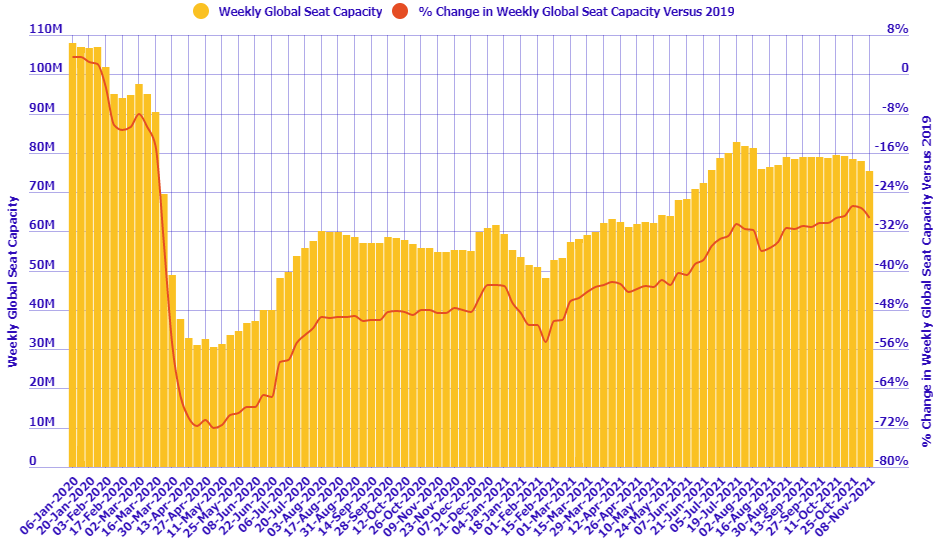 CHART: The world's biggest aviation markets by departure seats