Looking to the year ahead, the research shows one third of US adults (33%) already have at least one trip planned for 2021. Seemingly waiting for broader vaccine distribution and/or warmer weather, the majority plan to take these trips between the months of Apr-2021 and Jun-2021 or from Jul-2021 to Sep-2021, 13% each. Men (38%), younger millennials (ages 25-31) (48%), and those earning USD80,000 or more per year (45%) are most like to have already planned a trip for this year.
The research, a YouGov survey of nearly 1,300 American adults in Jan-2021, found more than half of Americans (55%) have not taken any trips since the Covid-19 outbreak, but not everyone is inclined to stay home. Over a quarter of US adults (27%) said they have taken one to two trips (defined as several hours by car, plane, train, etc.) during the past several months, 12% have taken three to four trips and 6% have taken more than four trips since the start of the pandemic.
The data shows that receiving the vaccine does seem to have an impact on American's likelihood to travel. More than a third (35%) said they would be likely to take and out-of-state road trip and slightly less (32%) would likely take an in-state road trip if they had the vaccine. Over a quarter (27%) of respondents said they would be likely to take a domestic flight and 14% said they would likely take an international flight (up from 10% who said they'd be comfortable flying out of the country in a similar survey in May-2020). However, just 9% said they would be likely to ride a train or other public transport and less (8%) would be likely to take a cruise.
As for accommodation, around three in ten (29%) said they would be likely to stay in a hotel and 14% would likely rent a home through a service such as Airbnb or VRBO. One third (33%) said they are likely to do none of these things if they were to receive the Covid-19 vaccine.
They say 'a picture paints a thousand words'. In this regular section CTC – Corporate Travel Community offers a graphical insight into a key industry observation or trend. In this latest edition we use OAG schedule data to look more closely at the US market and its capacity trends through 2020 and into 2021 in both the domestic and international markets.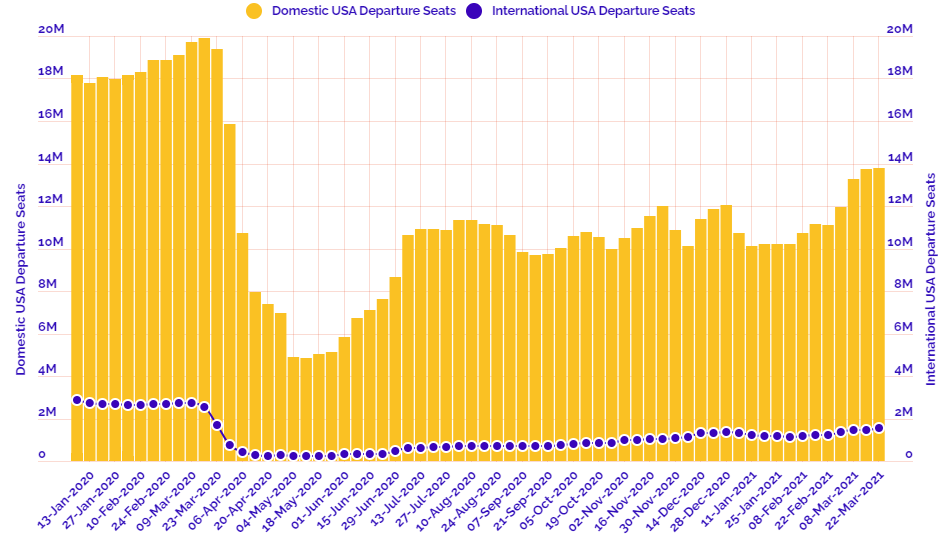 This regular section also now incorporates and expands on the charts produced in the 2020 air capacity series 'Coronavirus Statistics Snapshot'. These include a weekly look at how the pandemic is impacting global flight levels in the world's largest markets; a week-on-week and year-on-year comparison of flight departures by geographical region and a look at how weekly capacity is trending: the latter comparing levels to 2020 and also to the 2019 baseline performance.
HEADLINE FIGURES FOR WEEK COMMENCING 08-Feb-2021:
Departure frequencies down -4.43% versus last week; down -46.83% versus 2020 and down -51.61% versus 2019.
Seat capacity down -5.65% versus last week; down -49.29% versus 2020 and down -54.51% versus 2019.
CHART: Week-on-week change in flight departures by region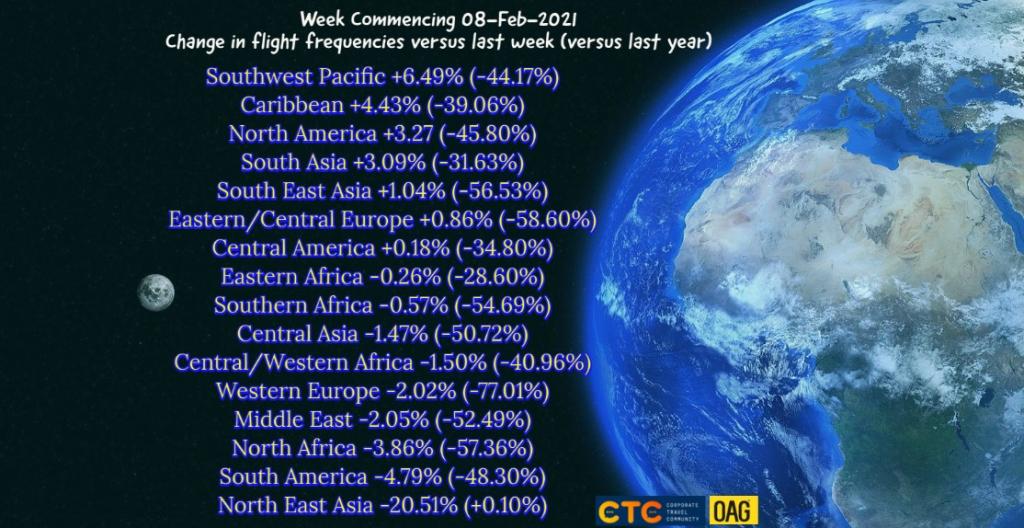 CHART: Year-on-year weekly departure performance for world's top 30 markets versus 2019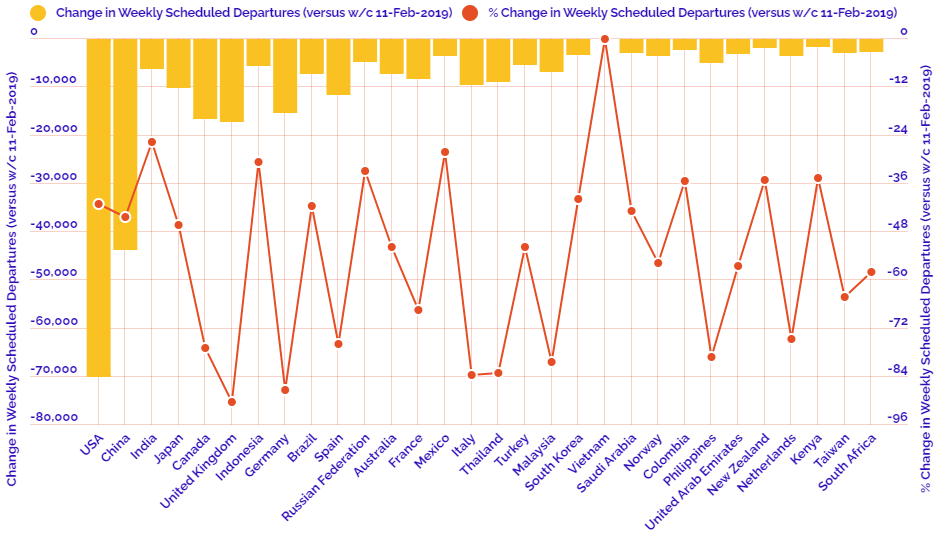 CHART: Year-on-year weekly departure performance for world's top 30 markets versus 2020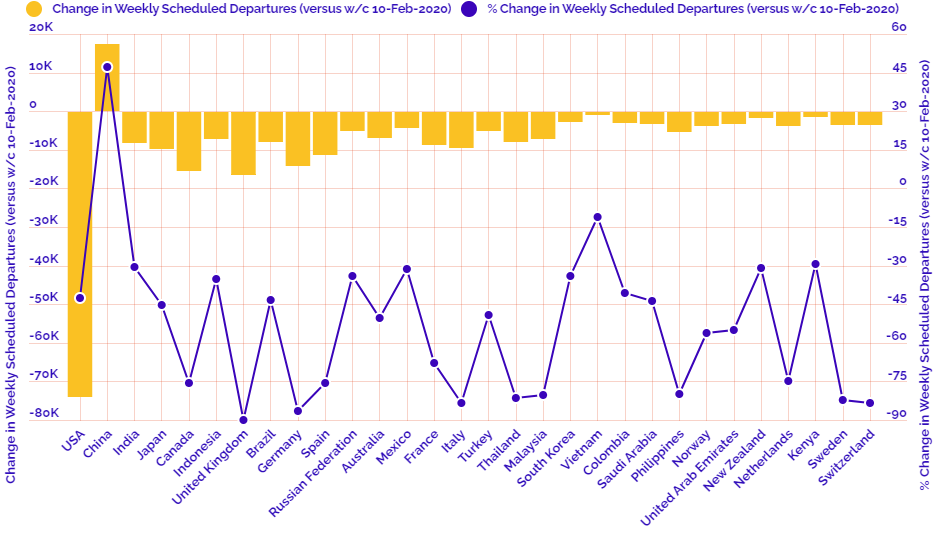 CHART: Departure capacity trends with year-on-year performance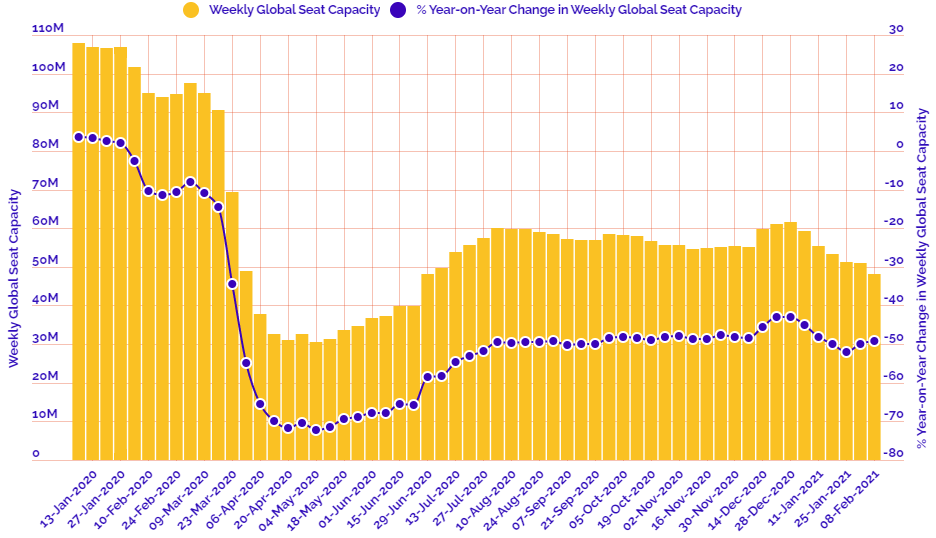 CHART: Departure capacity trends versus 2019