While there does appear to be increasing support to the deployment of vaccine passports, huge concerns still remain on how this can be managed. There are numerous hurdles to overcome – not all vaccinations are seen as equal, while many people are exempt from vaccination on religious or health grounds. Then there is the issue of how to process proofs of vaccination, overcoming fraudulent claims, and when it comes to international travel, doing this all efficiently to avoid excessive border queues.
In the US, a growing number of cities started requiring people to show proof they have been inoculated against COVID-19 during Aug-2021 following a lead set by New York City. However, a number – led by Republican governors or legislatures – have prohibited the creation of so-called vaccine passports or have banned public entities from demanding proof of vaccination.
A nationwide survey from travel experience specialist Upgraded Points to gauge people's opinions when it comes to vaccine passports reported a favourable response. Four in five respondents (81.8%) supported the idea of a vaccine passport. Baby boomers were the generation least likely to support it, but still more than three-quarters (77%) backed such a move.
Interestingly, half (51%) of unvaccinated people said they were more likely to get the COVID-19 vaccine if it were a requirement to travel domestically. More than half women (59%) and men (52%) said proof of vaccination should be required by airlines, hotels, and travel companies with a majority of respondents indicating transportation services (aeroplanes, trains, buses, and cruise ships) should have separate areas for vaccinated and unvaccinated people.
It is already evident that the lack of an internationally recognised vaccine certification system is hindering the travel recovery as many travellers are being left confused about quarantine requirements and travel restrictions. With varying rules, some may opt for domestic trips, even though more international markets are now opening, dealing a blow to destinations that are dependent on international visitation.
Gus Gardner, associate travel and tourism analyst at data and analytics company, GlobalData, notes that while vaccines have quite rightly been hailed as a travel enabler, "fragmented rules" and a "lack of mutual agreements" continue to restrict travel. Travel restrictions were identified as being the second biggest deterrent to travel for 55% of respondents in a recent GlobalData poll.
"Travellers have been left confused over how to provide their vaccination status with varying rules across destinations," says Mr Gardner. For some destinations, he says, travellers "need to jump through several hoops" to prove their status, and if traveling to numerous countries, the process often differs. "Even though it appears restrictions have eased, the complexity of proving vaccination will continue to be a barrier," he notes.
Different nations dictate varying rules to show proof of vaccination, from paper to digital records. Digital records are not easy to obtain in some nations, and will add a layer of complexity for travellers, which could cause them to rethink their plans.
"Proof of vaccination seems to be an afterthought of the vaccine rollout," notes Mr Gardner. The lack of digitalised records in some countries, including the US, makes proving vaccinated status "laborious", he says, while IATA's travel pass, which was "hailed as an industry solution" has not proven popular. "Uptake has been poor, and there has been limited government integration," explains Mr Gardner.
With other providers now entering the space, it has created a "fragmented system requiring travellers to upload proof themselves to generate a digital pass," says the Global Data analyst. "Travellers could pivot to destinations with easier rules or opt for domestic trips as a result causing destinations to miss out on visitors," he says. "Unless steps are taken soon, it could potentially suppress international demand as rules could be too difficult to understand and destinations' recovery may stall as a result."
They say 'a picture paints a thousand words'. In this regular section CTC – Corporate Travel Community offers an illustrative insight into a key industry observation or trend, this week highlighting a graph from The Economist that highlights the patchwork of complicated cross-border travel rules and that many governments are welcoming only recipients of certain COVID-19 vaccines.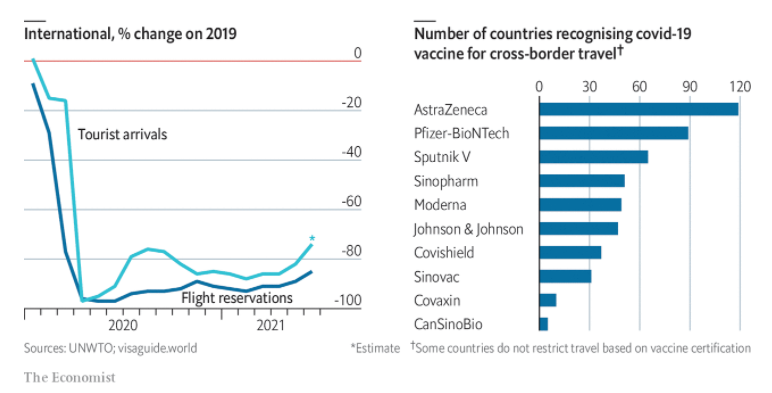 This regular section also now incorporates and expands on the charts produced in the 2020 air capacity series 'Coronavirus Statistics Snapshot'. These are based on an analysis of OAG schedule data and include a weekly look at how the pandemic is impacting global flight levels in the world's largest markets; a week-on-week and year-on-year comparison of flight departures by geographical region and a look at how weekly capacity is trending: the latter comparing levels to 2020 and also to the 2019 baseline performance.
HEADLINE FIGURES FOR WEEK COMMENCING 30-Aug-2021:
Departure frequencies up +2.20% versus last week; up+31.65% versus 2020 and down -30.21% versus 2019.
Seat capacity up +2.82% versus last week; up +35.28% versus 2020 and down -31.41% versus 2019.
CHART: Week-on-week change in flight departures by region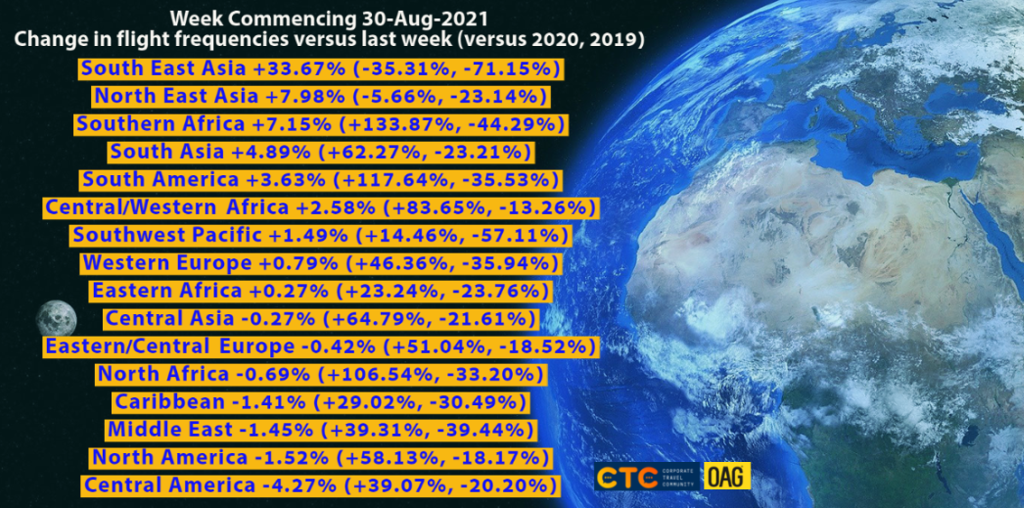 CHART: Year-on-year weekly departures performance for world's top 30 markets versus 2019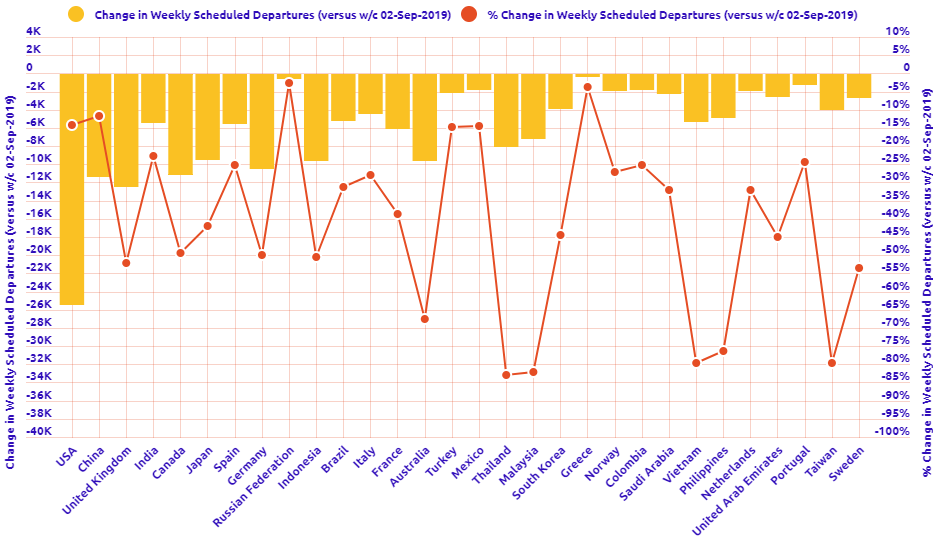 CHART: Year-on-year weekly departures performance for world's top 30 markets versus 2020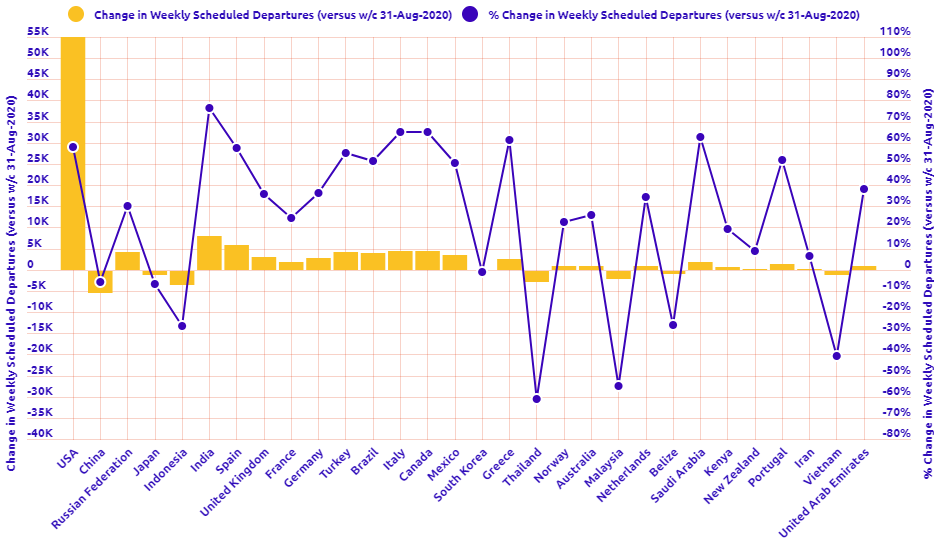 CHART: Departure capacity trends with year-on-year performance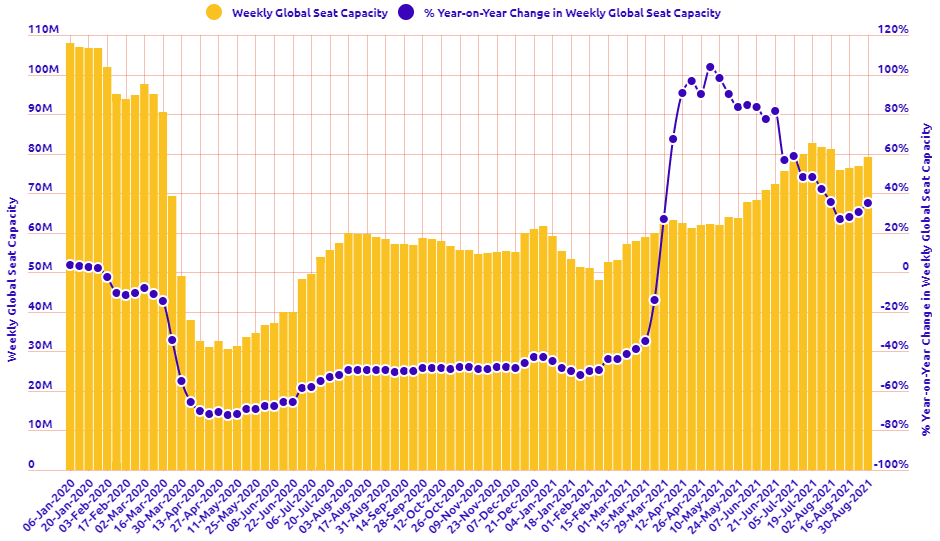 CHART: Departure capacity trends versus 2019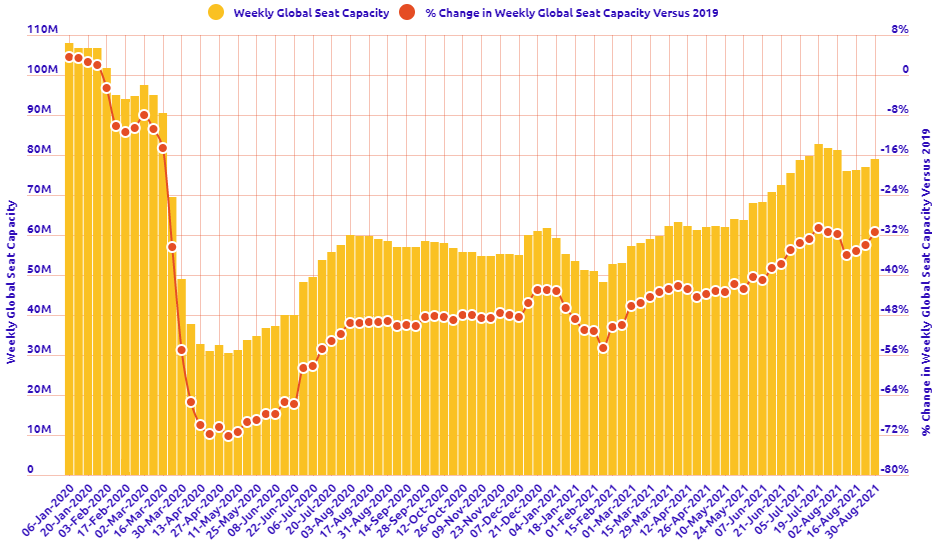 CHART: The world's biggest aviation markets by departure seats