The propensity to travel levels are rising and especially encouragingly the international sentiment is seeing positive upward movement. Latest research of past international travellers in the United States of America by medical insurance, global assistance, and travel insurance company, International Medical Group (IMG) found that almost three in four of respondents (71%) plan on traveling internationally in 2021.
The findings of its 'Future of Travel Survey', found almost half those respondents (49%) aiming to travel abroad in 2021 plan to embark on their first trip before Sep-2021. A small number (13%) see there international travel returning in the spring, with larger levels in the summer and autumn – 36% and 32% respectively – and 14% in the winter months.
The domestic sentiment for travel among this group is almost nine in ten, with 88% of respondents saying they are planning to travel domestically this year. Almost half of that total (44%) are actually planning on taking three or more domestic trips.
The COVID-19 vaccine rollout is understandably a key motivating factor to jump-start international travel, but coronavirus remains a big factor in travel interest, either in the form of more spreadable and potentially more deadly strains, or simply the fear it continues to spread among populations.
A high majority of respondents to the IMG survey (86%) said COVID-19 has affected their willingness to travel. More than half (57%) said it had a major effect on their willingness to travel. But, it appears most are coming to terms with living alongside the infectious disease. Key motivating factors that will drive desire to travel according to respondents were registered as ​receiving the vaccine​ (69%), flexible cancellation policies​ (64%) and low fares​ (57%).
Elsewhere, a survey of over 8,000 visitors to the SchengenVisaInfo.com site, an independent information and news publishing websites for Schengen Visa related material, found that 95% of travellers would consider travelling as soon as the travel restrictions are lifted, with a similar level (87%) claiming that they desperately need to take a vacation/trip outside their country of residence right now.
Questioned on the reasons they would travel first if the borders reopen in the following months, three-quarters of the participants (74%) claimed that the first trip they would take would be to visit family members and friends. Less than one in five (17%) plan to travel in order to relax, less (14%) in order to explore new places, and the rest for other reasons, including just 8% for work-related activity.
More than half respondents (54%) believe that despite the spread of the virus and its mutation all across the world, it is not very risky to travel abroad right now. While only 12% believe that travelling poses risks, the rest, just over a third (34%) say that it could be risky, but are not sure of it.
In spite of their wish to travel as soon as possible, and the belief that travelling is not that risky right now, hopes are low among travellers that they will be able to travel this year, with just 29% believing it will be possible. A higher 37% are quite sure that taking a trip outside their country of residence will not be possible, while the rest of respondents were unsure.
Even if there is uncertainty over where and when we may be permitted to travel, potential UK travellers are still searching for locations for a break. Research by Butter, the UK's buy now pay later travel agency, has found that UK holidaymakers are starting to ramp up the search for some summer sun, with flight and hotel search interest lifting for the first time this year during Mar-2021.
The search interest score attributed to flights averaged 22 during Mar-2021, a +6% uplift on the previous month and the first monthly increase since Dec-2020. However, while this positive movement will bring hope for the months ahead, search interest for flights still remained considerably lower than last year (-66%), with a larger -69% drop for 1Q 2021 as a whole versus 1Q 2020.
In contrast, the outlook for the hotel industry is more positive. At 39, the average search interest score for Mar-2021 remains considerably lower than pre-covid levels, however, search interest in hotels jumped +12% between Feb-2021 and Mar-2021. Perhaps more promising is the fact that this average monthly score was +3% higher than a year ago, with seasonal trends suggesting this is only going to grow stronger as the year progresses.
The pent-up desire to travel combined with the beginnings of vaccination rollout is clearly driving increased booking behaviour. Travellers appear primed ready to go just as soon as governments fire the starter pistol with new bubbles and traffic light systems for travel.
They say 'a picture paints a thousand words'. In this regular section CTC – Corporate Travel Community offers a graphical insight into a key industry observation or trend. Looking at the uplift in travel sentiment in the US and increased propensity for travel bookings, we include a chart from digital marketing solutions provider Sojern that highlights the rising hotel search levels since the start of the year in the US and Canada, as well as the Caribbean.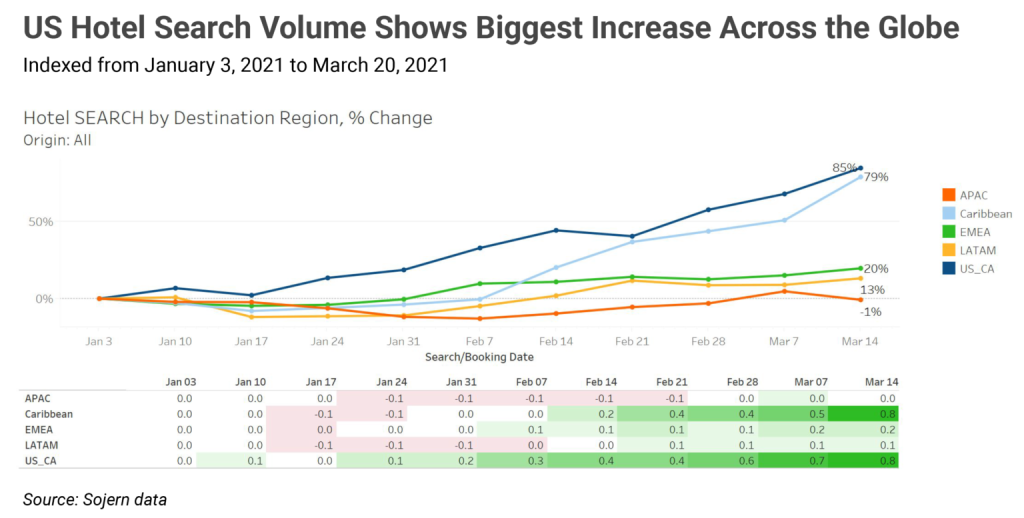 This regular section also now incorporates and expands on the charts produced in the 2020 air capacity series 'Coronavirus Statistics Snapshot'. These are based on an analysis of OAG schedule data and include a weekly look at how the pandemic is impacting global flight levels in the world's largest markets; a week-on-week and year-on-year comparison of flight departures by geographical region and a look at how weekly capacity is trending: the latter comparing levels to 2020 and also to the 2019 baseline performance.
HEADLINE FIGURES FOR WEEK COMMENCING 19-Apr-2021:
Departure frequencies down -1.68% versus last week; up+74.73% versus 2020 and down -42.82% versus 2019.
Seat capacity down -1.95% versus last week; up +96.65% versus 2020 and down -44.37% versus 2019.
CHART: Week-on-week change in flight departures by region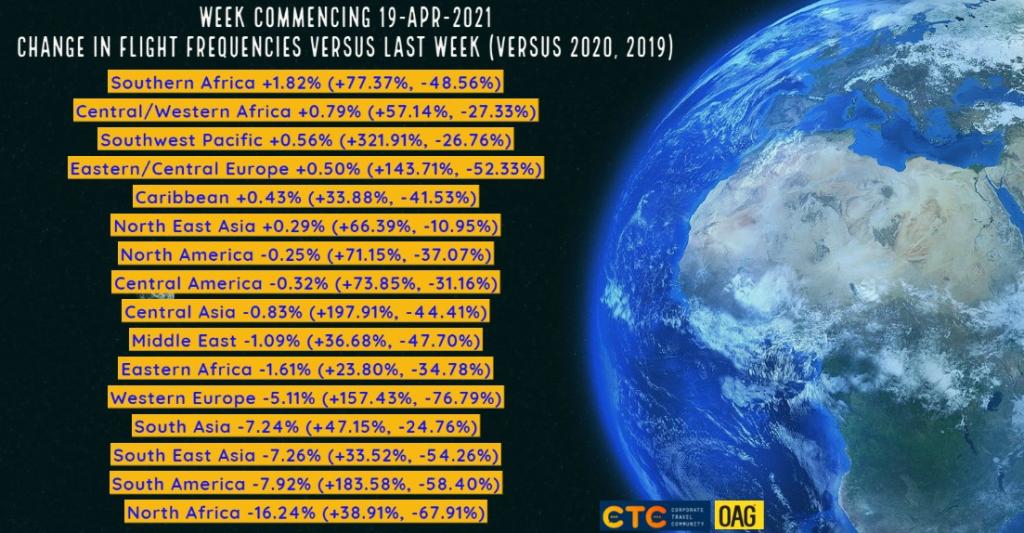 CHART: Year-on-year weekly departure performance for world's top 30 markets versus 2019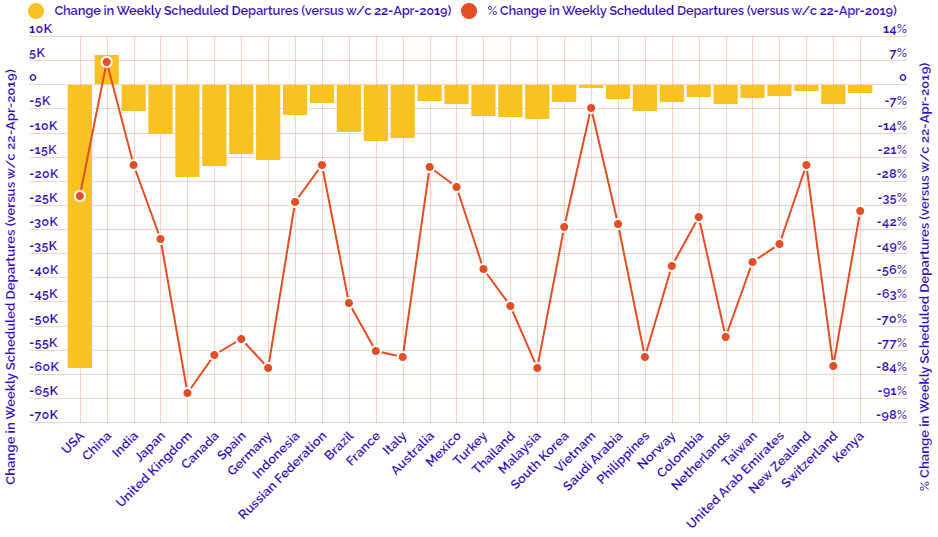 CHART: Year-on-year weekly departure performance for world's top 30 markets versus 2020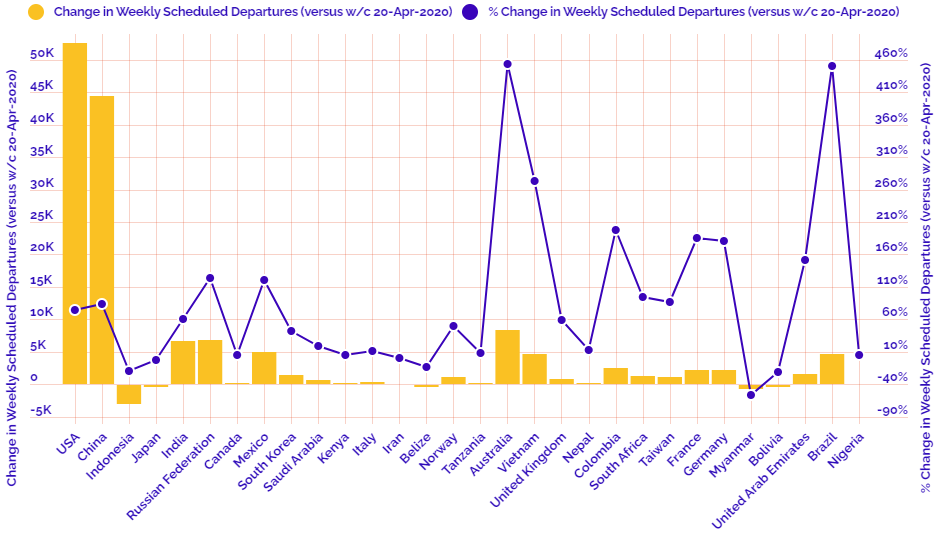 CHART: Departure capacity trends with year-on-year performance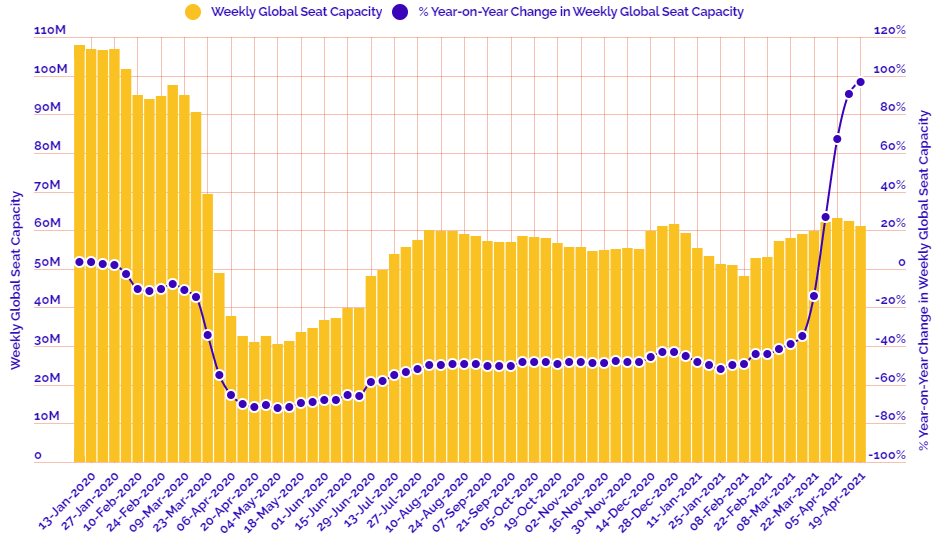 CHART: Departure capacity trends versus 2019