The 'Recovery Insights: Ready for Takeoff?' report from the Mastercard Economics Institute provides a view into key travel trends in the air and on the ground, around the world. From the flying perspective it highlights that one-fifth of countries studied have returned to at least 90% of pre-pandemic levels for domestic flight bookings, with a small number actually exceeding the historic performance.
But while the likes of the United States, Australia and France are seeing favourable domestic flight bookings, others – such as Canada, Thailand and New Zealand – are at a fraction of where they were before the pandemic began, according to the research.
It also suggests that global business travel is lagging global leisure travel by approximately four months. "Global business travel is showing recovery signs, with Australia domestic corporate travel bookings at nearly 80% of pre-Covid levels. Additionally, US domestic corporate travel is back up to just over half of its average level from 2019," according to the Mastercard report.
The report draws on aggregated and anonymised sales activity across the global Mastercard network to better understand the next phase for travel, its drivers and challenges. This includes the balance between leisure and business, local and long-distance, and saving and spending. The report also looks at the spending categories seeing an uptick and what they signal for travel recovery.
The domestic flight performance shows an "impressive recovery" across a number of markets, acknowledges Bricklin Dwyer, Mastercard chief economist and head of the Mastercard Economics Institute, but he warns the rebound "won't happen overnight".
"While a lot of uncertainty remains, pent-up savings, a desire to venture farther from home, and the green light from governments could all provide significant tailwinds for the continued travel recovery," he says.
The report highlights that global gasoline spending (based on non-adjusted prices) is up 13% from its previous peak in 2019 and suggests that road trips – one of the big trends of 2020 – aren't going anywhere. The report shows robust demand for local travel.
As people prepare to re-emerge, pent-up savings help fuel sales across a diverse variety of categories, outlines the report. For instance, sales at toupee and wigs stores have increased 75% in the past year compared to pre-pandemic, and sales for beauty salons and luggage stores are also up.
Meanwhile, spending at boat dealers (+30%) and bike stores (+62%) also grew, "as pent-up demand collided with greater savings due to fiscal stimulus and savings from mobility restrictions," notes the report. The US followed by Canada, Belgium, and Australia, had the most 'excess' savings as a percent of annual personal consumption expenditure, according to its data.
They say 'a picture paints a thousand words'. In this regular section CTC – Corporate Travel Community offers an illustrative insight into a key industry observation or trend, this week highlighting a graphic from the Mastercard report that illustrates how the corporate travel recovery is lagging some distance behind the return of leisure demand in the United States of America.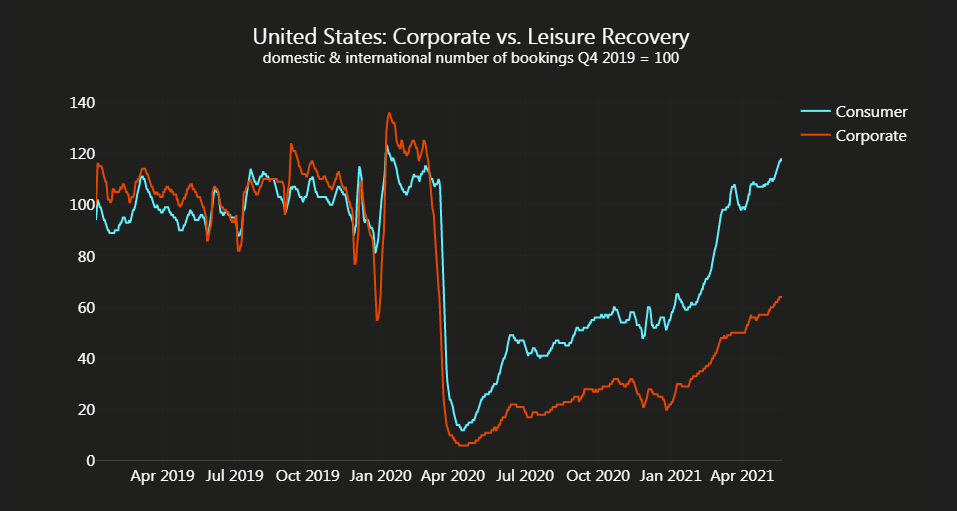 This regular section also now incorporates and expands on the charts produced in the 2020 air capacity series 'Coronavirus Statistics Snapshot'. These are based on an analysis of OAG schedule data and include a weekly look at how the pandemic is impacting global flight levels in the world's largest markets; a week-on-week and year-on-year comparison of flight departures by geographical region and a look at how weekly capacity is trending: the latter comparing levels to 2020 and also to the 2019 baseline performance.
HEADLINE FIGURES FOR WEEK COMMENCING 28-Jun-2021:
Departure frequencies up+3.54% versus last week; up+53.28% versus 2020 and down -33.26% versus 2019.
Seat capacity up +4.30% versus last week; up +56.66% versus 2020 and down -35.08% versus 2019.
CHART: Week-on-week change in flight departures by region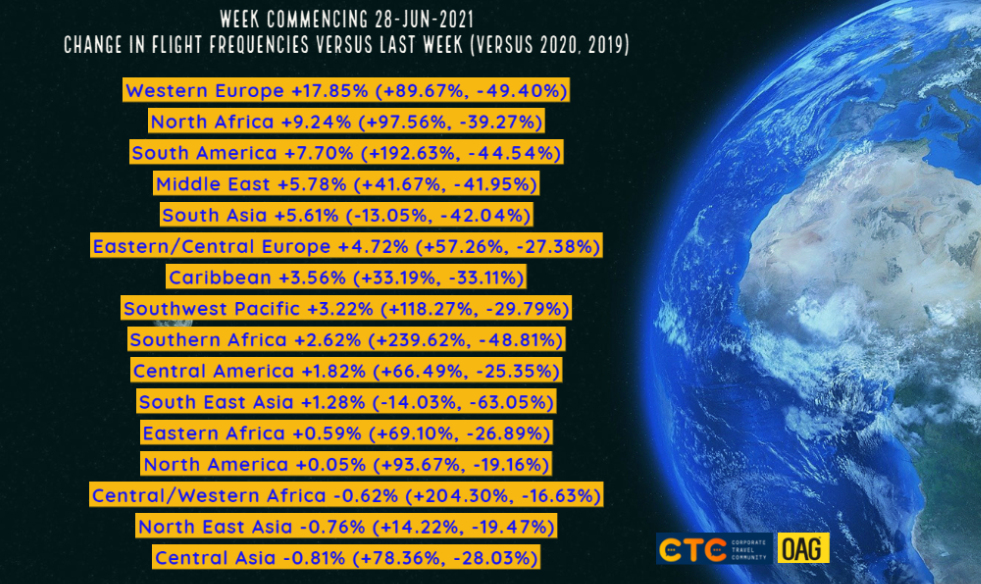 CHART: Year-on-year weekly departures performance for world's top 30 markets versus 2019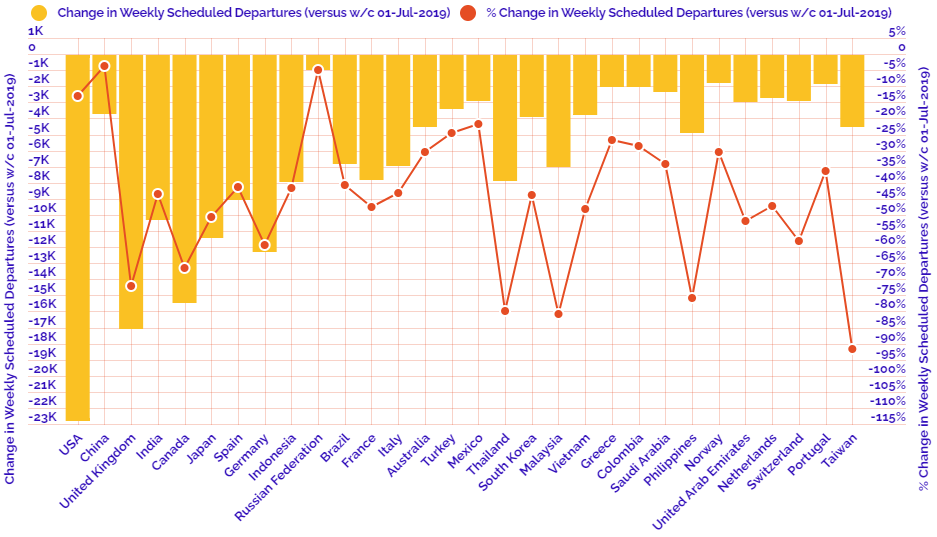 CHART: Year-on-year weekly departures performance for world's top 30 markets versus 2020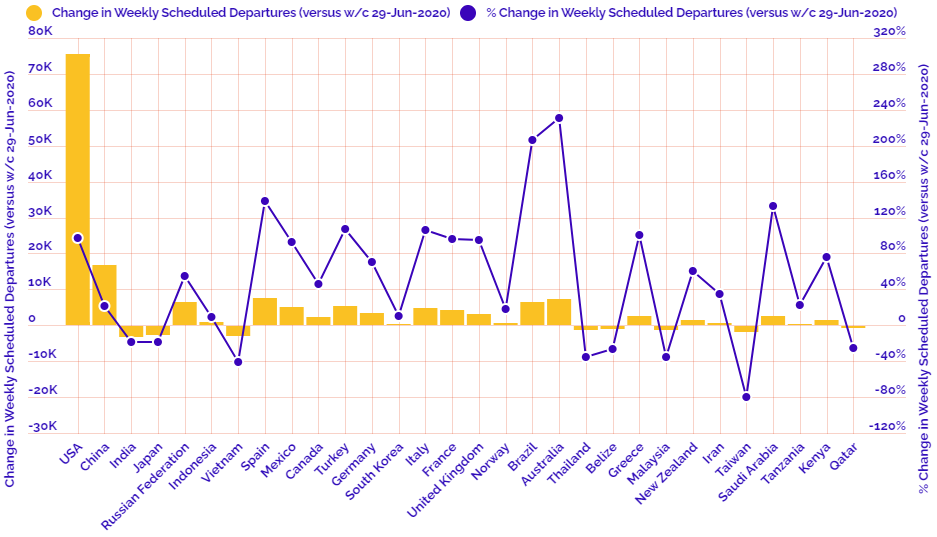 CHART: Departure capacity trends with year-on-year performance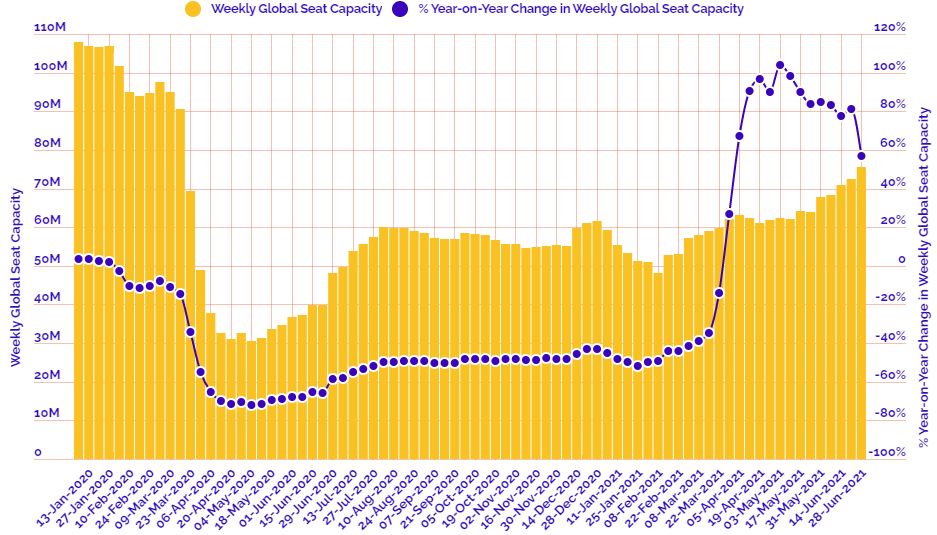 CHART: Departure capacity trends versus 2019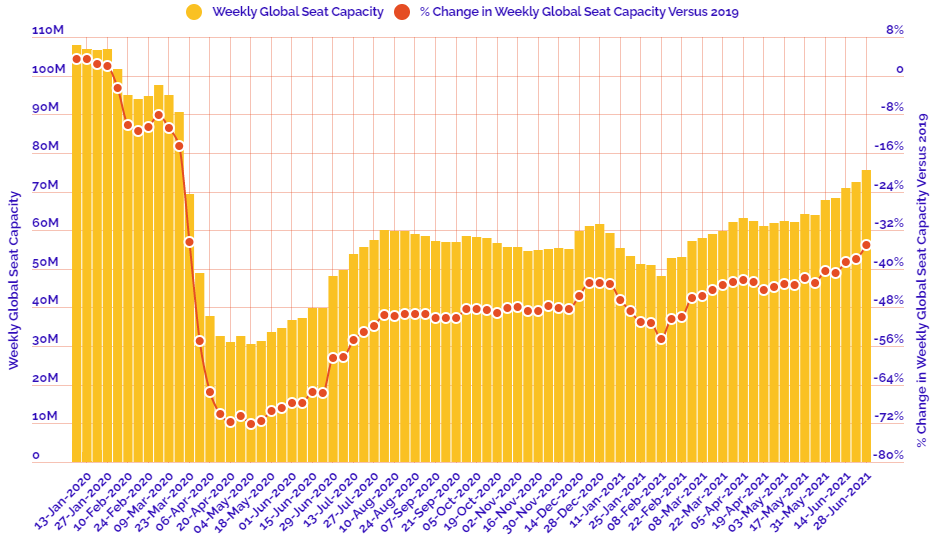 CHART: The world's biggest aviation markets by departure seats