We are reaching a key moment of the pandemic's evolution as sentiment among populations returns to some normality as positive vaccination drives seemingly provide an adequate defence against serious illness. The changing attitudes among consumers and travellers is influencing government actions and that is seeing a much-needed growth in travel. The return of international travel will be welcomed by airlines, airports, hotels and the many sectors supported by these industries.
The situation in Singapore is a perfect example of the latest trend. The Southeast Asian nation, is one of the world's biggest travel and finance hubs, and home to Asian headquarters of thousands of global companies whose executives have traditionally long relied on Singapore's connectivity. Whether travelling to or from Singapore, or simply connecting through Changi International Airport, it has been a vital cog in the international air travel system.
A closed border – alongside health and hygiene requirements and efficient contact tracing – has helped keep COVID numbers low in Singapore, but at the detriment to connectivity and the businesses that have long relied upon it. Now, with just over four in five of the local population fully vaccinated – one of the world's highest rates – doors are again being opened.
From this week, fully vaccinated people from eight additional countries, including France, Great Britain, Spain and the United States, will be able to enter the island without quarantining if they pass their COVID-19 tests, a first major step in Singapore's strategy to resume international links. But, already daily COVID-19 infections are reaching record highs.
More than 3,000 positive daily cases have been recorded over the past few days, though almost all are described as being asymptomatic or mild infections. This latest phase of the recovery is about changing mindsets and leaning to live with the risks of COVID-19.
Prime Minister Lee Hsien Loong said Singapore will reach a new normal and can lighten restrictions when cases stabilise, even if they stay in the hundreds. "It will take us at least three months, and perhaps as long as six months, to get there," he said in an address to the nation.
Singapore's travel programme for fully vaccinated people began in Sep-2021 with Germany and Brunei, and is expected to also include South Korea from next month. Up to 3,000 travellers will able to enter daily through its vaccinated travel lanes, a big boost, but still a far cry from the record 19.1 million annual travellers to the city-state in 2019 with borders remaining largely closed to key Asian countries that traditionally inflated arrivals.
They say 'a picture paints a thousand words'. In this regular section CTC – Corporate Travel Community offers an illustrative insight into a key industry observation or trend, this week highlighting flight search data for Singapore from KAYAK that clearly illustrates a rise in daily flight searches versus 2019 after confirmation of the latest stage in the relaxation of travel restrictions. This is a big step in Singapore's recovery, but it must be noted that even at this recent peak travel search levels still remained down-43% compared to the same day in 2019.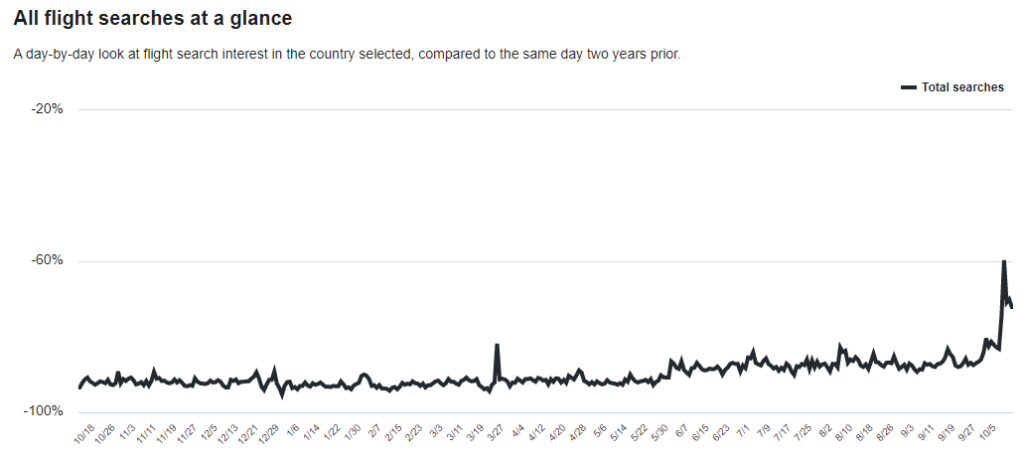 This regular section also now incorporates and expands on the charts produced in the 2020 air capacity series 'Coronavirus Statistics Snapshot'. These are based on an analysis of OAG schedule data and include a weekly look at how the pandemic is impacting global flight levels in the world's largest markets; a week-on-week and year-on-year comparison of flight departures by geographical region and a look at how weekly capacity is trending: the latter comparing levels to 2020 and also to the 2019 baseline performance.
HEADLINE FIGURES FOR WEEK COMMENCING 11-Oct-2021:
Departure frequencies up +1.01% versus last week; up+33.29% versus 2020 and down -28.49% versus 2019.
Seat capacity up +0.94% versus last week; up +37.05% versus 2020 and down -29.37% versus 2019.
CHART: Week-on-week change in flight departures by region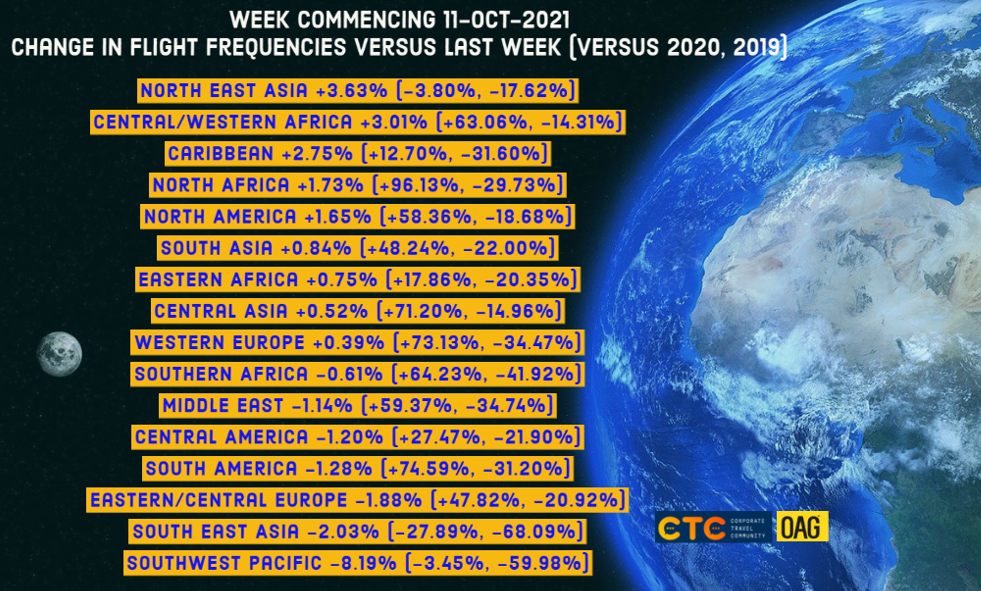 CHART: Year-on-year weekly departures performance for world's top 30 markets versus 2019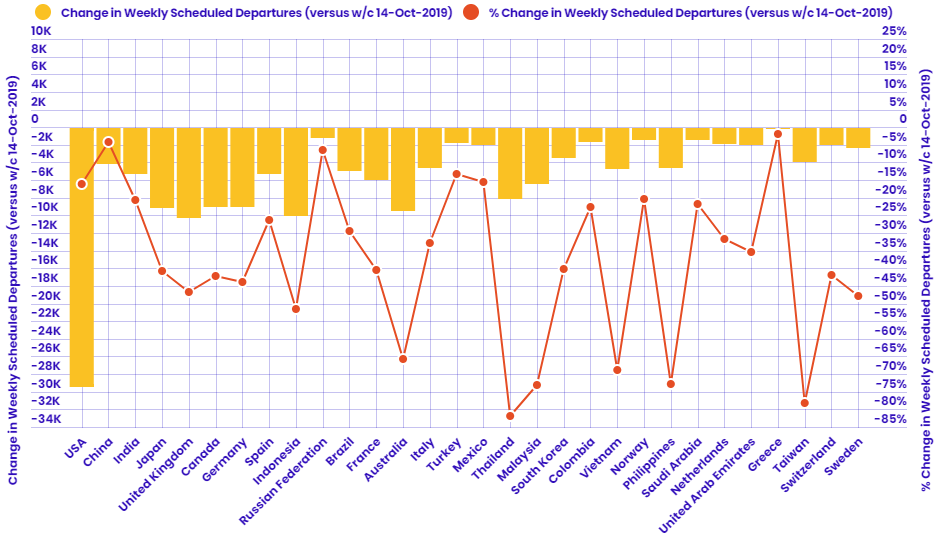 CHART: Year-on-year weekly departures performance for world's top 30 markets versus 2020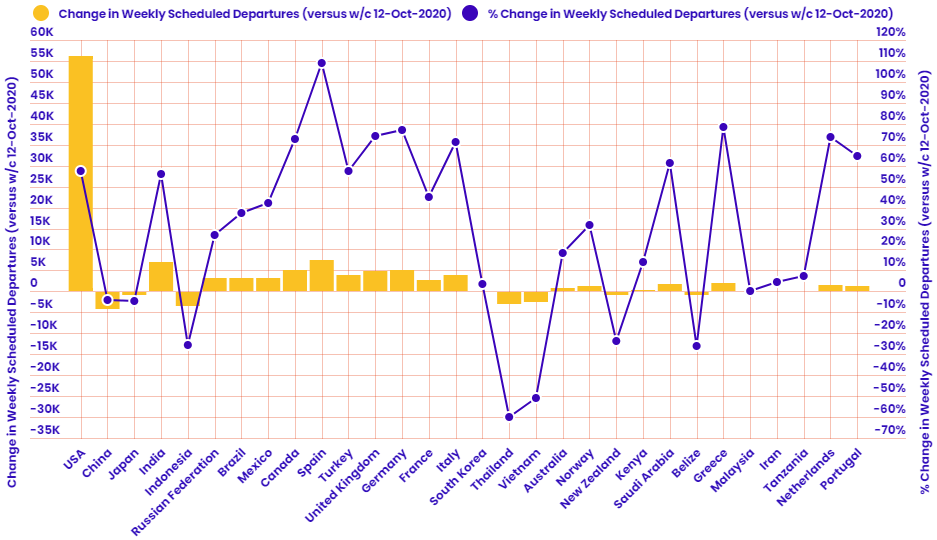 CHART: Departure capacity trends with year-on-year performance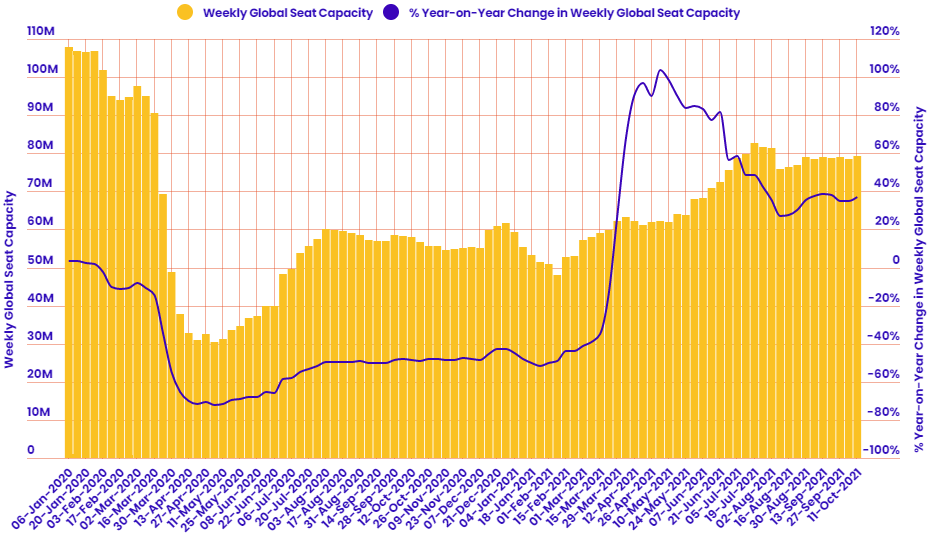 CHART: Departure capacity trends versus 2019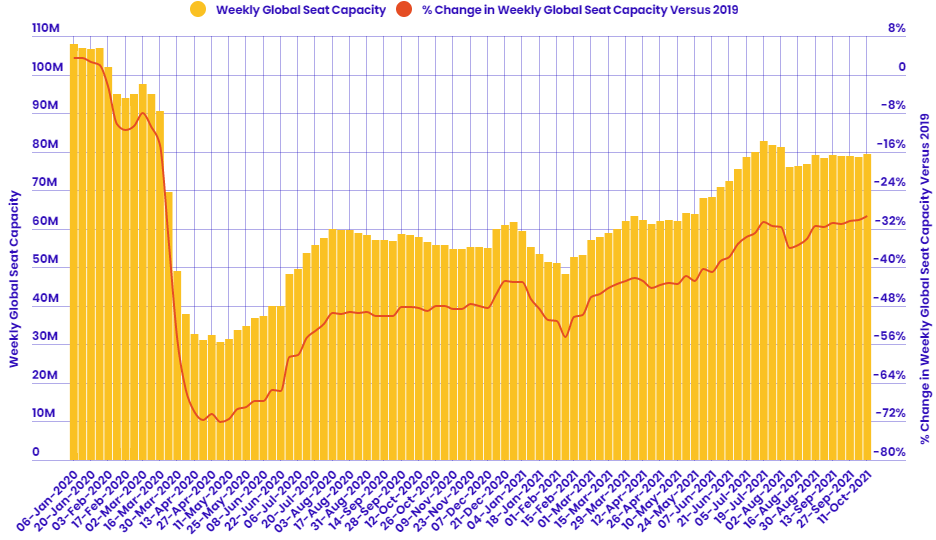 CHART: The world's biggest aviation markets by departure seats