The seasonality shift is perhaps most pronounced in Europe and airlines needed to 'make hay while the sun shines' last year more than ever before. What summer season there was in Europe in 2020 was short and significantly below the levels of previous year. Was it a boost for airlines? Perhaps, but with diluted demand it may have actually created more financial problems for them as they returned to flying.
What is certain is that they have entered the new year without the revenue buffers that they generally require to support the leaner 1Q travel trends. It was already going to be a tough winter for the travel industry but with a rising rate of COVID-19 infections and the disruptive restrictions that have been reintroduced to impede its progress, the traditionally colder climate is a perfect analogy for demand.
Last week, we highlighted commentary from IATA, ACI Europe, ICAO and the European Travel Commission that highlighted how the tightening of travel restrictions by European states is preventing any recovery in passenger traffic and steeper falls in air connectivity across Europe. Here's the story: 'Europe's aviation industry is on the slide with IATA projections for 2021 and 2022 'a little short of a disaster for European air transport'.
They say 'a picture paints a thousand words'. In this regular section CTC – Corporate Travel Community offers a graphical insight into a key industry observation or trend. In this latest edition we use OAG schedule data to look more closely at the European market and how after a rise in activity in summer peak of 2020 connectivity has subsequently started to slide with more abrupt declines as we entered the northern winter schedules in late 2020 and the new calendar year.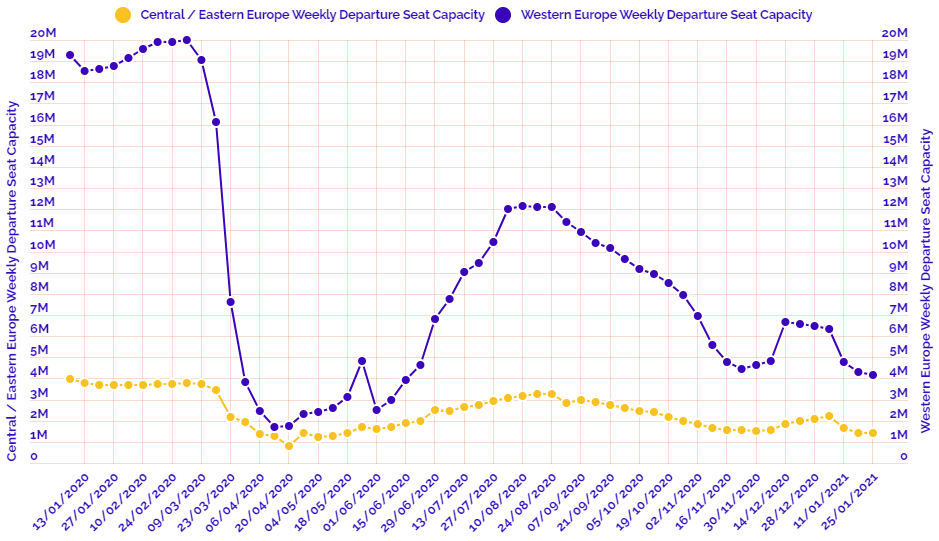 This regular section also now incorporates and expands on the charts produced in the 2020 air capacity series 'Coronavirus Statistics Snapshot'. These include a weekly look at how the pandemic is impacting global flight levels in the world's largest markets; a week-on-week and year-on-year comparison of flight departures by geographical region and a look at how weekly capacity is trending: the latter comparing levels to 2020 and also to the 2019 baseline performance.
HEADLINE FIGURES FOR WEEK COMMENCING 25-Jan-2021:
Departure frequencies down -3.20% versus last week; down -48.99% versus 2020 and down -48.58% versus 2019.
Seat capacity down -3.86% versus last week; down -51.94% versus 2020 and down -50.98% versus 2019.
CHART: Week-on-week change in flight departures by region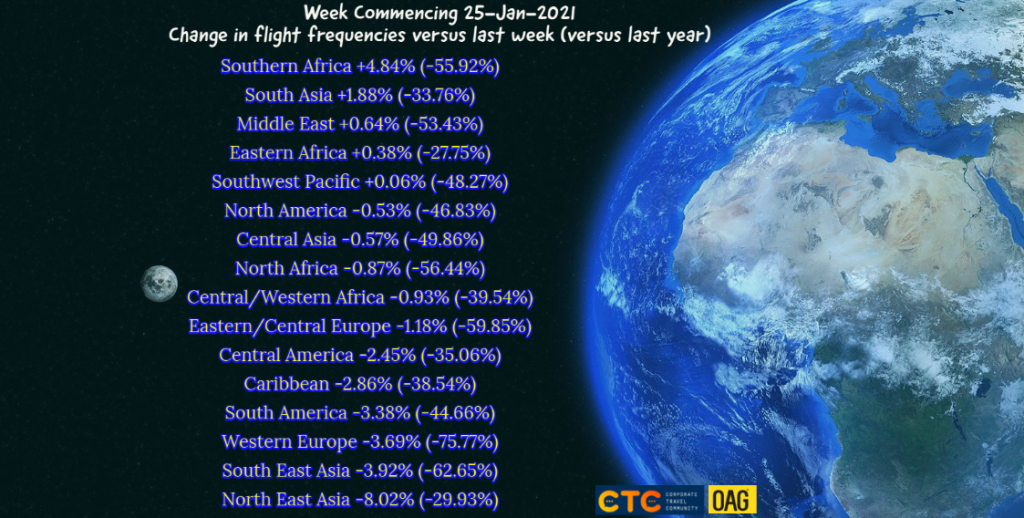 CHART: Year-on-year weekly departure performance for world's top 30 markets versus 2019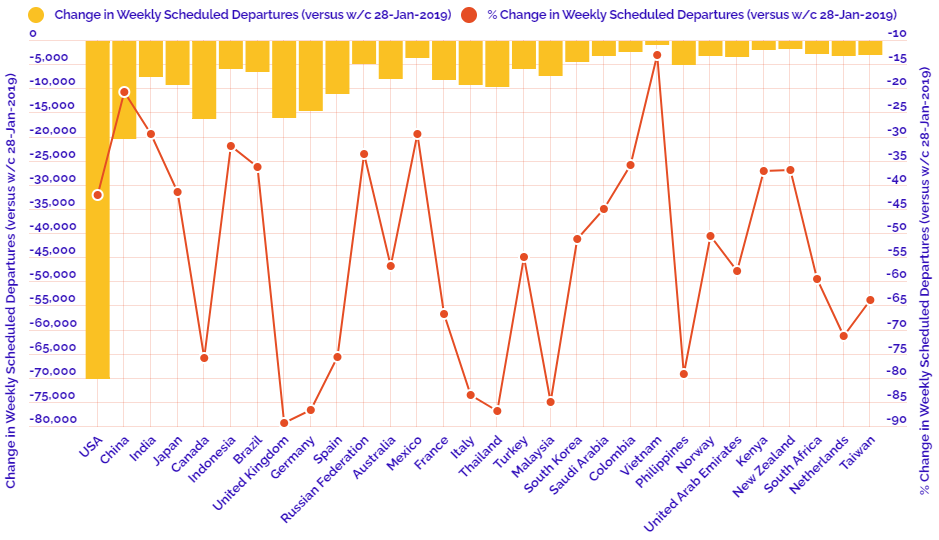 CHART: Year-on-year weekly departure performance for world's top 30 markets versus 2020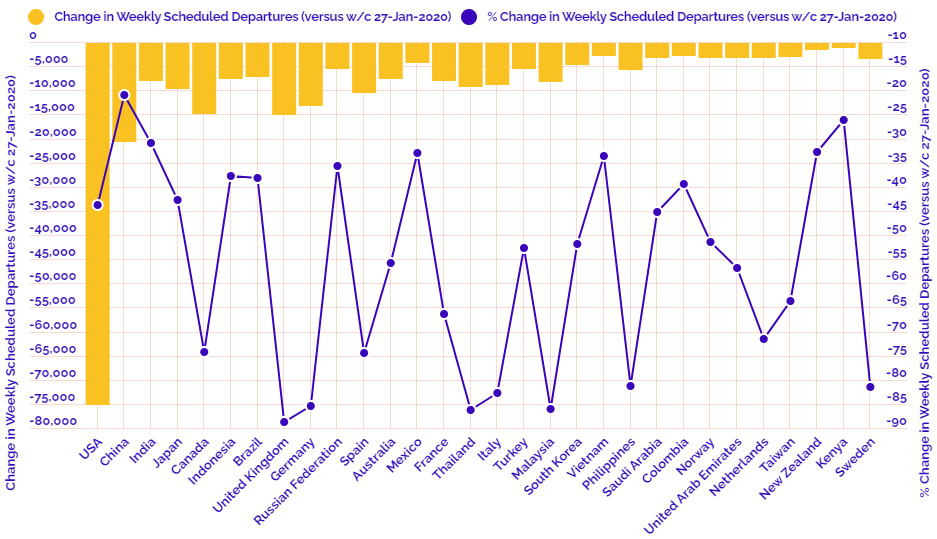 CHART: Departure capacity trends with year-on-year performance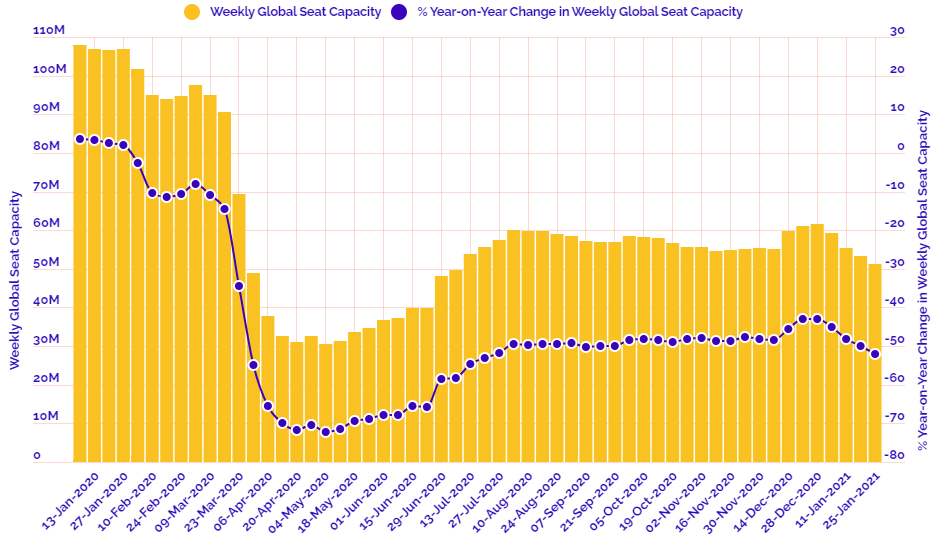 CHART: Departure capacity trends versus 2019