The reduction in traveller demand has resulted in an overcrowded marketplace where "business travel agencies are fighting for survival," says GlobalData, and these companies now have "some tough decisions regarding their futures," with consolidation is seen as the "most sustainable option for survival".
GlobalData also anticipates some small and medium size enterprises (SMEs) will merge to give themselves more purchasing power in the industry. Alternatively, some major players could start to merge to reduce overheads and increase sales and revenue.
"Consolidation often occurs so a business can become a leader within an industry. When a company purchases or merges with another company, it reduces the number of competitors and enlarges its client base," explains Craig Bradley, associate travel tourism analyst at GlobalData.
However, in the current climate, revenue, efficiency, and cost reduction are the key motivators for mergers and acquisitions. "The increase in overall revenue will give merged business travel firms more influence in the industry, allowing them to control pricing, take on niche markets and generate more leverage with its suppliers," suggests Mr Bradley.
As organisations have scaled, so have business travel agencies. Corporate clients, once worth millions in revenue, are worth a fraction of the value now. Many industry commentators have argued that this is just a momentary shift. However, many business travel clients have adapted to the pandemic by becoming more efficient and innovative, developing new ways to communicate, likely leading to a reduction in travel demand for the long-term.
"Communication technologies such as Zoom, Microsoft Teams and Citrix have helped companies maintain employee engagement, collaboration, and partnerships throughout the pandemic, resulting in many companies questioning their corporate travel budgets," acknowledges Mr Bradley. According to a recent GlobalData poll, 43% of respondents said their company's corporate travel budgets would 'reduce significantly' in the next 12 months. This suggests that businesses will "continue using communication technologies and carefully consider the necessity of using precious capital for flights and other travel expenses," notes Mr Bradley.
They say 'a picture paints a thousand words'. In this regular section CTC – Corporate Travel Community offers an illustrative insight into a key industry observation or trend, this week highlighting a Global Data table that illustrates the heavier reduction in domestic and international business travel in 2020 when compared to other travel categories.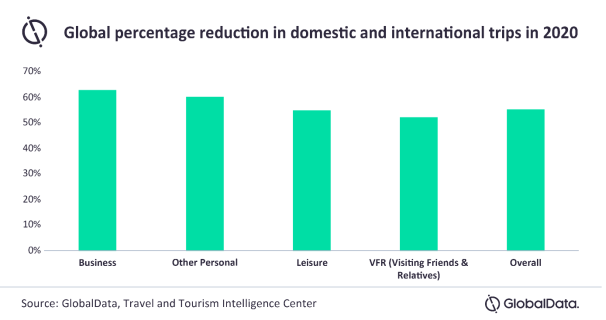 This regular section also now incorporates and expands on the charts produced in the 2020 air capacity series 'Coronavirus Statistics Snapshot'. These are based on an analysis of OAG schedule data and include a weekly look at how the pandemic is impacting global flight levels in the world's largest markets; a week-on-week and year-on-year comparison of flight departures by geographical region and a look at how weekly capacity is trending: the latter comparing levels to 2020 and also to the 2019 baseline performance.
HEADLINE FIGURES FOR WEEK COMMENCING 21-Jun-2021:
Departure frequencies up +1.95% versus last week; up+73.46% versus 2020 and down -36.19% versus 2019.
Seat capacity up+2.19% versus last week; up +81.43% versus 2020 and down -37.88% versus 2019.
CHART: Week-on-week change in flight departures by region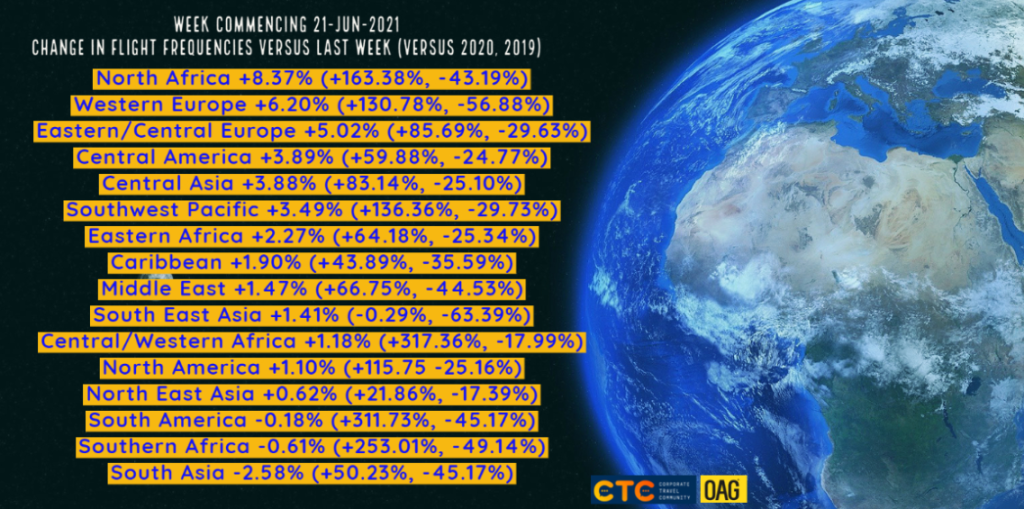 CHART: Year-on-year weekly departures performance for world's top 30 markets versus 2019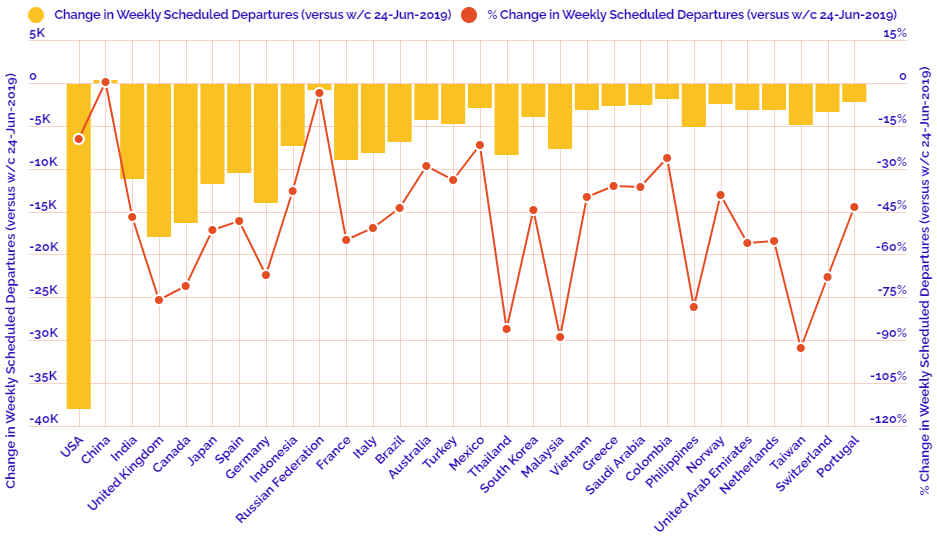 CHART: Year-on-year weekly departures performance for world's top 30 markets versus 2020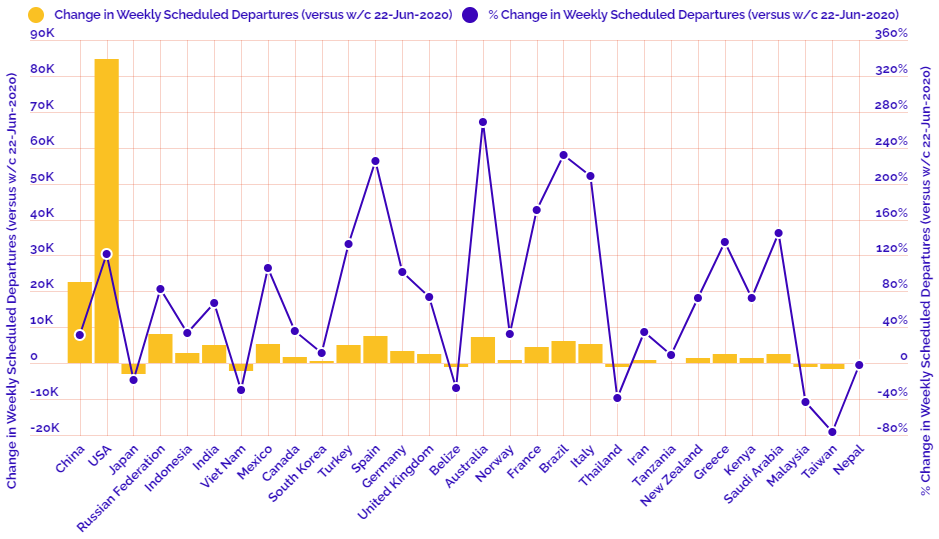 CHART: Departure capacity trends with year-on-year performance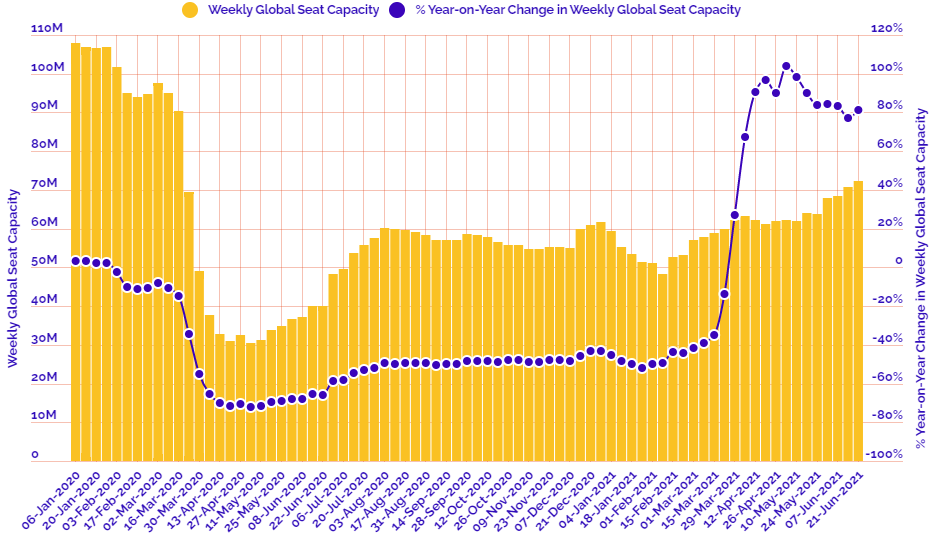 CHART: Departure capacity trends versus 2019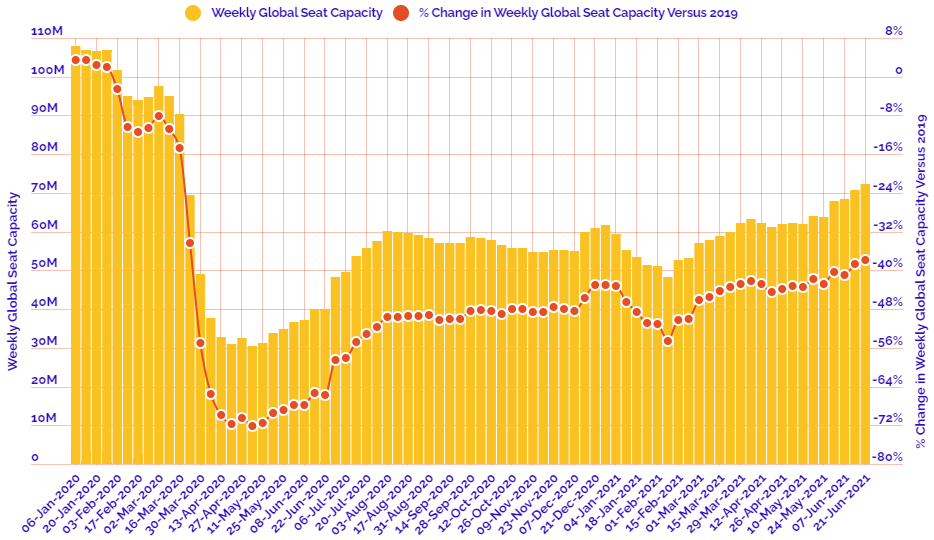 CHART: The world's biggest aviation markets by departure seats