The air transport industry was on a significant growth trajectory with the Asian markets at the heart of its development. In fact, in the week commencing 20-Jan-2020, all but one of the world's biggest air routes was to be found in the region, according to CTC – Corporate Travel Community analysis of OAG schedule data.
The top three air routes during the week comprised the Hong Kong International (HKG) – Taipei Taiwan Taoyuan International (TPE); Kuala Lumpur International (KUL) – Singapore Changi (SIN); and Jakarta Soekarno-Hatta International – Singapore Changi (SIN) markets. All three had more than 100,000 two-way seats scheduled for the seven days, with the HKG-TPE route exceeding 150,000 two-way seats.
The ranking was mainly dominated by Asia's regional centres. The Cairo International (CAI) – Jeddah King Abdulaziz International (JED) was the only non-Asian route in the top 10; Dubai International (DXB) – Riyadh King Khalid International (RUH) also made the top 20, alongside the London Heathrow (LHR) – New York John F Kennedy International (JFK) trans-Atlantic market.
The Asia market appears to be suffering more severely than many other regions in terms of international air connectivity, albeit strong domestic markets mean that air transport continues to play a vital role.
If we now fast-forward to this year and the week commencing 18-Jan-2021 we see a very different list of routes among the world's busiest air markets. There is a clear bias on leisure markets, where passenger demand has shown some recovery, but most notably it is the reduction in seats on offer in this markets that highlights the impact of the pandemic.
The busiest route in the week commencing 18-Jan-2021 has less than a quarter of the seats compared to the same week last year, while the total for the ten busiest international routes in the world is down from just under 930,000 seats to less than 290,000, a reduction of more than two-thirds (-69.0%).
They say 'a picture paints a thousand words'. In this regular section CTC – Corporate Travel Community offers a graphical insight into a key industry observation or trend. In this latest edition we use OAG schedule data to highlight the world's largest air markets this week (week commencing 18-Jan-2021) based on international capacity.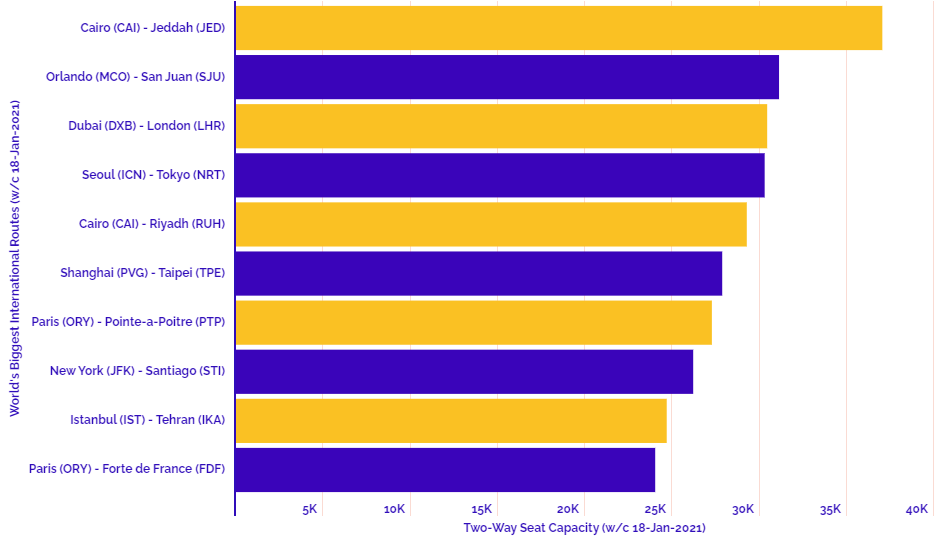 This regular section also now incorporates and expands on the charts produced in the 2020 air capacity series 'Coronavirus Statistics Snapshot'. These include a weekly look at how the pandemic is impacting global flight levels in the world's largest markets; a week-on-week and year-on-year comparison of flight departures by geographical region and a look at how weekly capacity is trending: the latter comparing levels to 2020 and also to the 2019 baseline performance.
HEADLINE FIGURES FOR WEEK COMMENCING 18-Jan-2021:
Departure frequencies down -2.53% versus last week; down -47.32% versus 2020 and down -44.95% versus 2019.
Seat capacity down -3.63% versus last week; down -46.68% versus 2020 and down -48.70% versus 2019.
CHART: Week-on-week change in flight departures by region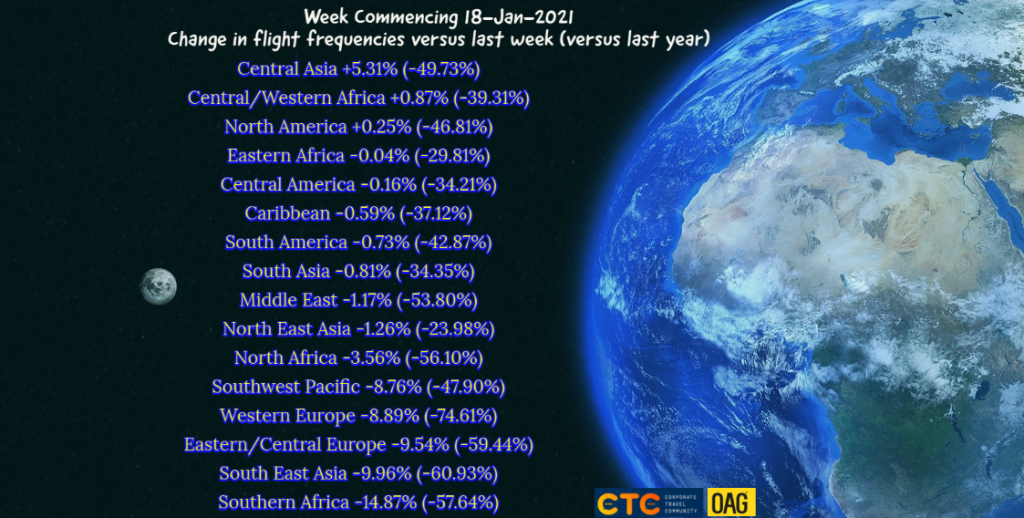 CHART: Year-on-year weekly departure performance for world's top 30 markets versus 2019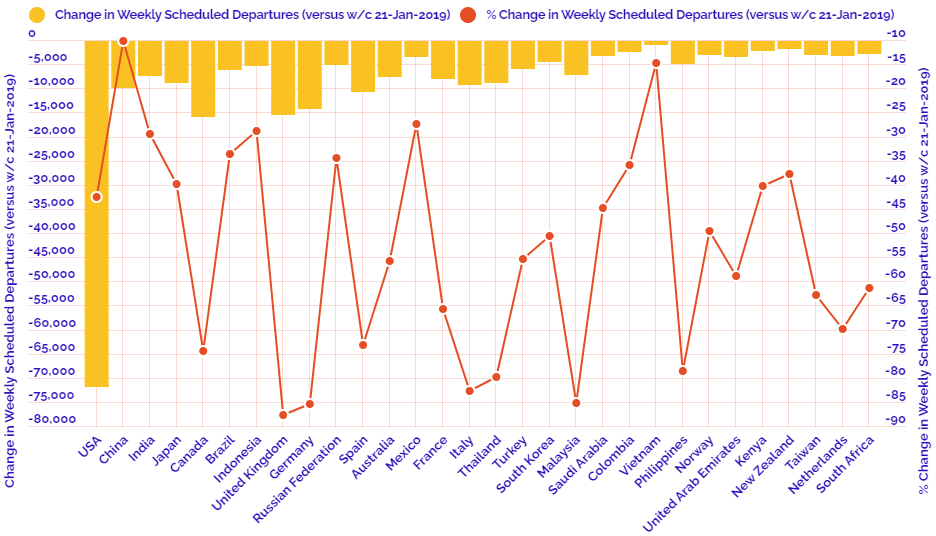 CHART: Year-on-year weekly departure performance for world's top 30 markets versus 2020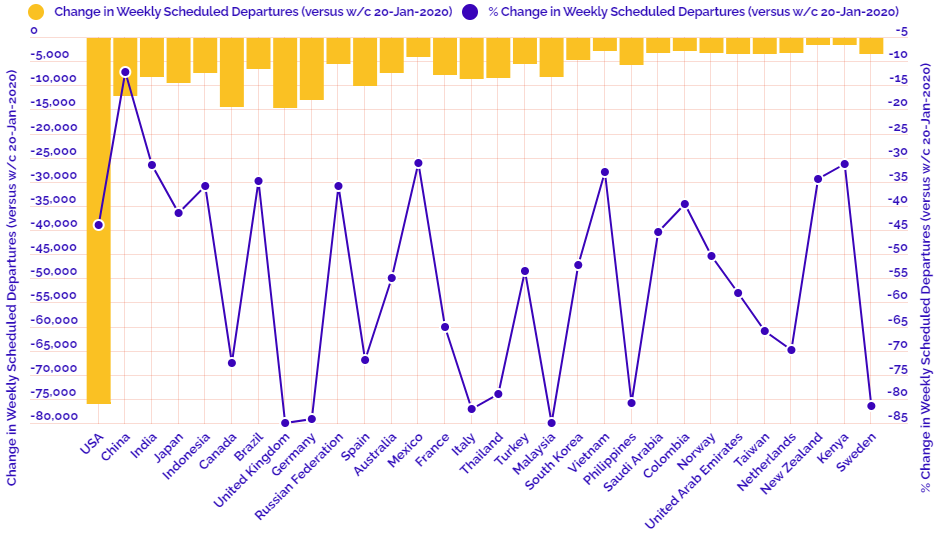 CHART: Departure capacity trends with year-on-year performance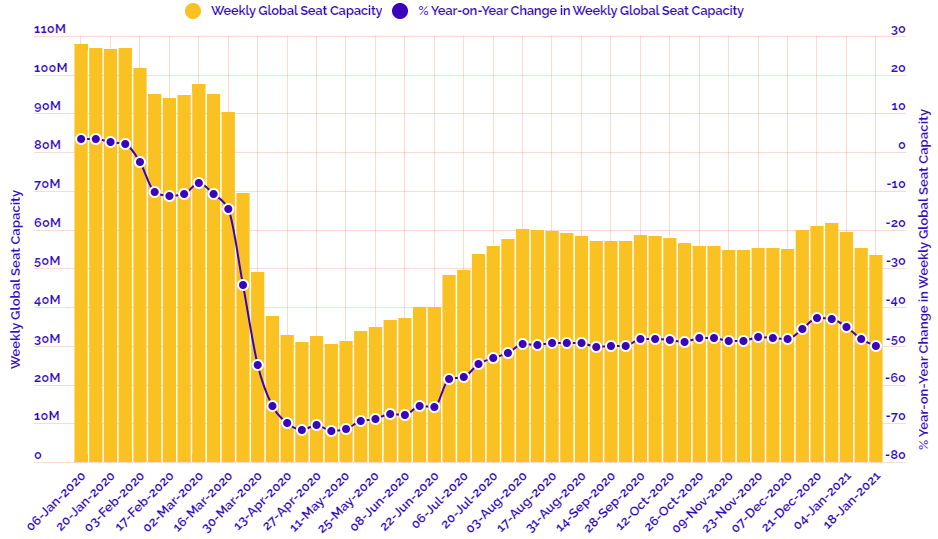 CHART: Departure capacity trends versus 2019