New research from travel technology specialist Amadeus suggests that traveller confidence is growing with it seeing a +60% increase in net reservations since the beginning of the year. According to Decius Valmorbida, president, travel at Amadeus a key factor in the recovery will be innovation and adapting to the new normal.
The executive notes that so many people's lives have changed in ways few would have imagined. "No, we will not be going back to 'normal' any time soon. Yet there is a new normal, adapting to fit the reality of the pandemic," he says in a blog post. He describes an "extraordinary resilience and inventiveness" and a travel sector which had already undergone a gradual evolution in preceding years, reinventing itself in a matter of months.
"From bubble resorts and travel corridors to the rise of workcations and a new breed of sustainably conscious consumers, the current map is almost unrecognizable from that of 2019 and 2020," he describes.
Predicting the future is more challenging than ever. But crunching large swathes of data Amadeus has outlined what it sees as high-level trends. These could evolve as the lifecycle of the pandemic continues, but offer "clear indicators of what might lie in store for the rest of 2021," says Mr Valmorbid, as we see the continued rollout of vaccines. As we look to rebuild travel, Amadeus identifies four trends that will shape travel this upcoming holiday season from June to August – whether that be summer in the northern hemisphere or winter in the southern.
The first is the emergence of bubble travel, the process that the travel and tourism sector "is facilitating safer travel," says the Amadeus executive. These bubbles vary significantly in size, from individual COVID-safe properties to resorts – and, on a grander scale, safe travel corridors between nations. Amadeus reports a +66% increase in searches from around the world for two-week trips to the Maldives compared to the same period in 2019.
"The bottom line here is that safety comes first," says Mr Valmorbid. "People from nations that have been successful in containing the pandemic are more comfortable travelling to countries with a similar record."
If people can't travel abroad then there will be an obvious move to stay in their homeland enclosed within a domestic bubble. In Australia, where with the exception of limited international bubbles, international borders will remain firmly shut into 2022, Amadeus reports that search demand for international routes is largely replaced by domestic and bubble routes for the June through August period.
The once top Sydney to London route has fallen out of the top spot, replaced by Sydney to Melbourne, while demand for the Sydney to Auckland bubble route grew by +77% over the same period compared to 2019, it reports.
Another trend is the emergence of workcations as we see the increasing viability of a flexible nomadic working life. "If the way we work has been changing for some years now, the process was turbo-charged by the combination of a global pandemic and the rise of video conferencing," explains Mr Valmorbid.
This has been no more obvious than with a new generation of digital nomads who have left the office behind for a work-from-anywhere model. "Some call it bleisure ("individuals who combine leisure with professional business obligations when abroad") but we prefer to talk about the rise of the workcation," says Mr Valmorbid. The concept of working remotely from a coffee shop or a beach bar is obviously not new, but the past year "has democratised the dream," says the Amadeus executive.
Globally, Amadeus reports a +41% increase in the number of searches for 30-day stays, though this varied significantly by region across the world. In the US the increase was more moderate, with a +2% increase for trips over 14 days, but in France and Spain, there was an increase of +75% and +52%, respectively, in searches for 30-day stays, according to its data.
"We can only see this trend expanding, as countries emerge from lockdowns and more weary workers release a pent-up desire to step away for a breath of fresh air," acknowledges Mr Valmorbid, who describes the logic of workcations as "compelling" and allowing travellers to book flights at times of lower demand, saving themselves both money and stress.
"And for those whose lifestyles allow it, it is hard to ignore the allure of dialling in to the office from sunny idylls in Barbados, Anguilla and Croatia," he adds, all countries to have launched schemes to attract nomadic workers.
A further trend identified is a thirst for more indulgent trips. "Cabin fever is at an all-time high," says Mr Valmorbid, noting that internal Amadeus data shows that some of the most booked trips clearly lean towards the indulgent.
"Such is the frustration at being confined to our homes during the pandemic, some have coined the term 'Revenge Travel' to sum up this phenomenon. We prefer to call it Indulgent Travel because all the signs point to travellers making the absolute most of their journey," he explains.
While there are clear indicators that people are booking later due to COVID fears, Amadeus data indicates that travellers are beginning their searches much earlier – by more than a quarter! In Hong Kong for example, advance search period increased by +23%, with travellers starting their searches two weeks earlier than pre-pandemic in 2019.
The final trend, of course, is that travellers are looking for more sustainable and conscious travel options. Travellers are naturally more conscious about their safety while travelling, but also that their journeys are not harmful to the environment.
Amadeus research shows that one third of millennials would like to see more availability of sustainable travel options and ways to reduce their carbon emissions when traveling. This outlook spreads story across all ages and global markets, with one in four sharing this commitment.
"This puts the travel industry in a position of great responsibility. Consumers are looking to make sustainable and more conscious choices and as travel picks up, there will be more pressure on the industry to identify exactly what is being done to protect the planet and understand how travel is positively impacting local communities," says Mr Valmorbid.
Whether bubbles, workcations, or indulgent or conscious travel, or other emerging trends that the remainder of the year will bring, 2020 may have brought a pause, but 2021 looks – for many, at least – to be the year that we again press play for travel.
They say 'a picture paints a thousand words'. In this regular section CTC – Corporate Travel Community offers a graphical insight into a key industry observation or trend, this week highlighting a chart from IATA Economics using data from Oxford Economics that illustrates that consumers have accumulated savings to spend and that in fact in some markets (US, UK) consumers 'excess' savings exceed 10% of GDP. This could be another facet of the continued return to travel.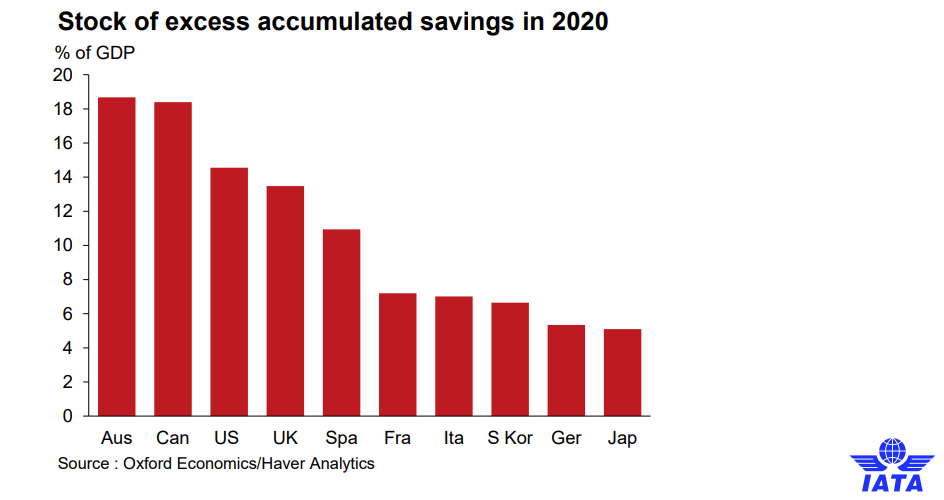 This regular section also now incorporates and expands on the charts produced in the 2020 air capacity series 'Coronavirus Statistics Snapshot'. These are based on an analysis of OAG schedule data and include a weekly look at how the pandemic is impacting global flight levels in the world's largest markets; a week-on-week and year-on-year comparison of flight departures by geographical region and a look at how weekly capacity is trending: the latter comparing levels to 2020 and also to the 2019 baseline performance.
HEADLINE FIGURES FOR WEEK COMMENCING 31-May-2021:
Departure frequencies up +5.96% versus last week; up+75.20% versus 2020 and down -38.80% versus 2019.
Seat capacity up+6.35% versus last week; up +84.60% versus 2020 and down -40.42% versus 2019.
CHART: Week-on-week change in flight departures by region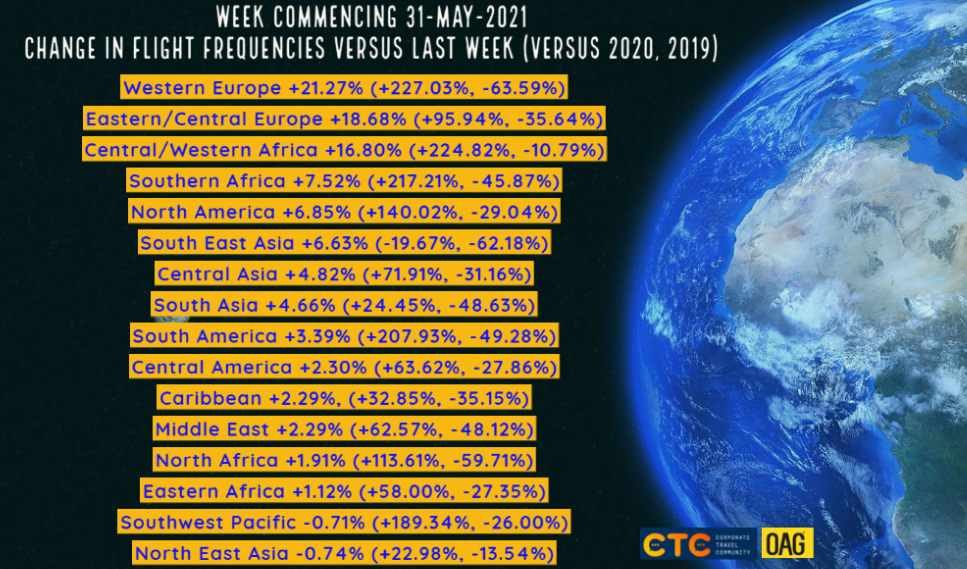 CHART: Year-on-year weekly departures performance for world's top 30 markets versus 2019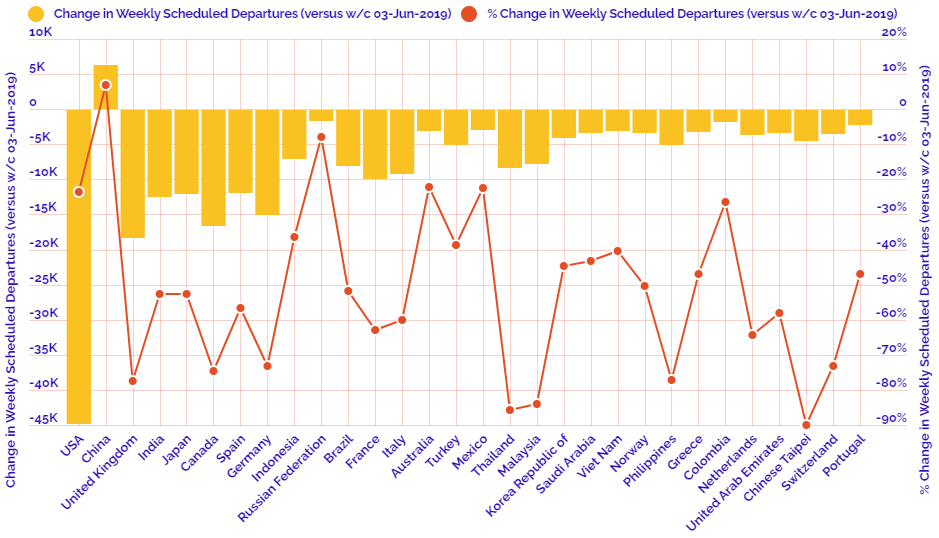 CHART: Year-on-year weekly departures performance for world's top 30 markets versus 2020
CHART: Departure capacity trends with year-on-year performance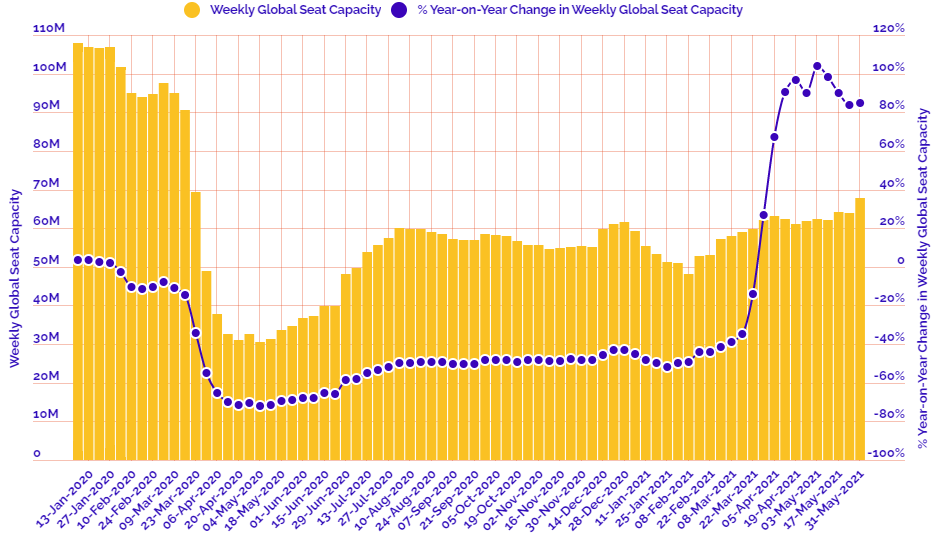 CHART: Departure capacity trends versus 2019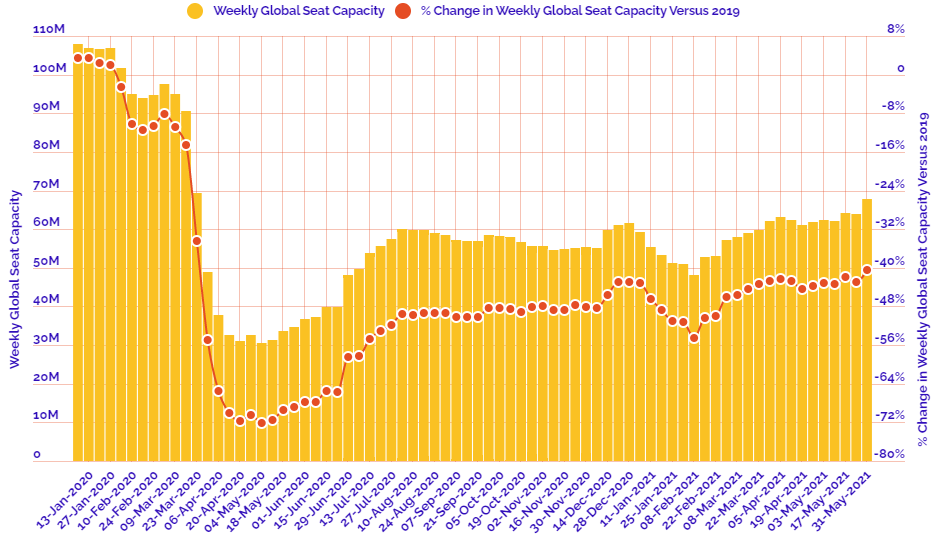 CHART: The world's biggest aviation markets by departure seats