It is not an understatement when the US Travel Association describes this decline in travel due to COVID-19 as having "devastated our economy and torn at the very fabric of our society". Prior to the pandemic, direct travel jobs accounted for 6% of the workforce and total travel-supported jobs accounted for 11%. But in 2020, direct travel jobs accounted for a disproportionate 35% of jobs lost and total travel supported jobs accounted for a staggering 65% of positions lost.
You would expect a national organisation representing and advocating for all components of the travel industry to say that "America will not be able to fully rebuild without the recovery of the travel industry" but the way the sector is weaved into the economy and intrinsically linked in the facilitation of so many other connected areas shows its importance.
The stepping stones are in place. The latest monthly employment figures from the US Department of Labor for Feb-2021 shows the US leisure and hospitality sector gained 355,000 jobs during the month, reducing the industry's unemployment rate to 13.5%. That's positive, but this still compares unfavourably with he wider US economy where 379,000 jobs were gained and unemployment levels stood at 6.2%, less than half the levels seen in the leisure and hospitality arena.
US Travel Association president and CEO Roger Dow notes that while this latest report shows travel industry jobs are heading in the right direction, the fact remains that the leisure and hospitality sector's total jobs are still at just 80% of the levels compared with Feb-2020, a figure he describes as "staggering".
In total, US travel spending is estimated to have fallen from USD1,172.6 billion in 2019 to USD680.3 billion in 2020, a -42% fall. Domestic spending, which accounted for around 85% of all travel spending ahead of the pandemic, was down just over a third, -36%, while international spending declined more than three quarters, -76%. Leisure travel spending was down -30%, while business spending was down -70%, with a -66% decline in general business activity and a – 77% fall in conference, convention and trade show related spending.
While we continually hear about a pent up demand for travel we must accept that will still be at levels significantly below those seen prior to this pandemic. In fact, US travel Association cites polling data by Destination Analysts that suggests that only about one in eight Americans plans a spring break trip this year.
This is traditionally the first major travel period of the calendar year in the US and low sentiment shows there remains a long journey in the recovery. The data suggests that Americans remain wary about traveling amid the COVID pandemic—and that they may prefer to defer their travel plans until the process of vaccinating the populace is more complete.
Other surveys seem to also suggest that vaccination and the subsequent introduction of COVID travel passports and vaccine requirements across the travel and hospitality sectors will ultimately form what is regarded as a safe platform for recovery.
The latest data underscores that it is far from clear when demand for travel will rebound on its own and travel jobs can begin to be restored. Travel leaders say aggressive policy action is still needed to help travel employers keep their doors open, or else many will be at risk of shuttering and their jobs will be lost permanently.
"A true travel comeback can also only happen once the pandemic is decisively behind us," explains Mr Dow. As travellers, travel managers, travel buyers, senior executives, in fact simply as citizens of this planet, we all have an important role to play in helping to restore some normality in our lives.
They say 'a picture paints a thousand words'. In this regular section CTC – Corporate Travel Community offers a graphical insight into a key industry observation or trend. In this latest edition we look at OAG schedule data over a rolling two-year period to show the impact COVID-19 fuelled travel restrictions have had on US domestic and international air capacity.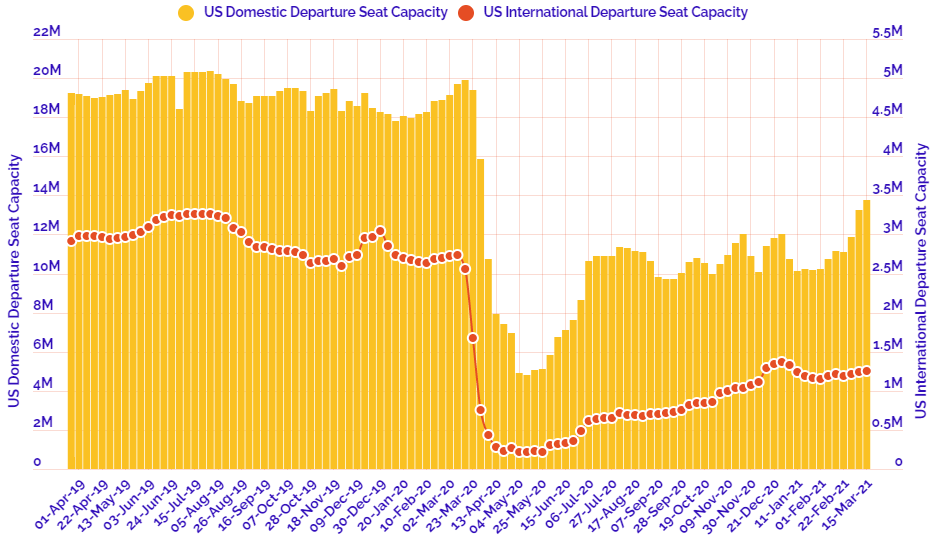 This regular section also now incorporates and expands on the charts produced in the 2020 air capacity series 'Coronavirus Statistics Snapshot'. These are based on an analysis of OAG schedule data and include a weekly look at how the pandemic is impacting global flight levels in the world's largest markets; a week-on-week and year-on-year comparison of flight departures by geographical region and a look at how weekly capacity is trending: the latter comparing levels to 2020 and also to the 2019 baseline performance.
HEADLINE FIGURES FOR WEEK COMMENCING 15-Mar-2021:
Departure frequencies up +1.31% versus last week; down -34.76% versus 2020 and down -42.61% versus 2019.
Seat capacity up +1.74% versus last week; down -34.82% versus 2020 and down -44.36% versus 2019.
CHART: Week-on-week change in flight departures by region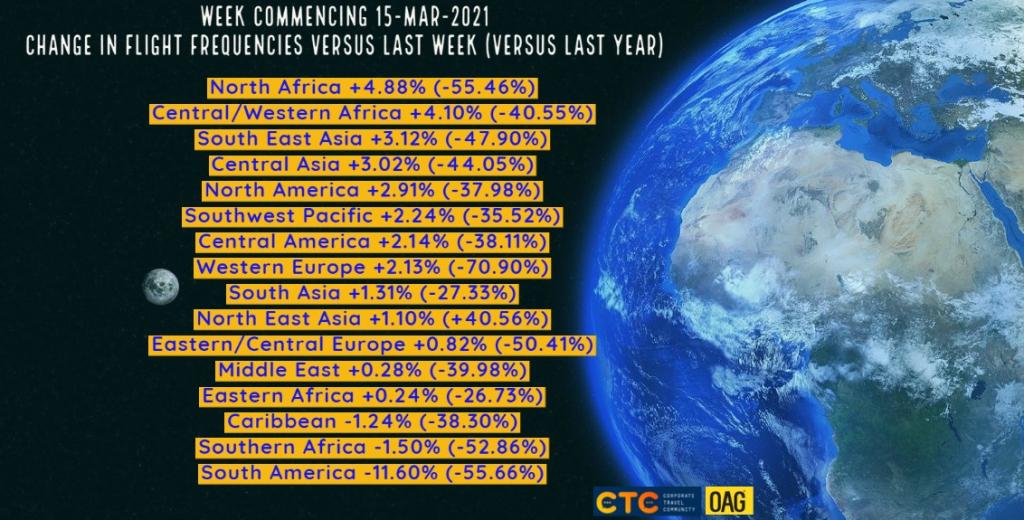 CHART: Year-on-year weekly departure performance for world's top 30 markets versus 2019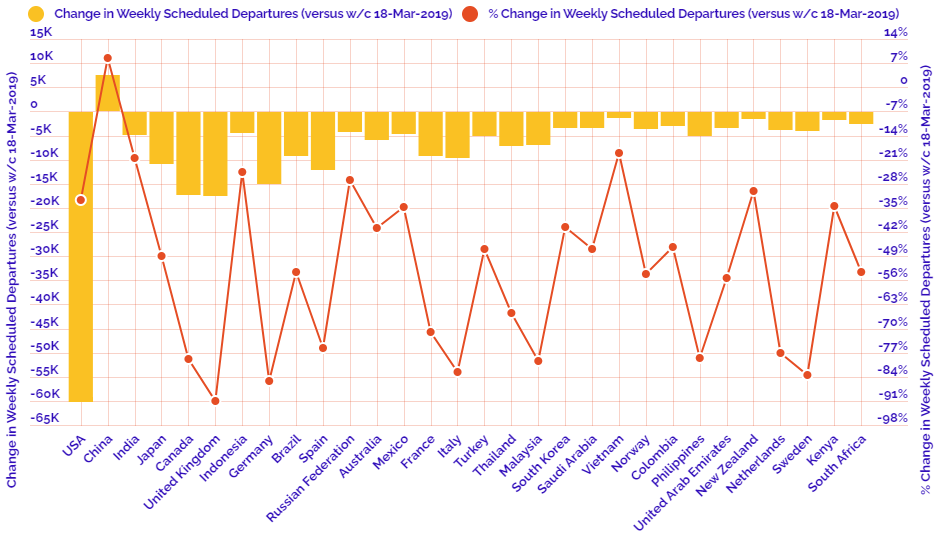 CHART: Year-on-year weekly departure performance for world's top 30 markets versus 2020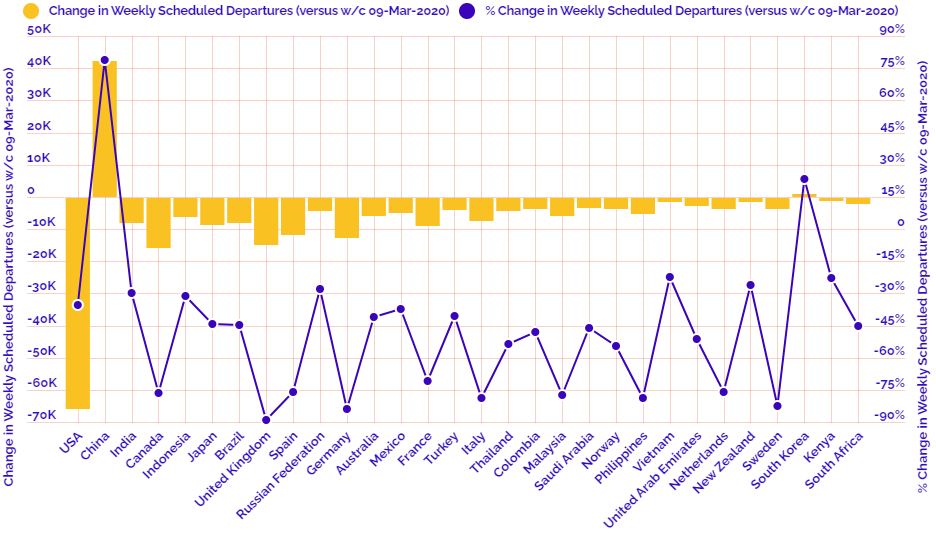 CHART: Departure capacity trends with year-on-year performance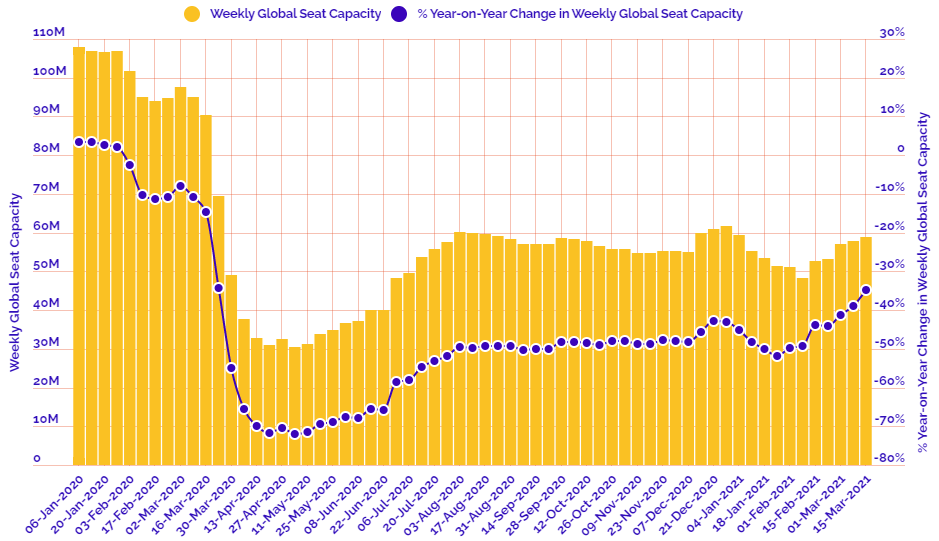 CHART: Departure capacity trends versus 2019