"There's no doubt in my mind that prices will rise, particularly during the peaks of the bank holiday weekends, the school holiday travel period," he said in an interview with BBC Breakfast, noting that the around 25% reduction in the number of available seats compared to before the pandemic due to airlines reducing their operations is the main reason for the outlook.
While 2022 will see these rises, 2021 will be at the opposite end of the spectrum. "This summer there are going to be great travel bargains," according to Mr O'Leary, while fellow Irishman, Sean Doyle, CEO of British Airways told the BBC that currently passengers are benefitting from a combination of "very competitive prices" and "great flexibility" for amending bookings.
Air fares are set by a complex algorithm, but ultimately comes down to simple economics. It is after all about supply and demand. These systems, just like many staff across the travel and tourism industry, were furloughed during the pandemic with airline yields hitting the floor.
In the United States of America (USA), domestic ticket prices last year dropped to the lowest point in 25 years as the average domestic airfare hit USD292. They had already been declining, but COVID pushed the trend to an extreme. The 2020 performance was the lowest inflation-adjusted annual airfare since the Bureau of Transportation began collecting records in 1995 and was almost a fifth (19%) down on the previous low of USD359 in 2019.
As the recovery starts and future travel begins to visualise some normality, airlines will be working quickly to adapt to changing traveller habits and building pricing models to maximise yields. Interestingly, metasearch engine and travel agency Skyscanner highlighted in its 'Skyscanner Horizons – The Return of Travel', report that passengers are no longer simply interested in securing the cheapest ticket – it's about value for money.
The paper, which analyses three years of search and booking data to shine a light on how travellers are planning for the new normal ahead of this year's peak holiday season, shows that on Skyscanner platforms, travellers are now selecting tickets 28% more expensive than the cheapest on offer, up 12% versus 2019, suggesting that other factors alongside price, such as flight duration, number of stops and COVID-19 safety, are increasing in importance.
Looking deeper at this point, survey respondents indicated the following would make them pay for a more expensive flight. The most were looking for convenient flight times (41%), while more than a third would pay more for fewer stops or direct routes (38%) or if the departure was from their preferred airport (35%). More than one in four also would now consider airline safety rating (27%) and flying with a specific airline (26%).
Regardless of changes to traveller habits, a renewed attitude to sustainability will also have an influence on air fares. In France, substitution from air to rail within the country could influence airline strategies, but more widely these processes could have a wider impact on international short-haul air travel.
In Germany, Green Party chairman Annalena Baerbock said this week that she supported the introduction of additional taxes on air travel "in a way that takes the climate into account" which would "put a stop" to airlines offering "ultra-low" fares for short haul operations. Ms Baerbock said that there actually "should be no more short haul flights in the long run" and said that he did not believe it was "fair that jet fuel is subsidised with all our tax money, while long-distance journeys by train are expensive, especially at peak times".
In Europe, the potential for rising air fares will also likely be influenced by revised regulation will see airspace users pay higher air traffic control (ATC) charges as a result of what are described by a group of associations as "weaker performance targets approved by member states" for air navigation services. This will ultimately see airlines – and undoubtedly their passengers – covering an up to EUR5.4 billion hole in air navigation service provider (ANSP) revenues.
Member states this month approved a revised regulation updating the EU-wide performance targets for ANSPs. Previous targets set were based off of 2019 traffic levels, which have subsequently plunged by more than 60% last year due to the COVID-19 crisis, government-imposed travel restrictions and the closure of EU borders.
A joint statement from lobbying groups Airlines for Europe (A4E), The European Business aviation Association (EBAA), The European Helicopter Association (EHA), European Regions Airline Association (ERA), and The International Council of Aircraft Owner and Pilot Associations (IAOPA) said: "This has resulted in a EUR5.4 billion revenue shortfall for Europe's ANSPs, who failed to react to the drop in traffic by reducing their expenditures accordingly".
They describe that across the wider aviation supply chain – and even beyond, the decision taken by member states is unique. "No other regulation, airport charges scheme or normal business contracting mechanism foresees airspace users shouldering previous losses from their suppliers, especially not in extraordinary times like the COVID-19 crisis, which is clearly a force majeure event," they claim.
They add that member states "have shown a complete unwillingness" to follow the European Commission's recommendations to take the long-term impact of the COVID-19 crisis on airspace users into account when setting updated performance targets for ATM services. Current forecasts indicate a recovery for EU airlines is not likely to be seen until 2024 at the earliest.
This will not help the recovery for airlines and could consequently impede the rise of air travel and investment in digitalisation and decarbonisation solutions. Together, with other factors it could all mean a higher price to pay for air travellers in the future.
They say 'a picture paints a thousand words'. In this regular section CTC – Corporate Travel Community offers a graphical insight into a key industry observation or trend, this week taking a chart from the Apr-2021 update of the IATA Economics Airline Industry Financial Forecast which shows that airline cash burn will be diminishing in second half of 2021, but that while a stronger 2H 2021 performance will reduce cash burn, it will remain in the negative through into 2022.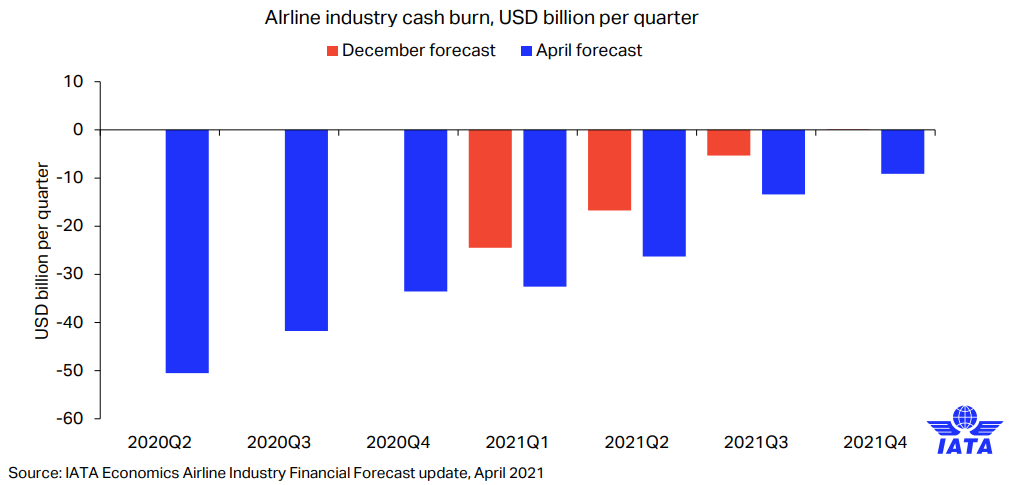 This regular section also now incorporates and expands on the charts produced in the 2020 air capacity series 'Coronavirus Statistics Snapshot'. These are based on an analysis of OAG schedule data and include a weekly look at how the pandemic is impacting global flight levels in the world's largest markets; a week-on-week and year-on-year comparison of flight departures by geographical region and a look at how weekly capacity is trending: the latter comparing levels to 2020 and also to the 2019 baseline performance.
HEADLINE FIGURES FOR WEEK COMMENCING 17-May-2021:
Departure frequencies up +2.90% versus last week; up+80.64% versus 2020 and down -40.27% versus 2019.
Seat capacity up +3.21% versus last week; up +89.97% versus 2020 and down -41.81% versus 2019.
CHART: Week-on-week change in flight departures by region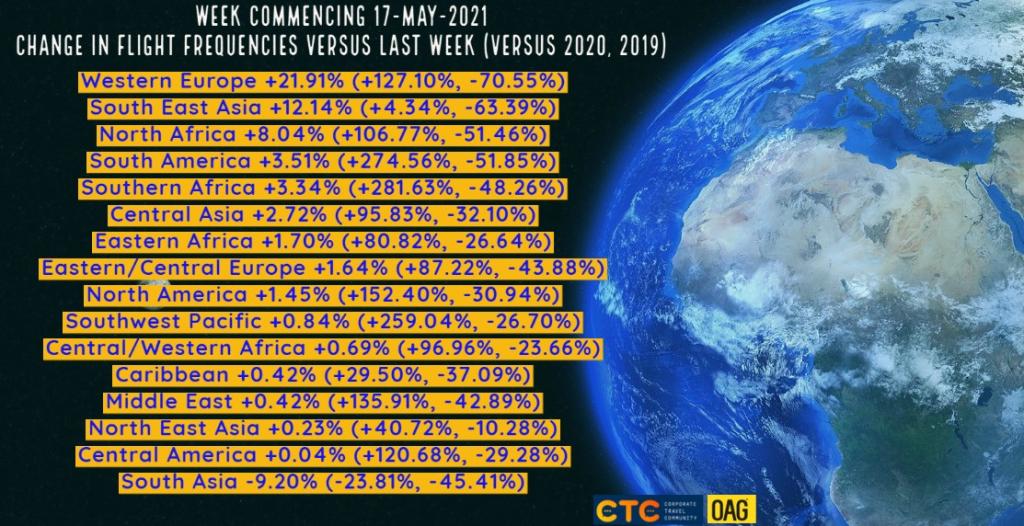 CHART: Year-on-year weekly departures performance for world's top 30 markets versus 2019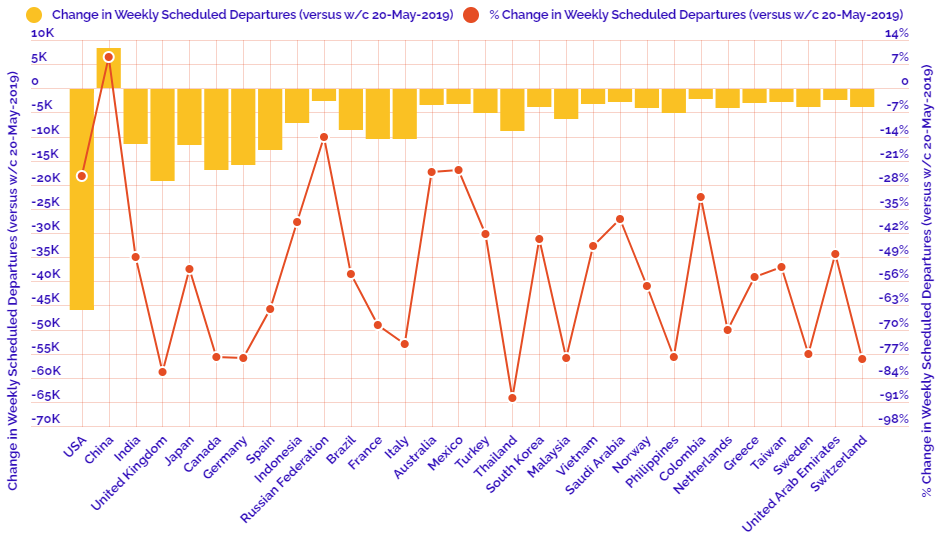 CHART: Year-on-year weekly departures performance for world's top 30 markets versus 2020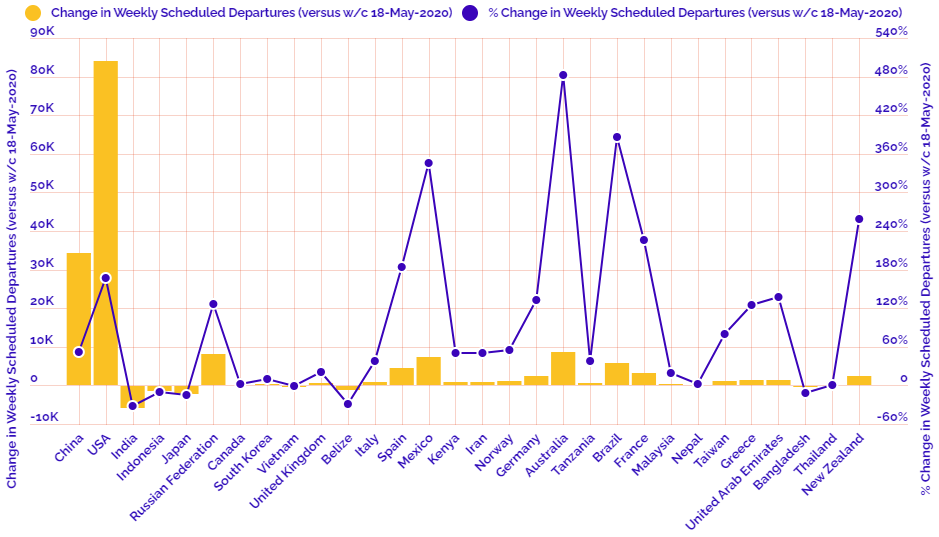 CHART: Departure capacity trends with year-on-year performance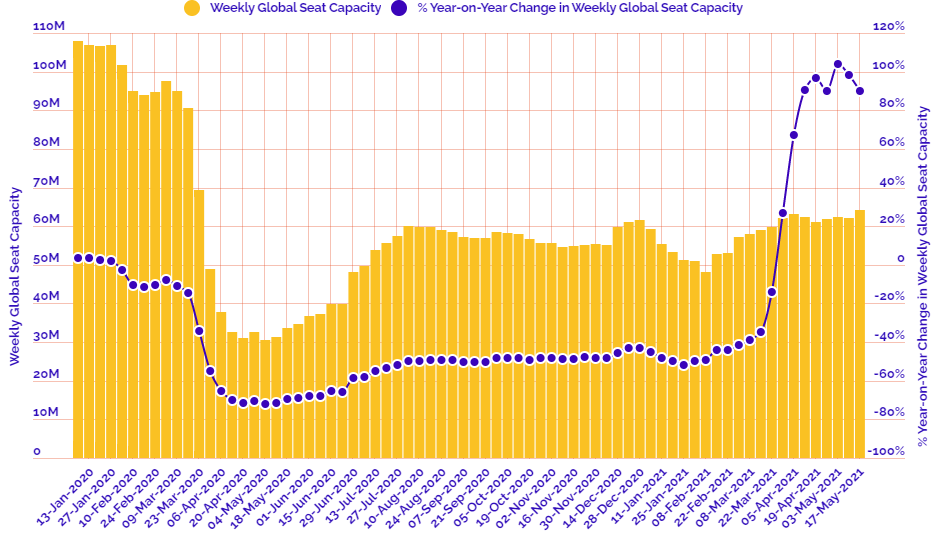 CHART: Departure capacity trends versus 2019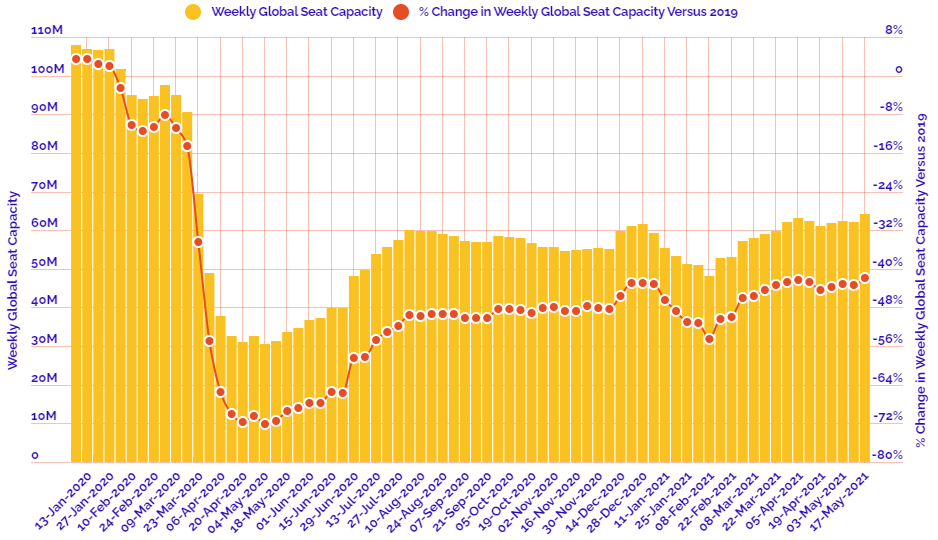 CHART: The world's biggest aviation markets by departure seats