Latest Airbnb booking data from China suggests a bounce back in demand
Preferred Hotels & Resorts' loyalty members show positive attitude to renew their travel plans
Tokyo's Olympic hotel gains are forecasted to lessen for rescheduled event in 2021
Data metrics - latest performance insights from STR
News briefs – bitesize updates of latest industry news and developments
---
Latest Airbnb booking data from China suggests a bounce back in demand
All eyes have been on China to watch its recovery from Covid-19 and latest data on Airbnb bookings in the country paints a positive picture. Latest insights – cited by Reuters – from short-term vacation rental data and analytics AirDNA shows the number of domestic Airbnb bookings in China for the first half of Apr-2020 were up more than 200% compared with the same period in Mar-2020. For the week commencing 13-Apr-2020 the number of bookings across ten big Chinese cities, including Shanghai and Guangzhou, were up nearly 80% from the week of 16-Mar-2020, acknowledged by AirDNA as being the bottom for that market. But, before we get too excited, these levels in Apr-2020 are still about half the bookings seen at the start of the year before China felt the full force of the coronavirus.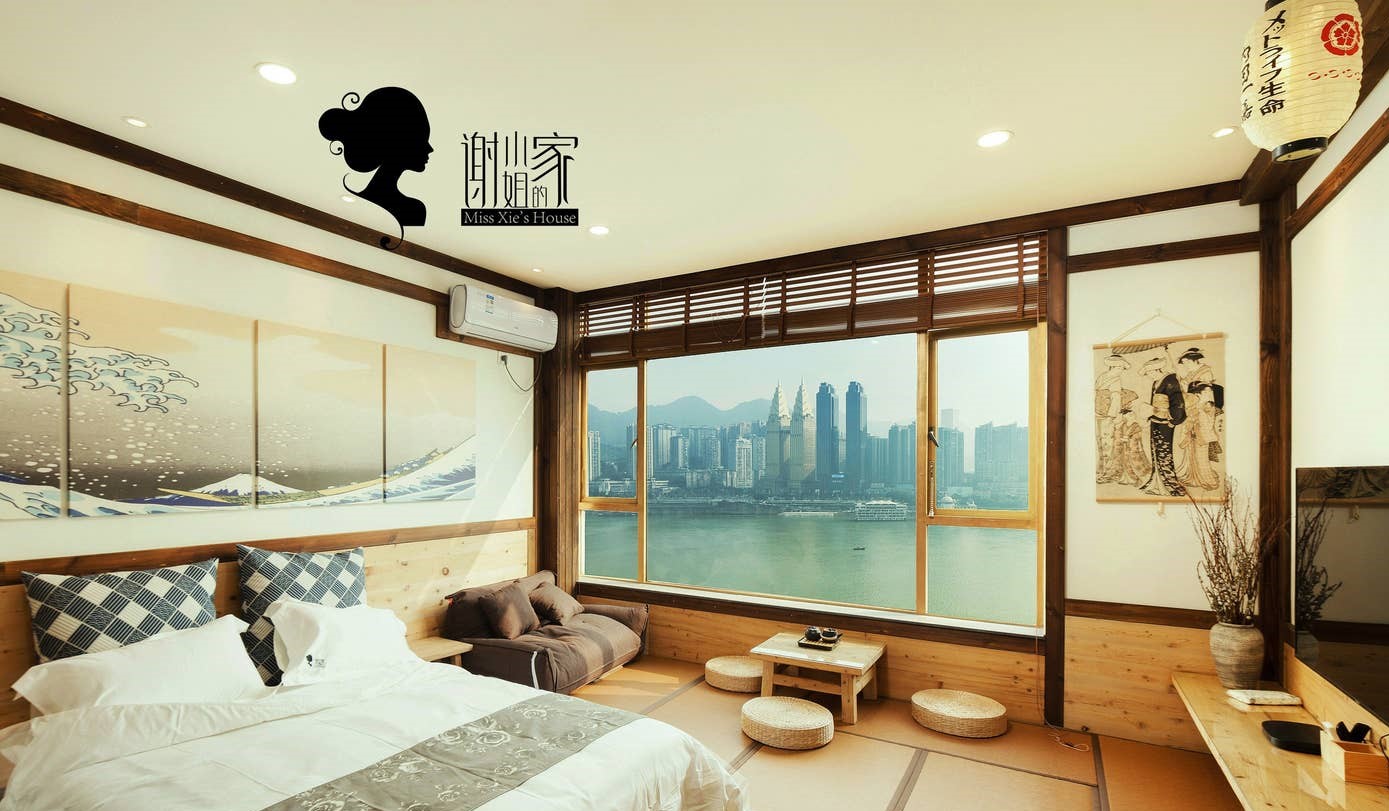 ---
Preferred Hotels & Resorts' loyalty members show positive attitude to renew their travel plans
The independent Preferred Hotels & Resorts brand has delivered some insights that hotel owners and operators will be pleased to read. Its global future travel survey with nearly 4,000 members of its loyalty programme – I Prefer Hotel Rewards – discovered a positive attitude towards travel for the second half of 2020. More than 50% of respondents said they plan to book a trip in 2020, and most will do so as soon as travel restrictions are lifted. Further, 75% of respondents plan to travel with family, having spent so much time apart. The survey found that more than half of respondents intend to travel regionally or domestically, but despite a strong desire to stay regional, over 40% of respondents still want to travel to another continent.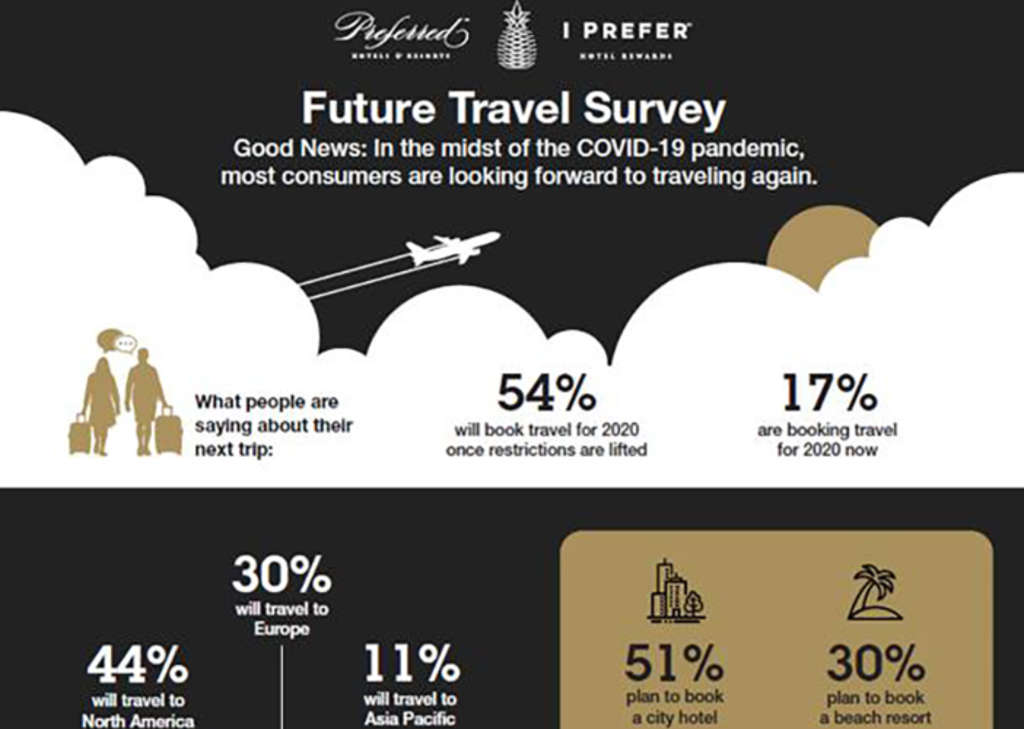 ---
Tokyo's Olympic hotel gains are forecasted to lessen for rescheduled event in 2021
The Summer Olympics' performance gains for Tokyo hotels are projected to be lower after the one-year delay in the event, according to the latest forecast from STR and Tourism Economics. Tokyo is expected to see double-digit increases in RevPAR in both Jul-2021 (+22.1% to JPY16,968) and Aug-2021 (+27.2% to JPY17,995). While growth levels are similar to the previous forecast, STR acknowledges that absolute levels will be much lower. Additionally, as a result of the event date change, the same months in 2020 are forecasted for double-digit RevPAR declines. "We are projecting less overall demand when compared with our initial forecast for 2020, and while double-digit RevPAR growth is expected, it will come from a much lower base," said Robin Rossmann, STR's managing director.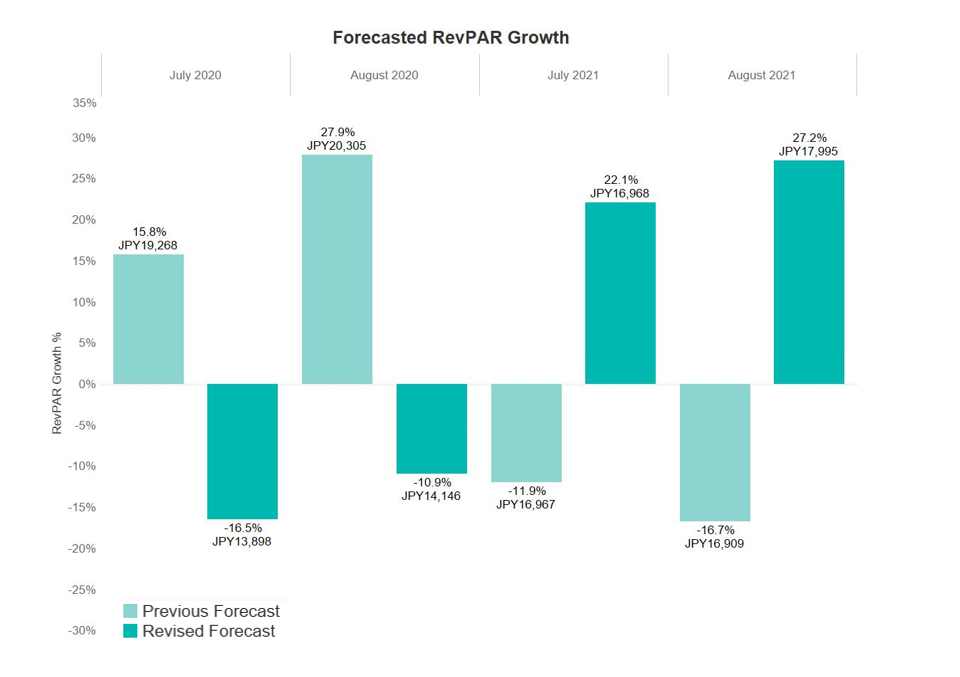 ---
Data metrics - latest performance insights from STR
The Asia Pacific hotel industry reported all-time lows in the three key performance metrics during Mar-2020. Year-on-year occupancy was down -59.5% to 28.3%, ADR fell -17.6% to USD80.82 and RevPAR declined by two thirds, falling -66.7% to USD22.85.
Reflecting the impact of the Covid-19 pandemic, Europe's hotel industry reported unprecedented performance lows during Mar-2020. Occupancy levels fell -61.6% to 26.3%, ADR slipped -8.1% to EUR96.13, while RevPAR was down -64.7% to EUR25.27. The absolute occupancy and RevPAR levels in Europe were the lowest for any month on record, according to STR.
In its first month with a visible impact from the Covid-19 pandemic, the Central and South America hotel industry reported steep declines in the three key performance metrics during Mar-2020. Occupancy almost halved, down -48.0% to 31.0%, ADR slipped -6.1% to USD85.61 and RevPAR fell -51.2% to USD26.56.
---
News briefs
The American Hotel & Lodging Association (AHLA) has released new data showing that 70% of hotel employees have been laid off or furloughed as eight in ten hotel rooms across the United States of America remain empty. As this crisis progresses beyond what anyone could have projected, it describes the impact to the travel industry as nine times worse than 911, with forecasted occupancy rates for 2020 hitting record lows worse than rates in 1933 during the Great Depression.
Anantara Hotels, Resorts & Spas plans to implement new health and hygiene measures to reassure travellers of a renewed focus on guest wellbeing. The 'Stay with Peace of Mind' programme will build on existing health and safety regimens to implement heightened sanitisation and hygiene measures. Every Anantara property will now have a dedicated 'Guest Guardian' responsible for internal audits based on a series of rigid brand guidelines.
French real estate investor Covivio has concluded the sale of 11 B&B Hotels encompassing 1,145 rooms across Germany, for a reported EUR115 million. The properties, located in key markets such as Munich, Hamburg and Stuttgart, are all budget hotels with limited facilities in addition to their core guestroom product, and are managed by B&B Hotels under lease agreements.
Benchmark Resorts & Hotels and the Gemstone Collection have introduced new accommodation rates to the 'Essential Heroes' of the Covid-19 pandemic, extending throughout 2020. These rates, previously exclusive to Benchmark employees and their families, are now extended to the essential frontline healthcare and first responder heroes of pandemic across the United States of America.
Centara Hotels & Resorts is further expanding its presence in Vietnam following the signing of Hotel Management Agreements (HMAs) for two large-scale resorts being developed by Novaland Group, a leading Vietnamese property and real estate developer. The HMAs cover a total of 2,260 keys across the two resorts, both now under construction in two distinct and renowned destinations and due to open in 2022 and 2023.
The 187-room Clayton Hotel Charlemont in Dublin, Republic of Ireland has been sold by owner operator Dalata to German real estate fund Deka Immobilien for a reported EUR65 million. Under the transaction terms the propertwill continue to be operated by the Irish hotel group under a 35-year lease.
Australia-based real estate development company, Crown International Holdings Group has secured land for its first project in downtown Los Angeles, the United States, a USD500 million mixed-use high-rise condominium and hotel tower. The project is part of a joint venture with Singapore-based Magnus Property Private Limited and one of Indonesia-based largest property developers, Agung Sedayu Retail Indonesia. The 43-storey building is slated for completion in 2024, with a 160-key luxury hotel planned for the lower levels.
The Four Seasons Hotel Doha reopened at the start of Mar-2020 following a complete interior design overhaul, courtesy of award winning and world-renowned interior designer, Pierre-Yves Rochon (PYR). Following extensive renovations of the guestrooms, suites, floors, lobby and dining outlets, the hotel has been reshaped to offer a luxury offer at the heart of Qatar's capital city.
The sale of the 442-key Guoman Hotel on Daduhe Road near Changfeng Park in western Shanghai has been concluded for RMB 1.44 billion (SGD290.7 million). The new owner is Zhengjiu Industrial Company Limited, a subsidiary of China-based developer, Dahua Group Company Limited.
Hotelbeds has announced the launch of a 'Holidays for Heroes' campaign in partnership with participating hotels. The campaign will give exclusive discounts of up to 25% to frontline key worker 'heroes'. The booking period for the campaign will be from mid-May up until 31-Oct-2020 for arrivals up until the end of the year and all rates will also be fully refundable.
The CEO of Wink Hotels is confident in Vietnam's recovery to continue with the brands growth in the country. Speaking on The Future of Travel podcast by Bangkok-based branding agency QUO, Michael Piro said the speed at which Vietnam reacted to Covid-19 revealed an underlying strength and resilience that is now setting the country on the road to recovery. "Vietnam is no stranger to crisis and the government was very quick to respond," he noted. Wink Hotels plans to open 20 hotels over the next seven years in Vietnam, with the first opening in 4Q 2020 in District 1, Ho Chi Minh City.