Ascott plans to future-proof its lodging offer to support post Covid-19 landscape demand
Shockwaves of Covid-19 could see US hotel full-year RevPAR fall to levels last seen in 1994
New Hammetts Hotel will welcomes guests to the waterfront at Newport, Rhode Island this summer
Data metrics - latest performance insights from STR
News briefs – bitesize updates of latest industry news and developments
---
Ascott plans to future-proof its lodging offer to support post Covid-19 landscape demand
The Ascott Limited says it will review the design of its lodging products and services to ensure they are future-ready for continued growth in a post Covid-19 landscape. The company says it will redefine the guest experience to take advantage of emerging trends such as the increased popularity of working-from-home, deeper health and safety concerns, and a rapidly digitising world. Ascott plans to review every touchpoint within the living and workspaces of its apartments looking at leveraging smarter technologies to provide better value and safety to guests. It aims to enhance its property design to create a more productive workspace within the serviced apartment. Improvements to the overall ergonomics of the workspace may include better task lighting, better use of space and appropriate wall features suited for videoconferencing or webcasting, it explains. Ascott will also increase adoption of mobile technology including the launch of a new mobile app later this year. A one-stop service, the app will offer guests contactless services such as contactless entry to their apartments, payments, check-in and check-out. It can also provide seamless in-room service and smart controls, management of Ascott Star Rewards loyalty points or redemption of special flash deals.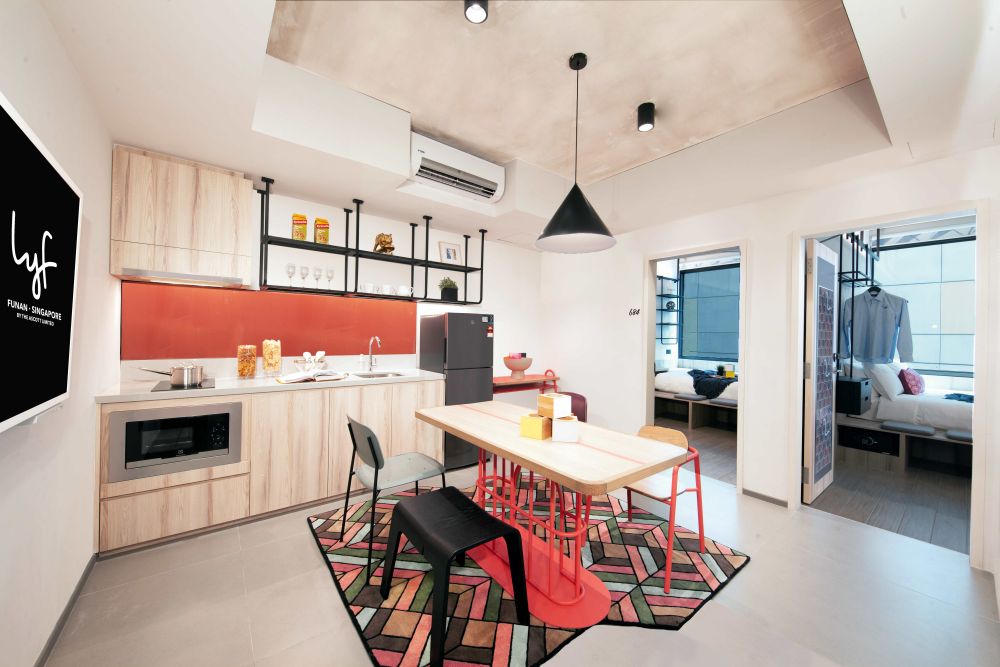 ---
Shockwaves of Covid-19 could see US hotel full-year RevPAR fall to levels last seen in 1994
New research from PwC (PricewaterhouseCoopers) suggests that annual occupancy for US hotels this year could drop below 40%, and average daily room rates drop almost 20%, with resultant RevPAR declining over 50% from last year. This would mean that RevPAR for 2020 could fall to a level not seen since 1994. In its revised outlook for 2020 the company projects occupancy levels down -41.4%, ADR falling -19.9% as hotels try to capture market share and an unprecedented -53.1% decline in RevPAR. In its May-2020 edition of PwC Hospitality Directions US, a near-term outlook for the US lodging sector, it sees demand growth returning in 2021 with strong growth levels in occupancy (versus a weak 2020), but as in previous downturns, a slower recovery in ADR, projecting an expected year-over-year RevPAR rebound of roundly 63%. But, challenges to the above outlook continue to include political uncertainty both domestically and abroad, leading up to the presidential election; the speed at which the economy recovers; and whether there is a resurgence of Covid-19 later this year or in 2021.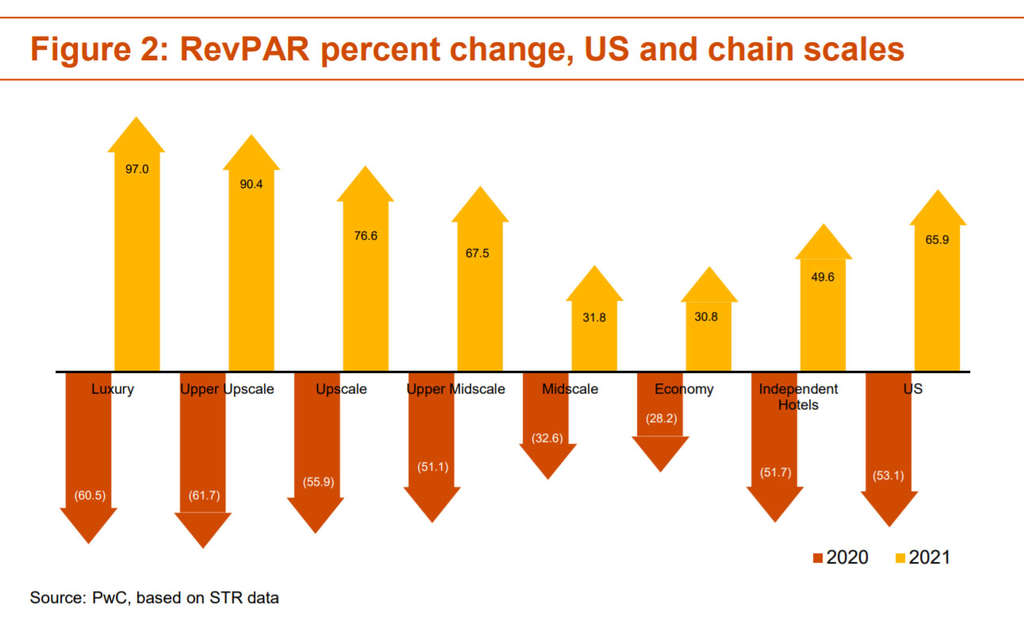 ---
New Hammetts Hotel will welcomes guests to the waterfront at Newport, Rhode Island this summer
Hotel management company Main Street Hospitality is on track for the summer 2020 opening of the Hammetts Hotel in Newport, Rhode Island. Centrally located on America's Cup at Commercial Wharf, the newly built 84-room boutique hotel will bring a new distinctive presence to downtown Newport with stunning views of the harbour and adjacent Newport Marina. "The spirit of the hotel is a nod to Newport's historic mercantile wharves in a modern context," explains Sarah Eustis, CEO of Main Street Hospitality. "It is designed to welcome visitors and community with vibrant social spaces and stylishly comfortable guest rooms that convey a sense of arriving to 'your place' in Newport." The top two floors of the hotel house forty-two guest rooms per level ranging in size up to 560 square feet for suites. Room categories include: Queen Twin Room, King Room, The Maritime Suite, The Commerce Suite, The Exchange Suite, and The Mercantile Suite.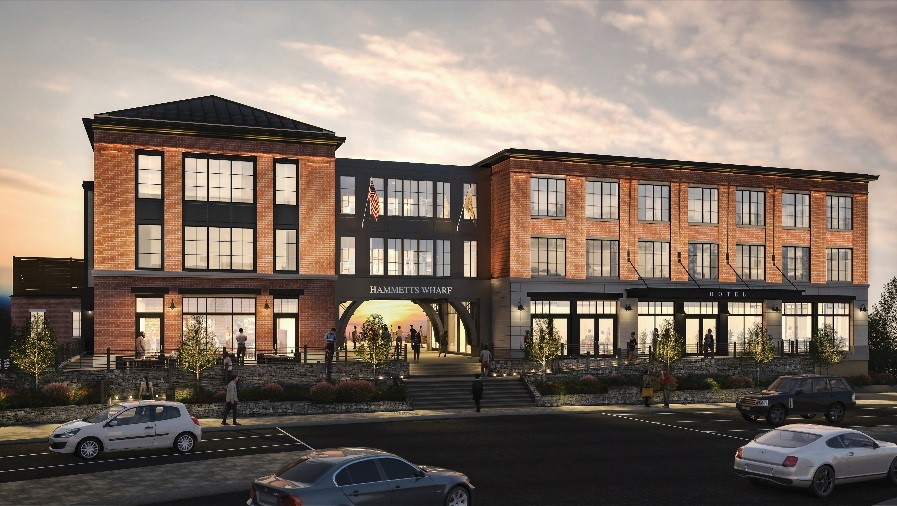 ---
Data metrics - latest performance insights from STR
Australia recorded occupancy, ADR and RevPAR levels lows in Apr-2020 as key markets such as Melbourne and Sydney saw year-over-year occupancy declines of 65.0% and 73.7%, respectively. Across the country, occupancy was down 72.7% to 19.9%, ADR slipped -33.1% to AUD119.87 and RevPAR fell -81.7% to AUD23.85 in Apr-2020, when compared to Apr-2019.
Ecuador reported is lowest ever levels for occupancy, ADR and RevPAR in Apr-2020 with its capital Quito seeing occupancy levels declining -84.0%. Across the country, occupancy was down -85.3% to just 9.0%, ADR slipped -36.3% to USD61.69 and RevPAR fell -90.6% to USD5.56 in Apr-2020, when compared to Apr-2019.
The Netherlands saw its lowest absolute occupancy and RevPAR levels in Apr-2020 that were typified by the performance in Amsterdam where occupancy fell -92.6% to 6.4%. Across the country, occupancy was down -90.0% to 8.2%, ADR declined -41.6% to EUR82.69 and RevPAR fell -94.2% to EUR6.76 in Apr-2020, when compared to Apr-2019.
Panama reported is lowest ever levels for occupancy, ADR and RevPAR in Apr-2020 with its capital Panama City seeing occupancy levels declining two-thirds, down -68.5%. Across the country, occupancy was down -69.2% to 14.0%, ADR dropped -49.1% to PAB47.71 and RevPAR fell -84.3% to PAB6.69 in Apr-2020, when compared to Apr-2019.
Qatar recorded its worst ever April occupancy performance this year as levels in Doha Centre dropped by almost a third, down-32.4% year-on-year. Across the country, occupancy was down -33.0% to 48.8%, ADR rose +4.6% to QAR410.36, but RevPAR fell -29.9% to QAR200.45 in Apr-2020, when compared to Apr-2019.
Russia's two largest cities, Moscow and Saint Petersburg, saw single-digit absolute occupancy levels during Apr-2020 of just 9.1% and 2.8%, respectively. Unsurprisingly, the country recorded absolute levels in each of the three metrics were the lowest for any previous month. Occupancy dropped -89.0% to 7.2%, ADR fell -25.3% to RUB3,712.65 and RevPAR was down -91.8% to RUB267.20 in Apr-2020, when compared to Apr-2019.
Saudi Arabia had its lowest April occupancy level in 17 years in Apr-2020 as key markets such as Jeddah and Riyadh recorded -53.9% and -39.9% year-on-year occupancy declines, respectively. Across the kingdom, occupancy was down -50.4% to 31.8%, ADR actually rose +4.9% to SAR474.66 and RevPAR fell -47.9% to SAR151.11 in Apr-2020, when compared to Apr-2019.
South Korea saw rises in each of the three key performance metrics in Apr-2020 when compared to Mar-2020, but they remained the lowest for any April on record in the country. Incheon & Seoul experienced a 75.2% year-over-year decrease in occupancy (to 18.8%). Across the country, occupancy was down -70.8% to 20.0%, ADR slipped -21.0% to KRW112,897.83 and RevPAR fell -76.9% to KRW22,536.18 in Apr-2020, when compared to Apr-2019.
---
News briefs
Kyiv Boryspil International Airport plans to open Boryspil Hotel from 10-Jun-2020, in accordance with recommendations of Ukraine's Chief State Sanitary Doctor.
Charlestowne Hotels has reached agreement with The Thrash Group to oversee its entire portfolio of hotels, adding ten sites to its portfolio including five properties of independent lifestyle brand Origin Hotel. The partnership adds over 1,200 keys and expands the management company's national footprint to 50 hotels in over 20 states, including the group's first properties in Kentucky, Colorado and Texas.
The Cheval Collection of serviced apartment residences across London (and now also expanding into Edinburgh) has been constantly adapting procedures in line with government and health authority advice to maintain cleanliness and hygiene standards. It has now introduced facial scan and temperature check machines in both residence lobbies for guests as well as staff entrances. The company has also invested in a number of Covid-19 tests, readily available for anyone with a raised temperature.
Cobblestone Inn and Suites has broken ground on a new property in Pine Bluffs, Wyoming, its third location in the US state alongside sites in Guernsey and Torrington. The new property is currently scheduled to open in late 2020 or early 2021.
Hospitality management company Davidson Hotels & Resorts has added the Snowpine Lodge to its expanding portfolio. Situated slopeside with unparalleled access to Alta mountain Ski Area in Alta, Utah, the resort features 54 guest rooms and suites; 14 deluxe dorm beds; Stillwell Spa; and more than 10,000 square feet of flexible indoor/outdoor event space.
Pursuit has begun reopening its lodging, culinary and retail experiences within its Glacier Park Collection. The company temporarily suspended operations this past March and delayed seasonal openings to support the public health response to Covid-19, as travel restrictions and social distancing measures were initiated. The openings began with the West Glacier RV Park on 01-Jun-2020 and continue with Glacier Basecamp Lodge on 04-Jun-2020 and West Glacier Cabin Village on 05-Jun-2020 and others through the rest of the month.
Paramount Hotel Group has added the Hampton Inn in Kennebunk, Maine to its portfolio of managed properties. This hotel represents the seventh hotel added to the Paramount portfolio within the last 12 months.
Hyatt Hotels has confirmed it has terminated its affiliation with the Hyatt Regency Buffalo after more than 36 years of operation with immediate effect. The 396-room hotel at Fountain Plaza has been temporarily closed since 01-Apr-2020 due to the Covid-19 pandemic and it is not yet clear if it will close permanently.
Hospitality Ventures Management Group (HVMG) has signed a management agreement to operate the Inn On Broadway in Lexington, Kentucky. Situated at 1301 South Broadway in downtown Lexington, the four-story hotel is well suited to meet the needs of business and leisure travellers.
Northern Ireland's Department for Economy has announced that guesthouses, B&Bs, hotels, and hostels across the country will all be permitted to reopen from 20-Jul-2020 but a decision has yet to be made on what facilities and amenities "can safely be made available".
Quality Inn & Suites Garden of the Gods in Colorado Springs has completed a renovation of its 124 guest rooms including newly remodeled bathrooms as well as new paint, furniture and fixtures. The former RAR Hospitality property was acquired by Hostmark Hospitality Group in Feb-2020 as part of its strategic west coast expansion.
Pebblebrook Hotel Trust has executed a contract to sell the 125-room Union Station Hotel Nashville, Autograph Collection in Nashville for USD56 million to an unnamed third party. The sale remains subject to normal closing conditions and is targeted for completion in the third quarter of 2020.
Walt Disney World is to reopen some of its resort properties to guests with pre-existing reservations, and to Disney Vacation Club members. These include: Old Key West, Saratoga Springs, Polynesian Village and Bungalows, Bay Lake Tower, Boardwalk Villas at Boardwalk Resort, Beach Club Villas at Beach Club Resort, Animal Kingdom Villas at Animal Kingdom Lodge, Copper Creek Villas and Cabins and Boulder Ridge Villas at Wilderness Lodge, the Riviera Resort and Grand Floridian Resort.