Radisson Blu debuts in Canada as upper upscale grows across the Americas
IHG debuts first Holiday Inn in the Malaysian city of Johor
Fairfield by Marriott doubles its footprint in Japan with eight hotels slated to open across four Prefectures
Data metrics – latest performance insights from STR
News briefs – bitesize updates of latest industry news and developments
---
Radisson Blu debuts in Canada as upper upscale grows across the Americas
Radisson Hotel Group has brought its upper upscale Radisson Blu hotel brand to Canada with the formal opening of Radisson Blu Toronto Downtown at 249 Queen's Quay W in downtown Toronto, Ontario, a conversion of the former Radisson Admiral Toronto-Harbourfront. As the first Radisson Blu in Canada, the hotel delivers the brand's one-of-a-kind experience, while incorporating local elements of Toronto's downtown and the serene surroundings of Lake Ontario. The opening of the property kicks off an exciting wave of growth for the brand. Before the end of 2020, further Radisson Blu properties will be opened in Anaheim, California; Punta Cana, Dominican Republic; and Fargo, North Dakota. The hotel debuts following an extensive renovation of the Radisson Admiral Toronto-Harbourfront, with local touches incorporated into the hotel's contemporary design, across its 157 rooms and all public areas. The hotel "expertly highlights the vibrant and energetic local cultures of the city while simultaneously delivering a restful stay and a memorable guest experience," according to Aly El-Bassuni, chief operating officer, Americas, Radisson Hotel Group.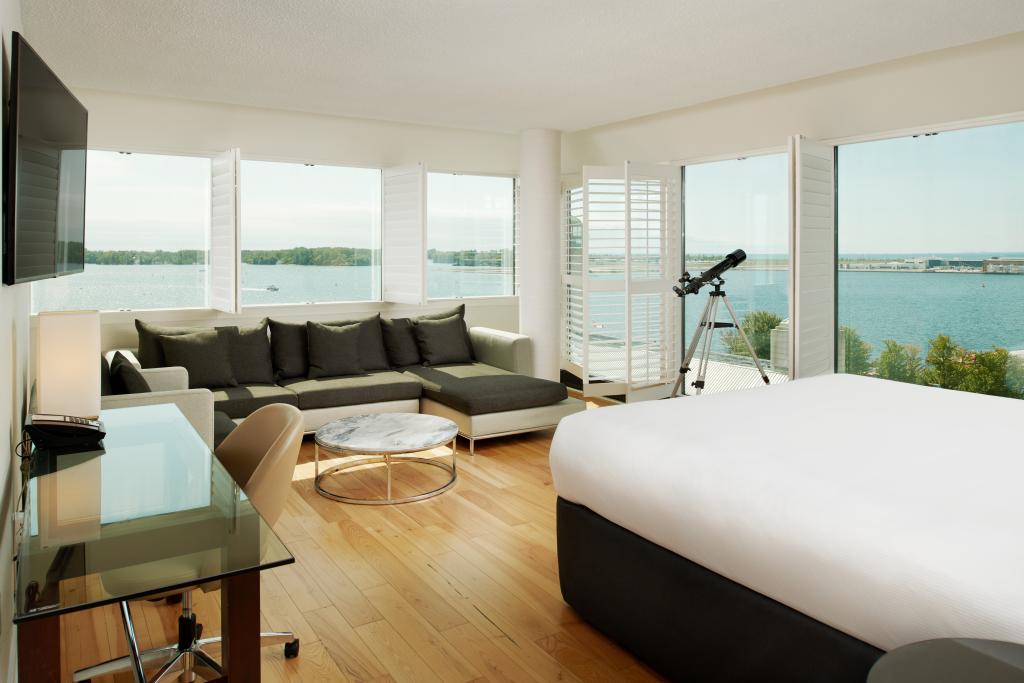 ---
IHG debuts first Holiday Inn in the Malaysian city of Johor
InterContinental Hotels Group (IHG) has confirmed the opening of Holiday Inn Johor Bahru City Centre, the first property under the brand in Johor and the third in Malaysia. This 335-room new built hotel is part of Komtar JBCC mixed-use development comprising retail and commercial office spaces and will enjoy direct connection to the Persada Johor International Convention Centre via Persada Link Bridge covered skywalk. Nestled in the heart of the city centre, a short 30-minute drive away from Senai International Airport, the hotel provides easy access to some of the best shopping and entertainment options in town, including Angry Birds Activity Park, Skyscape JB, Heritage Trail on Jalan Tan Hiok Nee & Bazaar Karat night market. Meanwhile, for corporate travellers, it is conveniently located in the central business district, surrounded by a wealth of banks, financial institutions and offices to cater to all business needs. Facilities at the hotel include a sky pool, steam rooms, and a 24-hour fitness centre.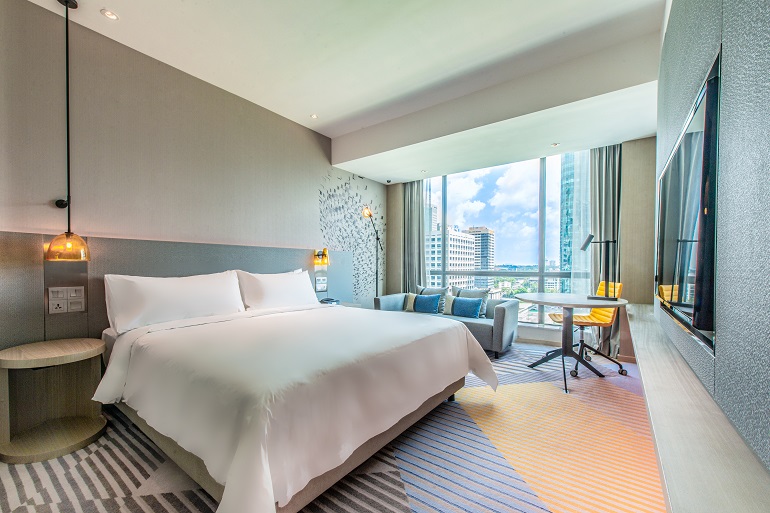 ---
Fairfield by Marriott doubles its footprint in Japan with eight hotels slated to open across four Prefectures
Marriott International has revealed planned openings of eight new Fairfield by Marriott properties in Japan, highlighting a vast expansion that more than doubles the size of the brand in the country. Sekisui House, a renowned Japanese developer, has partnered with Marriott International to further enhance their 'Trip Base' initiative – a project seeking to revitalise local sightseeing spots – with the opening of hotels alongside 'Michi-no-Eki' roadside stations. The Michi-no-Eki rest stop system was created over two decades ago to provide comfortable stop-over rest facilities for road trip travellers in Japan, situated close to national parks and UNESCO World Heritage Sites. As part of the Marriott Michi-no-Eki project, Fairfield by Marriott Gifu Seiryu Satoyama Park (85 rooms; opened 06-Oct-2020), Fairfield by Marriott Gifu Mino (54 rooms; opened 06-Oct-2020), Fairfield by Marriott Tochigi Utsunomiya (87 rooms; opened 07-Oct-2020), Fairfield by Marriott Kyoto Kyotamba (75 rooms, opened 08-Oct-2020), Fairfield by Marriott Gifu Gujo (87 rooms; opened 09-Oct-2020) and Fairfield by Marriott Mie Mihama (63 rooms; opened 12-Oct-2020) opened this month. The 52-room Fairfield by Marriott Tochigi Motegi will follow on 20-Nov-2020 and the 93-room Fairfield by Marriott Kyoto Miyazu on 15-Dec-2020.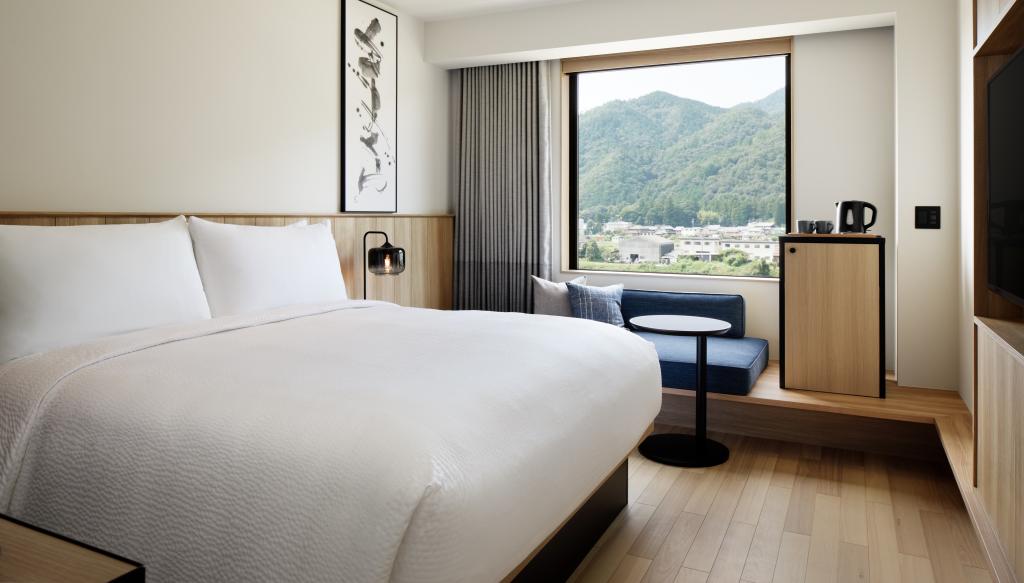 ---
Data metrics – latest performance insights from STR
Hotel performance data in Canada for the week commencing 27-Sep-2020 showed slightly lower performance from prior weeks. In comparison with the week commencing 29-Sep-2020, occupancy was down (-52.8%) to 34.0% continuing a recent trend of falling levels (35.6% in the week of 26-Sep-2020; 37.0% in the week of 19-Sep-2020; and 39.8% of week commencing 12-Sep-2020). Additionally, ADR fell -28.9% to CAD117.75 and RevPAR declined -66.4% to CAD40.05. For the analysis week, British Columbia (43.2%) was the only province to reach or surpass a 40% occupancy level. Among the major markets, Vancouver saw the highest occupancy level (34.2%). The lowest occupancy among provinces was reported in Quebec (19.7%). At the market level, the lowest occupancy was reported in Montreal (16.0%).
United States of America hotel occupancy decreased slightly from the previous week, according to data for the week commencing 27-Sep-2020. Year-over-year declines were less pronounced compared with previous weeks due to the Rosh Hashanah impact on the hotel calendar in 2019. Most of the markets with the highest occupancy levels were once again those in areas with displaced residents from natural disasters. In comparison with the week commencing 29-Sep-2019, occupancy was down -29.6% to 47.9%, ADR declined -26.3% to USD95.63 and RevPAR fell -48.1% to USD45.80. Aggregate data for the Top 25 Markets showed lower occupancy (42.1%) but higher ADR (USD99.06) than all other markets. Three of those major markets reached or surpassed 50% occupancy: Norfolk/Virginia Beach, Virginia (52.5%); San Diego, California (52.1%); and Los Angeles/Long Beach, California (51.6%). Markets with the lowest occupancy levels for the week included Oahu Island, Hawaii (19.0%), and Orlando, Florida (30.8%).
---
News briefs – bitesize updates of latest industry news and developments
The Ascott Limited, CapitaLand's wholly owned lodging business unit, has launched its new 'Discover ASR' mobile app for members of its loyalty programme, Ascott Star Rewards (ASR). The new mobile app will unlock a world of conveniences for ASR members, and has been designed to provide greater value, flexibility and enhance guest experience acting as a one-stop 24/7 digital concierge for members.
The Baird/STR Hotel Stock Index dropped -7.1% in Sep-2020 to a level of 3,329. Year to date through the first nine months of 2020, the stock index was down -36.8%. The Sep-2020 performance fell behind both the S&P 500 (-3.9%) and the MSCI US REIT Index (-3.7%). The Hotel Brand sub-index declined -8.1% from August to 5,969, while the Hotel REIT sub-index fell -3.3% to 739.
Two years after launching Clarion Pointe, a midscale select-service brand extension franchised by Choice Hotels International, the brand has opened its 20th hotel in the US and now has over 50 hotels open or in the pipeline, demonstrating strong growth plans. The milestone was marked by recent new openings: a 91-room property in Raleigh, North Carolina; a 75-room hotel in Savannah, Georgia; and an 85-room property in Marshall, Texas.
Hospitality management company Davidson Hotels & Resorts has added The Higgins Hotel & Conference Center to its growing portfolio. Operated by Davidson's lifestyle and luxury division Pivot Hotels & Resorts, the 230-room, art deco-inspired boutique hotel is part of Curio Collection by Hilton. Located in New Orleans' Arts and Warehouse District adjacent to The National WWII Museum, the property was intentionally designed to complement the museum experience.
The Holiday Inn Express Bicester, in Oxfordshire, UK, has opened just a short walk from Bicester Village, a top UK shopping destination, and a five-minute drive from Bicester town centre. This new-build hotel has been developed by L+R Hotels and is managed by Atlas Hotels. All 149 bedrooms feature the Holiday Inn Express Next Generation room design, aimed at enhancing guest experience and equipping travellers with everything they need for a great stay.
The Jumeirah Messilah Beach Hotel & Spa has been awarded the Safeguard Label by Bureau Veritas (BV), a world leader with a 192-year legacy in providing testing, inspection and certification services after an audit recorded that it has implemented global standards of hygiene and safety measures.
The Mandarin Oriental Ritz, Madrid will open again next spring, following what has been described as "the most ambitious and extensive renovation to take place in its 110-year history". The three year process will come to a conclusion in the early part of next year allowing the property to welcome back guests from 15-Mar-2021. The hotel will open with 153 luxuriously appointed rooms, including 53 suites. There will also be five restaurants and bars, which have been designed, developed and implemented by celebrated Spanish chef, Quique Dacosta.
Sun Siyam Resorts has confirmed the launch of the Siyam World concept resort, which will open to guests from Dec-2020. Located on a natural island nestled in the Maldives' Noonu Atoll, it is surrounded by a 1.5 km house reef that is teaming with wildlife and a diverse array of aquatic life. The property offers 12 accommodation types ranging from the 72 square metre Beach Villas right up to the 1,224 square metre The Palace that sleeps up to 18 adults and includes six bedrooms.
Userguest, which provides hotels with technology, marketing tools and data-driven smart recommendations to maximise their website revenue, has raised EUR260,000 in funds via CDG invest's 212 Founders programme. The funds will be used to support Userguest's growth and deliver new product innovation to enable hoteliers to make and execute better marketing decisions.
Volan Technology, a specialist in AI-based workplace safety and contact tracing software, and dormakaba, a global leader in hotel access solutions, have confirmed an integration partnership affording hotel and facility operators the capability to view their entire staff's locations to quickly respond in the case of an emergency, run precise contact tracing and rostering reports on thousands of people and rooms in seconds, while deploying the ability to automatically lock and unlock entry points all with one portable device.