JW Marriott brand debuts in Australia with JW Marriott Gold Coast Resort & Spa opening
Hyatt opens its first five upper-midscale UrCove Hotels in China
Hard Rock Hotels reveals REVERB by Hard Rock hotel concept
Data metrics – latest performance insights from STR
News briefs – bitesize updates of latest industry news and developments
---
JW Marriott brand debuts in Australia with JW Marriott Gold Coast Resort & Spa opening
JW Marriott, part of Marriott International, has confirmed the opening of JW Marriott Gold Coast Resort & Spa, marking the debut of Marriott International's iconic JW Marriott brand in the Pacific region. Located close to the Gold Coast's gorgeous golden beaches, unspoilt hinterlands and famous family attractions, the resort brings a new level of luxury to the beachside city. The new resort's aesthetic is inspired by its natural surroundings, embodying the beauty and relaxed mood of coastal Queensland. The lobby and public spaces reflect a design narrative inspired by the surrounding landscapes. The 223 guestrooms and suites draw inspiration from their urban beachside context and are designed to appeal to the most discerning traveller. Rooms are open and spacious, and feature thoughtful compositions of soft natural colour palettes and materials.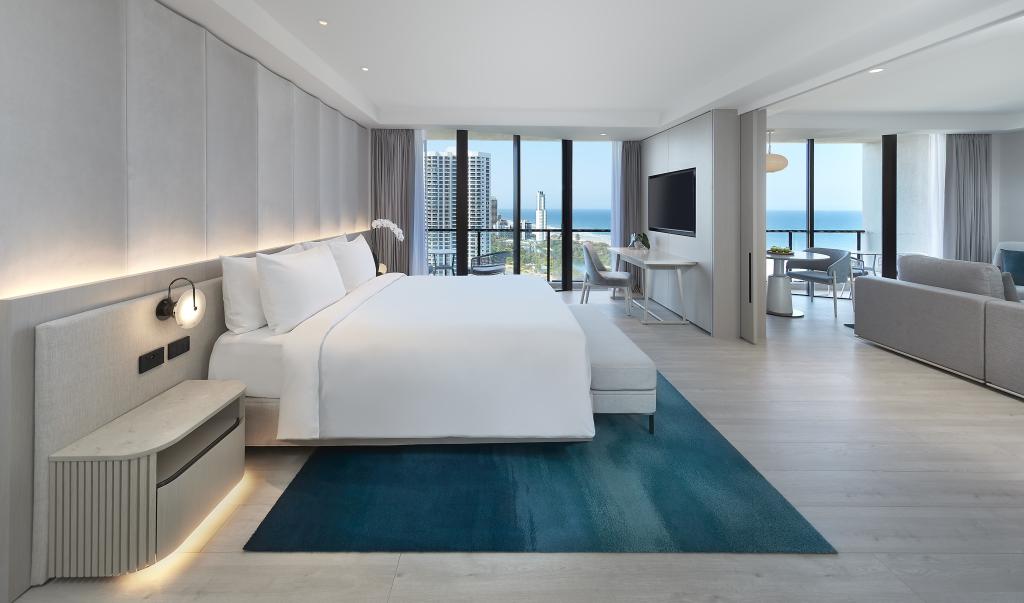 ---
Hyatt opens its first five upper-midscale UrCove Hotels in China
Hyatt Hotels has confirmed that UrCove, the new hospitality brand developed under a joint venture between Hyatt and BTG Homeinns Hotel Group affiliates, has opened its first five properties. These comprise UrCove Shanghai Jing'an, UrCove Shanghai Lujiazui EXPO, UrCove Shanghai Wujiaochang, UrCove Chengdu City Center and UrCove Nanjing South Railway Station. These new additions to Hyatt's portfolio in these popular destination cities in China aim to better serve the highly mobile travellers in the upper-mid segment. "China remains a priority market for Hyatt's growth, and we are committed to unlocking the huge potential of the country's emerging middle class and growing domestic travel trends," says Stephen Ho, president of growth and operations, Asia Pacific, Hyatt. In Shanghai, the UrCove Shanghai Jing'an has 265 guestrooms and is located in the Jing'an central business district, which is one of the city's most vibrant areas. The UrCove Shanghai Lujiazui EXPO has 142 guestrooms and is located in the South of Lujiazui CBD, one of the busiest financial centres of the city, while UrCove Shanghai Wujiaochang with 199 guestrooms is located in the busiest business hub in northern Shanghai. Elsewhere, the 204-room UrCove Chengdu City Center is located in the centre of Chengdu Digital Square business district, while the 205-room UrCove Nanjing South Railway Station can be found adjacent to Nanjing South Railway Station.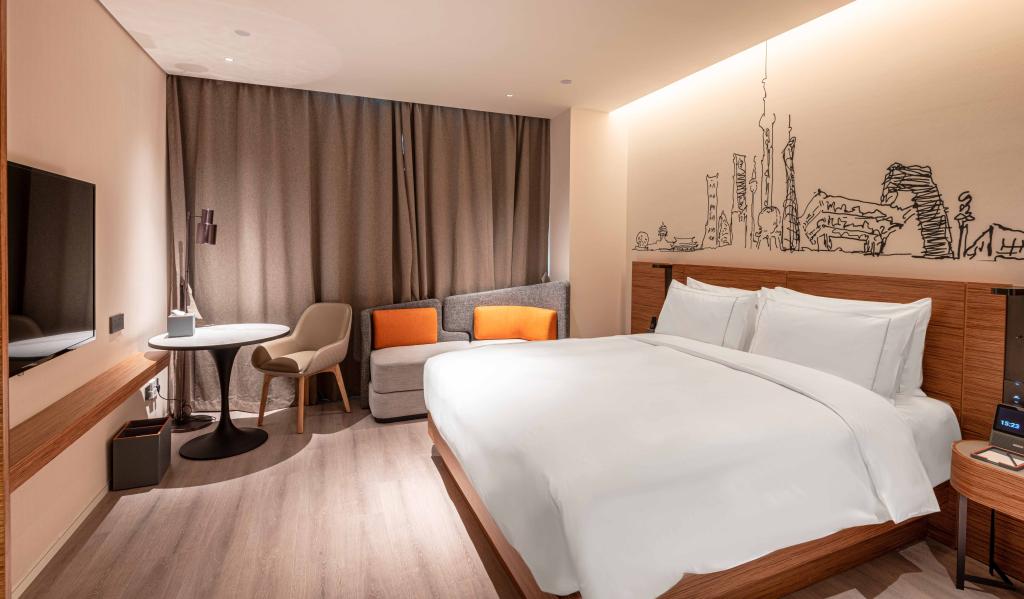 ---
Hard Rock Hotels reveals REVERB by Hard Rock hotel concept
Hard Rock Hotels has launched of REVERB by Hard Rock, a new hotel concept designed to be an energetic cultural hub for connection, creation and inspiration among music fans, locals, and travellers alike. With a prime location adjacent to Atlanta's Mercedes-Benz Stadium, REVERB Downtown Atlanta marks the first REVERB opening, with additional properties slated to open in major US cities in the next two years. In partnership with industry leaders across the hospitality, technology and sustainability space, REVERB properties will boast a modern, urban design with all of the necessary amenities for guests to channel their creativity, while enjoying the comforts of traveling and getting to know a new city. From enhanced common spaces designed to encourage collaboration, to specialty food and drink offerings and smart rooms that allow guests to customise their room experience, REVERB is designed to offer guests a fully immersive stay. The REVERB Downtown Atlanta will have 195 rooms across 11 floors offering unique workspaces, dynamic common areas and unparalleled views of the Atlanta skyline and Mercedes-Benz Stadium from the RT60 Rooftop Bar.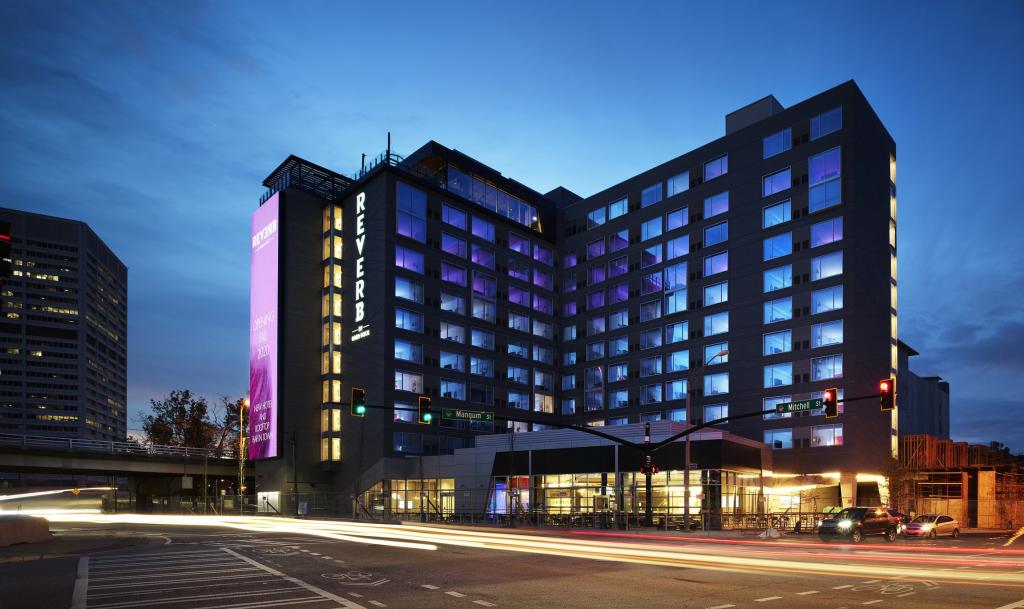 ---
Data metrics – latest performance insights from STR
Hotels in Africa saw slightly lower occupancy than the previous month, according to Nov-2020 data from STR. In comparison with Nov-2019, occupancy was down -58.7% to 27.8%, ADR declined -13.3% to USD92.40 and RevPAR fell -64.2% to USD25.73.
The Asia Pacific hotel industry reported nearly flat performance levels in Nov-2020 compared with the previous month. The occupancy level was down slightly from October, while the ADR and RevPAR levels were up marginally. In comparison with Nov-2019, occupancy was down -25.8% to 53.5%, ADR fell -23.6% to USD72.97 and RevPAR declined -43.3% to USD39.02.
The Central/South America hotel industry reported its highest performance levels in Nov-2020 since the beginning of the pandemic. Occupancy was the highest in the region since Feb-2020, while ADR and RevPAR were the highest since Mar-2020. In comparison with Nov-2019, occupancy was down -48.3% to 32.8%, ADR fell -19.9% to USD70.13 and RevPAR declined -58.6% to USD23.03.
Reflecting the impact of a second lockdown, the hotel industry in Europe reported much lower performance levels in Nov-2020 from the prior month. Amid continued COVID-19 lockdowns around the continent, each of the three key performance metrics were down from Oct-2020, and the occupancy level was the lowest since May-2020. In comparison with Nov-2019, occupancy was down -70.4$ to 21.3%, ADR declined -32.3% to EUR72.42 and RevPAR fell -81.2% to EUR14.42.
Hotels in the Middle East recorded their highest absolute occupancy level since Feb-2020 in Nov-2020. In comparison with Nov-2019, occupancy was down -34.4% to 46.9%, ADR declined -24.9% to USD107.98 and RevPAR fell -50.7% to USD50.63.
---
News briefs – bitesize updates of latest industry news and developments
Davidson Hotels & Resorts has been selected by High Street Real Estate Partners, RGP Partners, and ACRON Real Estate Investments to manage The Westin Snowmass Resort and Wildwood Snowmass. As part of the transition, both properties will undergo transformational renovations to guestrooms, F&B outlets and public spaces.
Real estate development company 3D Development is poised to begin the transformation of 5.2 acres into a mixed-use project. The new Richardson, Texas development will include a USD22 million Element by Westin hotel located at 2205 North Glenville Ave. The four-storey hotel will offer 123 suites that include full-equipped kitchens and spa-inspired bathrooms. It will be developed and managed by Midas Hospitality and is scheduled to open in the summer of 2021.
Hyatt Hotels has completed the sale of Exhale Enterprises, which includes Exhale, an internationally recognised spa and fitness brand in the US and Caribbean, to E-HALO Holdings. Hyatt and Exhale are continuing their alliance via the World of Hyatt loyalty programme, meaning World of Hyatt members can continue to earn and redeem points at participating Exhale locations.
Hilton Sandestin Beach Golf Resort & Spa has introduced the new Home at Hilton work-from-hotel programme catering to remote workers interested in moving their home office beachside for an extended Florida workcation this winter. The packages include a 14-night Change of Scenery and a 30-night One Month Life Swap, both providing amenities and benefits to create a home-away-from-home setting.
Hotel Equities has announced the opening of the Home2 Suites by Hilton-Richmond, located at 5950 National Road East in Richmond. The 100-room all-suite Hilton hotel is owned and developed by The Witness Group (TWG). Hotel Equities manages the hotel, one of nine Home2 Suites by Hilton-branded properties to join HE's portfolio.
Hyatt Hotels Corporation has confirmed an affiliate entered into a franchise agreement with 50 Third Street Owner for The Park Central San Francisco to join the Hyatt portfolio as an affiliated hotel. The 681-room hotel is managed by Highgate and is expected to rebrand to Hyatt Regency San Francisco Downtown SoMa. The property is located in the heart of San Francisco's south of market (SoMa) neighbourhood, will undergo a multi-million-dollar renovation starting in early 2021, that will include a full redesign of guestrooms, transformation of the meeting and event spaces, ground floor lobby area and food and beverage experience, as well as a relocation and expansion of the fitness centre.
Marriott International expanded its footprint in Japan with the debut of six of its hotel brands in the country in 2020. Newly introduced brands include AC Hotels by Marriott, Aloft Hotels, EDITION, JW Marriott, Fairfield by Marriott and Ritz-Carlton Reserve. With these additions and other openings during last year, the company ended 2020 with a total of 63 open properties in Japan represented across 18 brands.
Pacific Hospitality Group (PHG) has acquired the Hotel Granduca Austin in Austin, Texas, its third hotel in the lone star state – with two Marriott-branded hotels in Dallas, Texas. PHG will be taking over operations of the hotel immediately with plans to rebrand the property as part of the Meritage Collection of independent hotels in the summer of 2021. Hotel Granduca Austin, located in the upscale Westlake neighbourhood features 194 rooms, including 38 suites, and sits on 38 acres with sweeping views of the hillsides. It will mark the company's sixth independent hotel in its Meritage Collection portfolio.
Q Apartments, a global apartment operator, has revealed its latest collection of fully equipped, design-led apartments set in Reading's bustling town centre in England, a key part of a major plan for UK-wide expansion in 2021. Developed in partnership with Irish design studio House + Garden, the renovated apartment period apartment block features a collection of one and two bed apartments over five floors.
RadicalStart has introduced a streamlined vacation rental software known as RentALL for entrepreneurs. The software allows entrepreneurs to launch their vacation rental business in a short time. It also suits established vacation rental businesses that want to set up an online platform for their customers. The vacation rental software is available as a website and a mobile app on Android and iOS platforms.
The SpringHill Suites by Marriott San Diego Carlsbad has officially opened. Located at 3136 Carlsbad Boulevard, the hotel will operate as a Marriott franchise, owned and managed by DKN Hotels. The three-storey 104-suite hotel will feature a rooftop lounge with sweeping ocean views and fire pits. It is situated in the heart of Carlsbad Village and provides convenient access to Camp Pendleton, LEGOLAND California, The Flower Fields at Carlsbad Ranch, The Crossings at Carlsbad and the Carlsbad Premium Outlets.
The Excellence Collection has launched The Excellence Collection Rewards, a new programme to thank those who have chosen to make the brand's properties their home away from home. The members-only privileges include a host of curated offerings automatically unlocked upon check-out from any of the brand's properties. The loyalty programme will be divided into four tiers: Silver, Gold, Platinum and Diamond.
Wyndham Hotels & Resorts has completed the rollout of mobile check-in and checkout to nearly 6,000 economy and midscale hotels in North America. The major milestone comes just months after Wyndham first announced the initiative in Sep-2020. The company's new mobile app is available for iOS and Android devices in the Apple App and Google Play stores.