From check-in to check-out – Hilton hopes to set a new standard of hotel cleanliness
US hotel gross operating profit per available room falls more than 100%
Tripadvisor launches Hotels for Health globally to support accommodation needs of frontline medical workers
Data metrics - latest performance insights from STR
News briefs – bitesize updates of latest industry news and developments
---
From check-in to check-out – Hilton hopes to set a new standard of hotel cleanliness
Hilton has announced a new programme to deliver a standard of cleanliness and disinfection at its properties around the world. It is collaborating with RB, maker of Lysol and Dettol, and consulting with Mayo Clinic to develop what it describes as "elevated processes" and staff training to help reassure guests enjoy "an even cleaner and safer stay from check-in to check-out". Hilton CleanStay with Lysol protection, as the programme will be called in North America, will launch in Jun-2020 and will build upon the existing standards of housekeeping and hygiene at Hilton properties. The goal of Hilton CleanStay is to provide guests with assurance and peace of mind when they stay at any of Hilton's more than 6,100 properties across 18 brands. Hilton says The initiative will create a focus on cleanliness that will be visible to guests throughout their entire stay – in their guest rooms, restaurants, fitness rooms and in other public spaces. Full details for the programme are still in development and are expected to be announced soon. They are likely to include new rooms seals to indicate to guests that their room has not been accessed since being thoroughly cleaned and the removal of amenities such as brochures, directories etc. One aspect will be extra disinfection of the most frequently touched guests room areas as indicated in the image below.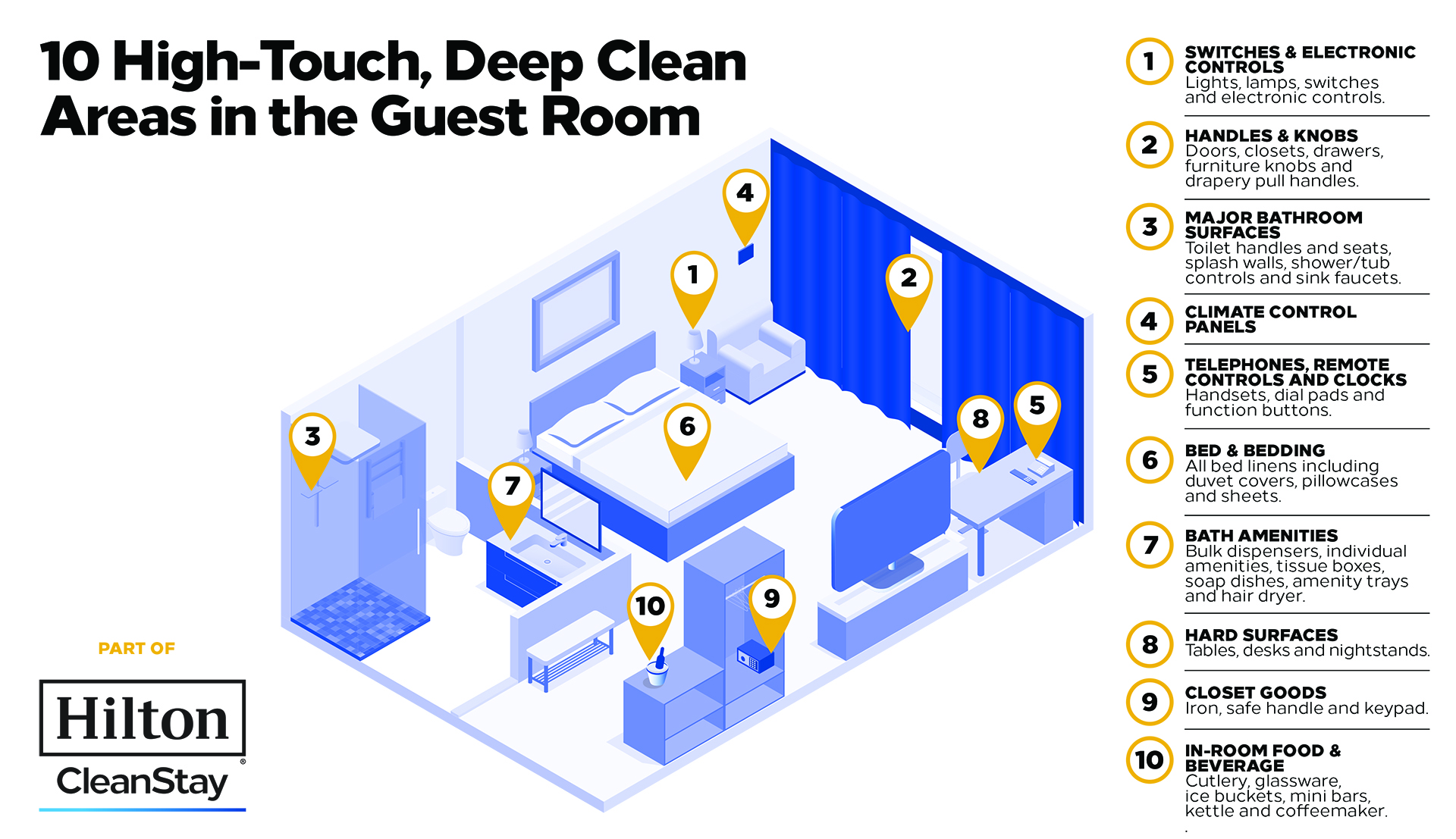 ---
US hotel gross operating profit per available room falls more than 100%
It was a tough, tough Mar-2020 for the hospitality sector and latest data reveals that gross operating profit per available room for hotels across the United States of America fell -101.7% compared to the same month last year. According to the first-ever monthly P&L data release from benchmarking specialist STR, the industry posted GOPPAR down -101.7% to USD-2.10, TRevPAR down -64.0% to USD104.93, EBIDTA PAR down -116.8% to USD-15.44 and LPAR (Total Labour Costs) down -31.2% to USD66.16. "Just a few months ago, we were talking about 2020 being a challenging year for profitability given flattening occupancy levels and a lack of hotelier pricing power. Now we're at a point where thousands of properties have closed around the country due to their inability to operate at any level of profitability," explains Joseph Rael, STR's senior director of financial performance. Among top markets, New York reported the steepest GOPPAR decline (-203.0%), followed by Chicago (-201.4%) and Seattle (-158.0%). At a class level, upper-upscale properties saw the worst decrease in GOPPAR (-108.1%).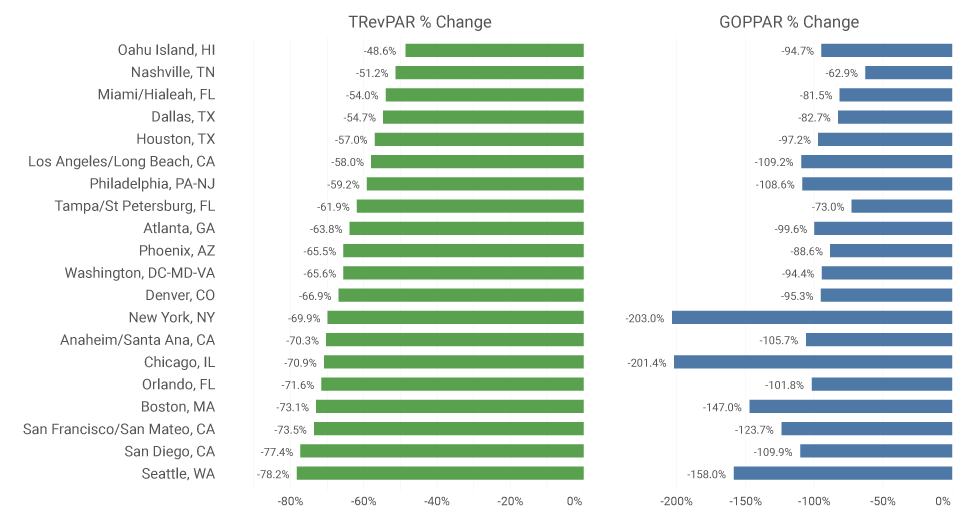 ---
Tripadvisor launches Hotels for Health globally to support accommodation needs of frontline medical workers
Tripadvisor has launched Hotels for Health, a programme to connect healthcare and government agencies worldwide with lodging providers that can supply rooms in this time of need during the Covid-19 pandemic. The site allows healthcare providers to advise that they need rooms, and hotels to advise that they have spare rooms available. The teams at Tripadvisor will then connect the hotels and healthcare providers. After a trial connecting the UK's National Health Service and select hotels in the south of England, Tripadvisor is now expanding the programme globally.
---
Data metrics - latest performance insights from STR
Brazil's hotels have been hit hard by the Covid-19 pandemic, but Latin American performance was more positive than other parts of the world in Mar-2020. In Brazil year-on-year occupancy was down -43.0% to 32.4%, ADR slipped -9.9% to BRL294.19 and RevPAR fell -48.6% to BRL95.43. The absolute occupancy level was the lowest for any month in STR's Brazil database.
China's Mar-2020 hotel performance was down significantly year-on-year, but was an improvement on Feb-2020 suggesting further green shoots of recovery. Occupancy for Mar-2020 was down -65.4% to 23.2%, but that is almost double the level (12.8%) recorded in Feb-2020. ADR was down -35.4% to CNY332.41 and RevPAR down -77.6% to CNY76.96.
In Colombia occupancy levels also hit new lows, declining -49.6% to 30.5% year-on-year in Mar-2020. Its capital, Bogotá, performed slightly better than average with a -48.4% decrease in occupancy. ADR declined on slightly, down -0.7% to COP272,820.00, but RevPAR halved, falling -50.0% to COP83,252.00.
Italy has been at the heart of the European spread of Covid-19 and its hotels were hit hard by mobility restrictions during Mar-2020. Year-on-year occupancy crashed -90.8% to just 6.2%, ADR fell a fifth, -22.0% to EUR89.60, while RevPAR was down -92.8% to just EUR5.52. The key markets of Rome and Milan reported absolute occupancy of 6.6% and 4.0%, respectively.
Singapore recorded the lowest absolute occupancy and RevPAR levels in STR's database for the country during Mar-2020. Year-on-year occupancy levels were down -53.6% to 38.3%, ADR fell -19.1% to SGD212.40, while RevPAR declined -62.4% to SGD81.35.
The United Kingdom is starting to consider lifting lockdown restrictions, a relief for its hoteliers which suffered a difficult Mar-2020. Year-on-year occupancy levels halved during the month, down -50.8% to 36.5%. ADR was only down -9% to GBP79.49, but RevPAR fell -55.3% to EUR28.99, the lowest level in STR's UK database. At the market-level, London's occupancy fell 60.0% to 32.7%.
---
News briefs
Airbnb has launched an advanced clean initiative to provide hosts with educational resources and two options to offer accommodation according to enhanced cleaning and prevention measures. Although risk in travel can never be fully eliminated, it says the initiative will allow guests to search for and easily identify Airbnb listings that meet their needs and expectations and are part of the programme.
The American Hotel & Lodging Association (AHLA) has launched "Safe Stay," an initiative focused on enhanced hotel cleaning practices, social interactions, and workplace protocols to meet the new health and safety challenges and expectations presented by Covid-19. It will "seek to change hotel industry norms, behaviours and standards" to ensure both hotel guests and employees are confident in the cleanliness and safety of hotels once travel resumes.
The Ascott Limited's loyalty programme, Ascott Star Rewards is offering its members more value and flexibility in the midst of the Covid-19 situation. Members are being offered 20% more points if they choose to receive refund in ASR points for cancellation of their bookings, while the expiry of their current points balance and tier status has been extended until Apr-2021.Additionally, besides making accommodation arrangements with Ascott through their company's corporate bookers, corporate travellers now also have the flexibility of booking online directly with Ascott earning points towards their Ascott Business Travel account.
The Britannia Hotel in Trondheim, Norway, has reopened after 44 days of closure. The 257-room property first opened in 1870 as a grand haven for British aristocrats coming to Trondheim for salmon fishing and was given a new lease of life after the conclusion this time last year of a three-year, multimillion-dollar renovation. The hotel had closed on 16-Mar-2020 because of the Covid-19 pandemic.
Hyatt Hotels plans to introduce a GBAC STAR accreditation through a performance-based cleaning, disinfection and infectious disease prevention programme that will focus on establishing hotel environments that are sanitary, safe and healthy. It is the first hospitality brand to commit to the accreditation backed by ISSA, the worldwide cleaning industry association.
InterContinental Hotels Group (IHG) has warned that when it announces its 1Q 2020 trading update on 07May-2020 it will report that Global RevPAR decreased by approximately 25% during the period, including a 55% decline in Mar-2020. Occupancy levels in its open hotels are currently in the low to mid 20% range across the business, it acknowledges, but on a positive note, trading in Greater China "continues to steadily improve" with only 12 out of 470 hotels now closed.
The relocation of the Premier Inn Customer Contact Centre from Oakley House in Luton to its new home in Houghton Hall Business Park in Dunstable has facilitated an important donation to the emergency services. The now unused supply of office equipment has been donated to the East of England Ambulance Service were in need of additional equipment to expand their operations at their call centres in Bedford, Norwich and Chelmsford which have been handling unprecedented call volumes during the Covid-19 pandemic.
SiteMinder has released its proprietary data on the momentum of hotel bookings around the world to power its World Hotel Index to deliver insights into when guests are likely to return to hotels after the Covid-19 pandemic. The platform shows how current hotel booking volumes in all major tourist destinations are changing when compared to the previous year from a global, country and city level.
Austrian group Vienna House has secured planning permission for its first UK property, the project's architect has confirmed. The new 250-room, four four-star hotel will be located on the site of two current office blocks on St Vincent Street in Glasgow's city centre. Work is due to commence later this year with an opening planned for 2023.