IHG brings its Staybridge Suites residential-style brand to Dubai market
Hyatt reveals plans to open first property in Cape Town in December
AC Hotels opens up a new business option in Solna business park, just north of Stockholm
Data metrics – latest performance insights from STR
News briefs – bitesize updates of latest industry news and developments
---
IHG brings its Staybridge Suites residential-style brand to Dubai market
InterContinental Hotels Group (IHG) is expanding its upscale extended stay Staybridge Suites brand, a trusted, reliable brand for business and leisure travellers alike spending an extended time away from home. Its latest property is its first in Dubai South in Al-Maktoum Airport and proclaims to offer "an elevated, residential-style hotel" designed for multi-night business travellers and leisure travellers "looking to break from the travel norm while on the road, be it for days or even months at a time". The hotel includes 262 suites and its location provides travellers with easy access to the airport, key business districts and nearby attractions including Dubai Parks and Resorts and The Outlet Village Mall. More home than hotel, guests have the option between one or two-bedroom suites and studios, each well-appointed with a fully equipped kitchenette complete with a refrigerator, dishwasher and countertop cooking hob as well as a workspace and comfortable living area. Launched in 1997, the Staybridge Suites brand has grown to more than 311 properties worldwide (33,992 rooms).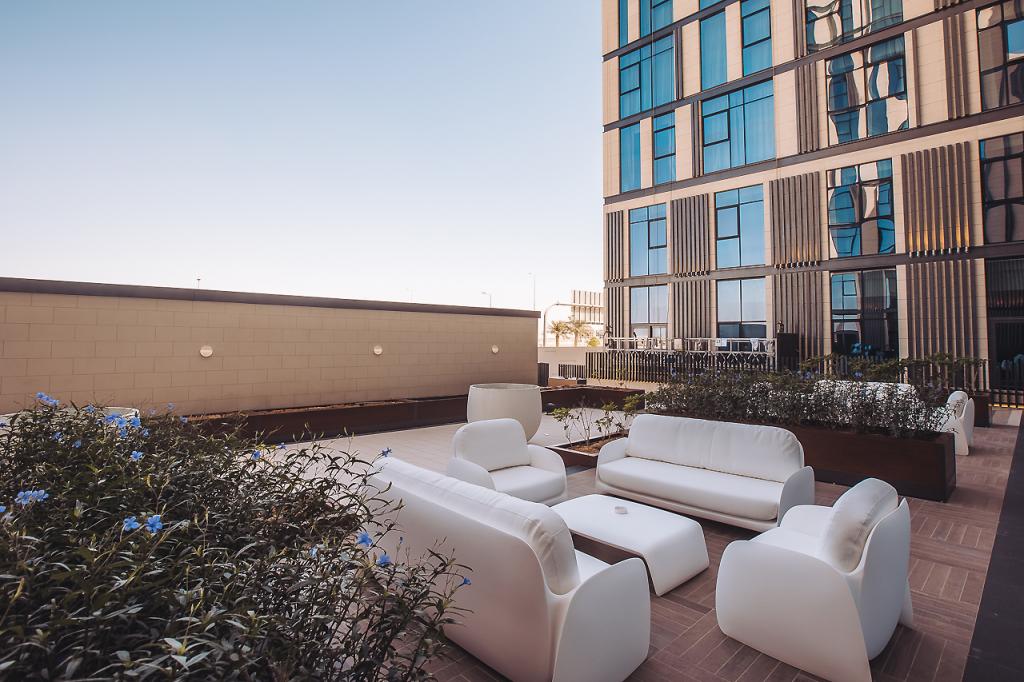 ---
Hyatt reveals plans to open first property in Cape Town in December
Hyatt Hotels Corporation has confirmed an affiliate has entered into a management agreement with South African real estate company, Millat Properties, for the first Hyatt-branded hotel in Cape Town. The Hyatt Regency Cape Town is a reflagging of the former Hilton Cape Town City Centre. The property is expected to open in Dec-2020 bringing the total number of Hyatt-branded hotels across Africa to eight, with two in South Africa. The hotel is situated at the foot of the iconic Table Mountain, one of Cape Town's most prominent and famous tourist landmarks, bordering the historic Bo-Kaap district with its steep and narrow streets. It will feature 137 rooms, including 15 suites, three food and beverage outlets, as well as leisure facilities including a fitness area and an outdoor pool. For corporate guests, the property offers 1,312 square feet (400 square meters) of meeting space as well as an executive lounge. Africa, and particularly Sub-Saharan Africa, remains a key focus for growth for Hyatt as the continent is experiencing an increasingly favourable business climate, along with consistently heightened tourism. Prior to the COVID-19 pandemic, international tourist arrivals in Sub-Saharan Africa grew around 6% per year, higher than the global average. Three Hyatt Regency hotels are already open in the sub-Saharan region: Hyatt Regency Johannesburg, Hyatt Regency Dar es Salaam and Hyatt Regency Addis Ababa with two more scheduled openings for the Hyatt Regency brand over the next three years: Hyatt Regency Nairobi, Kenya and Hyatt Regency Lagos Ikeja, Nigeria.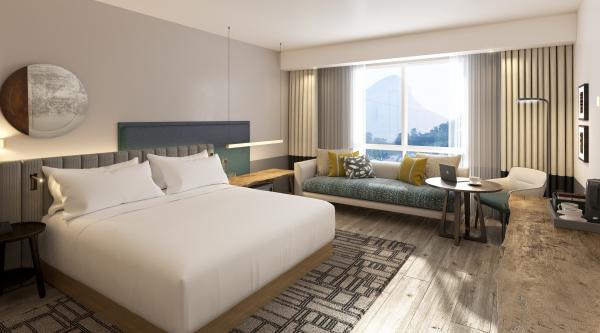 ---
AC Hotels opens up a new business option in Solna business park, just north of Stockholm
AC Hotels, Marriott International's design-led lifestyle brand, has expanded its Europe, Middle East and Africa footprint with the opening of its first property in the Sweden's capital city, Stockholm. The AC Hotel Stockholm Ulriksdal is located in Solna, an established business park, home to both local and international companies just north of Stockholm city centre. The 223-room property offers five guest room categories: Standard King, Standard Queen, Standard Single, Deluxe King, Junior Suite. Led by world-renowned design company, Living Design, the interior design features a walnut colour scheme creating a delicate balance and flow through colour, texture, and arrangement. AC Hotels currently operates over 155 design-driven hotels globally. In Europe, Middle East and Africa, the strength of the brand continues to grow, with over 15 hotels in the pipeline, including market entries in Bratislava and Norway.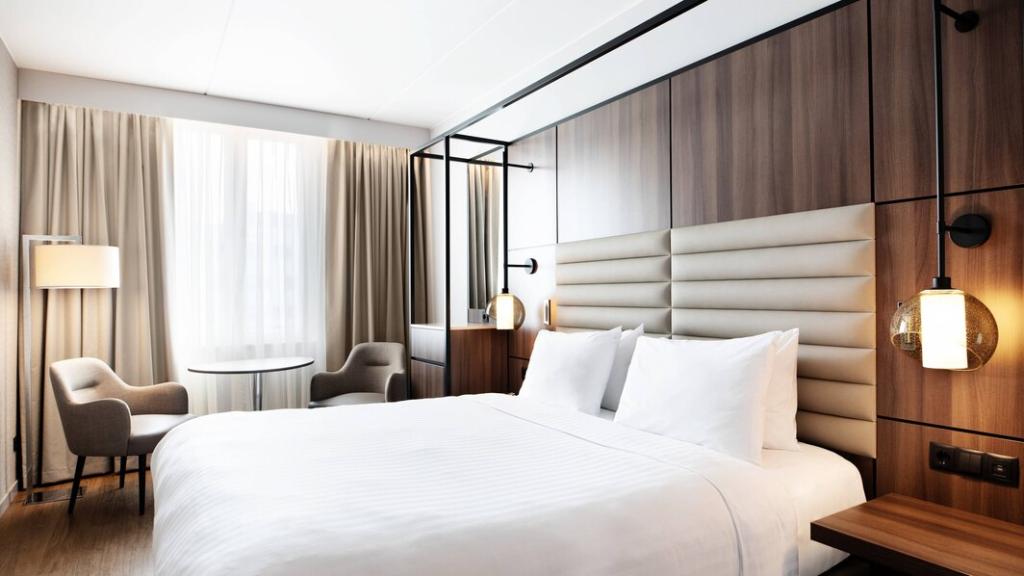 ---
Data metrics – latest performance insights from STR
The hotel industry in Canada saw higher performance from the previous quarter, but at overall low levels, according to 3Q 2020 data. The absolute occupancy level was the lowest for any third quarter in STR's Canada database, but was more than double the level from 2Q 2020 (19.4%). The ADR level was the lowest for a 3Q since 2009. In comparison with 3Q 2019 occupancy was down -49.8% to 38.1%, ADR declined -28.0% to CAD131.65 and RevPAR fell -63.9% to CAD50.15. Among the provinces and territories, British Columbia reported the quarter's highest occupancy level (48.3%), but which was still down -41.5% year over year. Newfoundland and Labrador showed the lowest occupancy (30.7%), down -57.4% from 3Q 2019.
The hotel industry in United States of America (USA) reported its lowest third-quarter occupancy and RevPAR levels level on record, according to 3Q 2020 data. In comparison with 3Q 2019, occupancy was down -32.2% to 48.0%, ADR declined -24.1% to USD101.25 and RevPAR fell -48.5% to USD48.58. In aggregate, the Top 25 Markets fell behind all other markets in each of the three key performance metrics. Among them, Oahu Island, Hawaii, saw the lowest occupancy level (24.1%), while Norfolk/Virginia Beach, Virginia, experienced the highest occupancy (61.4%). Three additional Top 25 Markets reported occupancy above 50%: San Diego, California (51.9%); Detroit, Michigan (51.0%); and Los Angeles/Long Beach, California (50.6%).
---
News briefs – bitesize updates of latest industry news and developments
Planning permission has been secured by TODD Architects and property development and hospitality company Andras House for Bedford Yard, an aparthotel and office development in the heart of Belfast City centre, opposite the BBC's HQ on Ormeau Avenue. By refurbishing a vacant four-storey red brick former warehouse and adding a newbuild structure behind, the landmark development will deliver approximately 10,000 square feet of lettable office space and a 13-storey, 132-room aparthotel with panoramic views of the city from the upper floors, over the City Hall, Gasworks, Dublin Road and through to the Belfast Hills.
IHG Army Hotels and Lendlease have completed the first phase opening of the new Candlewood Suites on Fort Jackson, the 14th Candlewood Suites hotel in their portfolio. The first phase opening includes the West Building, comprising 171 rooms. The 146-room East Building, slated to be completed in spring 2021, will also include a swimming pool, picnic gazebo, and Distinguished Visitors Quarters lounge. Lendlease and IHG Army Hotels took over operations of Fort Jackson's lodging in 2013.
The Courtyard by Marriott Portland East opened its doors this week in Portland, Oregon, USA, featuring an innovative lobby space as well as Courtyard's latest contemporary room design. The four-storey, 91-room hotel will operate as a Marriott franchise, owned by Lodging Management Northwest and managed by InnVentures. The property's location offers guests convenient access to Mt Hood Skibowl, Timberline Lodge, McMenamins Edgefield, Multnomah Falls and Pioneer Place.
Elewana Collection has announced the option to book exclusive buyouts of select properties in Kenya including Elewana Kifaru House, Elewana Sand River Masai Mara and Elewana AfroChic Diani Beach to cater to increasing demand from travellers for added privacy during their safari adventure. Guests can social distance in style by transforming an Elewana Collection property into their own private oasis, either partially or in its entirety, guaranteeing undivided access to amenities and services during their intimate safari getaway.
For the winter 2020/21 season (starting 10-Dec-2020), the Grand Hotel Kronenhof in Pontresina, a mountain village in eastern Switzerland will unveil 15 newly-renovated rooms and suites by the award-winning French interior designer Pierre-Yves Rochon. All of the rooms are in the historic part of the hotel, which dates to the late 19th century, but all have a contemporary feel incorporating calming colours that reflect the local landscape. Up to four rooms can be linked making these new rooms ideal for families and multi-generational travel.
Karisma Hotels & Resorts has unveiled of a new brand identity and website. The modern positioning showcases Karisma's commitment to bringing together "unforgettable vacations in memorable destinations" across a wide variety of brands. Within the coming year Karisma will be introducing four new resorts concepts with the opening of four new properties – Nickelodeon Resort & Aqua Park Riviera Maya, Margaritaville Island Reserve Riviera Maya, Margaritaville Island Reserve Cap Cana and Sensatori Cap Cana.
Hotelbeds has entered into a new strategic agreement with Magnuson Hotels, the fast growing global franchise alternative brand. This agreement provides Magnuson Hotels with access to Hotelbeds' distribution network of more than 60,000 travel trade buyers including tour operators, retail travel agents, airlines and loyalty programs across more than 140 source markets worldwide. Hotelbeds' portfolio of travel buyers will offer Magnuson Hotels – when the full recovery begins – incremental, high value bookings from non-domestic markets that typically book further in advance, pay more per room, cancel less and spend more at the property.
Navarino Services has renewed a long-term partnership with Sabre, after 17 years of using the technology company's SynXis Central Reservations system to power growth in the hospitality industry. Under the new agreement, Sabre will continue to provide Navarino Services with the SynXis Central Reservations solution. In addition, Navarino Services will leverage Sabre's SynXis Platform, which optimises global distribution channels and delivers greater scale and operational efficiency to lower costs.
Port Hotels has launched Port Agencies, an exclusive access platform for travel agents that makes all of the chain's hotels in the Valencian Community (Spain) available to them. Through this platform, Port Hotels hopes the channel will facilitate further bookings by guaranteeing that reservations can be made safely, reliably, and quickly with the best guaranteed available rates.
ProfitSword, a developer of hospitality-related business intelligence and data integration software, has announced a strategic partnership with Event Temple, a provider of hotel and venue sales and catering software. Through the integration of Event Temple's hotel and venue management platforms with ProfitSword's suite of business intelligence solutions, hospitality professionals will be able to obtain in-depth analysis of current sales efforts to optimise revenue performance.