IHG grows in South Korea with second voco hotel
Marriott International formalises debut for Westin Hotels & Resorts brand in Brazil
Deutsche Hospitality and the Porsche Design Group launch a new hotel concept for the luxury lifestyle segment
Brown Hotels launches Dave Red Athens as first international outpost for its young & hip hotel line
Bulgari Hotels & Resorts signs agreement for Los Angeles property
Europe and Asia Pacific regions see hotel construction pipeline growth
IL Tornabuoni Hotel joins Hyatt's Unbound Collection in Florence
Radisson Hotel Group offers carbon negative meetings offer for EMEA region
St Regis Hotels & Resorts to double its global resort portfolio over the next five years
Data metrics – latest performance insights from STR
News briefs – bitesize updates of latest industry news and developments
---
IHG grows in South Korea with second voco hotel
IHG Hotels & Resorts has confirmed the signing of voco Gangnam, a new 151-key hotel that is scheduled to open in 2Q 2022 in the vibrant district of South Korea's capital city, Seoul. It will be the second voco property IHG has signed in South Korea this year, following voco Pyeongtaek City. The voco Gangnam will in fact be the first voco to open and further supplements a portfolio of nine hotels in the country which strongly reinforces the company's continued expansion in South East Asia & Korea. voco Gangnam will be located at the heart of Seoul's energetic Gangnam district – one of its main tourist areas and economic hubs, renowned for its trendy restaurants, upscale and designer-brand shopping malls and vibrant nightlife. Facilities at the hotel include an 85-seat café & bar, three meeting rooms totalling 600 square metres, and a fitness centre. Guests can look forward to a stay brightened by a bold, contemporary and inviting design that uniquely showcases a reinterpretation of traditional Korean styles. Close to key cultural, entertainment, shopping and commercial areas, voco Gangnam also boasts easy access to the Han River, Coex Convention & Exhibition Center. With the signing of voco Gangnam, IHG has 19 signed and open voco hotels in Asia Pacific, including two open properties in Hunter Valley and the Gold Coast in Australia, and Hangzhou in China with further openings set for Singapore, Vietnam, Thailand, South Korea, New Zealand and Saipan. The entry of the voco brand marks the fourth brand entity within IHG's portfolio in South Korea alongside InterContinental, Holiday Inn and Holiday Inn Express.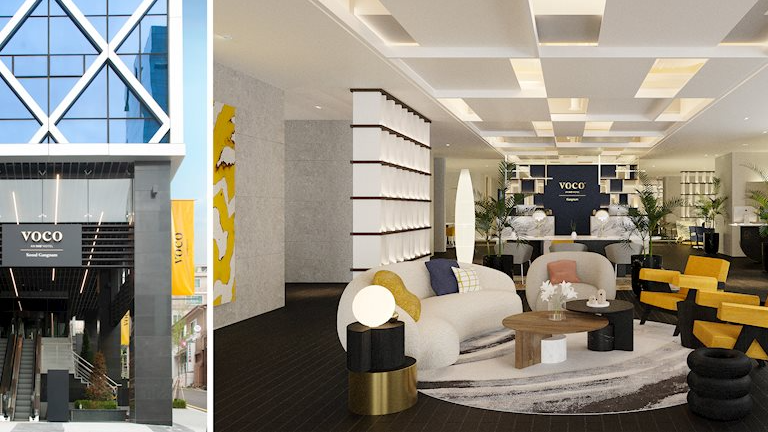 ---
Marriott International formalises debut for Westin Hotels & Resorts brand in Brazil
Marriott International has signed a franchise agreement with Hotéis Deville to introduce the first Westin Hotels & Resorts in São Paulo, Brazil. Slated to feature 187-rooms and suites, the property expects to welcome its first guests in the spring of 2024. Located in São Paulo's Itaim Bibi district, the property will sit within the JK Square mixed-use development, which is planned to include retail, offices, and residences. The draft designs call for a restaurant located on the second floor, a bar integrated into the lobby on the first floor and a leisure area on the third floor with a swimming pool and fitness centre. For corporate and social events, the property is due to feature conference and meeting rooms of multiple sizes for different needs. Currently, Marriott International operates 12 hotels in Brazil under the JW Marriott, Marriott Hotels, Sheraton Hotels & Resorts, Renaissance Hotels, Autograph Collection Hotels, Courtyard by Marriott, Residence Inn, and Marriott Executive Apartments brands.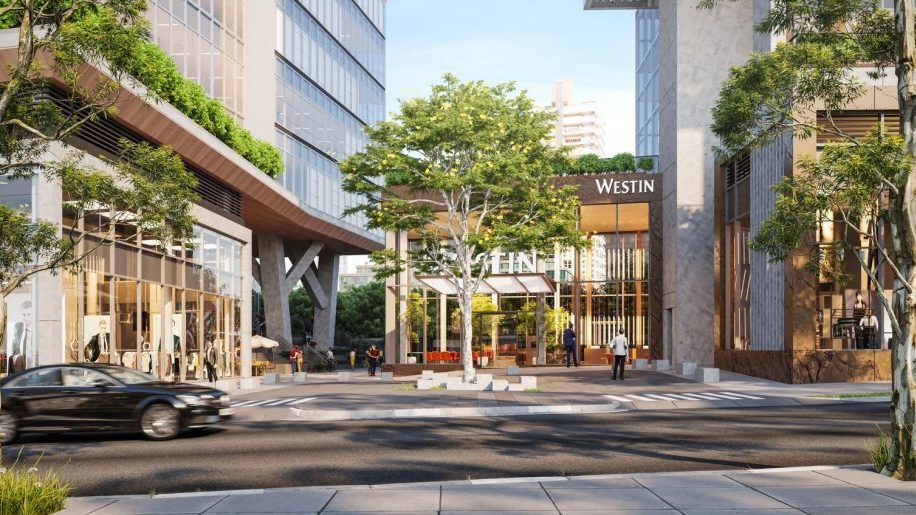 ---
Deutsche Hospitality and the Porsche Design Group launch a new hotel concept for the luxury lifestyle segment
Deutsche Hospitality and the Porsche Design Group are joining forces to present the Steigenberger Porsche Design Hotels brand, a new innovative hotel concept in the luxury lifestyle segment. The new brand aims to bring together "design, technology and lifestyle at the very highest level". The experience will be created from the design philosophy and values of the exclusive Porsche Design lifestyle brand, combined with the excellence and experience of Steigenberger. The first planning stage involves the establishment of up to 15 hotels in global metropolises such as London, Singapore, Dubai and Shanghai. The hotels will offer at least 150 rooms, suites, and penthouses. They will also have "a remarkable" restaurant and bar concept, "exclusive Meet&Greet Cubes," and a health and beauty facility and gym extending over a minimum area of 1,000 square metres. Deutsche Hospitality already maintains a presence in the Luxury, Upscale, Midscale and Economy Segments via its existing brands. For Marcus Bernhardt, CEO of Steigenberger Hotels / Deutsche Hospitality this growth "constitutes an important step towards appealing to an attractive target group in the long term and towards meeting growing requirements for individuality, exclusivity, design and an inimitable hotel experience".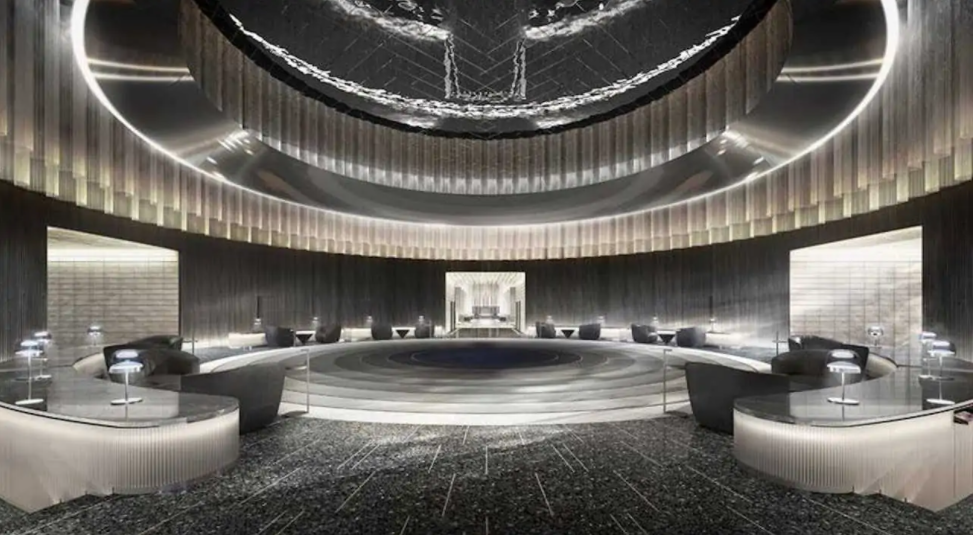 ---
Brown Hotels launches Dave Red Athens as first international outpost for its young & hip hotel line
International hotel collection Brown Hotels has announced the official opening of DAVE Red Athens, the first property from the group's affordable hotel line 'DAVE - Son of a Brown', to launch outside of Tel Aviv. Following the success of DAVE Gordon, DAVE Levinsky and DAVE Downtown in Tel Aviv, the Athens property debuts alongside two other new properties, Brown Acropol and Villa Brown Ermou, as part of a broader expansion plan into the Greek market. Officially opened in Sep-2021, DAVE Red Athens is the fourth property to launch from Brown Hotels' affordable urban collection. Situated on Omonia Square just a stone's throw away from the recently opened Brown Acropol, the property brings a fresh, young energy into the revamped area with fun and budget-friendly accommodation.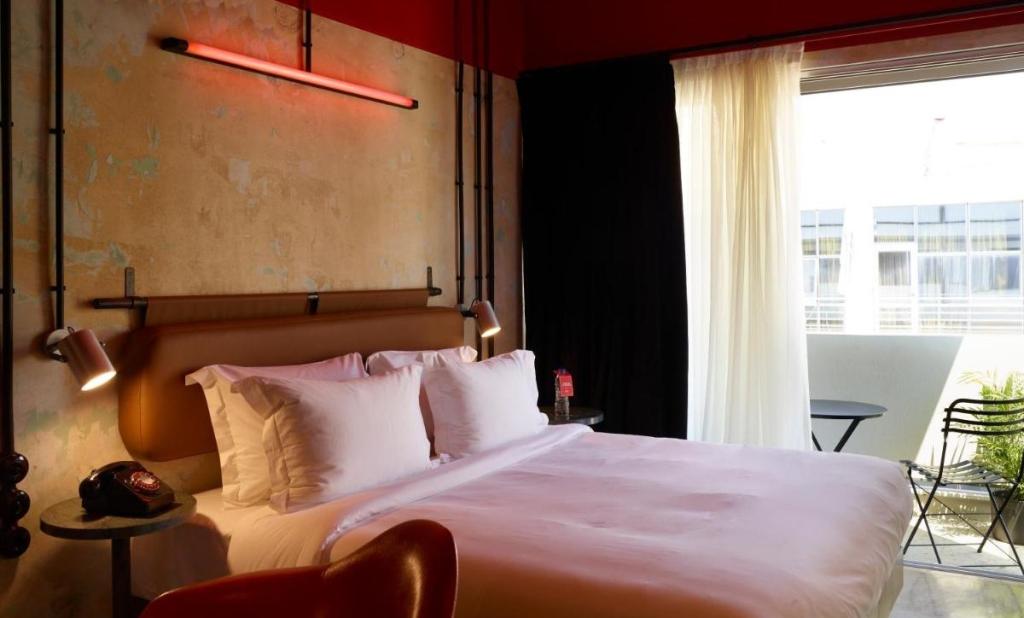 ---
Bulgari Hotels & Resorts signs agreement for Los Angeles property
Bulgari Hotels & Resorts has signed an agreement with owner and developer Gary Safady, for a new luxury resort in Los Angeles. The new Bulgari Resort, scheduled to open in 2025, is set to be the second Bulgari property in the US, following the opening of the Miami property in 2024. The Bulgari Resort Los Angeles will be the twelfth member in the Bulgari Hotels & Resorts collection. Located in the Santa Monica Mountains, less than five miles from Rodeo Drive, the property will be nestled amongst 33 acres of a stunning hillside park, surrounded by natural wildlife and remarkable views. Plans call for 58 rooms and suites, and eight private estates with a good portion of the hotel's guest rooms and suites located in secluded bungalows studded across the eastern half of the property, adjacent to the property's carefully curated amenities. The project remains subject to the final approvals of the City Council and Planning Authorities of the City of Los Angeles.
---
Europe and Asia Pacific regions see hotel construction pipeline growth
Two of the four world regions, Europe and Asia Pacific, showed an increase in hotel pipeline activity at the end of the third quarter, according to Sep-2021 data from STR, but levels are declining in all other parts of the world. In Europe, in construction rooms hit 230,265 rooms, up+6.6%, those in final planning hit 171,988 rooms, up +5.9%, in planning at 148,565 room, down -4.8%, leaving total under contract at: 550,818 rooms, up +3.1%. Germany (46,494) and the U.K. (35,196) lead Europe in total rooms in construction. Meanwhile, across Asia Pacific, in construction rooms hit 478,193 rooms, the same as Sep-2020, those in final planning were up +5.3% to 178,195 rooms, those in planning were up +16.0% at 288,227 rooms, meaning the total under contract was up +5.4% to 944,615 rooms. Among countries in the region, China has the most rooms in construction (295,989), followed by Vietnam (29,178). Elsewhere, total rooms under contract were down-1.6% across the Americas and -7.8% across the Middle East & Africa.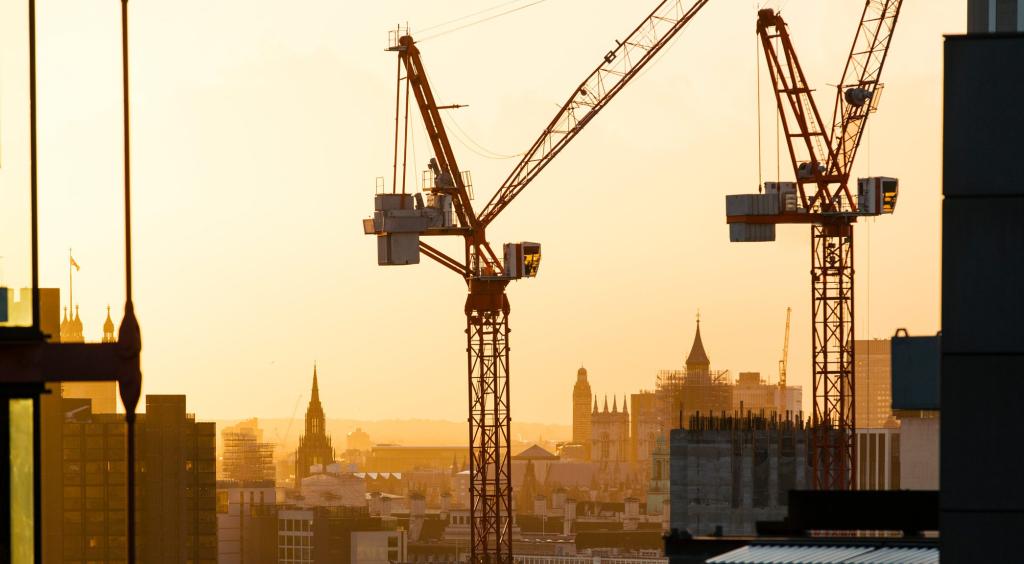 ---
IL Tornabuoni Hotel joins Hyatt's Unbound Collection in Florence
Hyatt Hotels Corporation has confirmed the opening of IL Tornabuoni Hotel in Florence. The 62-bedroom renaissance-inspired former palace signifies the debut of The Unbound Collection by Hyatt brand in Italy, known for its independent, one-of-a-kind hotels that offer bespoke experiences that inspire guests. This historical property – formerly the Palazzo Minerbetti – has undergone significant restoration since its early days as an urban palace hosting well known figures like the Grand Duke of Tuscany, better known as Cosimo de Medici lll. His patronage of science, architecture, literature and arts contributed to the cultural heritage of Florence and is reflected throughout the hotel via updates to guest rooms and suites, public spaces, the terrace and more. Carefully curated in colours of red, blue and gold, each of the 62 guestrooms reflect the renaissance era that Florence is known for, epitomising the rich history and artistic magnificence of the period and allowing guests to create story-worthy experiences during their stay. Located along Via de Tornabuoni, one of the most prestigious streets in Florence, the property also represents the first Hyatt hotel in Tuscany joining a portfolio of Hyatt branded hotels in Italy which includes Park Hyatt Milan, Hyatt Centric Milan Centrale, Hyatt Centric Murano Venice, and most recently The Tribune Hotel.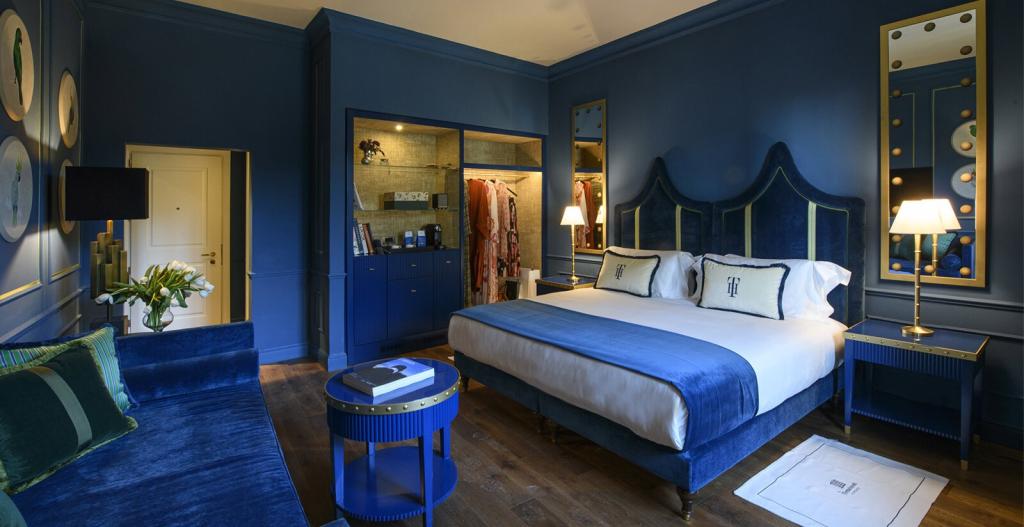 ---
Radisson Hotel Group offers carbon negative meetings offer for EMEA region
Radisson Hotel Group will make all meetings and events across 400+ hotels in its EMEA portfolio carbon negative. For every event taking place at its participating hotels, Radisson Hotel Group will offset double the carbon footprint, to ensure that every meeting has a positive impact on the environment. For meetings booked before 31-Jan-2022 and taking place before 31-Mar-2022, the 'Carbon Negative. Planet Positive' will set a new sustainability standard in the global hospitality industry. Radisson says the programme allows clients to host meetings in a sustainable way by offsetting double the CO2 emissions from meetings and events free of charge to the client, making meetings that take place during this period at participating hotels carbon negative. The initiative forms part of Radisson's wider 'Responsible Business' programme which targets reducing its carbon footprint by 30%, and which aims to set science-based targets. Since the launch of the 100% Carbon Neutral Meetings programme, the group has offset over 30,300 tons of CO2 at no cost to its clients, which is the equivalent to removing more than 6,500 fuel driven cars off the road. The 'Carbon Negative, Planet Positive' meetings complement the group's hybrid meetings solutions which launched in 2020.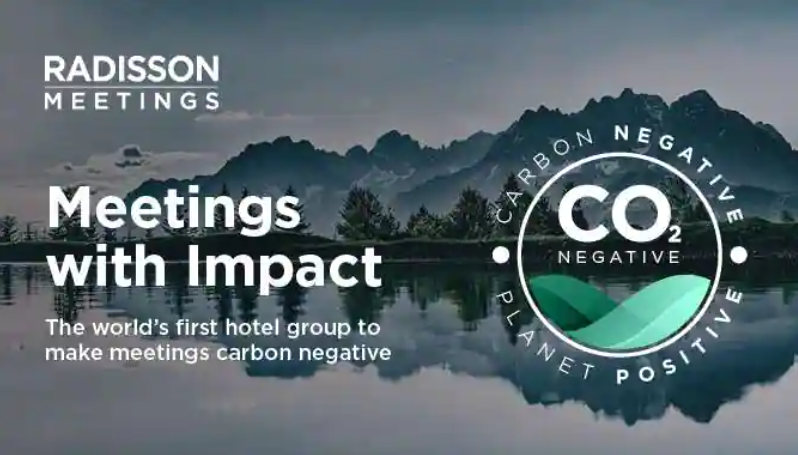 ---
St Regis Hotels & Resorts to double its global resort portfolio over the next five years
St Regis Hotels & Resorts plans to expand its existing portfolio of 15 curated resorts with opening of eleven new locations by 2025 that will see the luxury brand Iconic luxury brand add properties in Bermuda, Mexico, Morocco, Aruba, China, the Dominican Republic, Oman and Qatar. These new resorts will introduce the brand's avant-garde style and bespoke service in some of the most dynamic and compelling markets across the globe. Expanding its footprint in Mexico, St. Regis is expected to debut The St Regis Kanai Resort in 2022 and The St Regis Los Cabos Resort in 2023. The St Regis Kanai Resort will feature 124 guest rooms and suites, as well as 32 exclusive villas with private pools, while the St Regis Los Cabos Resort is expected to offer 120 rooms and 60 residences. In the Middle East, the brand plans to grow its presence in Qatar with the expected early 2022 opening of The St Regis Marsa Arabia Island, The Pearl, which will feature architecture influenced by the distinct Andalusian and Arabesque style and offer stunning views of the Arabian Gulf. With a continued focus on the Caribbean in the coming years, in 2024 St Regis is expected to debut in Aruba with The St Regis Aruba Palm Beach Resort, as well as in the Dominican Republic with the opening of The St Regis Cap Cana Resort. The brand also anticipates celebrating its entry into Oman in 2024 with The St Regis Al Mouj Resort in Muscat, and in the same year, expects the debut of The St Regis Sanya Haitang Bay Resort in Sanya, Hainan's most southern tip, which is often referred to as the 'Hawaii of the East'. Additionally, St Regis is expected to open a property in Africa, with the debut of The St Regis Marrakech Resort slated for 2025.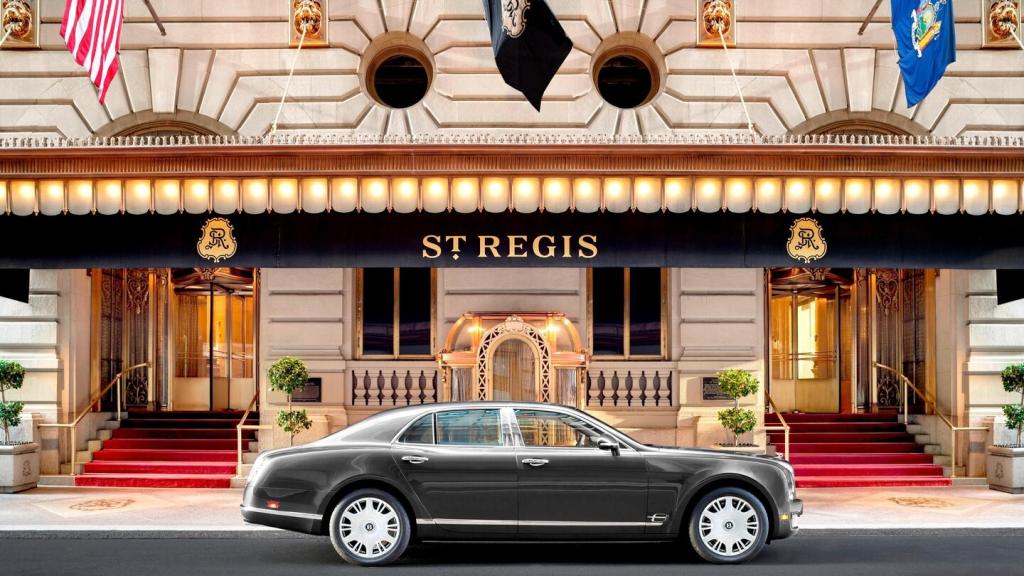 ---
Data metrics – latest performance insights from STR
After a difficult winter, hotel occupancy in Brazil is once again on the rise, reaching 44% in August 2021, or about 74% of the 2019 comparable, reports STR. While occupancy recovery has been slow, the country's rebound in ADR has been strong, with monthly rates even exceeding 2019 levels earlier this year. In Aug-2021, ADR reached BRL295.05, which was just -3.4% below 2019, as shifts in demand and supply have helped drive what STR describes as "impressive" ADR performance. Brazil's hoteliers have relied "almost entirely" on domestic demand. This has led to particularly strong performance in popular domestic vacation destinations outside of the country's major markets. STR predicts that ADR "will soften over time" as international outbound travel resumes.
While most regions in the world are slowly trending toward pre-pandemic levels, no two hotel markets are recovering the same and Japan, for instance, "is further behind countries of a similar profile," says STR. Regional markets in Japan have led recovery while key cities like Tokyo, Osaka and Kyoto have lagged. As entry restrictions for international travelers in Japan remain in place, domestic destinations with easy access by car have seen better hotel performance. STR data shows Tohoku, a northeast regional market, posted Aug-2021 occupancy of 55.0%, that was 65.6% of the market's 2019 comparable. That was slightly below Jul-2021 when hotel occupancy was 63.1% and 78.8% of the 2019 comparison. Kansai, which excludes Osaka and Kyoto, ranked second in Aug-2021 at 58.1% of the 2019 comparable. Osaka and Kyoto, on the other hand, sat at less than 40% of 2019 levels. For most of the year, Tokyo's occupancy has sat below the national average. That did not change much in monthly data for Jul-2021 and Aug-2021, but the rather muted Olympic Games did push Tokyo's occupancy to its highest levels this year. The highest daily occupancy rates, which were above 60%, came on the day before the opening ceremony for Tokyo and Japan as a whole which was due to four continuous holiday days before the opening ceremony.
---
News briefs – bitesize updates of latest industry news and developments
Marriott International has confirmed the opening of AC Hotel Miami Dadeland at Dadeland Mall, Miami's renowned shopping destination. Managed by Concord Hospitality, the 170-room property offers the brand's signature AC Kitchen, AC Store and AC Lounge. Other amenities include a rooftop pool with cabanas and a full-service bar and a fitness centre. It also has 3,600 square feet of meeting space across five event rooms.
The Baglioni Hotel Luna Venice has reopened its doors following major renovations. Part of the Baglioni Hotels & Resorts Collection, the hotel resides in an elegant mansion that was once the seat of the Knights Templar, just metres from St Mark's Square and the Doge's Palace, the oldest hotel in the city.
The Baird/STR Hotel Stock Index rose +5.2% in Sep-2021 to a level of 5,167 as Delta COVID-19 variant concerns "mostly subsided during the month," and hotel stocks benefited from "higher interest rates and the broader market rotation" that lifted all travel-related stocks. Year to date through the first nine months of 2021, the stock index was up +13.0%. In Sep-2021, the Baird/STR Hotel Stock Index surpassed both the S&P 500 (-4.8%) and the MSCI US REIT Index (-6.0%). The Hotel Brand sub-index jumped +6.7% from Aug-2021 to 9,077, while the Hotel REIT sub-index increased +1.0% to 1,233.
Four Hundred by Design (FHxD) announce the launch of its new B-to-B travel platform designed to support international luxury travel advisors as they respond to the resurgence of travel demands. The FHxD platform connects travel advisors from all agencies serving high net worth clients with over 200 of the world's most exclusive accommodations and iconic properties including hotels, resorts, villas, and private residences.
hihotels by Hospitality International, a recognised brand in franchising of conversion and new-build hotels for economy lodging, has launched a new consumer website – stayhihotels.com. Featuring an entirely new look and simplistic design, the site promotes properties across hihotels' five distinct brands – Red Carpet Inn, Scottish Inns, Master Hosts Inns, Downtowner Inns and Passport Inn.
Real estate investment and hospitality management company Highgate has announced two new additions in the UK market – the acquisition of Dorsett City London Hotel and the management of Grosvenor House Suites in London's Mayfair District. The additions mark Highgate's return to the UK and European markets.
Hospitality Ventures Management Group (HVMG) has signed management agreements to immediately begin operations of the 105-room TownePlace Suites Charlotte Fort Mill and the 123-room Holiday Inn Express & Suites Charlotte – Ballantyne. The two hotels mark its ninth and tenth takeovers in the past two months.
Sunridge Hotel Group has implemented VingCard Signature RFID locks equipped with Mobile Access technology and supported by the Visionline access management system at two newly opened Residence Inn by Marriott properties that it operates. The systems, from Assa Abloy Global Solutions, have been installed at the Residence Inn by Marriott La Quinta, California and Residence Inn by Marriott Phoenix West/Avondale properties.
Wyndham Hotels & Resorts has revealed further growth of its design focused economy brand Super 8 by Wyndham with the opening of the 172-room Super 8 by Wyndham Chemnitz. The new build hotel marks the ninth Super 8 property in partnership with leading hotel management company GS Star. The property is centrally located in Chemnitz – a fast-growing tech hub and one of the largest cities in Saxony, eastern Germany – and joins Super 8 hotels in Munich, Hamburg, Dresden, Augsburg, Mainz, Oberhausen and Freiburg.
Paolino Properties has announced the grand opening of The Beatrice, a new 47-room boutique hotel located in the bustling historic district of downtown Providence, Rhode Island. Situated in the iconic 1887 Exchange Building, it is the first boutique hotel to open in Providence in nearly a decade. Designed by ZDS Architecture & Interiors, the hotel boasts a contemporary design that tastefully pays tribute to the 19th-century building's storied past.
Davidson Hospitality Group has been selected by RLJ Lodging Trust to manage The Mills House Hotel under Pivot, its lifestyle operating vertical. Built in 1853, the property, otherwise known as 'The Pink Hotel,' is a gracious testament to the history of Charleston and features 216 rooms and suites, 10,000 square feet of flexible meeting space. Under its new management, the property will undergo a significant transformation and elevated repositioning.