WTTC conducted a broad study of travel and tourism in 65 cities, six of which were in Latin America.
Santiago represents USD3.9 billion of Chile's tourism, which is approximately 48.9% of Chile's total, WTTC stated. However, WTTC concluded although travel and tourism to Santiago's economy has strengthened since 2006, "its share of overall city GDP is relatively low compared to other cities in the study, at 3.2%, as the city relies heavily on other industries such as clothing production and copper mining".
CHART - Passenger traffic at Santiago International Airport, the main gateway to the city and country, have been on the rise for the whole decade with year-over-year growth of +15.1% over the first two months of 2018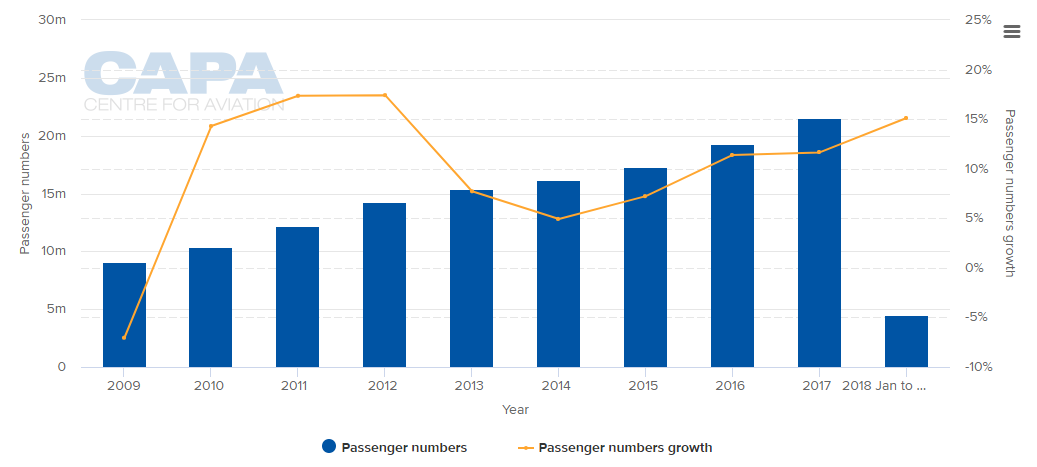 Source: CAPA - Centre for Aviation and OAG
The council calculated travel and tourism GDP in Santiago has grown 7.55 during the last decade and "the trend is set to continue with a further doubling of revenue over the next ten years and a growth rate of 7.1% mirroring the that in the country at large.
The spend generated by international spend in Santiago's tourism grew from 21% in 2006 to 24% in 2016, and nearly one-third of international demand comes from the United States, WTTC stated. Data from Chile's government show the country posted 15.8% growth in international passenger during 2017 to 10.7 million.
But in contrast, US visitors comprise only 5% of international spend throughout Chile, "suggesting that many Americans do not venture beyond the capital," said WTTC.
The total contribution of travel and tourism to Chile's employment is roughly 9.8% of 793,500 jobs, and WTTC estimates during the next ten years, 165,000 new jobs are forecast to be created by travel and tourism across the country, according to WTTC.