Air connectivity into New Zealand from destinations across Asia has been growing strongly this decade. The May-2019 schedules offer 77% more capacity than the same month at the start of the decade with one-way seats growing from just over 86,00 in May-2010 to over 142,000 in May-2019. That represents an additional 1,790 seats per day this month.
CHART – Air capacity from Asia to New Zealand has risen steadily during the current decade, peaking in Dec-2018 and Jan-2019 at the height of the southern hemisphere summer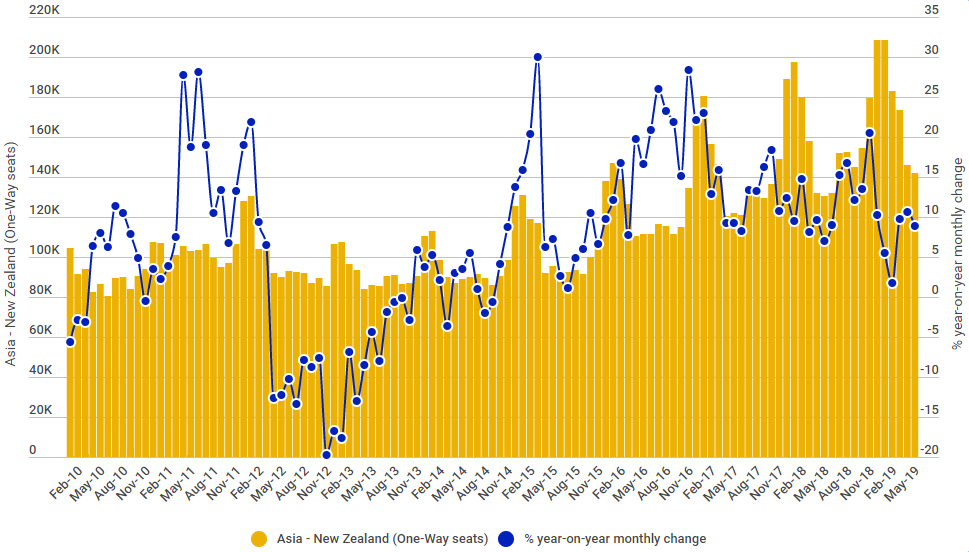 Source: The Blue Swan Daily and OAG
The peak summer months for travel into New Zealand saw monthly capacity levels in this market exceed 200,000 one-way seats for the first time ever in Dec-2018 and Jan-2019's level almost matched the previous months performance (208,569 and 208,516 seats respectively). Across the first quarter of 2019 seats from Asia to New Zealand were up +5.5% versus the same period in 2018, and the second quarter is currently displaying an +8.5% growth, based on current published schedules.
Ten Asian countries are currently connected to New Zealand with non-stop flights and previously both Brunei (up until 2011) and Vietnam (in 2016 and 2017) had enjoyed such connectivity. At the start of the decade Hong Kong and Singapore – home to major connecting hubs within and onwards from Asia – had dominated the capacity flows into New Zealand, with Japan following not far behind.
Things are now a little different as we reach the end of the decade with China bar far the largest Asian inbound market for New Zealand and its share of seat capacity across the region growing from just 6.8% in 2010 to 29.9% last year. Hong Kong and Singapore remain relevant, but with much reduced shares of seats, down from 28.4% and 27.4% in 2010 to 19.5% and 18.4% in 2018.
Japan remains a key market, with Thailand and Malaysia also seeing much improved connectivity into New Zealand as the decade has passed. The remaining Asian countries with non-stop flights to New Zealand comprise Indonesia, Philippines, South Korea and Taiwan.
CHART – China has emerged as the largest Asian source market into New Zealand, replacing Hong Kong and Singapore as the key gateways for connectivity into the country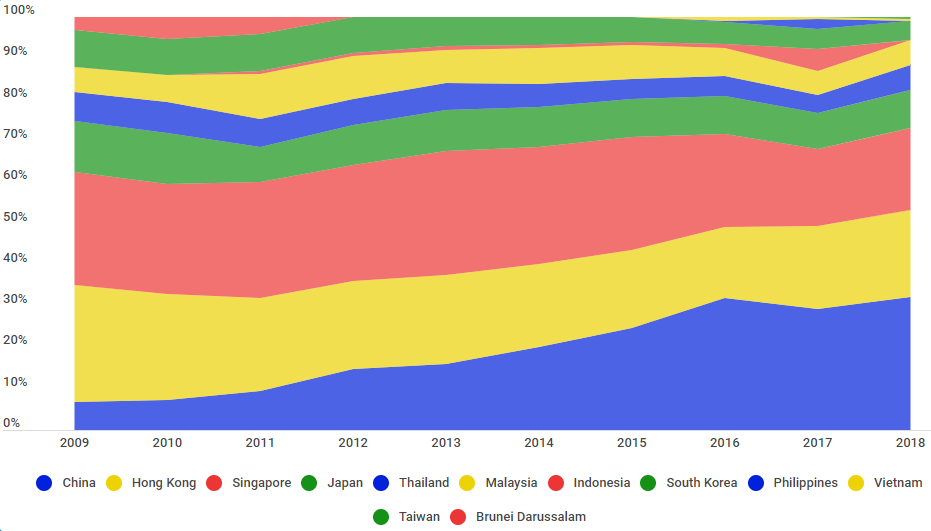 Source: The Blue Swan Daily and OAG