Interestingly, a previous IATA forecast in 2016 initially envisaged China becoming the number one aviation force globally around 2024. In line with China's burgeoning economy, the timeline revision was ultimately reflective of slightly faster Chinese aviation growth and marginally reduced development in the US.
CAPA and OAG data forecasts over 2 million additional seats in the Chinese market alone year-on-year for Apr-2018:
China country schedule analysis/seat capacity forecast: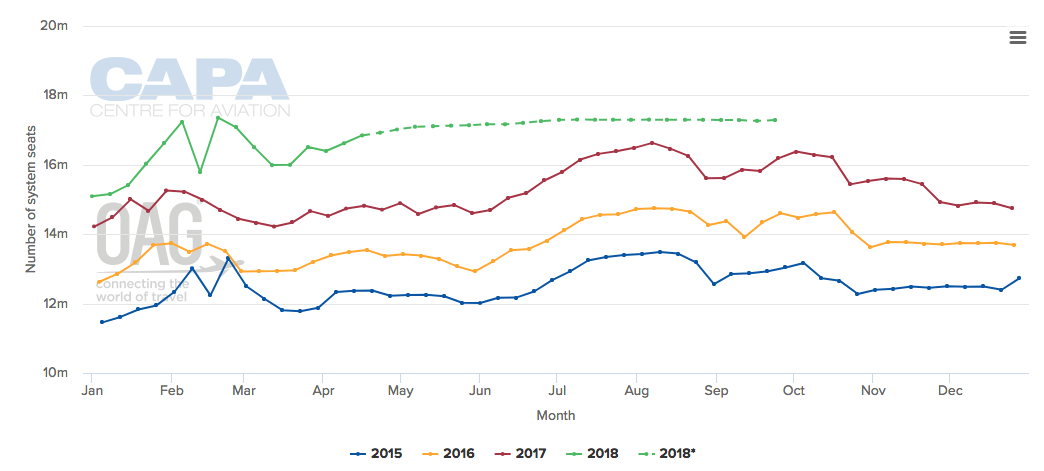 Source: CAPA - Centre for Aviation and OAG
So, what if IATA's timeline revision is reflecting yet another underestimation of Chinese aviation potential?
According to an aircraft delivery analysis produced by OAG, additional inbound capacity growing rapidly into the Chinese market suggests the 2022 milestone may actually arrive in 2021, trumping all expectations.
US based airlines will receive 342 new aircraft this year compared to 327 in China, meaning both aviation markets will add one aircraft per day, almost. The countries are the two largest markets for aircraft deliveries in 2018.
Boeing leads the charge and plans to deliver more than twice as many aircraft as Airbus:
Planned aircraft deliveries China & US 2018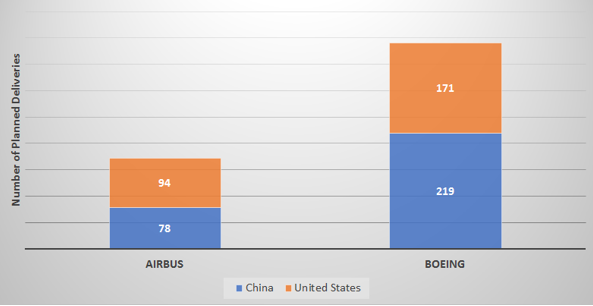 Source: OAG
While the US is still the largest market for orders, OAG emphasises that the key differentiator is in the purpose of the new deliveries. US registered aircraft will be principally geared towards replacement.
Taking Delta for example: the carrier expects a new aircraft broadly every five days, though describes its aircraft delivery programme as capacity neutral. Aircraft being delivered to Chinese airlines such as China Eastern, which will take 62 aircraft compared to Delta's 72, will be employed to serve the evolving demand of an emerging Chinese middle class gaining increased exposure to aviation.
OAG has estimated the likely net impact of the planned deliveries, on a full year of commercial operation. In a scenario of similar daily frequency across the fleet types, and with an educated assessment of likely new versus replacement aircraft, OAG is forecasting that Chinese airlines will undergo a net increase of 53.3 million seats in a full year, compared to just 15.7 million across the US airlines.
Net capacity increase by country and aircraft type

Source: OAG
While the forecast illustrates a resounding disparity in net seats actually added, one must consider the overarching geopolitical and economic environments in each nation. IATA's estimation, which is used as the baseline for comparison, highlights that there are a number of risks to the forecast's realisation.
Maximizing the potential benefits of aviation growth will depend on levels of trade liberalization and visa facilitation being maintained. If trade protectionism and travel restrictions are put in place – either in the US or China – the early 2020s could shape up to be much different.
An example of IATA's warnings being realised is the recent materialisation of a new US-China trade dispute.
The lead manufacturer of aircraft being delivered in the US and China in 2018, Boeing, responded to the uncertainty created by the quarrel. The aerospace giant accentuated that while both governments had outlined positions that could do harm to the global aerospace industry, neither had yet imposed these "drastic" measures.
"We will continue in our own efforts to proactively engage both governments and build on the recent assurances by US and Chinese leaders that productive talks are ongoing", Boeing confirmed.