China Southern Airlines, SpiceJet, VietJet and Vistara were all recognised in what are regarded as the pre-eminent awards for strategic excellence in aviation. Respected aviation intelligence specialist CAPA first established the awards in 2003, to recognise successful airlines and airports within the Asia Pacific region.
The company's founder and chairman emeritus, Peter Harbison said: "The CAPA Asia Pacific Awards for Excellence are intended to recognise airlines, airports, executives and the wider aviation industry for their strategic leadership and success over the last 12 months, and for helping to propel the whole industry forward."
The four winners in the Airline category are airlines that have shown the greatest strategic impact on the development of the airline industry within their class, and have established themselves as leaders, providing a benchmark for others to follow, according to CAPA.
China Southern Airlines was awarded the Airline of the Year title, presented to the carrier that has been the biggest standout strategically during the year, has had the greatest impact on the development of the airline industry, has established itself as a leader, and provided a benchmark for others to follow.
CAPA says China Southern Airlines was selected for its ability to weather short term challenges while remaining focused on its long term growth plan. Despite regional geopolitical issues affecting demand in 2019, China Southern keeps growing its operating profit, and its passenger levels remain strong, growing nearly 9% through the third quarter of 2019.
The airline has also recognised that traditional alliance structures are becoming less relevant in a quickly changing global aviation landscape. By forging an independent path after leaving the SkyTeam, China Southern will maintain its solid leadership in the region while ensuring it has the network depth and breadth to continue to grow profitably.
"As China is poised to overtake the US as the largest aviation market by 2030, no airline is currently better positioned to capitalise on the significant opportunities for passenger growth than China Southern," said Mr Harbison.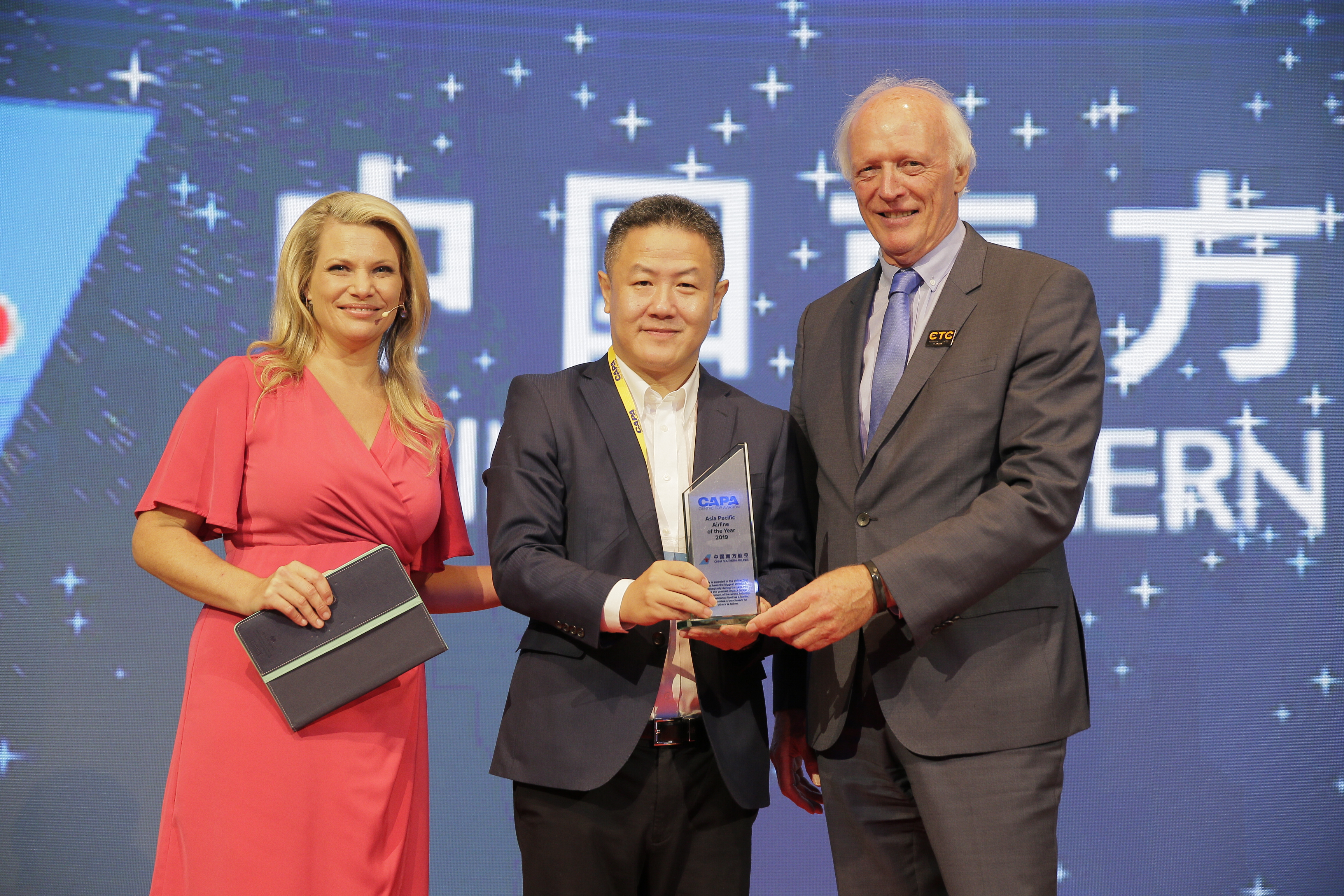 SpiceJet India, chairman and managing director, Ajay Singh was awarded Airline Executive of the Year, presented to the airline executive who has had the greatest individual influence on the aviation industry, demonstrating outstanding strategic thinking and innovative direction for the growth of their business and the industry.
CAPA says Mr Singh was selected for his significant and innovative contributions to Indian aviation as a pioneer of the country's LCC sector. India's third largest airline overall by fleet and 2019 seat count, SpiceJet is the second largest LCC and second largest domestic airline. Annual passenger numbers and revenues grew almost five times from 2008 to 2018. Its 2019 seat count is up by 28%.
"Ajay Singh has been one of the most effective pioneers of India's low cost airline segment since the establishment of SpiceJet 15 years ago. Since Mr Singh's resumption of management and majority control in 2015, SpiceJet has achieved a strong turnaround from a near financial collapse. Under Mr Singh's leadership, SpiceJet has adapted the business model to take initiatives not always associated with LCCs, for example operating a turboprop fleet alongside its Boeing737s, launching a cargo subsidiary, joining IATA and signing an MoU with Emirates over future codeshares," said Mr Harbison.
Vietnam's VietJet secured the Low Cost Airline of the Year title, presented to the low cost or hybrid airline that has been the biggest standout strategically, has established itself as a leader, has been most innovative and provided a benchmark for others to follow.
CAPA says VietJet was selected for its successful growth during the last few years, building up a 44% market share in Vietnam's domestic market, which is a highly attractive position given Vietnam's favourable economic prospects and fast growing market. VietJet's international growth has also been impressive as the company opened nine new international routes during the first half of 2019.
"VietJet continues to break the mould for a traditional low cost airline," said CAPA Chairman Emeritus Peter Harbison. "The company has a solid financial foundation and a game plan to formidably challenge some of largest operators in Asia Pacific for decades to come," said Mr Harbison.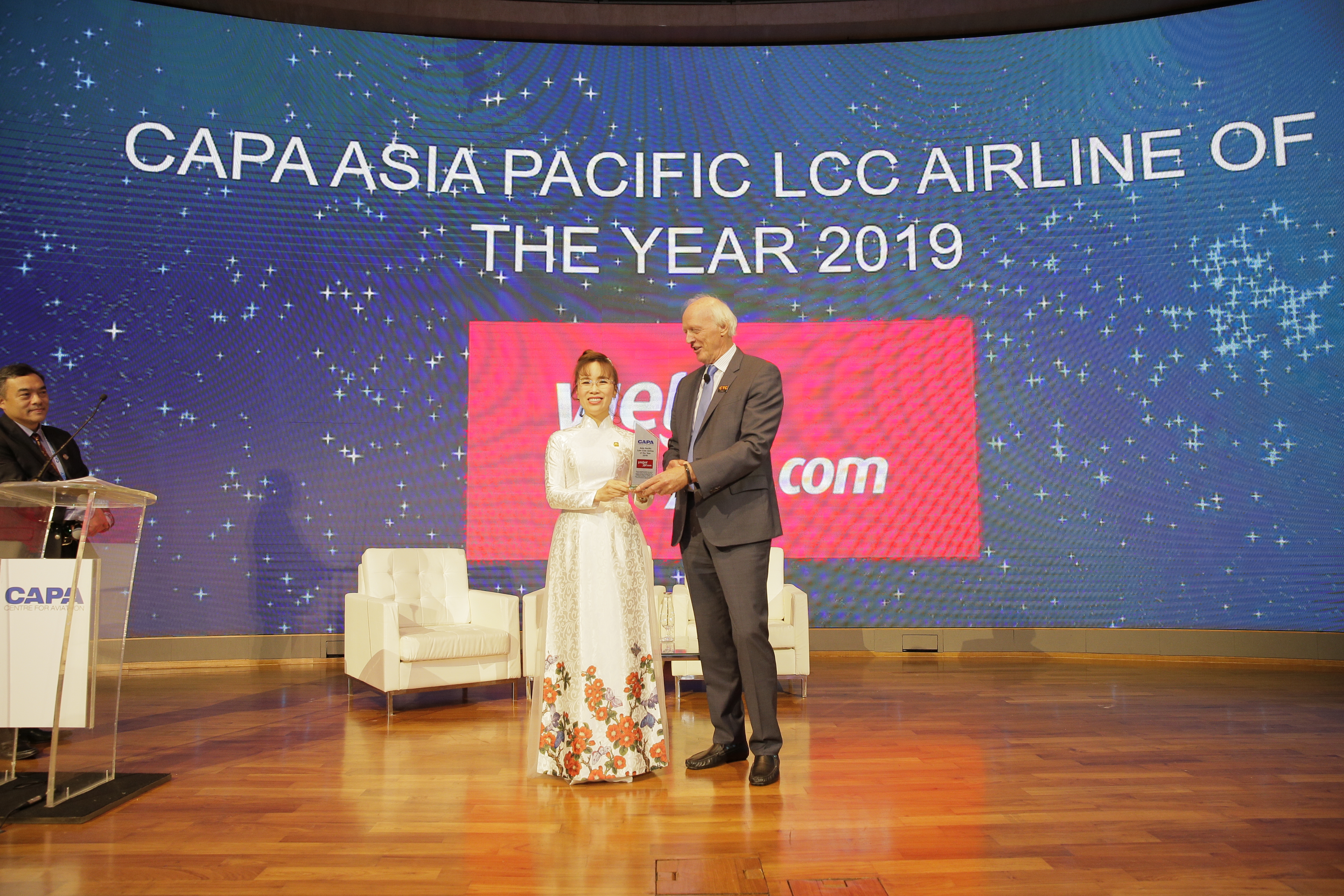 India's Vistara secured the Regional Airline of the Year title, presented to the regional airline that has been the biggest standout strategically, has established itself as a leader and demonstrated innovation in the regional aviation sector. (Note that this award is not limited to operators of regional aircraft; it is intended to recognise smaller airlines – fewer than 10 million annual passengers – that either do not operate any long haul services, or only operate limited long haul services.)
CAPA says Vistara was selected for its strong consistent growth, even before the collapse of Jet Airways in Apr-2019. Launched in 2015 and 51% owned by Indian industrial giant Tata Sons and 49% owned by Singapore Airlines, Vistara's traffic grew by 30% in 2018 to more than five million passengers and its seat count is up by 40% in 2019. In a highly competitive domestic market dominated by LCCs, this was a substantial achievement, it says.
"Vistara's growth from start up in 2015 to become India's sixth largest airline by seats in 2019 demonstrates that there is still a place for a well executed full service business model in a market where LCCs have more than three quarters of domestic seats and approaching one third of international seats. Vistara's recent move into international operations promises to add a new dimension to the India market," said Mr Harbison.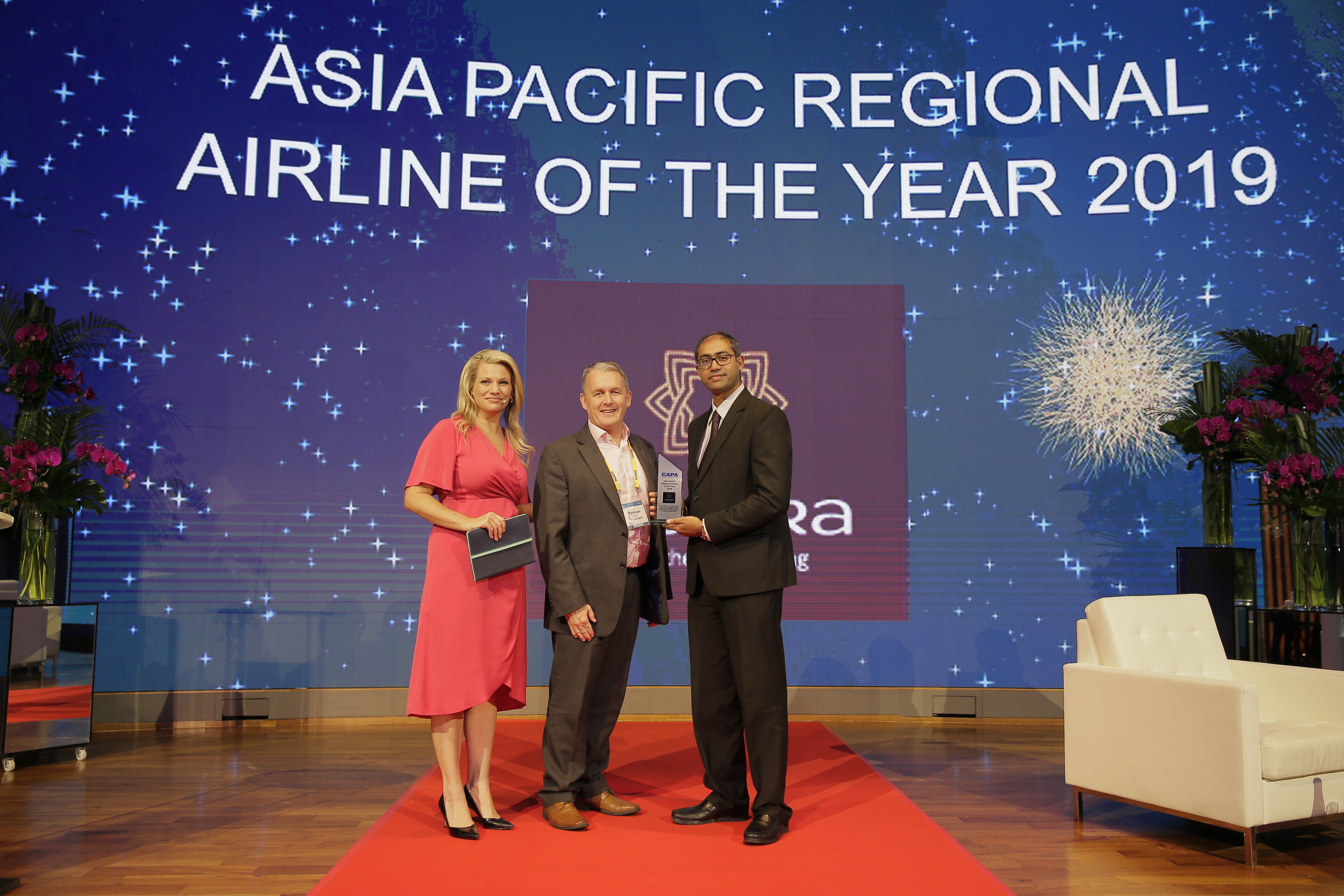 There were also rewards for three airports across the region, each demonstrating the utmost strategic leadership across the Asia Pacific region and taken significant steps to progress the aviation industry in the last 12 months.
The Large Airport of the Year was awarded to Hong Kong International, which was selected for its role in managing the difficult process of agreeing its third runway project with multiple parties and the accompanying Terminal 1 expansion and improvement project, according to CAPA. It was also selected for its resilience in dealing with the disruption caused during the political protests of 2019 and for managing to maintain consistent services to the passengers using it during that disruption, thus offering support to Hong Kong's beleaguered international commercial and tourism sectors.
The Medium Airport of the Year was awarded to Brisbane airport for boosting the Asia market, by increasing the number of weekly frequencies by 50 to 137 in the period July 2016 to July 2019, a critical enhancement for Queensland and its tourism industry, which accounts for 4% of Queensland's GDP. Together with Queensland and Brisbane tourism and economic development bodies, Brisbane has become a model for airport business development, says CAPA.
The Regional/Small Airport of the Year was awarded to Phnom Penh International for adopting an innovative strategy that has led to sustained passenger growth in excess of 25% over two years (2017/18) and of 15% in Q1-Q3 of 2019 while the regional leader, Thailand's Bangkok Suvaranabhumi Airport, has languished in the 3% to 10% category.
A special Innovation of the Year award was also presented to Singapore Airlines. This award recognises the airline, airport or supplier responsible for the most powerful innovation in the industry over the past year. The innovation could be customer-facing, B2B, efficiency-related or a new marketing product – and must be a new standout and established the company as a market leader in the product or process.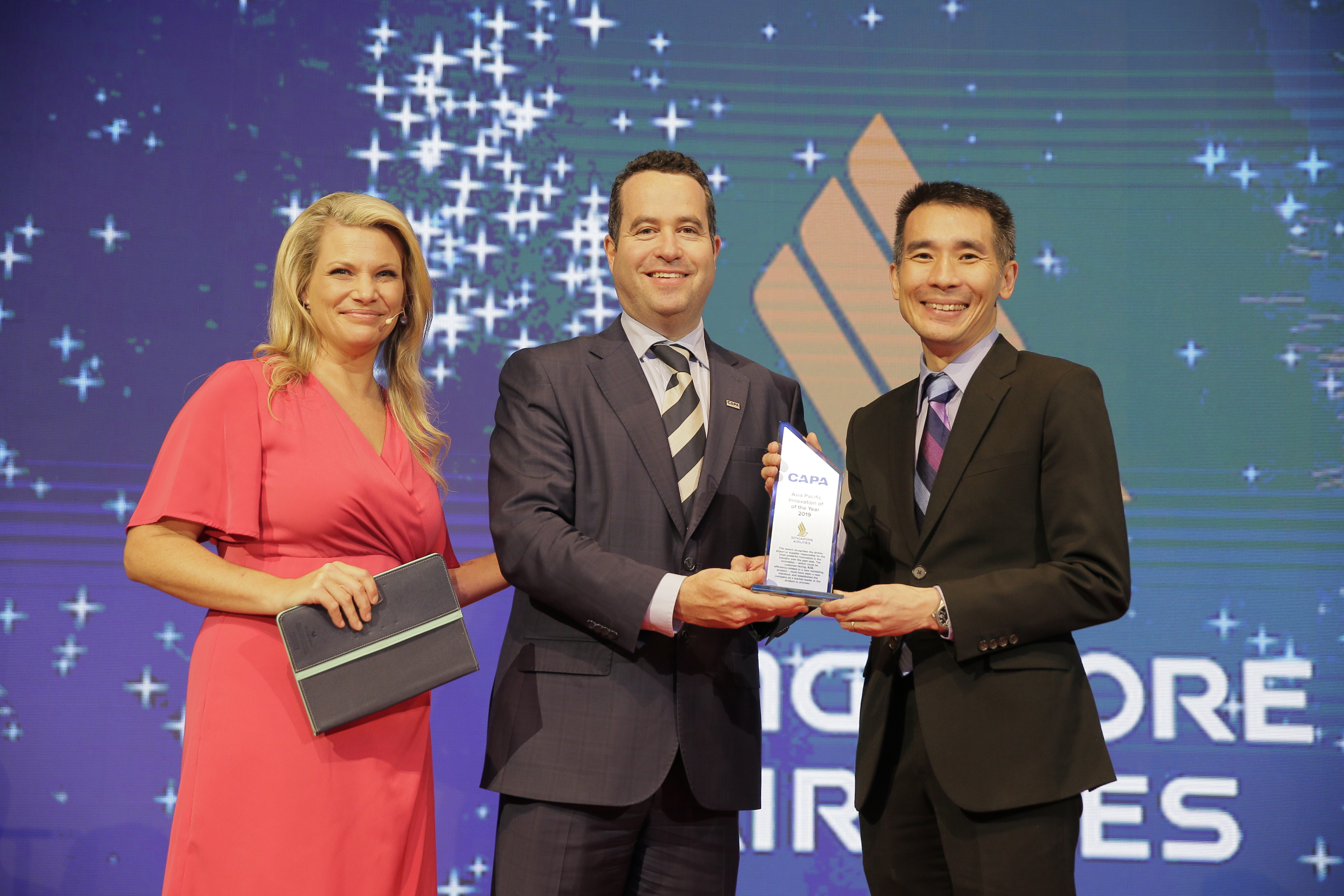 CAPA says Singapore Airlines was selected for its ULR product. Singapore Airlines has invested heavily in ensuring the success of its resumed nonstop flights to the US. SIA worked very closely with Airbus to ensure its A350-900ULRs would be available and fit for purpose to offer travellers the best possible service available. SIA was the first airline in the world to operate the A350-900ULR, configured in a two-class layout, with 67 Business Class seats and 94 Premium Economy Class seats.
The innovative strategy involved an entirely new service and product including new meals from Canyon Ranch specially created for ultra-long haul nonstop US flights. Wellness formed an important part of the strategy with SIA partnering with Canyon Ranch, the world's premiere integrative wellness brand, designed to re-invent ultra-long-haul travel with a focus on wellness cuisines, rest and relaxation, and general well-being on the world's longest flights.
"Wellness continues to be an important factor of any corporate travel programme", explained Mr Harbison. "Singapore Airlines pushed the development of the A350-900ULR with a vision of expanding its premium long haul offering. This clearly will assist airlines around the world as they themselves push their long haul strategies. Combatting the impacts of these gruelling services by partnering with a leading wellness brand only emphasises the innovative strategy of the airline."
Subsequent to the Asia Pacific awards, the CAPA Global Awards for Excellence will be announced as part of the CAPA World Aviation Outlook Summit in Malta on 5-Dec-2019.