---
Summary:
The Chinese government intends to develop over 200 new airports by 2035, with specific regions targeted;
In some cases very large new airports are already being built there, or existing airports expanded;
Air transport and tourism statistics are positive but the economy is starting to hurt as the US trade war deepens.
---
According to the CAAC, service has improved substantially, but existing airports are far from adequate and are unevenly distributed throughout the country. Hence development of additional airport infrastructure is urgently required to accommodate passenger demand. It says a lot about the forward thinking here that new airports are already under construction in some of these cities. Unless CAAC is re-circulating old news, this is a quantum leap forward.
Beijing's Daxing Airport is well known. It should open in 3Q2019. But according to the CAPA Airport Construction Database new airports are also under construction right now in Chengdu and Chongqing, while in Guangdong a second airport for Guangzhou has been planned for since 2013.
The Chengdu Tianfu airport is the most impressive. Scheduled also for completion in 2019 it is a USD12 billion facility to handle 40 million ppa, rising to 90 mppa. The terminal building will be 600,000 sq m and there will be three runways by the end of 2022.
At the other end of the scale, Wushan Shennufeng Airport is a new airport development project for Wushan County, in Chongqing municipality. The project is expected to cost CNY1.6 billion (USD264.1 million) and will have capacity for up to 280,000 passengers and 1200 tonnes of cargo per annum by 2020. It will feature a 2600m x 45m runway. The airport is being constructed mainly to cater to tourists visiting the nearby Three Gorges region and upon completion, will be the sixth airport built in Chongqing province.
This is typical of the green field airport that often passes under the radar while all the talk centres on Beijing and there are many of them, and several just around Chongqing. The two examples given above are random ones from the list of 59 new airports under construction in China that are known to CAPA now, and which are being built at a (known) cost of USD63.7 billion (not all costs are advertised publicly). At least one of them, at a cost of USD9.3 billion, is purely a freight and logistics airport.
Moreover, there are projects at 77 existing airports, including Hong Kong, to the known value of USD77.4 billion. The largest ones are Hong Kong (USD19.3 bn); Guangzhou (USD7.2 bn); Xian (USD7 bn); and Xi'an (USD7 bn). The need for these airport projects, and new ones, is evident from the charts below of annual passenger numbers in China from 2012 to 2018YTD and annual cargo payload capacity.
CHART - Growth in annual passengers (top) in China peaked at over +13% in 2017 and this year is tracking only slightly slower at +12% in the first eight months of 2018, while freight capacity is rising (bottom), reaching almost 26 million tonnes in 2018 (partially predictive)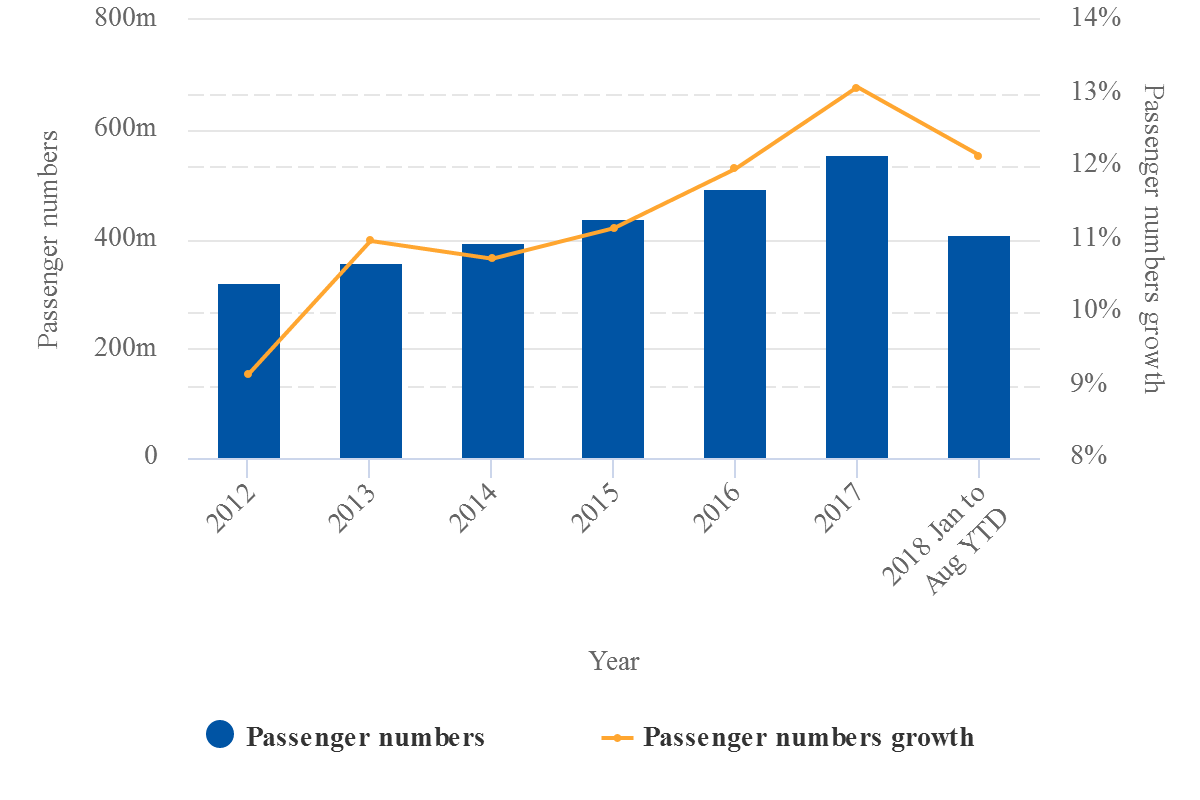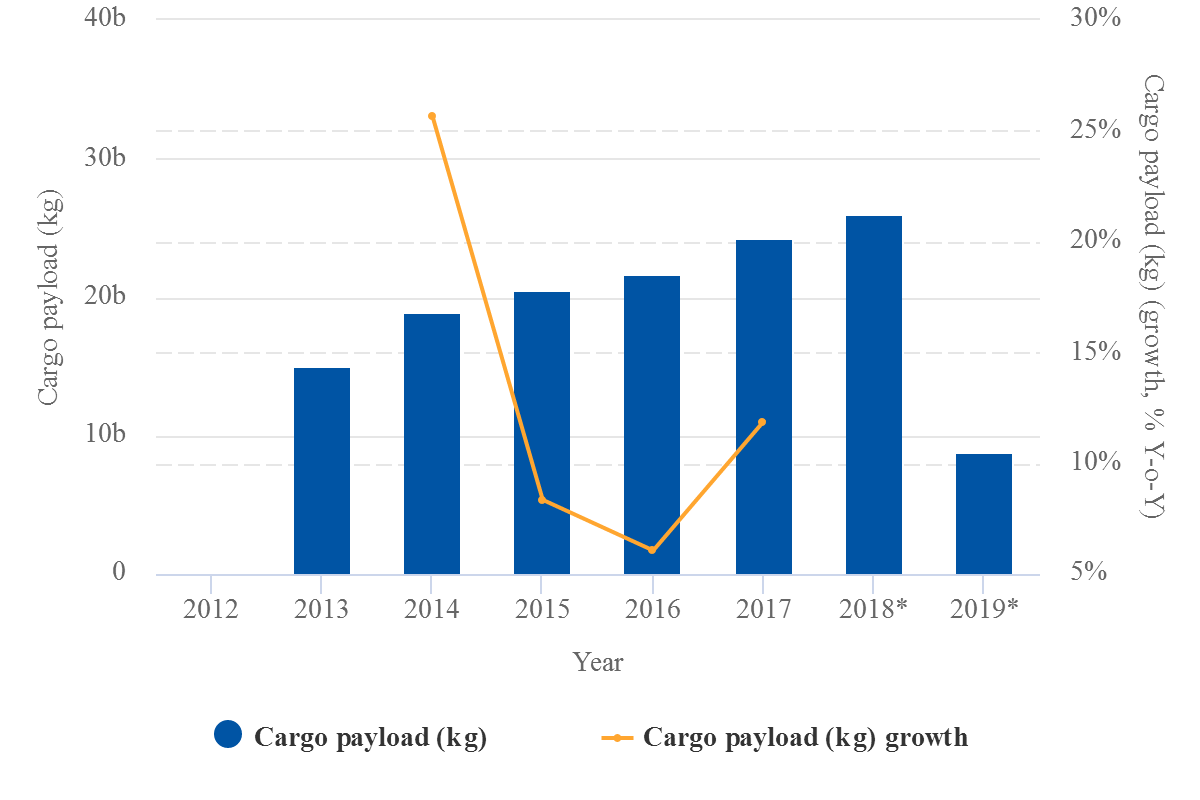 Source: CAPA - Centre for Aviation, OAG and CAAC
This growth is despite the first signs of a sharp slowdown in China's economy, with media reports of car sales plunging and of some factories letting workers off for the Lunar New Year holiday two months early as Premier Xi Jinping is forced to make concessions to the US, as the trade war intensifies.
In a country of over 1.4 billion people tourism may not be as important a factor in projecting airport construction requirements as in others. On the other hand in 2001 a modest 10.5 million overseas trips were made by Chinese residents. In 2017 the figure was 145 million – an increase of 1,380%. 156 million journeys are forecast for 2018.
That is despite the fact only 7% of Chinese citizens – less than 100 million people – possess a passport, compared to around 40% of Americans, and 76% of Britons. The potential for further growth is huge. A Chinese research organisation predicts that overseas trips will increase to more than 400 million per annum by 2030.
CHART - In contrast to the rapid expansion of the outbound tourism market, inbound tourism growth into China is much more modest, at just +3.5% in 2016 and +0.8% in 2017
Source: CAPA - Centre for Aviation and China National Tourism Administration
If growth was matched on either side of the equation then that alone would be sufficient reason to build another 200 airports. Of course the state of the economy could render some or all of this advance planning superfluous. Some economists believe the slowdown is the worst since the global financial crisis a decade ago, when Beijing was forced to plough trillions of dollars into its economy to keep growth from derailing.