Taken across all origin markets, seven of the top ten forecast listing by IVA volume in 2023 are expected to be from Asia and the other three will be from the Americas. These top ten origin markets will represent approximately 62% of the total IVAs into Asia Pacific in 2023.
Foreign inbound arrivals into Asia Pacific in 2023 will continue to be dominated by arrivals from Greater China. The flow from China, Chinese Taipei, Hong Kong SAR, and Macao, China will together account for almost 40% of the expected volume in that year, according to PATA, a longstanding promoter for the responsible development of travel and tourism to, from and within the Asia Pacific region.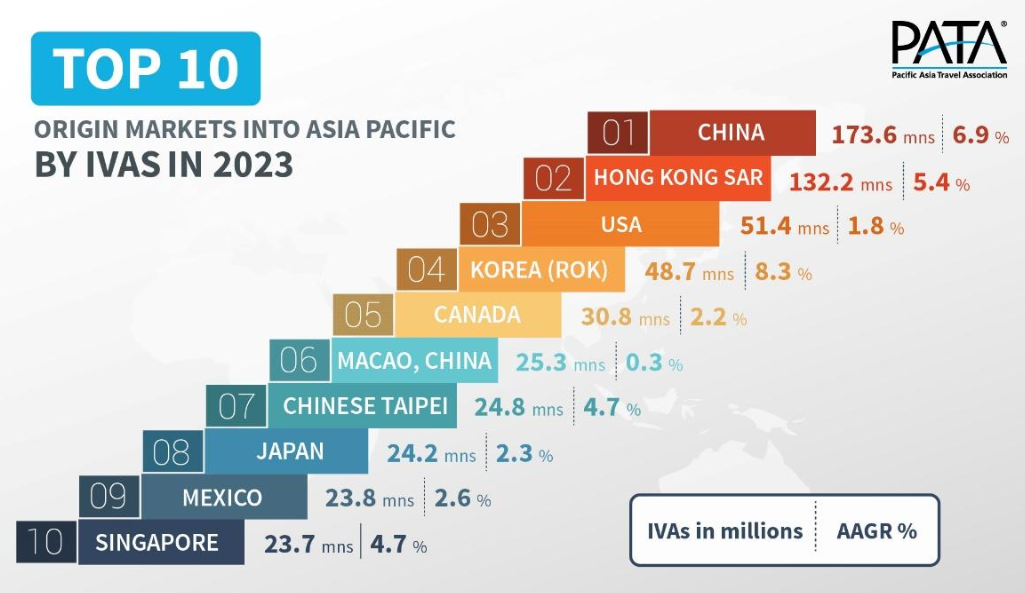 Driven by proprietary travel forecasting model of the Forecasting Unit of The Hong Kong Polytechnic University, the PATA Asia Pacific Visitor Forecasts predict arrivals, visitor receipts and departures across the Asia Pacific region. It is designed to help destinations effectively develop strategies to maintain competitive edge and available across two volumes.
The publication says it focuses on international visitor flows rather than tourist flows "to give greater consideration to the much wider impact of tourism and tourism-related industries across destinations in the Asia Pacific region".
It will show that the Asia Pacific region collectively welcomed nearly 690 million IVAs in 2018, an annual increase of 7.8% over the previous year. Though the insights it has released show Asia continuing to supply the big bulk of arrivals traffic to the region (64%), it estimates that Europe will lead in percentage growth terms in 2018, registering a year-on-year 11.6% increase.