Based on estimated seasonally adjusted data from the global forecasting and quantitative analysis specialist industrial production strengthened further sequentially in Aug-2020 after the 1H's V-shape recovery. Indeed, industrial value added in the month was estimated at 102.9, up from 100 in Dec-2019 (2.9% above the end-2019 level), delivered mainly by increasing exports following the easing of supply chain bottlenecks in Mar-2020 and Apr-2020.
"We expect investment growth to remain robust, though likely to moderate somewhat towards year-end as credit growth decelerates. We also look for household consumption and employment to gather pace in the near term. But we remain cautious on the consumption outlook because we're still waiting for signs of a more significant improvement in employment," it explains in the China Recovery Tracker update.
While many parts of the world are bracing themselves for second waves of the Covid-19 pandemic, China's strong stance has helped it control infections. From photographs of deserted Wuhan streets as the epicentre of the coronavirus crisis became the first major city go into lockdown at the start of the year to those in the past month of thousands enjoying a pool party in the same city - it is a sign of a country's return to normalcy and a clear sign to countries still grappling with the virus that strict preventive measures have a payback.
In China's case a massive domestic market has been an important driver in its recover, plus ongoing restrictions on international travel have helped boost the numbers of locals exploring more of what the huge country has to offer. The Corporate Travel Community (CTC) highlighted earlier this month how the CAPA – Centre for Aviation Air Capacity Model for China illustrated the aviation market in China bottomed in the second week of February, declined quickly, but recovered slowly and steadily.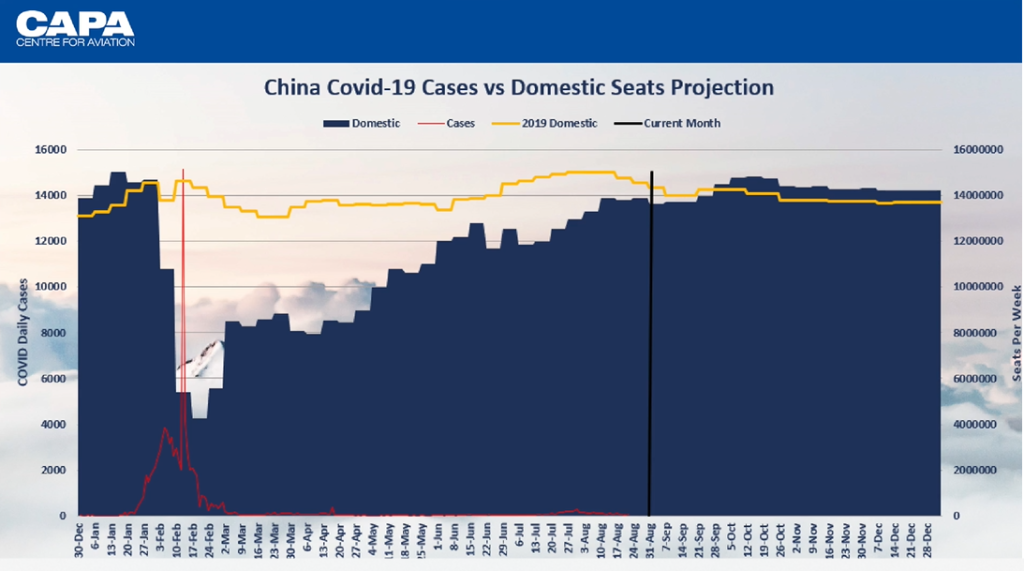 Chinese domestic air capacity has now returned to levels comparable with last year, a sign of the recovery, resilience and reconnection of an industry that plays an essential role in the global economy. Latest data from air transport regulator Civil Aviation Administration of China shows that airlines carried more domestic passengers in Aug-2020 than for any month this year.
It is not quite so positive with demand. A total of 45.5 million passengers were handled during the month, a 16.5% rise on Jul-2020, albeit still only three quarters of the levels seen in Aug-2019 (-25.6%). Ongoing restrictions on international travel means that domestic air travel accounted for the vast proportion of this total – 45.3 million, up on the 44.0 million level recorded in Jan-2020 as the virus began its spread.
China has had one of the strongest stances in terms of international arrivals, a policy that would have had strong economic impacts but has enabled it to manage Covid-19 locally and limit any impact from other countries where it has remained virulent. In Aug-2020 just 189,000 international passengers were handled, according to CAAC, a -97.3% reduction on the level in the same month last year.
Looking at schedule data from OAG, Corporate Travel Community (CTC) has looked more closely at domestic and international air capacity in China through the first nine months of 2020. The first two charts highlight weekly domestic and international capacity and a comparison with the same week in 2019, while the third looks at how domestic air travel has taken a larger share of China's air transport offer. Notably, it shows that domestic capacity levels started to exceed last year's levels again in Aug-2020 and could peak at a double-digit level before the end of Sep-2020.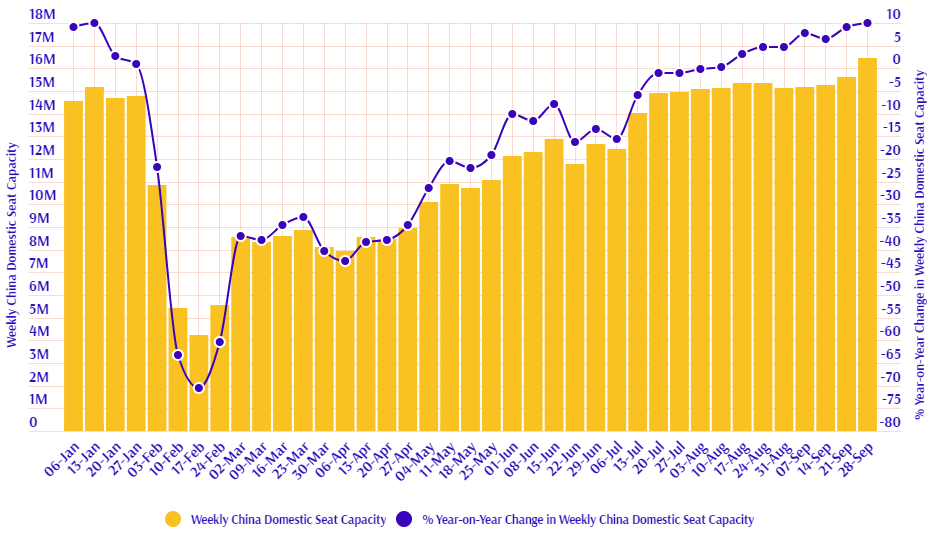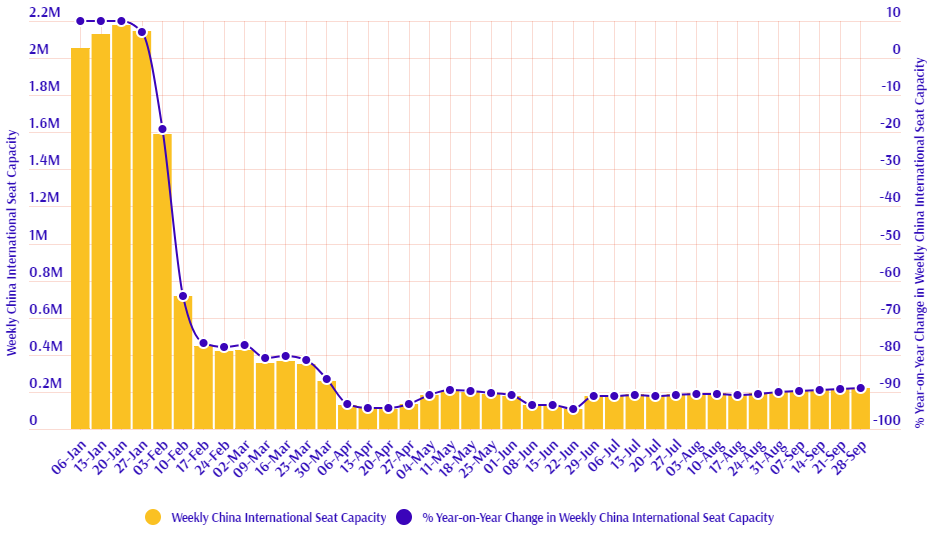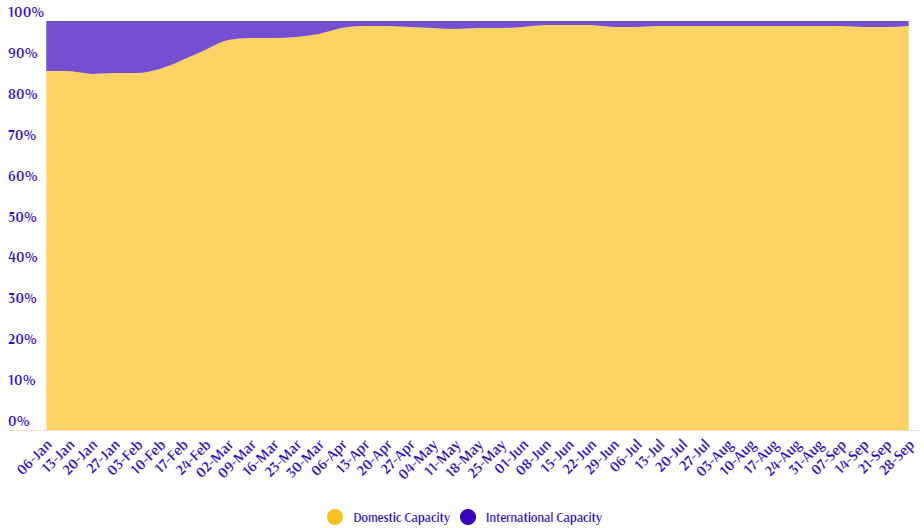 China is now approaching its National Day, the 01-Oct-2020 holiday to commemorate the founding of the People's Republic of China. Alongside this the traditional the 'Golden Week' holiday that spreads on to 07-Oct-2020 is a popular time for Chinese people to explore our parts and will deliver a certain uplift in local travel, a surge of more than +10% traditionally. This year also sees Golden Week link to the Mid-Autumn Festival, a traditional festival for family reunions, and should further fuel travel across the first eight days of Oct-2020.
The country's airlines are adding capacity to meet demand, while China's high-speed rail system is already reporting significant booking for the period. Last year, China's railways handled 17.13 million individual trips people on China's National Day – a 5.5% growth from 2018 and a new daily record during the National Day holidays. That total could easily be exceeded in the coming weeks as China nationals, having lost important holiday events earlier in the year, look to blow away the cobwebs and enjoy the freedom to explore.