China's international capacity has been responding well to reopening moves
The chart below shows what has been happening in China's international market.
After nearly three years at very low levels, capacity has been rising steadily since Jan-2023. For the week of 20-Mar-2023, weekly international seats had reached 25.9% of 2019 levels. This compares to a 9.7% recovery rate at the end of Dec-2022.
There is still a long way to go, but the trend is encouraging.
China international capacity, as measured in weekly seats, 2019-2023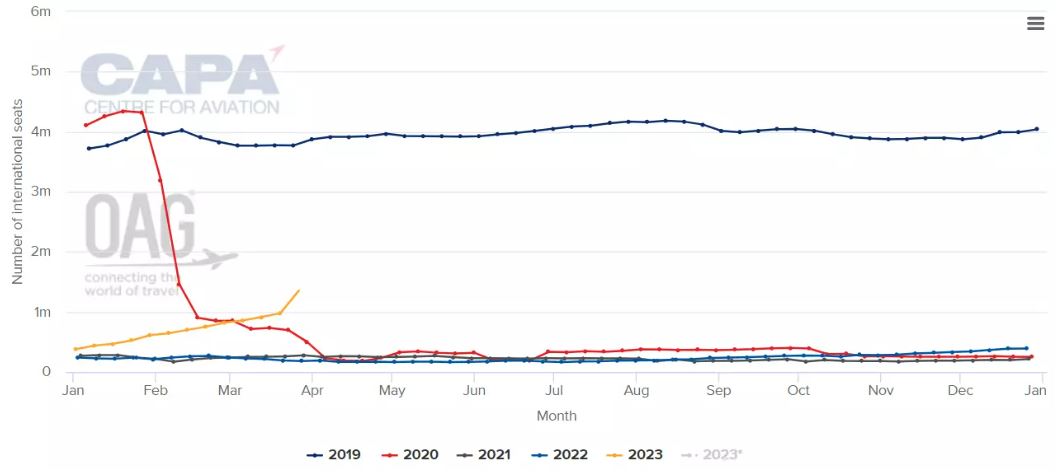 Removing travel constraints has occurred progressively, and some steps still remain
The Chinese government announced in late Dec-2022 that it would drop all quarantine requirements as of 8-Jan-2023, although a pre-departure COVID-19 test would still be needed for entry. Airline flight and load factor caps were also abolished.
The government also said that it would restore processes for outbound travellers to apply for passports, and authorisations to travel overseas. It said that it would resume reissuing visas and entry permits for overseas inbound travellers, and would also reinstate its transit visa waiver program.
However, the timing for some of these changes was unclear, particularly regarding the resumption of inbound tourist travel.
More clarity emerged in Mar-2023, when the government announced that it would resume issuing all categories of entry visas from 15-Mar-2023. Areas and visitor categories that were subject to visa-free travel before the COVID-19 pandemic also regained this status.
Additionally, multi-year visas issued before the pandemic closures will now be honoured if still valid.
In another important move, the government is allowing Chinese tour groups to resume visiting certain countries.
In early Feb-2023 the government authorised outbound tour group travel to a list of 20 countries. Another 40 countries were added on 15-Mar-2023.
However, there are some notable absences from the list – including Australia, the US, Japan and Korea.
Two steps forward and one back, as some other governments reimpose restrictions
The removal of many domestic anti-pandemic measures helped spur a surge in COVID-19 cases in China. This prompted many governments to introduce new rules for inbound travel from China in Jan-2023 – steps that annoyed the Chinese government.
The exact requirements differed.
In most cases they involved pre-departure testing, and sometimes testing on arrival as well. Certain countries included Hong Kong and Macau in their China testing requirements.
In terms of operational restrictions, some countries such as Japan and South Korea required airlines to hold China frequencies at current levels, with no new additions. China flights were also limited to selected gateway airports.
However, most of the countries that reintroduced restrictions on inbound travel from China have now removed – or at least dramatically reduced – these rules, as China's latest COVID-19 wave abated.
For example, the US, Australian, Canadian and some other governments lifted their requirements for pre-departure testing for arrivals from China from mid-Mar-2023. The UK will do so on 5-Apr-2023.
Japan is one example of how some requirements remain for travellers from China
The Japanese government announced in late Feb-2023 that it would discontinue blanket arrival testing of travellers from mainland China and remove restrictions on flights, effective 1-Mar-2023.
Japan will retain some measures, however. A sample of 20% of inbound passengers from China will still be subject to arrival testing. Pre-departure testing will also still be necessary.
Thailand is experiencing the welcome return of Chinese tourism
Not all countries imposed new border measures for Chinese travellers due to the COVID-19 surge. Thailand, for example, decided that no extra requirements were needed.
Tourism is particularly important to Thailand, and China was its largest market before the pandemic.
The chart below shows that capacity between the two countries has steadily increased, and is now at 23% of pre-pandemic levels.
Capacity between Thailand and China, as measured in two-way weekly seats, 2019-2023

Significant progress has been made, but more is still needed
The gradual unwinding of restrictions on travel to and from China is an extremely important development for the Asia-Pacific airline industry.
Some restrictions are still in place – most notably the requirement for pre-departure testing before entering China. A few governments are also retaining some testing requirements for travellers from China.
These lingering restrictions will need to be removed to clear away the last hurdles to travel in this vital international market.
This would also help ease some of the political tensions between China and other countries related to the COVID pandemic, and reduce the risk of retaliatory measures.
Expanding the list of countries authorised for group tours from China will be another important step.
It is also yet to be revealed how quickly required visas and other documentation can be processed, and whether it can keep up with initial demand.
Beyond these questions, it is not yet clear how soon outbound demand from China will recover. After all, outbound tourism from Japan is proving slow to rebound.
Overall, it appears likely that China traffic will continue to increase this year, but a full recovery appears unlikely until the end of the year at the earliest.
In part two of this report CAPA will consider the airline reaction to the reopening of the Chinese market.