Its data shows the country's ADR reached CNY766.95 during this year's holiday period (31-Jan-2022 to 06-Feb-2022), which was +9.6% higher than the pre-pandemic comparable from the festival period in 2019 (CNY699.47).
Christine Liu, STR's regional manager for North Asia says that the more significant recovery of ADR aligns with expectations, with overall rates driven by the upper classes. "Historically, Lunar New Year has depressed demand in the tier 1 markets, with most travellers visiting family or vacationing to suburban or rural areas. This year is obviously unique with the Beijing Olympics and continued COVID restrictions around the country," she explains.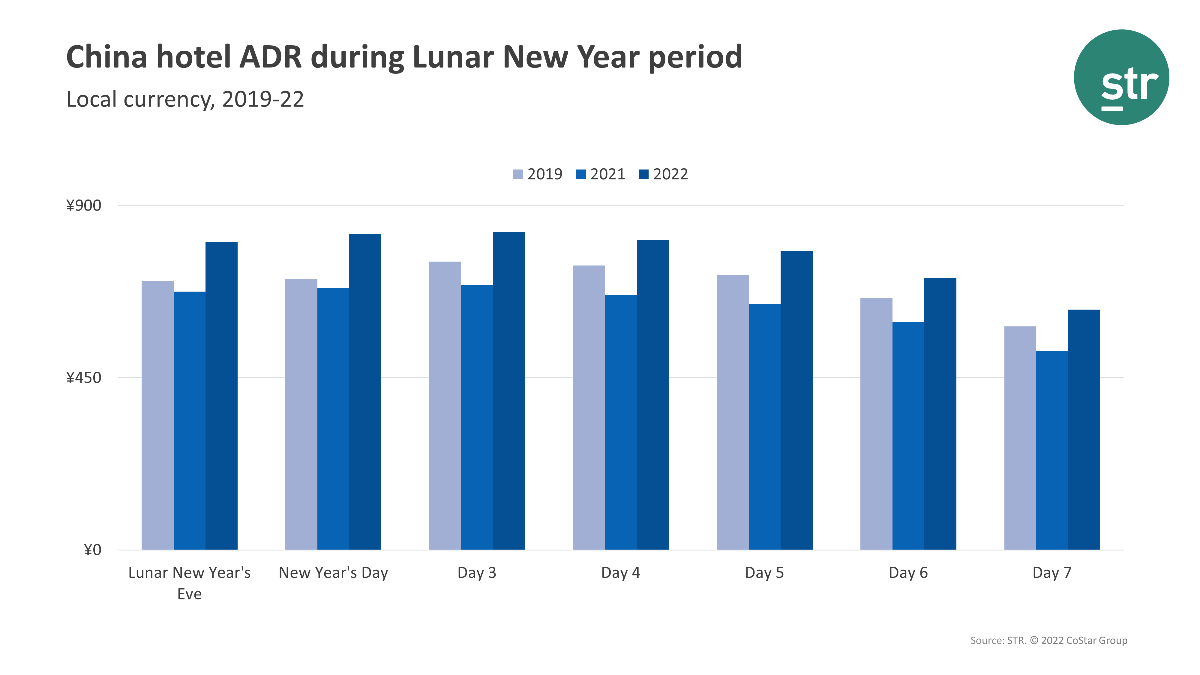 According to STR, the market's ADR peaked at CNY830.21 on 02-Feb-2022. Daily occupancy in the market sat in the 30% range for most of the holiday period then rose to as high as 36.6% on 04-Feb-2022. That was up from the comparable day in 2021 (34.5%) but substantially below the pre-pandemic 2019 performance (71.4%).
Melbourne hotel rates boosted by sports events
Helped by the Australian Open tennis tournament, the hotel industry in Melbourne, Australia reported its highest room rates of the pandemic-era, according to preliminary Jan-2022 data from STR.
The market's absolute ADR level of AUD204.21 was its highest since Nov-2019, while the occupancy (40.8%) and RevPAR (AUD83.28) levels were slightly lower compared with the month prior. January's result can be seen as a clear representation of event-driven demand, as Melbourne performance is pushed more by domestic leisure travel and less by hotel quarantine contribution.
The STR data shows Melbourne's daily performance for the month peaked on 22-Jan-2022 with occupancy of 56.7%, ADR of AUD249.08 and RevPAR of AUD141.20. This coincided with the fourth round of the Australian Open. Looking ahead, STR's latest Forward STAR data shows Melbourne's highest occupancy on the books on 09-Apr-2022 (54.1%), during the Australian F1 Grand Prix weekend.
Miami and Dubai led the world in hotel profit recovery in 2021
Miami and Dubai led the major global markets in hotel profit recovery for 2021, according to STR's full-year P&L data release. Miami's gross operating profit per available room (GOPPAR) beat 2019 levels by 14 percentage points, while Dubai reached 95% of its pre-pandemic comparable.
Across Asia Pacific, Shanghai's GOPPAR (USD29.67) was 75% of its pre-pandemic comparable, followed by Beijing (USD19.33), which reached 38%. Bangkok's GOPPAR level was in negative territory for the year (-USD12.24), which was 122% below pre-pandemic levels.
Optimism, challenges and resilience highlight the 2021 story
Last year there had been a sense of optimism in many Asia Pacific hotel markets, particularly for the second half of the year, but the evolution of new coronavirus variants dampened the reality. Through it all, however, much of the Asia Pacific region continued to show the ability for quicker recovery and more V-shaped returns of demand compared with the long and slow inclines seen in 2020, notes STR.
This was underpinned by much awaited and improved vaccination numbers, meaning several markets in the region were at least able to reposition recovery back on track during the second half of the year. However, there was significant regional variation.
Delta variant caused 'fast and significant' drops in demand
Australia, New Zealand and India were examples of markets that were on the path of quick recovery until the Delta variant created "fast and significant" drops in demand, says STR and in the Pacific nations these were exacerbated by strict domestic policies. Variation also existed internally.
In Australia, different states took different stances and rules could either change frequently, as in between the critical tourism border of New South Wales and Queensland or create large periods of depression, like in Victoria with its extended lockdown periods. If business occasionally picked up in central business districts, the year's hotel demand was clearly driven by regional travel. STR warns it won't be until later this year when inbound travel can return to some degree.
Maldives becomes the 'world's favourite travel bubble'
The Maldives continued the path initiated in 4Q 2020 and established itself as the "world's favourite travel bubble". Inherently favourable conditions of "one island – one resort" and progressive control policies enabled good control of the virus and produced not only historically high average daily rate but also strong occupancies. Looking ahead with Forward STAR, STR says demand remains high as 2022 continues.
2022 predictions may seem like a broken record
Variations around Asia Pacific remains at an all-time high as a year ago. Alignment was beginning but saw disruption from Delta, and later, the Omicron variant. The effect of this variation is likely to present a larger number of leaders and laggards across many markets during a hopeful return to business this year, notes STR.
There is optimism though with evidence that while Omicron produces very high case numbers, it is appearing a less severe variant. These altered fundamentals in early 2022 are causing authorities in many areas to not only produce more progressive reopening plans, but notes STR, also to re-assess any restrictions much faster than in 2021. This could help pave the path from pandemic to an endemic reality.