Or London, where for the nth time a third runway at Heathrow is under scrutiny, this time on account of a burgeoning environmental movement no-one saw coming. Or Munich, where a third runway has been put on ice for five years for similar reasons at an airport which is becoming every bit as significant as Frankfurt.
No-one seems to know what's happening at Dubai World Central, another airport which was billed as 'the world's biggest' but which has yet to attract one million users in a full year though it probably will reach that milestone this year.
All these instances have been reported in The Blue Swan Daily over the past few months, including two other cities that seem to have got it right, namely Beijing and Istanbul.
China's aviation regulator, the Civil Aviation Administration of China (CAAC), confirmed last week that President Xi Jinping inaugurated Beijing Daxing International, marking the airport's formal launch of operation. Works to develop Daxing International commenced in Dec-2014 and were completed in Jun-2019. The airport is equipped with four runways, one 700,000 square metre passenger terminal and 268 aircraft parking stands.
By the end of the winter 2019/2020 season, it will be served by 16 airlines with services to 112 destinations, including local operators Air China, China Eastern Airlines, China Southern Airlines, Beijing Capital Airlines, Xiamen Airlines and Juneyao Air.
At the same time, China Railway Beijing Group Corporation reported that a high-speed rail service connecting Beijing West Railway Station to Beijing Daxing International airport had also commenced operation. When considering other global airport infrastructure projects the co-ordination of these works is breathtaking.
Daxing isn't a replacement airport. Despite China's current economic position, which isn't the best it has been, Beijing Capital airport continues to grow. It passed the 100 million annual passenger total in 2018 and is only slightly down (-0.6%) in 1H2019. The two airports will act in tandem with the prospects of the trade war with US worsening seeming to be receding.
CHART -Beijing Capital International airport has seen continuous year-on-year traffic growth this decade, but for 1H2019 it has slipped into negative growth territory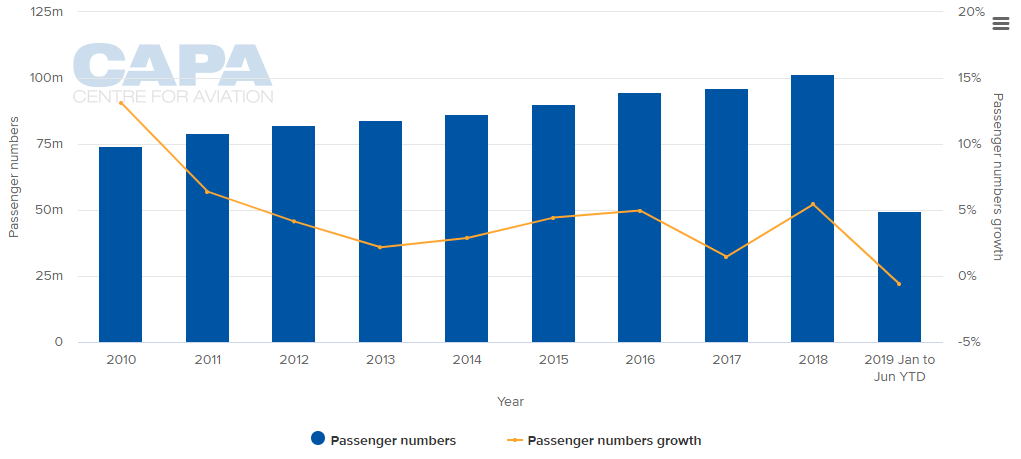 Source: CAPA - Centre for Aviation and Beijing Capital International Airport reports
Meanwhile, in Turkey, where what is claimed eventually to be the world's largest airport was constructed out of green field and woodland in 42 months (though not without determined opposition from environmentalists), İstanbul airport is almost upon its first birthday, during which it has recorded six months of full capacity service.
During this period, the airport has come into prominence as the largest hub in the region and "Turkey's gateway to world", thanks to its strategic location between East and West, one that is broadly the equivalent of any of the Big 3 Middle East (MEB3) airports. It is already linked to 130 destinations in 60 countries that are only three hours away, which is one of the advantages of the Turkish city over the MEB3; more cities accessible by smaller aircraft with more comprehensive schedules, and at lower cost.
The airport has already handled 32 million passengers, on over 200,000 flights, in less than six months. A total of 70 airlines currently operate there, eight of which offer services from Istanbul for the first time, and by Nov-2019 this number will rise to 10.
Despite the withdrawal or moratorium of construction at other airports, faltering economies and flight shaming movements, the management continues to believe that Istanbul airport will be one of the world's biggest hubs with an annual capacity of 200 million passengers and over 300 destinations. It also aspires to helping propel Turkey into the world's Top 10 economies. Right now it is 17th but has had its problems this year. GDP growth is expected to be only +0.5% in 2019 despite a stronger finish to the year, but is set to grow to +5% in 2020.
The Beijing Daxing International and Istanbul airports are flying the flag for aviation globally. Two successful aviation infrastructure projects that in the current environment have proved the exception rather than the norm.