It made its debut in Australia in May-2018 and currently offers services across seven cities in four states comprising Geelong, Melbourne, Newcastle, Brisbane, Gold Coast, Sunshine Coast and Perth. It is a significant reach, but its planned arrival in Sydney represents a "major milestone," it says.
It will initially launch with its Didi Express (carpooling) and Didi Max (seven-seater) services, and could add its Didi Share carpooling offer at a later date. It has already served over two million riders across Australia.
Ride-sharing was legalised in every Australian state during 2017/2018 and has led to a rise in the total driver registrations and the total number of rides taken, according to a report from Ken Research. It is by far the fastest growing of all the segments in the online mobility services market in Australia and is delivers estimated annual revenues of over USD1,875 million.
While the market is relatively new in Australia it is already ranked among the 12 largest ride-hailing countries by revenue and user penetration and there is strong competition in the market among the key players. Ken Research says a CAGR of 20.1% was seen in the ride-hailing market between 2013 and 2018 - it predicts this will grow at a CAGR of 10.6% in the 2018-2013 period.
CHART: A report from Ken Research indicates that continuous growth in the total number of business establishments and increase in tourist arrivals will further drive the demand for car leasing, rental and ride sharing in Australia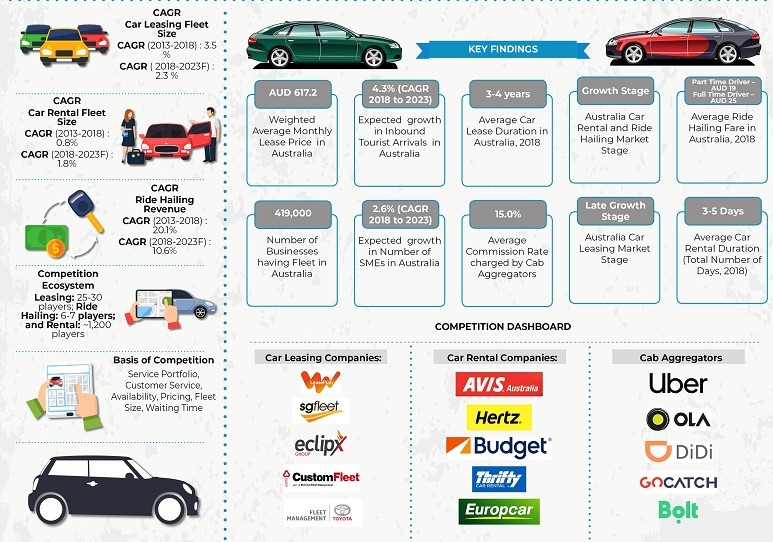 Source: Ken Research
Didi's reach in Australia in such a short space of time is significant, but this is a mere shadow of its activity in its home market. After launching in 2012, it acquired Uber China for USD35 billion in 2016 and now has more than 550 million riders around the world, including ventures in Hong Kong, Brazil, Chile, Colombia, Costa Rica and Mexico.
Didi claims that its rides are up to 10% cheaper than other ride-hailing providers. It is offering Sydney customers who sign up before its launch a further 50% discount off every ride they take during the first four weeks of service. Those who refer friends or family will also receive a AUD20 voucher.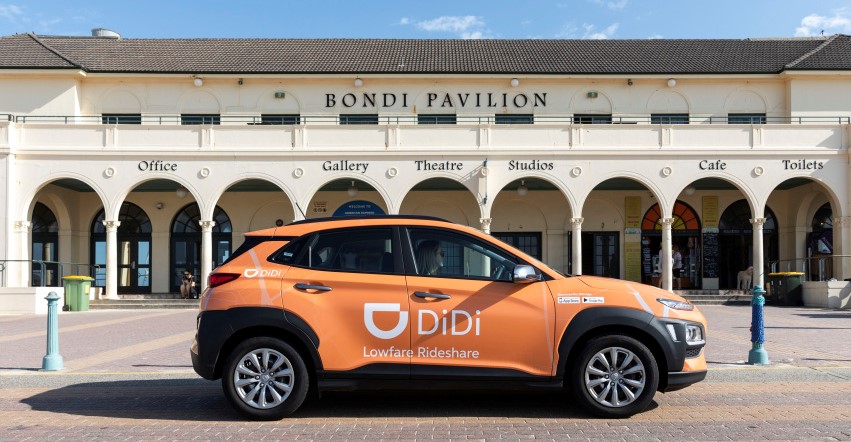 The new arrival will likely bring some price stimulation to the Sydney market, which the Independent Pricing and Regulatory Tribunal (IPART) indicates is seeing a levelling off in demand through the New South Wales (NSW) state. Its research shows the use of rideshare services did grow year-on-year in 2019, but the rapid growth has reduced as more people get comfortable with the range of choices that are available for point to point transport.
Still, for the first time in the history of the survey, more Sydneysiders reported that they had used rideshare services such as Uber, Ola, or Bolt than said they had used traditional taxi services. Interestingly, demand for traditional taxi services also remained strong, with 49% of surveyed Sydneysiders saying they had caught a taxi at least once in the 6 months prior to being surveyed, compared to 52% in 2018 and 51% in 2017.
In 2019, 51% of surveyed Sydneysiders said they had used rideshare at least once in the previous six months, up from 48% in 2018 and 36% in 2017, according to the results. "This indicates that there is healthy competition in the market for point to point transport services in Sydney," says IPART chair Dr Paul Paterson.
While the growth is slowing, it is worth noting that less than ten years when IPART completed its first survey in 2012 it didn't even ask about rideshare, as no services were operating in NSW.