---
Summary:
The concession on Cali's Alfonso Bonilla Aragon Airport, already held by Aerocali, is to be renewed, for 30 years;
Aerocali will rebid but the new concession includes four other secondary and tertiary level airports;
As such it is similar to the strategy adopted in Brazil, which so far has been surprisingly successful.
---
Cali is Colombia's third city after the capital Bogotá (which will have a new, competing, airport in addition to its existing one) and Medellín (which has two airports already) and is the economic and cultural heart of south western Colombia. Alfonso Bonilla Aragon airport is the third busiest in the country by passenger traffic and fourth by cargo traffic.
Aerocali, which is the Cali Airport operator, is preparing a project to participate in the process. Aerocali, founded in 2000, is made up of Spain's AENA (Internacional division) and Dragados, and Colombia's Corporacion Financiera Colombiana (Corficolombiana). It took control of the USD125 million, 20-year concession to upgrade and operate Alfonso Bonilla Aragon airport in 2000 and the agreement expires on 31-May-2020. A previous, unsuccessful attempt to privatise the airport had been made in the early 1980s.
Important works required at the time included the expansion of the national and international terminals. According to the CAPA – Centre for Aviation Airport Construction Database the most recent works include modernisation of the domestic terminal (completed in Dec-2017), which followed the completion of the international terminal six months earlier. Collectively, these works increased capacity to 10 million ppa. The collective bill came to USD126 million including apron and taxiway improvements.
The works required now, which presumably have been deferred for the new concession procedure, require the construction of an LCC terminal (strangely, because only 1.3% of seat capacity is on LCCs), land acquisition for the construction of a second runway, taxiway improvement, apron expansion and general aviation and cargo terminals expansion.
The 30-year concession would demand COP1.2 trillion (USD385 million) in investment, most of it at Cali although Buenaventura airport would require runway reconstruction and taxiway and apron interventions.
What makes Cali different from other Colombian cities – and many in Latin America generally - is that the airport operates 24 hours per day. It also serves as an alternate for Bogotá's El Dorado International airport.
Cali is a focus city for Colombian flag carrier Avianca, which has 70% of both seat capacity and off-peak movements, and is served by a number of Latin American carriers, primarily from the western half of the continent as well as Copa Airlines which feeds traffic through its Panama hub. Avianca and Copa are both members of the Star Alliance, which goes some way to explaining its dominance (75.8% of capacity). However, representation from oneworld is more modest (20%) and there is none at all from SkyTeam.
CHART - Passenger traffic growth at Cali has been very positive this decade; there have been recent exceptions - 2017 (-10%) and 2018 (-3%) - but year-to-date growth is now back up to 18.2%, the highest since 2013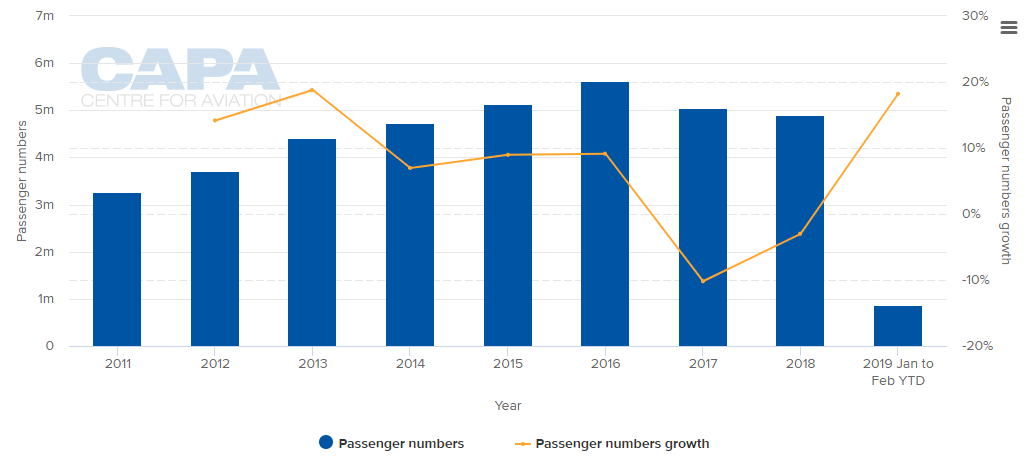 Source: CAPA - Centre for Aviation and Colombia Civil Aviation Authority
With 4.87 million passengers in 2018, Cali's Alfonso Bonilla Aragon airport is four times the size of Buenaventura (1.16 million passengers in 2018), and much larger than the other airports in the block, which all handled less than 400,000 annual passengers - Armenia El Eden (0.396 million), (0.274 million) and Ibague Perales (0.13 million). These three are very much in the category of the smaller Brazilian airports which were part of the last round of concessions there and which will be very much part of the next round as well.
On balance, Cali's Alfonso Bonilla Aragon airport can carry this concession on its own, but Aerocali and any other bidders will not be disposed to taking on airports with such limited traffic as typically those airports do not make money. And yet the Brazilian concessions have shown an unexpected degree of confidence amongst investors in these small airports as long as they are 'wrapped up' with bigger ones.
This is not Brazil though and the likelihood of seeing the likes of Vinci, Fraport, Flughafen Zurich and Changi Airports international amongst the bidders is not high even though the civil war with FARC ended in 2016, the supporting aviation infrastructure throughout the country is much improved and the economy, the fourth largest in Latin America, is more robust than Brazil's. Realistically, if Aerocali wants to renew its concession for another 30 years it must have a good chance of doing so.