These findings are based on the Mar-2019 responses of 202 corporate travel buyers from around the world. The research asked travel managers about the preferences and behaviours of their employees to assess how they interact with their organisation's online booking tools. It asked questions to assess the state of business travel in 2019, the rise of online booking tools and organisations' satisfaction with these booking tools.
With 80% of businesses reporting it's important all booking channels are integrated and more than half that number (41%) citing it as extremely important, the fact that the significant majority of companies have already adopted OBTs demonstrates an appetite to streamline travel booking processes into one platform and drive greater efficiency, cost-savings and improved user experience amongst bookers.
But, while a large majority (81%) of respondents say they have a mandate in place requiring travellers to book travel through company tools and platforms, around 5% of that total admit that adoption is currently lower than 10%. This indicates that, despite corporate policies, there are still real challenges and a need for ongoing education when it comes to user adoption.
The report highlights that the low rates of employee adoption may be due to a lack of internal education on how to use the tools with less than half (47%) of respondents communicating regularly with employees about their booking tools. Perhaps even more surprisingly, 8% of travel managers surveyed said their organisation has never communicated with employees about booking tools – not even during the onboarding process.
The all means that employees might not actually understand the true value of using OBTs to book corporate travel, resulting in lower rates of compliance. The research found 39% of travel managers said the primary reason employees weren't booking through a company's OBT was that travellers believed they could get a better price and save money elsewhere.
The study also found that individuals are increasingly using highly integrated platforms and technologies for online and mobile shopping, which furthers the expectation that OBTs should have the same user-friendly functionality.
Only one in ten (11%) respondents stated that chat and instant messaging (IM) channels were currently being used to book travel, but more than a third (35%) planned to add them as options for travellers in the future. As the report highlights, this data reflects a desire to keep pace with consumer retail trends and an opportunity for the industry to strive to surpass them – something travel managers and technology providers should consider.
Travel managers who were worried about low rates of OBT adoption expressed concerns to an almost identical degree about duty of care (56%), employees booking outside of company policy (56%) and missed opportunities to save money (55%). As every business has different travel-related needs, 90% of travel managers said optimising their OBT platform for company policy and preferred options was moderately to extremely important.
INFOGRAPHIC - What exactly do today's corporate travel managers and bookers need from OBTs and other booking technologies – and are they meeting expectations?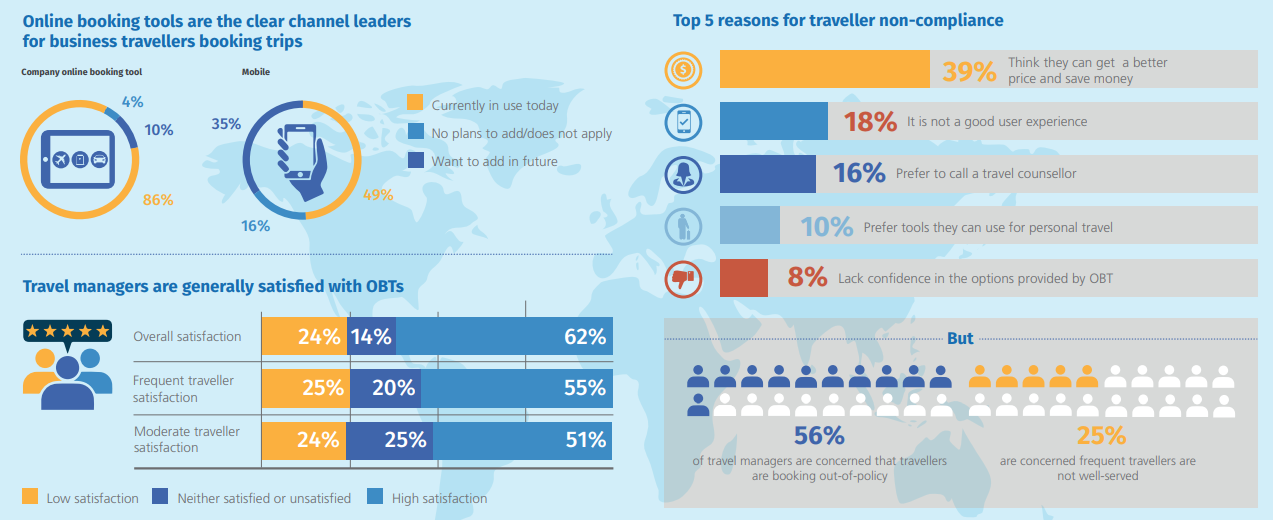 Source: Booking Tools and Technologies: One Size Does Not Fit All
"Travel managers should be wary of evolving traveller expectations. The booking experience needs to be highly flexible and should look and feel like it does when they book personal travel," explained Fitzgerald Draper, director of research with ACTE. "While customisation and finding the right fit are important facets of a company's OBT selection, users must also understand the platform's value and functionality. Travel managers should look for ways to market the selected tool to their travellers, including all the benefits that come with it."
Booking habits and expectations have changed significantly in recent years and booking through OBTs is a critical part of the travel experience. But, the complexities of booking business travel – such as corporate policies and supplier agreements – have made it a challenge for the sector to keep up with consumer tools. Nonetheless, online adoption for corporate travel has been a major change for the industry.
But, as the report concluded many travel managers still see that "a poor user experience is a key obstacle to increasing adoption". This, it said "presents a very real opportunity to work with your TMC and OBT providers on enhancements and improvements to overcome user issues".
"Customisation is key when it comes to online booking tools and technology. One size does not fit all, so it is incumbent on travel managers and their partners to provide online booking tools that meet the needs of all users in the organisation," it concluded.