Expanding its existing offer, guests in business class will enjoy lounge access before their flight, a free middle seat in the front rows of the aircraft, free drinks and menu options, additional hand luggage and checked baggage, free sports baggage and many other advantages.
Condor says previously bookable as premium class, the new business class "unifies the product names within the Condor portfolio and offers new and additional advantages". It also includes free seat reservation, 16 kilograms hand luggage (across two pieces of luggage) and a 30 kilogram checked baggage allowance.
At the same time, the airline is expanding its economy class with three different fare options to meet changing passenger habits. In addition to the familiar 'economy classic' and 'economy light' fares, a new 'economy best' will be introduced. In addition to additional checked and hand luggage, this includes a free sandwich with water and coffee or tea on board.
The airline also provides its priority package within this rate, allowing guests to check in first at a separate priority counter and be the first to board. At their destination they will also receive their luggage before all other guests.
The 'economy best' fare also offers, among other things, more hand and checked baggage as well as free seat reservations. The new fare supplements the classic Economy Class fare and the 'economy light' fare, in which guests travel particularly cheaply with hand luggage only.
CHART - Condor's short- and medium-haul network currently has a focus on the Spanish and Egyptian markets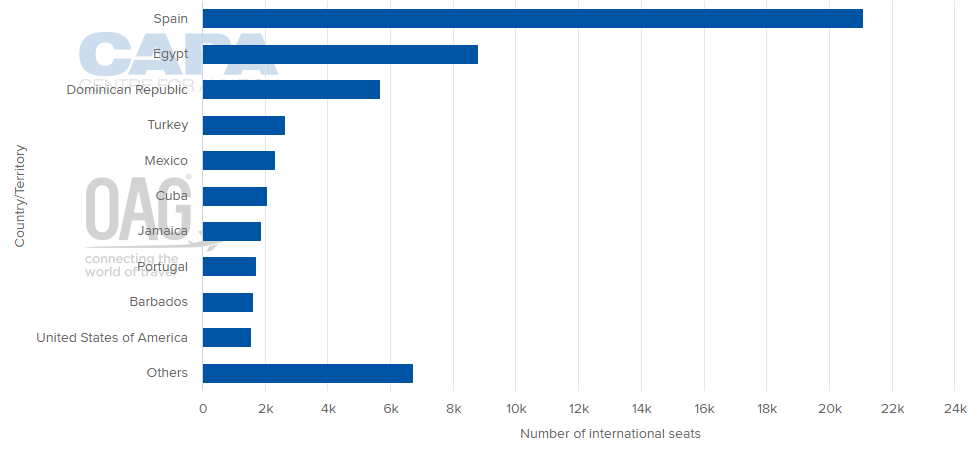 Source: CAPA - Centre for Aviation and OAG (data: w/c 16-Dec-2019)
"With our business class and the fare options in economy class, we offer the right product for every taste and every purse. We meet our customers' desire for more individuality and offer them the opportunity to feel at ease on their flight to their holiday destination or back home according to their personal needs," explains Ralf Teckentrup, managing director, Condor.
On long-haul flights, Condor will continue to offer its guests a choice between business class, premium class and economy class offers. In business class guests enjoy fully automatic reclining seats, premium entertainment on a personal 15-inch monitor and a 3-course gourmet menu. The premium class offers more legroom and a greater inclination of the backrest as well as other benefits such as premium entertainment, free alcoholic and non-alcoholic beverages and a Premium menu.
In standard economy class, passengers have access to a personal screen, ergonomic seats and free hot and cold meals, as well as a large selection of non-alcoholic beverages. The economy light fare can also be booked on long-haul flights, for those travelling only with hand luggage.