While TMCs come in all shapes and sizes, their goals and ambitions are quite similar. In a new report, the US publication the Beat asked 30 TMCs around the world where their investment would lie in the next 12 months, and the main areas are consistent across all.
The Beat Editor-in-Chief Jay Boehmer said: "The 30 travel management companies that participated in this study represent a wide range of sales volume, geographic reach, service configurations and tech stacks. Yet, regardless of size, scope, identity, client makeup or niche, they share a common mission to enable, empower and enrich the business of travel for corporate clients. We hope that, taken in aggregate, the investment priorities among these TMCs shed light on where the business is now and where it is heading."
Investment priorities for the next 12 months
Contact centre solutions, which includes support of chat, text messaging and telephony systems, was the most common area of investment, with 25 of 30 TMCs planning to invest in this area.
Content is also a common area of investment; while global distribution systems continue to serve as a primary source, 23 of 30 TMCs surveyed are investing in non-GDS content aggregation. Data is a consistent area of TMC spending perennially: 23 of 30 TMCs surveyed are steering capital into client reporting, business intelligence and data management – either through partners, proprietary wares or a blend.
Rounding out the top five investment areas are mobile itinerary applications for travellers and chatbot technology, respectively.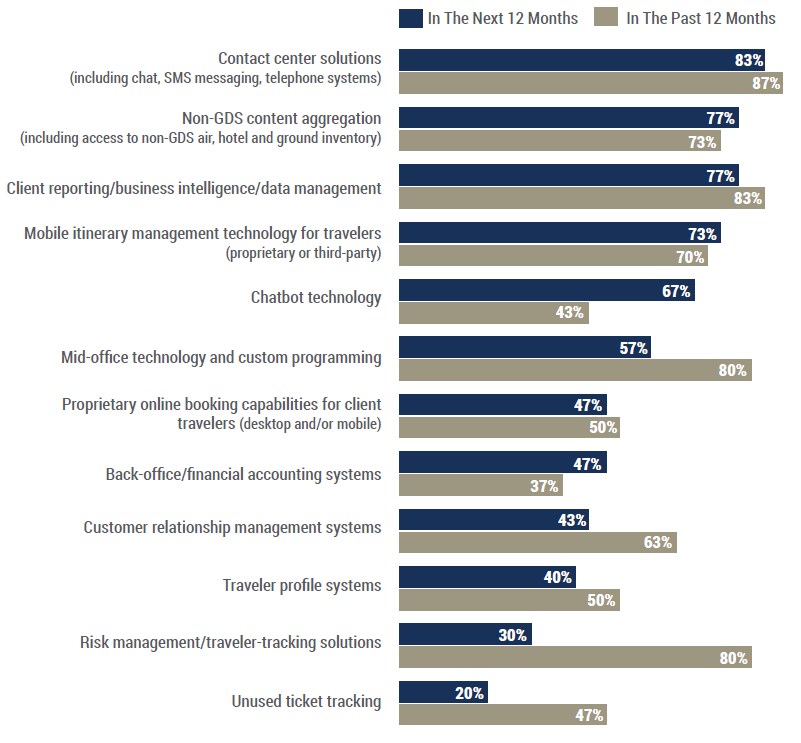 Source: Survey of 30 TMCs fielded in April and May by The Beat
"It should be noted that not all TMC investments are related to technology, and not all the technology they invest in is customer-facing", states the report. "Many TMCs continue to invest in robotics and automation to streamline their own operations, in an effort to make their employees more effective and automate mundane tasks. Plenty are investing in systems for mid-office routines, back-office accounting and traveller profile management."
In fact, one of the key learnings from the new report is where investment is no longer being spent.
In the past 12 months, 24 of 30 TMCs surveyed invested in risk management/traveller-tracking solutions, mid-office technology and custom programming, however this changes dramatically for future investment. Risk management/traveller-tracking solutions had the largest decrease, with results showing that only 9 of 30 TMCs plan on investing in this in the next 12 months, while mid-office technology and custom programming dropped to 17 of 30.
It is doubtful that the drop in investment in these areas is a result of a shifting focus on these areas, but may have more to do with technology already taking this to an acceptable level. As an example, third party organisations such as International SOS offer risk management/traveller-tracking solutions services that ensure employees are sufficiently protected while travelling. TMCs often partner with these sorts of third party organisations, which means investment can be used in other areas.
The full report provided by the Beat, and supported by Arc, delves deeper into the individual investment areas from technology to people, chat bots to agent desktops and more. To download the full report, visit interactive.thebeat.travel/TMC-Investment-Priorities.