A lot has been written in the past few months about how air flow and High Efficiency Particulate Air (HEPA) filters deliver a low risk environment in the aircraft cabin by controlling, filtering and delivering fresh air, and new studies are helping to reinforce this information.
IATA CEO and director general Alexandre de Juniac has now said the risk of contracting COVID-19 on board a modern airliner "appears to be in the same category as being struck by lightning". However, just like avoiding standing under a tree during a thunderstorm, there are various methods you can follow to further reduce the risk, such as wearing a mask, distancing as best as possible from others etc.
IATA evidence shows that since the start of 2020 there have been 44 cases of COVID-19 reported in which transmission is thought to have been associated with a flight journey (inclusive of confirmed, probable and potential cases). Over that same period some 1.2 billion passengers have travelled. As a percentage figure that is tiny. It translates as one case for every 27 million travellers.
"We recognise that this may be an underestimate but even if 90% of the cases were un-reported, it would be one case for every 2.7 million travellers. We think these figures are extremely reassuring," says Dr David Powell, IATA's medical advisor. Furthermore, the vast majority of the published cases occurred before the wearing of face coverings inflight became widespread.
New insight into why the numbers are so low has come from the joint publication by Airbus, Boeing and Embraer of separate computational fluid dynamics (CFD) research conducted by each manufacturer in their aircraft. While methodologies differed slightly, each detailed simulation confirmed that aircraft airflow systems do control the movement of particles in the cabin, limiting the spread of viruses.
Data from the simulations yielded similar results. Notably that aircraft airflow systems, HEPA filters, the natural barrier of the seatback, the downward flow of air, and high rates of air exchange efficiently reduce the risk of disease transmission on board in normal times. Coupled with mask-wearing amid pandemic concerns adds a further and significant extra layer of protection, which makes being seated in close proximity in an aircraft cabin safer than most other indoor environments.
In the Airbus study researchers used CFD to create a highly accurate simulation of the air in an A320 cabin, to see how droplets resulting from a cough move within the cabin airflow. The simulation calculated parameters such as air speed, direction and temperature at 50 million points in the cabin, up to 1,000 times per second.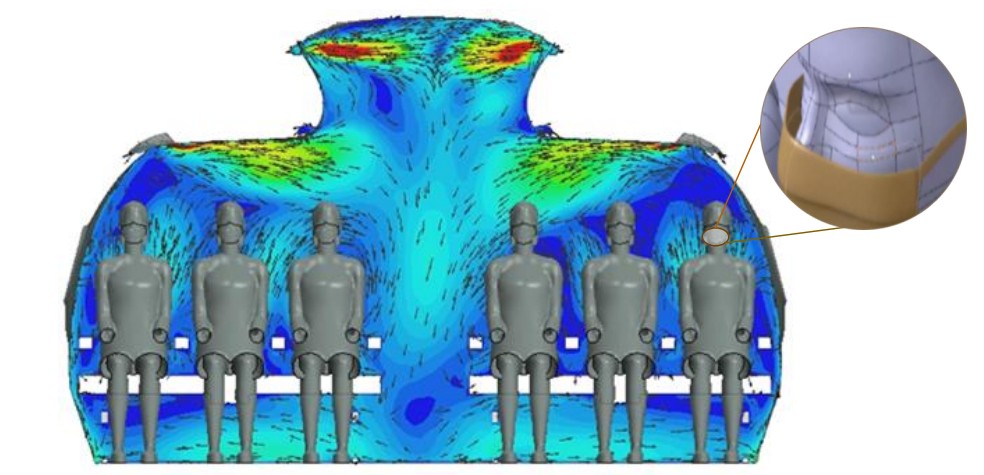 Meanwhile, in the Boeing study researchers used CFD to track how particles from coughing and breathing move around the airplane cabin. Various scenarios were studied including the coughing passenger with and without a mask, the coughing passenger located in various seats including the middle seat, and different variations of passengers' individual overhead air vents (known as gaspers) on and off. Similarly, the Embraer study analysed the cabin environment considering a coughing passenger in several different seats and air flow conditions in our different aircraft to measure these variables and their effect.
IATA's data collection, and the results of the separate simulations, align with the low numbers reported in a recently published peer-reviewed study by Freedman and Wilder-Smith in the Journal of Travel Medicine. Although there is no way to establish an exact tally of possible flight-associated cases, public information from airlines, public health authorities and other available literature has not yielded any indication that onboard transmission is in any way common or widespread. Further, the Freedman/Wilder-Smith study points to the efficacy of mask-wearing in further reducing risk.
A separate study by the United States Transportation Command (US Transcom) has further confirmed the low risk of COVID-19 transmission onboard an aircraft. The testing, which was conducted in Aug-2020, found that "the overall exposure risk from aerosolised pathogens, like coronavirus, is very low" on the types of airline aircraft typically contracted to move Department of Defense (DOD) personnel and their families, US Transcom stated.
More than 300 aerosol releases, simulating a passenger infected with COVID-19, were performed over eight days using United Airlines Boeing 767-300 and 777-200 twin-aisle aircraft. It showed that the aerosol was "rapidly diluted by the high air exchange rates" of a typical aircraft cabin.
Aerosol particles remained detectable for a period of less than six minutes on average. Both aircraft models tested removed particulate matter 15 times faster than a typical home ventilation system and 5-6 times faster "than the recommended design specifications for modern hospital operating or patient isolation rooms".
Speaking at the inaugural CAPA Live – a new monthly virtual summit offering insights, information, data and live interviews across a next-gen virtual event platform – American Airlines CEO Doug Parker confirmed 'it is safe to fly" and noted "as long as everyone is wearing a mask, it is exceptionally safe". In fact, he explained that at American Airlines COVID-19 infection rates among its flight attendants and pilots "is well below the national average and well below our ground employees".
All the studies highlight how the use of flight coverings help significantly reduce the risk of virus spread, albeit media reports still highlight numerous stories of altercations between passengers and passengers and crew over the wearing of masks. The Corporate Travel Community team came across the following cartoon on social media this week that highlights the airline stance on this matter (left) and a seat selection offer from LCC that inadvertently offers a similar solution (right).