A 'transiting' model will rely heavily on growing with Denmark's flag carrier SAS, which has a 39.8% share of movements and 36.5% share of capacity at CPH, based on this week's flight schedules, as well as its partners, but others will also feed into the development. "We have managed to achieve a hub in CPH that suits both short-haul and long-haul passenger segments within low-cost, hybrid carriers and full service carriers", explains Mr Woldbye.
But, despite the growth of the hub – annual passenger numbers have grown from 21.5 million at the start of the decade to almost 30.3 million last year – Mr Woldbye acknowledges there is a list of unserved long haul routes with the "highest potential" and potential to boost frequencies to "underserved destinations with current and new airline partners".
The airport's current route map, below, with its typical 'wings' pattern, suggests a fairly comprehensive network but closer examination actually reveals gaps which are easily fillable and which are already being exploited by carriers such as Finnair (eastbound) and Icelandair (westbound).
MAP – The Copenhagen Kastrup airport network spreads from the Danish capital and currently encompasses 158 non-stop destinations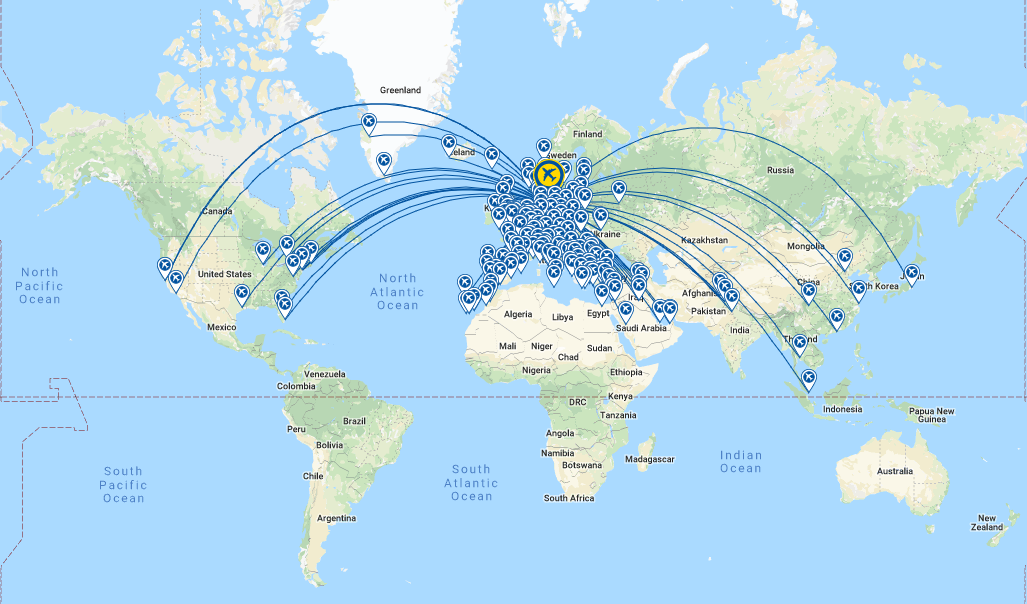 Source: CAPA – Centre for Aviation and OAG
What opportunities are there for growth at CPH? Well, many long-haul options are potential growth options. For example in the Americas, while eleven markets are currently linked non-stop, there are no cities served west of Chicago to the Californian coast (Los Angeles and San Francisco). This is despite the traditional presence of Scandinavian emigrants and their descendants in many northern states.
Minneapolis would potentially be one such market, but one must be careful though that connections between those descendants and the 'home country' have not reduced to an economically insignificant one with the passing of time. There is also the question of having the right aircraft to serve such a market – bot my range and capacity.
Other potential routes in North America could be relative to the CIT industries such as Seattle, Boston and San Jose or event to the music industries (Sweden has more nationals working in the US music industry than any other country while Danes and Norwegians are also well represented) like Nashville and Austin.
In the southern part of the US there are opportunities to serve Dallas year-round, or Houston, which is of course as much part of the oil industry as is the west coast of Norway (via a connection in Copenhagen, where perhaps a direct flight to Bergen or Stavanger, or even Oslo, might not be economically sustainable).
There is only one city served in Canada (Toronto), and therefore Vancouver could act as an alternative to Seattle. There are no routes at all to Latin America where Brazil and Mexico are the two countries that have the biggest claim to direct services from Copenhagen, nor to Africa, other than Cairo and three cities in Morocco. Potential African routes are sparse other than linking to the continent's biggest airports in South Africa, Nigeria (for the oil business), Nairobi and Addis Ababa.
Looking to the east, the airport is connected to some of the main cities in North Asia. There are three in China, including the industrial city of Chengdu, together with Singapore and Bangkok in Southeast Asia, the latter of which has been served by SAS and Thai jointly since time immemorial.
But there is a limited presence in India, only Delhi; the chief commercial city of Mumbai is not on the network, nor Bangalore and Hyderabad, where there must be prospects for Scandinavian firms that are on the cutting edge technologically. There may be an opportunity in Japan with Osaka, adding to an existing Tokyo link.
CHART - Annual passenger numbers at Copenhagen Kastrup airport have grown from 21.5 million at the start of the decade to almost 30.3 million last year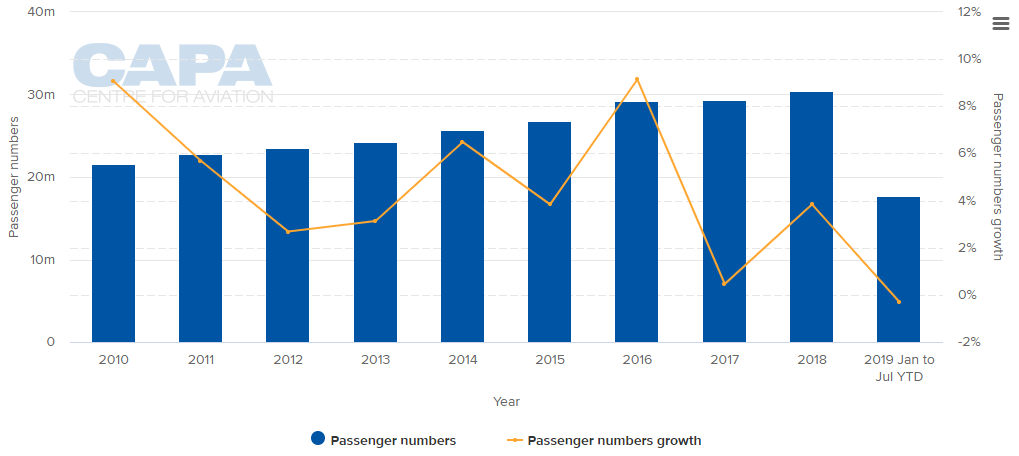 Source: CAPA - Centre for Aviation and Copenhagen Kastrup airport reports
Taking on many of these routes would put airlines in direct competition with Finnair, which has honed its O&D and hub product towards a west-east offering that majors on North Asia in particular, flying "the shortest possible route" to and from Europe using efficient Airbus A350 aircraft.
SAS's fleet for example is not so modern. It currently has nine A330s and eight A340s, but does have eight A350s on order to replace the latter, according to the CAPA – Centre for Aviation Fleet Directory. It also has a small number of A321LRs on order which could perhaps be allocated to new, thin, long-haul routes.
While the desire to grow in this manner is laudable, airports and airlines need to be realistic in their expectations – network development may seem simple, but can be a very complex and time consuming equation to get right to achieve sustainable success.