Africa is seemingly always on the verge of its next great step. A recent quarterly economic update for the Continent for the finance profession from The Institute of Chartered Accountants had described Africa's medium-term tourism prospects as "promising," supported by improvements in infrastructure, better air transport connectivity and easing visa regulations.
More African countries are also prioritising the promotion of tourism as part of their economic diversification strategies… and they had been making progress. However, the coronavirus issues do not just extend to infections across Africa, but also have broader implications for the continent resulting from slower growth in China.
"China's growth prospects will hold major implications for Africa given the continent's close ties to the Asian giant. The broader impact will also be exacerbated if efforts to contain the outbreak prove inadequate, thus extending both the reach and duration of the shock," highlights the report.
The COVID-19 spread into Africa has been relatively slow, but scientists still see it potentially as a "ticking time bomb" for the continent due to the fragility of some countries' healthcare systems, and the existing big public health issues, namely malaria, TB and HIV.
CHART - The number of seats between China and Africa fell after the Chinese travel restrictions were introduced, but are expected to see growth during Apr-2020

Source: CAPA - Centre for Aviation and OAG
It has been a surprise when you consider China is the continent's top trading partner and the continent is home to a population of 1.3 billion people that until last week the number of cases were in single digits. A spike in Egypt over the weekend – more than half of which were linked to a Nile cruise – domestic spread in South Africa and first cases in Cameroon, Equatorial Guinea, Liberia, Namibia, Rwanda Somalia, Tanzania and Togo mean that is no longer the case. There are now 29 nations with cases, a total that has now exceeded 375 across the continent.
Sub-Saharan Africa has a major advantage when it comes to COVID-19: its average age is the lowest in the world with a median of less than 20. Scientists are saying that children rarely get sick from COVID-19, and most young adults appear to suffer only mild symptoms. At the current time the majority of deaths have been older, but just 3% of the sub-Saharan Africa's population is older than 65. Then there is also the suggestion that high temperatures may make it harder for the virus to effectively develop.
Africa has been slowly breaking down barriers (literally!) between countries as it seeks to final deliver a long promised liberalisation. Right now, it is following the rest of the world in putting them back in pace, closing ports of entry and imposing travel bans. Hopefully, these will be just a short-term measure in the fight against a virus that has the potential to ravage the continent.
Away from coronavirus, the report 'Economic Update: Africa Q1 2020' highlights that regional powerhouses South Africa and Angola continue to weigh on Southern Africa's prospects - the region's growth remains sluggish at 1.3% in 2020, with risks firmly stacked to the downside, it says. East Africa remains the development hotspot of the continent, with growth projected to be at by 6% in 2020, albeit regional growth is now "clearly decelerating," it observes.
The sluggish performance of the Nigerian economy continues to weigh heavily on West and Central Africa's prospects, with regional growth seen rising only marginally to 3.1% in 2020, according to the report. Meanwhile, although political and security risks remain elevated in that region, North Africa's growth is projected to pick up more strongly, rising from 3.1% in 2019 to 3.7% in 2020, it predicts.
KEEP UP WITH THE LATEST NEWS…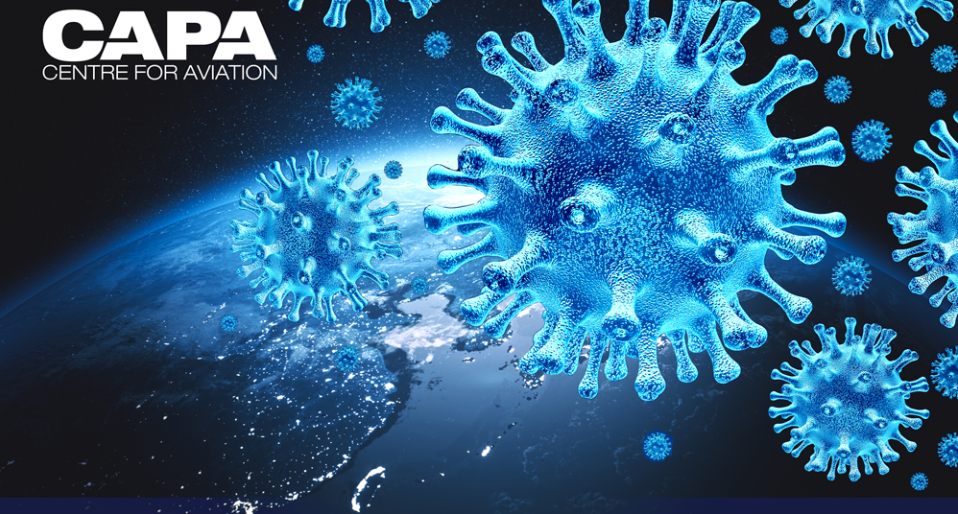 The impact on airlines of the recent COVID-19 coronavirus outbreak, which began in China but has spread around the world, continues to have a devastating effect on the aviation and supporting industries. In a new essential daily update, CAPA – Centre for Aviation is curating intelligence from the World Health Organisation (WHO) and myriad industry sources available via its CAPA Membership news and data service. Its mission is to help cut through the noise and provide a useful daily snapshot of the COVID-19 outbreak evolution, together with key industry developments.