We have all returned from a business meeting or holiday and days later blamed aircraft air conditioning for giving us a cough or cold. It is a perceived belief that the recycled air on an aircraft makes us ill. We all believe it, however, it is a long way from the truth. Even though the air in a aeroplane's cabin is partially recycled, it's actually among the cleanest around.
Most modern planes operate on a 50-50 air system, with half sourced from outside, and half reused. The air outside is naturally sterile, due to the atmospheric conditions found at high altitudes; the recycled air is run through industrial-grade HEPA (high efficiency particulate air) filters, which filter out at least 99.97% of particles.
That means that even with partial recycling, cabin air can be as pure as that in a hospital operation theatre. Alexandre de Juniac, director general and CEO of International Air Transport Association (IATA) highlighted just that when he spoke at the CAPA Qatar Aviation, Aeropolitical & Regulatory Summit in Doha earlier this year when COVID-19 was still in its infancy, largely restricted to just mainland China.
There have been studies that show that if you are unfortunate enough to be sat next to anyone who has such a virus and that person coughs or sneezes all over you there is a very good chance you will catch it; that goes without saying. If you were sat in front or a couple of seats away there are obvious possible, but reduced chances of infection.
However, the general public perception is that if you are sat well away from the victim you would still be likely to get it just because the infected person is coughing – or simply just breathing out – into the cabin's re-circulated air. With or without travel bans and the closing of borders this is a concern that is weighing on potential passengers and will continue to do so when travel bans are lifted, potentially making the airline 'recovery' more protracted than it should be.
Air New Zealand is among the airlines to have operated a flight with a known coronavirus case and its chief medical officer Ben Johnston has been quick to refute such claims and says: "Airline travel is still very, very safe".
"Around the world we've not yet seen any confirmed cases of COVID-19 being transmitted from sick passengers to other passengers or to airline staff so I would happily still fly myself or with my family," he explains.
"The air quality in our aircraft is better than any office building. The air is exchanged at a much higher rate and any air that is re-circulated back through the cabin passes through HEPA (high-efficiency particulate air) filters which very effectively screen out any bacteria or virus," he adds.
The chairman of giant global aerospace business, Avia Solutions Group, has also gone on record highlighting the clean air in aircraft cabins. Gediminas Ziemelis cites studies made by the European Aviation Safety Agency which indicate the air in the aircraft is changed every two-to-three minutes and the filters it goes through are able to eliminate even coronavirus.
It is only reasonable, Mr Ziemelis says, that there are doubts about the aircraft - they are enclosed spaces, where one is in close contact with other travellers, almost all of whom are strangers and whose past, contacts and trips are obviously unknown. Therefore, even the tiniest sneeze or cough will likely worry everyone.
The studies from the independent European agency for aviation safety say that the air quality in the cabin is similar to or even better than that normally recorded in indoor environments such as offices, schools and homes. In fact, in some cases the 50-50 split is bettered - Delta Air Lines' Boeing 717s take air entirely from the outside of the aircraft and adapt it to be suitable to breathe inside.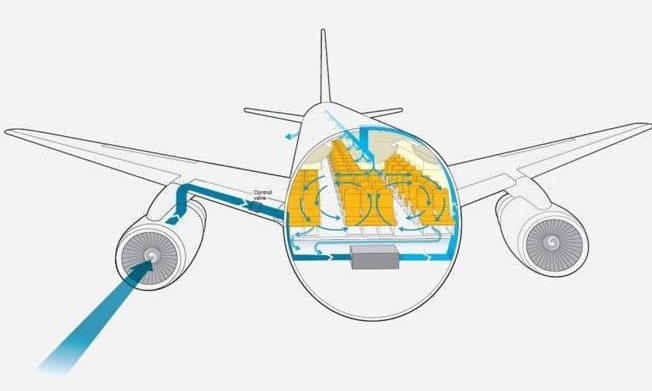 The air on aircraft is even described as highly sterile. The capture and block of 99.97% of microbes is the ballpark figure, but some systems claim to capture up to 99.999%, thus stopping small viruses of even 0.01 micrometers in diameter - the coronavirus size ranges from 0.08 to 0.16 micrometers.
The evidence shows it is wrong to assume that aircraft are a place for viruses to spread freely and unhindered. "The risk of contracting the virus from an infected person at high altitude is in all probability lower than that of enclosed spaces, such as offices" according to IATA. Therefore, aircraft could actually be seen as a way to control the spread of viruses.
Once again this is a story of an industry perhaps failing to educate the travelling public on the extensive measures it has in place to make air travel safe. Of course, the travel experience goes far beyond the time sat on an aircraft. The Blue Swan Daily reported back in Sep-2018 on a study into the presence of respiratory viruses in the passenger environment of a major airport in order to identify risk points and guide measures to minimise transmission. It delivered some alarming results.
https://corporatetravelcommunity.com/finnish-study-reveals-airport-security-trays-have-more-viruses-than-toilet-seats/
The research showed the potential for passengers to pick up and spread infections through "hot spots" like airport security and this could be especially important during an international outbreak of disease or a pandemic. It found viruses were most commonly found on the plastic trays that are circulated along the passenger queue at the hand luggage X-ray checkpoint with 50% of samples taken in this area detecting viruses.
To control epidemics, passengers go through multiple screenings at airports, where health officials are able to identify an infected person before the trip, thereby containing the disease in an origin country. In case a passenger passes a check at an origin airport while infected, checks are also carried out at the destination airport.
It is clear the entire air transport industry has a huge public relations job to do when this pandemic shows signs of coming to an end or individual members of the public are going to be very reluctant to be first out of the trenches. The sooner it starts, the better.
KEEP UP WITH THE LATEST NEWS…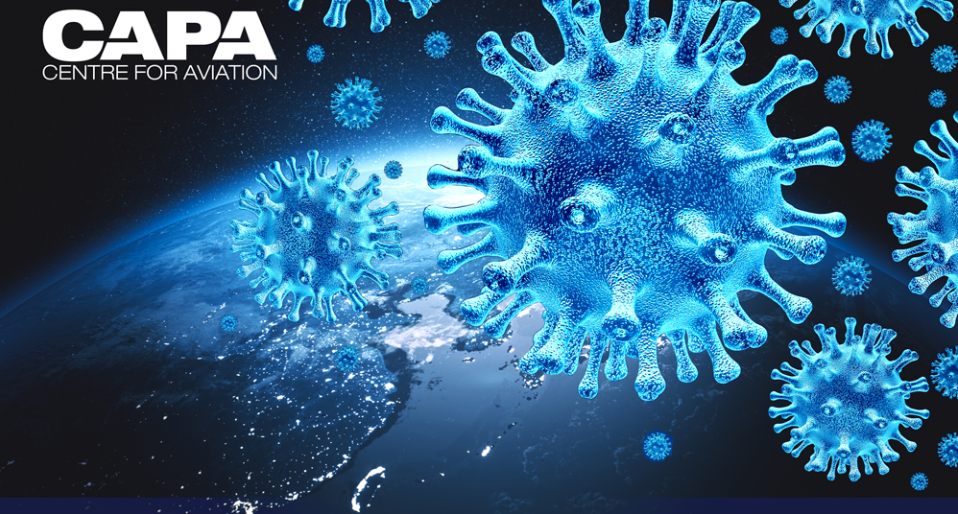 The impact on airlines of the recent COVID-19 coronavirus outbreak, which began in China but has spread around the world, continues to have a devastating effect on the aviation and supporting industries. In a new essential daily update, CAPA – Centre for Aviation is curating intelligence from the World Health Organisation (WHO) and myriad industry sources available via its CAPA Membership news and data service. Its mission is to help cut through the noise and provide a useful daily snapshot of the COVID-19 outbreak evolution, together with key industry developments.