We warned earlier this month of the repercussions when one of these bubbles bursts and the decisive action from the UK Government to shutdown its airbridge with Spain and require a mandatory 14-day quarantine for all arrivals from the country, including British citizens currently on holiday and extending to the Balearic and Canary islands, highlights this in action.
The swift response, which we now learn was influenced by the return of infected British holidaymakers, shows a very different reaction to that which the UK has previously adopted and could have significant repercussions for the recovery as other nations follow and introduce their own travel limitations. It may not be as strong as border closures and lockdowns, but will still have a profound effect on the travel and hospitality sectors, already being seen with an immediate spike in cancellations.
This comes at a time that airlines are continuing to add flights. The Blue Swan Daily analysis of OAG schedule data for the week commencing 27-Jul-2020 shows that global flight frequencies have grown from just over 389,500 last week to approaching 398,000. This is a +2.1% rise and is the second successive week that the rate of growth has slowed and a potential plateauing of frequencies.
CHART – The reduction in the number of weekly flight departures from each of the 25 largest aviation markets in the world is showing some significant improvements, but still remains a long way down on levels seen last year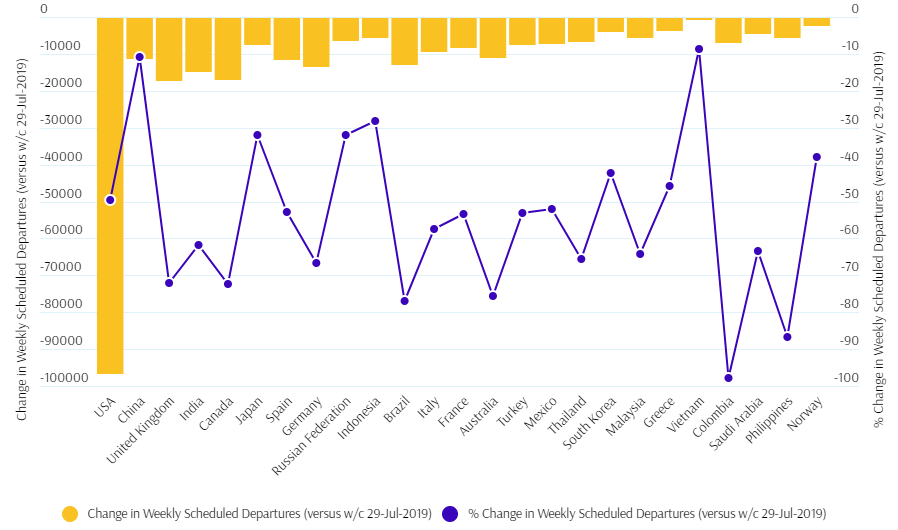 Source: The Blue Swan Daily and OAG (data: 27-Jul-2020)
An additional 8,200 flights are scheduled for the current week, but the world's largest markets that have supported recent growth are not seeing the same level – in fact US and China frequencies are down -0.8% and -0.3% on last week. India, the fast-recovering Vietnam, Brazil and New Zealand (for a second week), Taipei, Iran and Puerto Rico are among the nations to see frequency declines versus last week.
Among the world's current top 25 aviation economies – based on weekly frequencies – Malaysia sees the largest percentage rise with flights up +24.1% on last week, followed by the United Kingdom with a +14.5% growth. Outside of the major markets Algeria (+203.8%), Bahrain (+91.5%), Belarus (+46.7%) and Singapore (+38.2%) were among those to see the largest rise in weekly flights.
It is Indonesia and Spain that head the growth this week in terms of frequency numbers each adding 1,000 weekly departures, the latter overtaking India to become the six largest aviation market by flights with over 10,000 departing services for the week.
And that highlights the scale of the new travel restrictions between the UK and Spain. This week, the United Kingdom is the largest international market from Spain and vice versa Spain from the UK. The UK accounts for a 26.2% share of international capacity from Spain this week, while Spain accounts for a 25.1% share of international seats from the UK. That is more than 500,000 seats!
Spain's Prime Minister Pedro Sanchez has labelled UK's quarantine decision "unbalanced". It has already seen Jet2.com suspend its services and holidays programme to Almeria, Alicante, Malaga and Murcia through to 16-Aug-2020. Likewise, TUI UK has suspended all holidays to mainland Spain up to and including 09-Aug-2020.
CHART – The United Kingdom and Germany are the largest markets for air travel from Spain this week but new travel restrictions are already seeing flight cancellations spreading through Aug-2020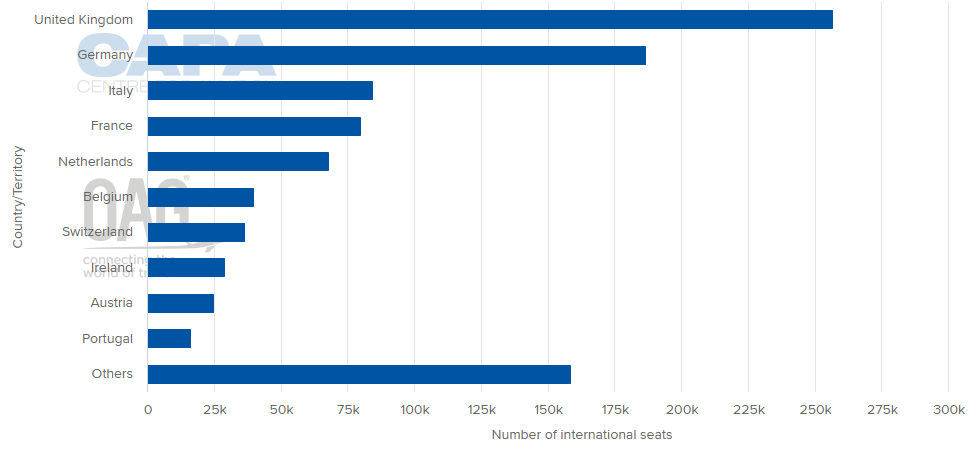 Source: CAPA – Centre for Aviation and OAG (data: 27-Jul-2020)
It is international frequencies that are driving this week's growth, up +9.1% on last week, while domestic frequencies are up at the much slower rate of +0.6%. The domestic air travel that has launched the recovery of air transport still accounts for more than three quarters of current flights, albeit that share has slipped more than one full percentage point from 82.0% last week to 80.7%. This time last year that split was 65% versus 35% in favour of domestic frequencies.
On a global level, comparing this week's schedules with the comparable week last year (week commencing 29-Jul-2019), global flight frequencies are now above the 50% figure for the first time and down -49.95%, a 1.0 percentage point improvement on last week. Global seat capacity levels also improve but remain the other side of the 50% threshold and are down -51.7%, a 1.5 percentage point improvement on last week.
CHART – Global air capacity has collapsed as the Covid-19 pandemic has spread across the world and this week's offering highlights that we have now passed the stabilisation stage and are taking continued steps in the recovery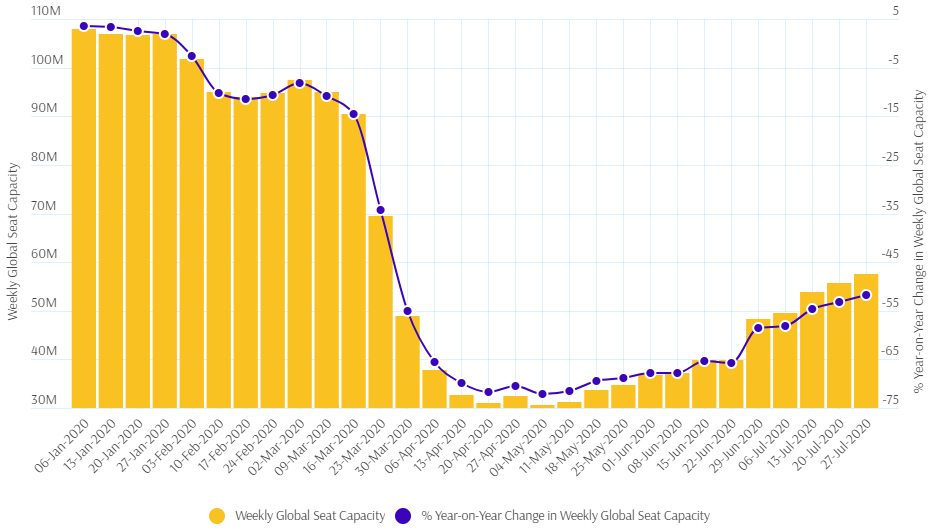 Source: The Blue Swan Daily and OAG (data: 27-Jul-2020)
All eyes are now firmly on Europe and concerns over a second wave of Covid-19 infections and its potential impact on recovery. As a CAPA – Centre for Aviation analysis highlights this comes less than a month after intra-European international travel returned to something like normality, at least in terms of reduced restrictions (if not in capacity or demand levels), but the report – UK hurdles to Spain travel raise fears for European aviation recovery – acknowledges "uncertainty is rising rapidly".
The situation could become yet more challenging. Numbers of coronavirus cases have been taking an upward path in a number of other European countries recently with rolling seven-day numbers up sharply in Spain, also showing an upward trend in France, Germany and the UK and no longer falling in Italy. This could see further reintroductions of quarantine requirements at best, but potentially heavier lockdowns at worse.