Last week we had seen the first rise in global flight frequencies after seven successive weeks of declines, but this week sees a return into negative territory. Corporate Travel Community (CTC) analysis of OAG schedule data for the week commencing 05-Oct-2020 shows that global flight frequencies have declined -0.2% with just over 900 fewer departures than the previous week. Total global weekly departures slip from just over 406,500 to 405,500, but positively remain above the 400,000 level, for the eighth time in ten weeks.
The variation in regional performance this week is significant – the Americas continues to see growth; Asia, Europe and the Middle East see declines; the Pacific sees a nominal rise; while Africa remains a real mix of ups and downs.
The stand out region is again Latin America, where a +7.3% week-on-week rise almost matches last week's +7.6% growth. Last week it was all about the Upper South America area where levels grew by more than a third (+37.6%) with almost 1,000 additional weekly frequencies: this week it is the turn of the Lower South America area, which records a +12.1% rise with over 950 additional departures on last week.
The Caribbean (+6.2%) and Central America (+5.9%) also report strong week-on-week performance, while North America's +3.4% growth adds almost 3,500 additional flights and helps to keep the week-on-week's changing tide to a shallow level.
On the flip side, the data for Asia and Europe does not make positive reading. All regions of Asia see declines, a list headed by Central Asia where week-on-week flight levels are down -8.3%, while South East Asia records a -5.9% reduction. But it is Europe where the largest flight reductions are seen this week, down -4.9% across Central and Eastern Europe and -4.5% across Western Europe, the latter a loss of over 2,750 departures.
Africa continues to see significant variation across the vast continent. This week flight levels in Southern Africa are up +11.6% on last week, but in North Africa levels are down -12.4%. The regional differences continue with Eastern Africa departures up 5.2%, but Central and Western Africa levels down -1.6% on the previous week.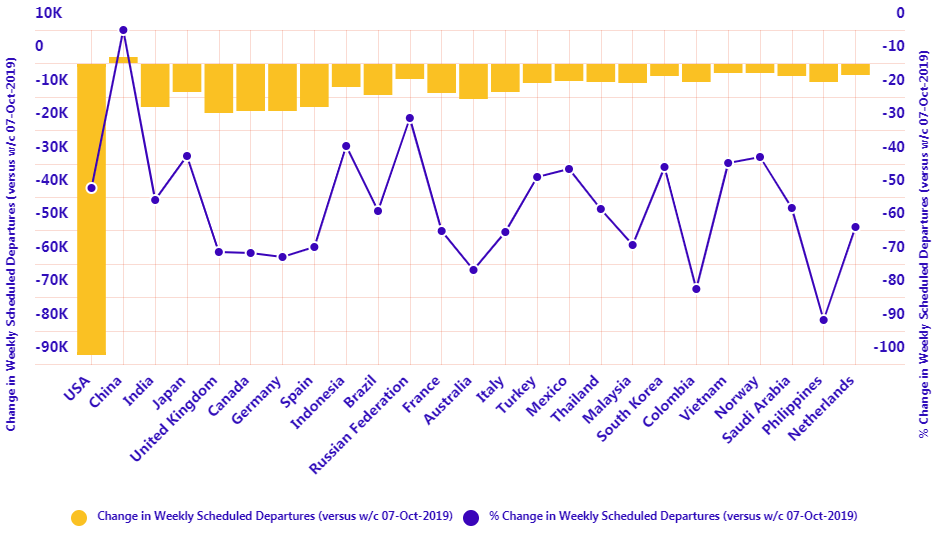 Last week the performance of the world's leading aviation economies was weighted on the growth side, this week it tips to other side. Seven of the top ten aviation economies see week-on-week declines, with the US (+3.6%), Brazil (+12.9%) and Mexico (+2.4%) those delivering a positive presentation.
The US growth and little movement in China sees the US return to being the world's largest market by departures, albeit China still holds the number one position by capacity. After Mexico returned to the top ten last week, Brazil follows this week, jumping from the 11th to seventh largest aviation economy.
The Russian Federation, which has seen a strong recovery due to its large domestic market slips -4.6%, while Europe's increasing Covid-19 spread sees flight levels continue to reduce: down -4.1% in the United Kingdom and -6.1% in Spain, -7.0% in Germany and -5.6% in Italy in the wider top 25 country markets.
Among the top 25, there are also notable declines in South Korea (-7.5%, and perhaps right-sizing in the market after last week's +19.3% growth) and Malaysia (-10.9%). Meanwhile, Kenya sees a +9.9% rise and there are some notable climbers this week as more nations start to rebuild air connectivity – the stand-out being St Vincent and the Grenadines where frequency levels are up a whopping +1050% from just 18 in the previous week to over 200. The resumption of connectivity across the Americas sees strong frequency growth in Costa Rica (+84.4%) and other local economies.
Large declines in departure levels are evident in Algeria (-73.3%), Bahrain (-73.2%) and the Philippines (-61.6%) and Namibia (-43.2%), while Tajikistan (-31.3%), Armenia (-30.3%), Peru (-21.2%) and Turkmenistan (-21.0%) are among the countries to see flight numbers fall by more than a fifth.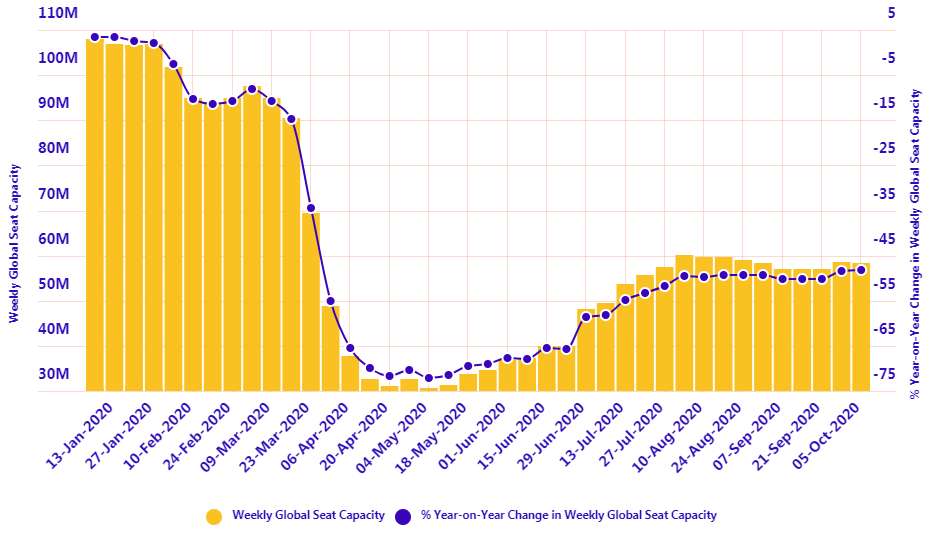 Last week's rises in frequencies (+2.4%) and capacity (+2.8%) delivered a favourable improvement in year-on-year performance levels of +1.5 and +1.8 percentage points, respectively. This week's modest declines of -0.2% and -0.3%, respectively actually push on with the year-on-year progress. Flight frequencies are down -46.3% year-on-year, a +0.2 percentage point improvement on last week, while capacity levels are down -48.2%, a 0.1 percentage point improvement on last week.
Looking ahead remains as difficult as ever. Last week we highlighted that advanced schedules suggested a +2.8% rise in flights and +3.4% in capacity for the current week and indicates that the regular culling of schedules just a week ahead of departure date is a continuing trend. For the week commencing 12-Oct-2020 those projections are a more reasonable +1.7% rise in flights and +1.9% in capacity, but to be honest you really could pick any number below those maximum levels.