But in most geographies in this half of the world demand growth is not trending with supply and that could be a major problem for the travel sector. Without high yield business traffic airlines are reliant upon leisure flows and right now those should be at their peak, but worryingly fewer passengers are saying that they will travel again in the initial months after the pandemic subsides – about two thirds are seeing less travel in their future.
Airlines can't escape from the seasonality issues that define their operations. The majority rely on the peak travel periods to subsidise those tougher quieter periods of the year. Overcoming the issue of seasonality is one of the most significant issues impact airline and airport demand, but you can't escape from the issue as passenger demand varies across all markets in some way even on some of the strongest city pairs.
The seasonality shift is perhaps most pronounced in Europe and airlines there need to be 'make hay while the sun shines' this year more than ever before. It could mean that the current diluted market will actually create more financial problems for them as they return to flying.
It will already be a tough winter for the travel industry, but with increased suggestions of a correlation between Covid-19 spread and the ambient climate, the seasonal decline in temperature could spark a rising rate of infections and the disruptive restrictions that could be reintroduce to impede its progress. Right now, airlines appear quite pessimistic about their winter schedules and that is not a positive outlook.
The Blue Swan Daily analysis of OAG schedule data for the week commencing 20-Jul-2020 shows that global flight frequencies have grown from approaching 378,000 last week to just over 389,500. This is a +3.1% rise and less than half the rate of growth recorded last week. An additional 11,700 flights are scheduled for the current week – like last week it is China that is delivering the highest number, a 43.4% share.
CHART – The reduction in the number of weekly flight departures from each of the 25 largest aviation markets in the world is showing some significant improvements, but still remains a long way down on levels seen last year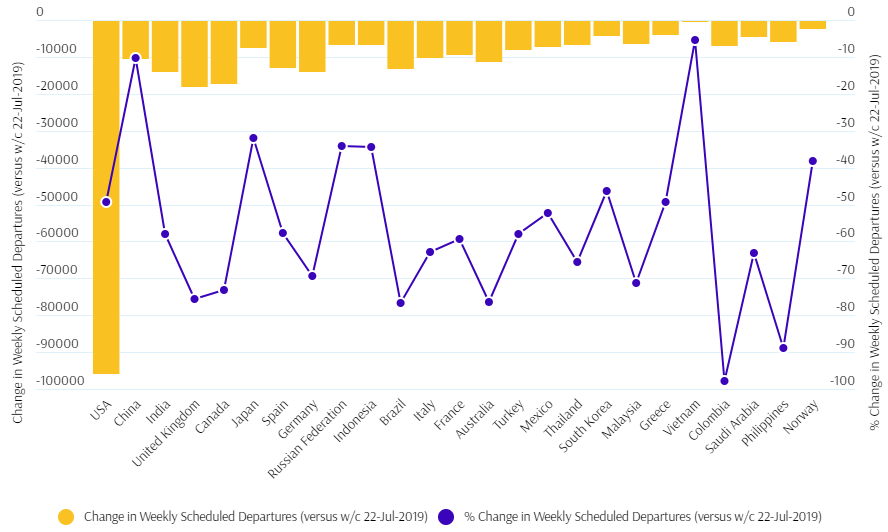 Source: The Blue Swan Daily and OAG (data: 20-Jul-2020)
All but one of the world's current top 25 aviation economies are recording week-on-week increases in flight frequencies – the exception is New Zealand where flight levels are down -8.1%. Growth was limited to single digits across all these markets with Japan the top performer with flights up +9.9% on last week. Outside of the major markets Kenya (+39.2%), Trinidad & Tobago (+33.3%) and Peru (+26.6%) saw the largest rise in weekly flights.
Remarkably, Vietnam's weekly frequencies are down just 400 on the comparable month last year, a -5.5% decline, while China's continued recovery means frequencies are down just -10.4% on last year's level. In the United States of America flight levels are above the -50% threshold, while in Japan they are now down less than a third (-32.0%) and both Russian Federation (-34.2%) and Indonesia (-34.5%) are approaching that milestone. At the other end of the scale Colombia frequencies are down -97.9% and in the Philippines by -88.9%.
On a global level, comparing this week's schedules with the comparable week last year (week commencing 22-Jul-2019), global flight frequencies are down -51.0%, a 1.5 percentage point improvement on last week. Global seat capacity levels also improve and are down -53.2%, also a 1.5 percentage point improvement on last week.
CHART – Global air capacity has collapsed as the Covid-19 pandemic has spread across the world and this week's offering highlights that we have now passed the stabilisation stage and are taking continued steps in the recovery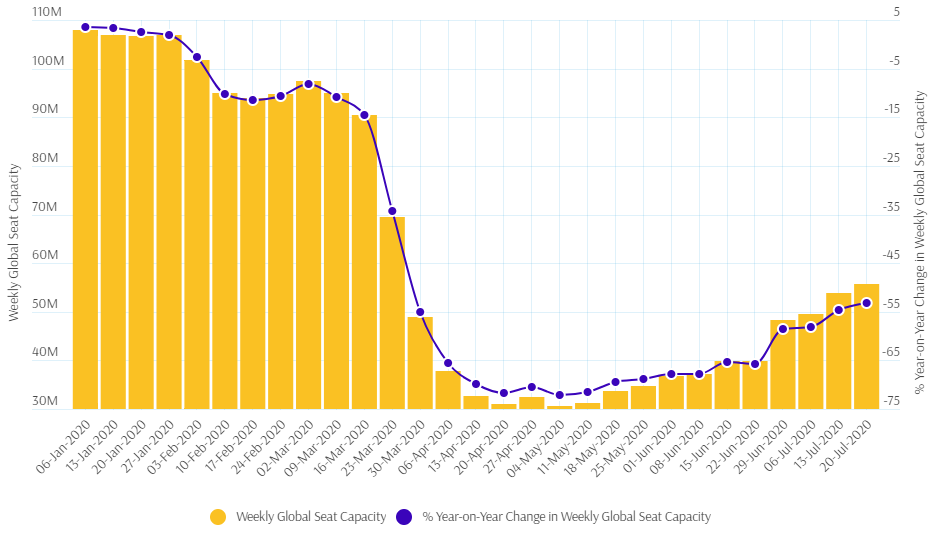 Source: The Blue Swan Daily and OAG (data: 20-Jul-2020)
We have come a long way since we hit the bottom of the curve at the beginning of May. In the space of 11 weeks we have seen the return of 25 million weekly seats, an 82.3% rise. But we have only moved up 19 percentage points in the recovery versus last year's capacity offering and levels remain less than half those at the same time last year.
Next week should see the industry rise above the -50% level in terms of both frequencies and capacity, but the big concern remains that restrictions and low demand mean that airlines are not able to sufficiently 'make hay while the sun shines'.