The latest The Blue Swan Daily analysis of OAG flight schedules for this week shows that the total number of flights scheduled to operate during the week commencing 11-May-2020 is just under 234,000, up +2.2% on last week, but still less than the 248,000 seen in the week commencing 27-Apr-2020, or even the 242,000 during the week commencing 20-Apr-2020.
As we suggested last week, we are maybe now setting along a bumpy path at the bottom of a likely U-shaped recovery, but there are increasing reasons to be more positive. An increasing number of airlines are filling more extensive schedules for the coming weeks and while it is unclear how many of these will be operated due to government restrictions, a clear intent is being shown. The big question is now whether it will be May-2020, Jun-2020 or Jul-2020 that the uptick is seen.
The +2.0% rise in global frequencies this week is supporting a similar +2.3% rise in global air capacity. What is interesting is that as at the start of last week schedule filings for the week commencing 11-May-2020 showed a planned 266,000 flights, meaning a net fall of 33,000 flights, a -12.4% decline that shows that airlines are still culling their operations, but perhaps not as heavily as in previous weeks.
CHART – The reduction in the number of weekly flight departures from each of the 20 largest aviation markets in the world is significant when compared to the same week last year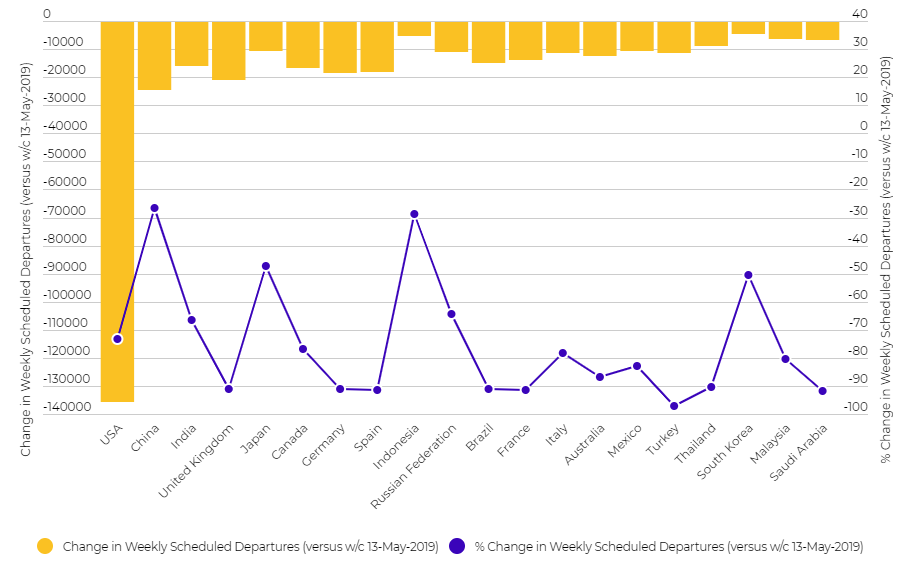 Source: The Blue Swan Daily and OAG (data: 12-May-2020)
Comparing this week's schedules with the comparable week last year (week commencing 13-May-2019), global flight frequencies are down -68.5% and global seat capacity is down -71.5%. In almost half of the top 20 aviation economies (eight) that reduction in flight frequencies is more than -90% and a further six are below the global average.
There are positive signs at the world's two largest aviation markets but for very different reasons. In China, currently the world's largest aviation market, weekly frequencies are up an encouraging +7.5% on last week. Meanwhile, in the United States of America, now relegated to the second position, the positive news is around the apparent end in network cuts with frequencies down just -0.1%, a mere reduction of just 49 weekly frequencies.
In fact, most of the weekly changes among the major aviation economies are in the small single-digit percentages, which is a positive sign when you consider base levels are so low and percentage figures can often have an inflated feel. Some other markets stand out with Russia showing a +13.2% frequency gain. Likewise, India stands out for a -13.5% decline in frequencies.
All this means that the gap between China and the US is currently widening. China overtook the US in aviation size in Apr-2020 and based on this week's schedules there is now an over 18,000 flight gap between the two nations with China's capacity offering now double that being currently offered in the US.
CHART – It has come four years earlier than anticipated and is likely only temporary, but China is currently the world's largest aviation market and is now widening the gap between it and the US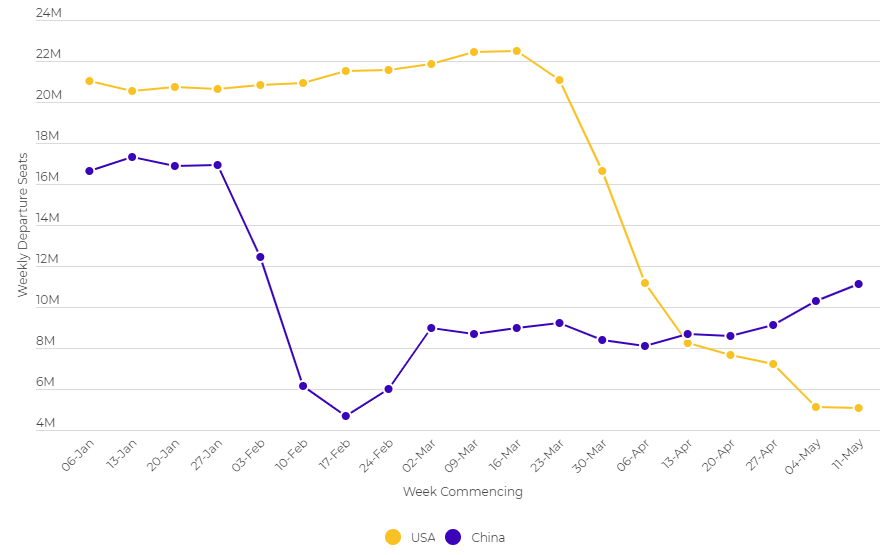 Source: The Blue Swan Daily and OAG (data: 12-May-2020)
We are closely monitoring China's domestic market which will be a key barometer for recovery. The data had shown that Apr-2020 was a mixed month with domestic capacity in the country being adjusted up and down, but ended with the highest number of domestic seats planned for almost three months.
May-2020 started in a positive fashion with a further rise in domestic capacity, taking weekly seats back above ten million for the first time since early Feb-2020. That has continued into the current week with a +8.0% rise in domestic capacity, albeit this has been revised down -7.4% from the levels that were planned at the beginning of last week and suggests that carriers are still rightsizing capacity to meet demand. Speculative schedules for the remainder of May-2020 and Jun-2020 show encouraging intent, but will almost certainly be cut from the current planned levels.
CHART – Growth in domestic capacity in China remains fairly flat but levels have inched up again this week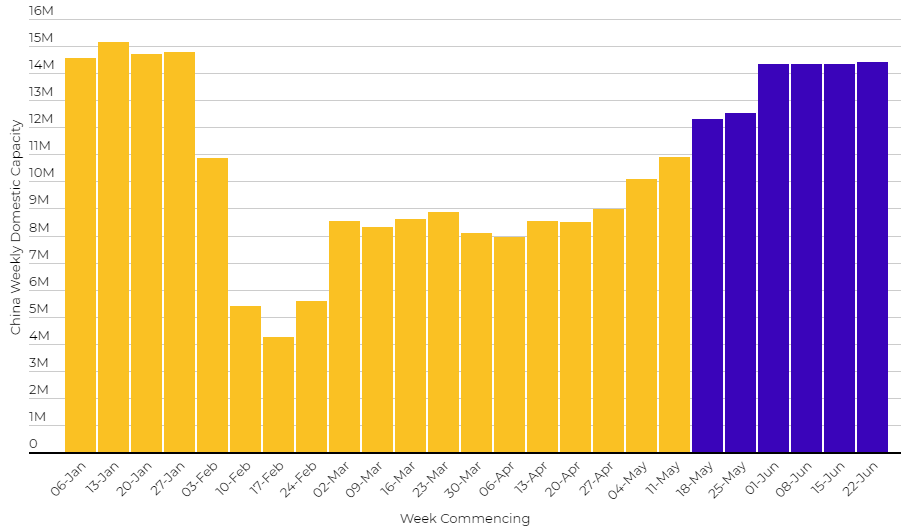 Source: The Blue Swan Daily and OAG (data: 12-May-2020)
Things were so different as we started the year when the biggest news was the industry losing two of its stalwarts to retirement - Sir Tim Clark and Willie Walsh. In fact, Mr Walsh was talking to The Blue Swan Daily about his impending retirement as recent as Feb-2020 when coronavirus was still only beginning to show its deadly intent. Now his departure date has been moved from Jun-2020 to Sep-2020 with his final months as IAG CEO being among the most challenging he has faced during his career.
2020 had started positively for global air transport. Across the first three weeks capacity levels were up year-on-year, albeit a declining trend was already evident. For the week commencing 06-Jan-2020 capacity was up +3.5%, followed in week commencing 13-Jan-2020 by +3.4%, then +2.5% for week commencing 20-Jan-2020 and then +2.0% for week commencing 27-Jan-2020.
The last three weeks had seen the year-on-year capacity declines pass the -70% mark for the first time, falling -71.7% in the week commencing 20-Apr-2020 and -70.4% in the week commencing 27-Apr-2020. Last week they hit a new low with global seat capacity down -72.1% year-on-year. This week we are again on the wrong side of the -70% mark, at -71.5%.
CHART – Global air capacity has collapsed as the Covid-19 pandemic has spread across the world
Source: The Blue Swan Daily and OAG (data: 12-May-2020)
If we are riding along the bumpy path at the bottom of the recovery curve then next week will deliver another small decline in global frequencies. But there is now an optimistic feel. Planned schedules for the next two weeks show flight schedules show over 300,000 global flights planned for the week commencing 18-May-2020 and up to 325,000 for the week commencing 25-May-2020.
Experience from recent weeks suggests these levels will certainly be reduced in forthcoming schedule updates. It is how much these are cut that will start to tell us just how quickly the industry will start its climb out of the abyss.