Flight levels across central and eastern and western Europe were already reducing through the latter weeks of Oct-2020 and into Nov-2020, but latest schedule data from OAG shows significant reductions for the week commencing 09-Nov-2020 with almost 10,000 departures removed from schedules compared with the previous week.
In Central and Eastern Europe the loss is over 1,000 and down -8.1% on the prior week's level; in western Europe there is the loss of nearly 9,000 flights and a -19.1% decline on the previous week. The latter is the lowest level in 20 weeks, dating back to the end of Jun-2020 and is less than half the levels seen in the recovery peak weeks in Aug-2020.
The European performance dents what would otherwise have been a fairly strong week for global air activity. CTC – Corporate Travel Community analysis of OAG schedule data for the week commencing 09-Nov-2020 shows that global flight frequencies have thus declined -1.5% with the reduction of almost 6,000 departures on last week. Total global weekly departures decline from just over 390,000 to just under 385,000, the new lowest weekly level since the week of 13-Jul-2020.
However, if you remove Europe from the analysis then flight levels were actually up +1.2% buoyed by continued positive performance across Latin America (+1.8%, but up +7.3% in the Upper South America region), rises in South Asia (+3.9%) and South East Asia (+3.2%) and continued growth in North America (+3.2% and the addition of almost 3,300 more departures on last week).
After a few months of solid growth Africa has seen departure levels decline -3.6% compared to last week, mainly due to frequency reductions in North Africa (-17.6%). While, Central Asia (-6.0%) and the Southwest Pacific (-2.1%) also show reductions in flight levels week-on-week.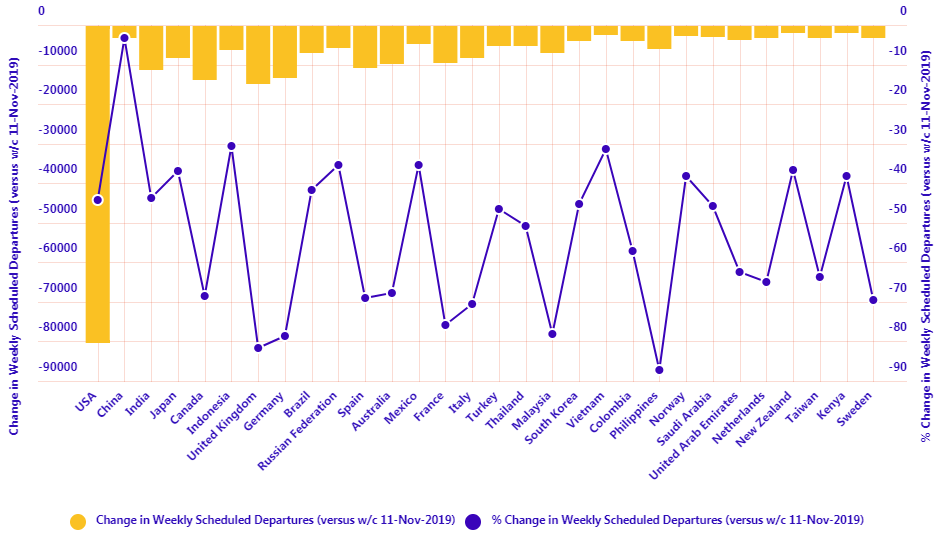 This week marks a positive milestone for the United States where weekly frequencies have risen back above the 100,000 with a +4.1% rise on last week. This is the first time air departure levels have been in six digits since the four weeks of Aug-2020, and before that it was in Mar-2020.
India's +5.0% week on-week rise sees it jump back ahead of Japan as the world's third largest aviation economy by flights, while Canada (-9.5%), South Korea (-10.1%) and New Zealand (-9.1%) see notable reductions compared with last week.
But, it is the European declines that are most obvious among the current top 25 country markets: Spain (-16.6%), Germany (-24.5%), Italy (-26.1%), United Kingdom (-35.8%) and France (-40.2%). It now means that Norway, with a strong domestic market reliant on air travel, is Europe's current third largest aviation market by flights behind Russian Federation and Spain having seen levels decline less than -0.1% this week.
Colombia, which for so long recorded the highest levels of flight reductions with the Americas the last region of the world hit by the first wave of the pandemic, returns to the top 25 country markets with a +9.6% week-on-week growth.
Outside of these positions notable growth is also being recorded by Malaysia (+22.3%), Venezuela (+40.6%), Sri Lanka (+29.2%) and Paraguay (+35.3%). The European reductions also see departures declining by more than a fifth in Greece (-23.2%), Poland (-20.1%), Republic of Ireland (-21.4%), Cyprus (-48.5%), Luxembourg (-40.3%), Lithuania (-20.9%) and Slovakia (-26.1%). The stand out performer for the wrong reasons on a global level is Algeria where flight departures have reduced to less than a tenth of last week's levels (-90.7%).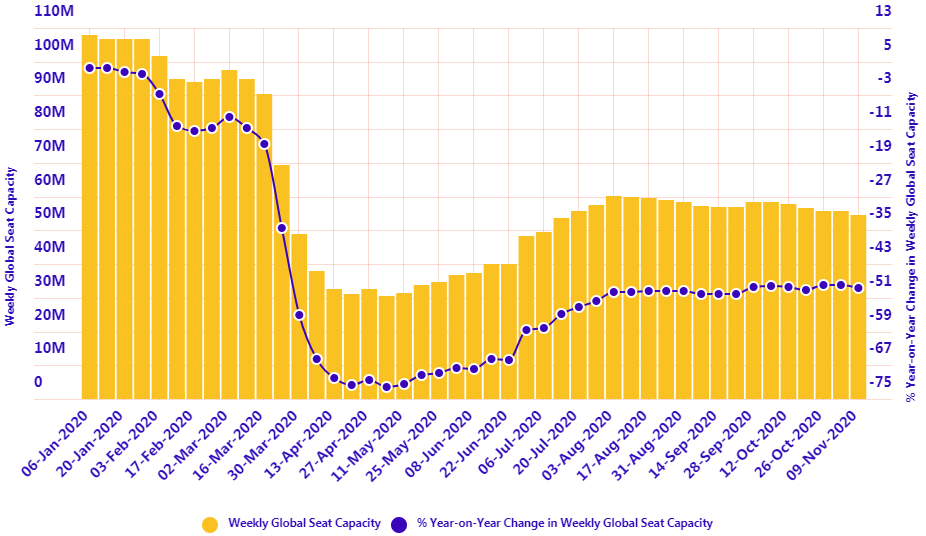 This week's -1.5% flights and -1.8% capacity reductions are purely driven by COVID-19-fueled travel restrictions and have had an obvious impact on year-on-year performance. Flight frequencies are down -46.5% year-on-year, a -0.7 percentage point reduction on last week, while capacity levels are down less than -48.7%, also a -0.7 percentage point reduction on last week. After last week's year-on-year capacity metric delivered the best year-on-year comparison of the recovery, we now see the worst performing week since we passed the -50% milestone figure in late Sep-2020.
But, what does the future hold. News of a vaccine will certainly boost sentiment, but it will be some time before it makes a difference and likely to late to save winter, but airlines could certainly be better positioned as we approach summer 2021 even if many are still delivering very pessimistic outlooks.
We leave this week with a more optimistic viewpoint from Ryanair Group CEO Michael O'Leary who describes the comments from some of the bigger airlines as "rubbish," a fairly polite expression for the often out-spoken Irishman as he predicts a strong return of passenger air traffic by next summer should there be an effective distribution of a vaccine.
Speaking this week in an online interview for the World Travel Market, he said: "I've heard lots of rubbish coming out of mainly the legacy airlines, 'Oh, it'll be 2050 before the world recovers from this, it'll be 2025 before volumes go back to where they were in 2019…', rubbish! Volumes will go back in 2021 and 2022 pretty quickly."
This will be driven by discount prices as companies try to recover the business it has lost. Mr O'Leary thinks the volume recovery "will be quite strong" reaching and he believes there's "reasonable optimism now that summer 2021 will to get back to some degree of normality". While we won't get back all the way to 2019 for short-haul flying he says there is "no reason why we won't go back to 75% or 80% of 2019," albeit he warns that it "will take a longer period of time, three or four years, for pricing to recover to 2019 levels".