This continues the pattern since the middle of last month that has seen consecutive weeks displaying a small and then larger rise in weekly frequencies. It all started in the week commencing 11-May-2020 when global flights were up +2.2% on the previous week. This was followed by a +5.0% rise in the week commencing 18-May-2020; +2.2% in the week commencing 25-May-2020; +6.7% in the week commencing 01-Jun-2020; and +0.9% in the week commencing 08-Jun-2020.
The Blue Swan Daily analysis of OAG schedule data shows that global flight frequencies are up on last week by around 18,000 services to just under 288,000 for the week beginning 15-Jun-2020. This is the seventh rise in eight weeks and the sixth successive week of growth. The total frequencies planned this week takes us back to level seen in the week commencing 06-Apr-2020 during the downward decline.
On a positive note, frequencies are up on last week in nine of the ten largest current country markets with Indonesia the only exception as it sees a second successive week of flight reductions following a significant uplift during the week commencing 01-Jun-2020.
Year-on-year China's frequencies this week are down just -16.6%, while Vietnam's are down -22.6%, but three out of five of the top 25 global air markets are still displaying flight frequencies down more than two thirds on last year.
CHART – The reduction in the number of weekly flight departures from each of the 25 largest aviation markets in the world is showing improvements, but still remains significant when compared to the same week last year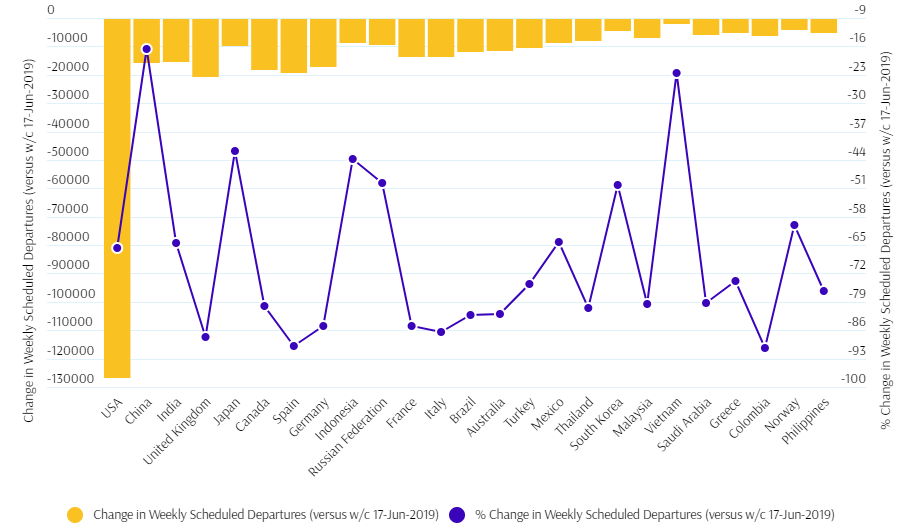 Source: The Blue Swan Daily and OAG (data: 15-Jun-2020)
It is important for airlines to get up and running as quickly as possible, especially those in the northern hemisphere where their summer operations are essential to their activities. As highlighted this week by International Air Transport Association (IATA), the bulk of airlines make their money in the northern summer season, while the winter season, even in the best of times, is a struggle to remain profitable.
For example, the 2019 net profit margin for European airlines followed the normal seasonal pattern and was 9% and 17% respectively in 2Q2019 and 3Q2019 (northern summer). But it started at -1% in 1Q2019 and finished the year at 2% in 4Q2019 (northern winter). The forthcoming winter season will certainly be even more challenging amid the recovery from Covid-19.
There are also concerning changes in traveller sentiment from IATA. While similar percentages of consumers show a positive intent to fly an increasing number are suggesting that they will wait longer before they travel.
Its Jun-2020 research shows 45% of travellers intend to return to the skies within a few months of the pandemic subsiding with a further 36% said that they would wait six months. That is a significant shift from Apr-2020 when 61% said that they would return to travel within a few months of the pandemic subsiding and 21% responded that they would wait about six months. This would suggest a longer initial path to recovery that could seriously dent growth aspirations for this summer.
Encouragingly, comparing this week's schedules with the comparable week last year (week commencing 17-Jun-2019), global flight frequencies are down -62.9% year-on-year, a 2.3 percentage point improvement on last week. Global seat capacity is now above a third of the levels seen at the same time last week, down -65.4%.
CHART – Global air capacity has collapsed as the Covid-19 pandemic has spread across the world, but while capacity has risen in six of the last seven weeks, this remains more about stabilisation than recovery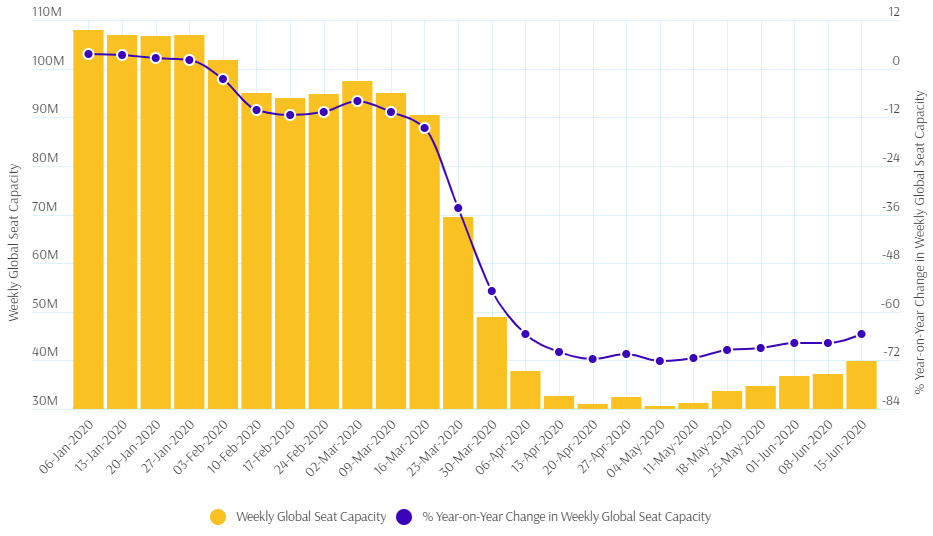 Source: The Blue Swan Daily and OAG (data: 15-Jun-2020)
There are now increasing suggestions that the route to recovery may now look more like a weak 'swish' revealing a sub-2019 operating economy for some time. Some have even described it as looking like Aladdin's lamp. The first steps along this path does not suggest anything different - something faster may be wishful thinking.