An additional 15,800 flights are scheduled for the current week with the United States of America representing the largest share – approximately a quarter of the additional frequencies scheduled. Japan also sees a four-digit rise in flights versus last week while Italy, Spain and the United Kingdom continue their recent growth despite the introduction of a 14-day quarantine on UK arrivals from Spain being introduced.
Vietnam, which has been heralded in previous weeks for its fast recovery and an actual rise in year-on-year performance, again shows a significant reduction in weekly flights due to rising infections in the country. Flight levels are down more than a quarter at -29.0% and the removal of over 1,900 departures compared to the level seen for last week. Indonesia, Australia, Taipei, Kenya, Puerto Rico, Oman, Nepal and Papua New Guinea are among the nations to see flight levels decline versus last week.
Among the world's current top 25 aviation economies – based on weekly frequencies – Netherlands sees the largest percentage rise with flights up +36.9% on last week, followed by the United Kingdom with a +21.5% growth, Brazil with a +17.0% growth and Italy with a +16.6% growth. Outside of the major markets Equatorial Guinea (+157.1%) and Macau (+77.3%) were among those to see the largest rise in weekly flights.
CHART – The reduction in the number of weekly flight departures from each of the 25 largest aviation markets in the world is showing some significant improvements, but still remains a long way down on levels seen last year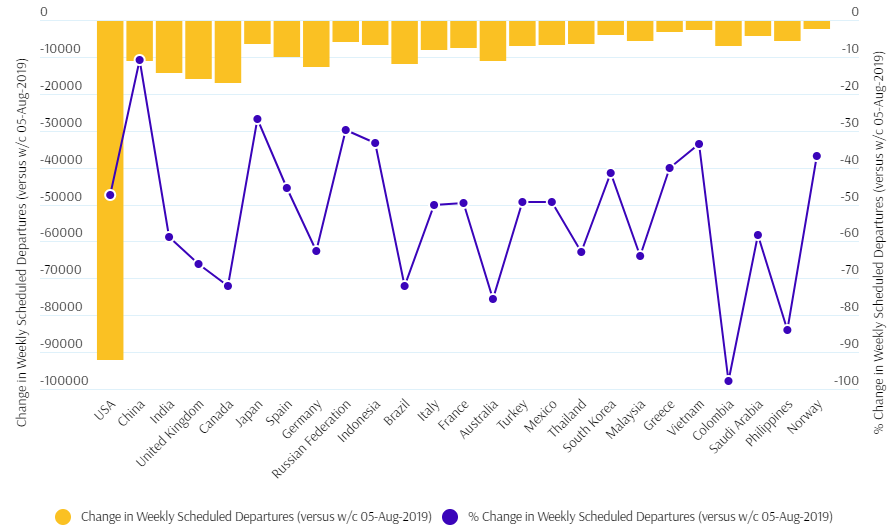 Source: The Blue Swan Daily and OAG (data: 03-Aug-2020)
The return of flights to date has been mainly driven by leisure and VFR demand and that is noticeable when you look at the split between the class of seats on offer this week and the start of the year. Economy seat levels are now down -43.8%, but business class seats remain down -54.6% across the same period.
Looking at it a different way, premium seats (both first and business class) accounted for a 5.5% share of total weekly capacity during the week commencing 06-Jan-2020, but this week that has fallen to 4.5%, a full percentage decline. This actually is its highest share since the end of March, having fallen to a low of 3.6% at the end of May.
The growth in business travel remains limited, but this is as much about the larger legacy airlines retiring – permanently in some cases – larger aircraft such as the Boeing 747 and Airbus A380. There has even seen a noticeable reduction in 777-300ER operations due to long-haul network reductions, an aircraft acknowledged as one of the most efficient and popular widebody.
A perfect example of this is evident at British Airways where its 747-400 fleet is being replaced by A350-1000s and a type that offers a similar level of Economy accommodation against its predecessor, but with a significantly scaled-down premium cabin.
CHART – Global air capacity has collapsed as the Covid-19 pandemic has spread across the world and this week's offering highlights that we have now passed the stabilisation stage and are taking continued steps in the recovery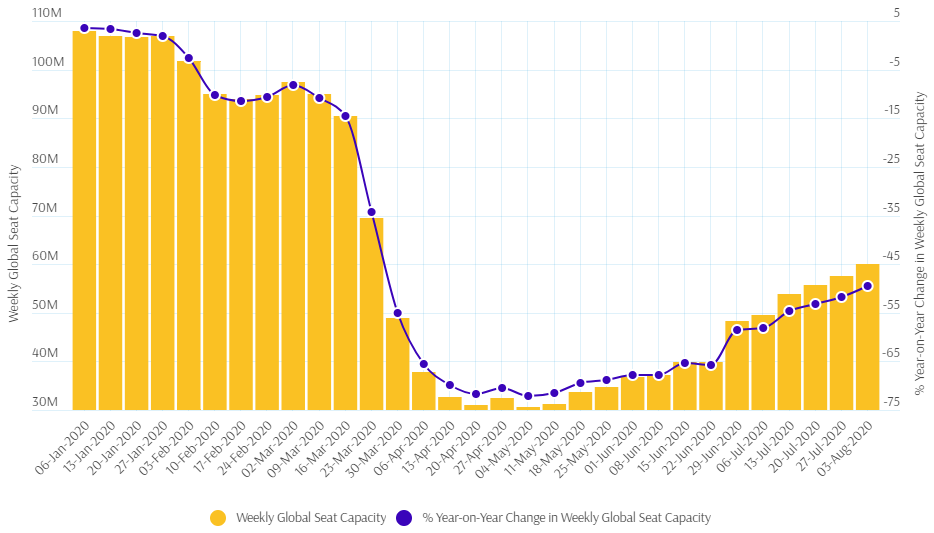 Source: The Blue Swan Daily and OAG (data: 03-Aug-2020)
On a global level, comparing this week's schedules with the comparable week last year (week commencing 05-Aug-2019), global flight frequencies and seat capacity both now sit the right side of the half way mark. Flight frequencies are down -47.9%, a 2.1 percentage point improvement on last week. Global seat capacity levels are down -49.5%, a 2.2 percentage point improvement on last week.
It has taken 13 weeks to recover from weekly capacity declines of-72% at the bottom of the curve to now exceed the -50% landmark. At this conservative pace and with another 20 percentage point gain over the next 13 weeks we will enter November with capacity levels down less than a third on last year, potentially ending the month with levels down just a quarter. Is that achievable? In all honesty, nobody knows!