This week has not really provided any clear answers, but perhaps slightly reduced the likelihood of the first or last scenario. The Blue Swan Daily analysis of OAG schedule data for the week commencing 17-Aug-2020 shows that global flight frequencies may have returned to the positive, but only just and approaching the 414,000. The 500 frequency rise on last week more than covers the small decline seen in the week commencing 10-Aug-2020, but represents just a +0.1% rise.
The small frequency growth has been mirrored by a similar marginal decline in capacity for the week commencing 17-Aug-2020 with scheduled seats down almost 68,000 on the prior seven days, a -0.1% fall and maintaining level below the 60 million figure that was first surpassed since Mar-2020 in the week commencing 03-Aug-2020.
This week's schedules show a continued churn in frequencies with around 14,000 flights removed since the start of last week, when a growth of +3.5% was projected. This could be a warning for what we can expect next week with frequencies currently due to increase +2.3% and capacity +2.5%, respectively. Airlines may have got a better handle on future schedule planning, or if the churn continues at similar rates it will see another week of declines, and that would be a third successive for capacity, albeit at very shallow levels.
CHART – The reduction in the number of weekly flight departures from each of the 25 largest aviation markets in the world has stalled this week and still remains a long way down on levels seen last year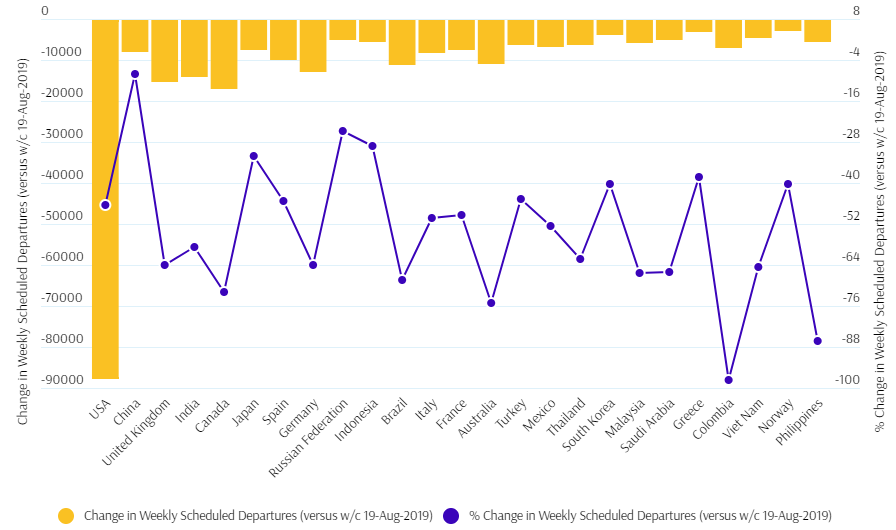 Source: The Blue Swan Daily and OAG (data: 17-Aug-2020)
The world's largest aviation markets are seeing limited week-on-week changes in flight frequencies but almost all are in the positive. In fact only one in the top ten – Japan – sees a decline and then only a -1.3% decline, while South Korea and Greece can be added to that list when you extend to look at the top 30 country markets. Again rates are negligible, down -0.6% and -1.9%, respectively.
India sees the biggest rises in frequencies, up +23.7% on last week with the addition of around 2,275 additional departures. A similar level of new flights has also been introduced in China, but equates to just a +2.5% rise there highlighting the vast differences in scale of the US and China markets.
Sweden, often chastised for its different approach to the pandemic, sees flights up +11.5%, while Algeria, Belarus, Hungary, Israel, Jamaica, Latvia, Malta, Peru, Philippines, Romania, Serbia, South Africa, Trinidad & Tobago and Tunisia are among the nations to see double-digit rises in week-on-week flights.
The week is characterised by the continued growth of the faster recovering domestic aviation sector – where flight levels are up +0.5% on the previous week – and the stalling in the rise of international activity – where flight levels are down -1.5% week-on-week. This would suggest that new travel restrictions, quarantine arrangements may have been the biggest influence on the latest figures.
CHART – We are reaching a point of the year that global flight frequencies traditionally start to reduce and a factor that may influence the shape of the recovery curve over the coming weeks and months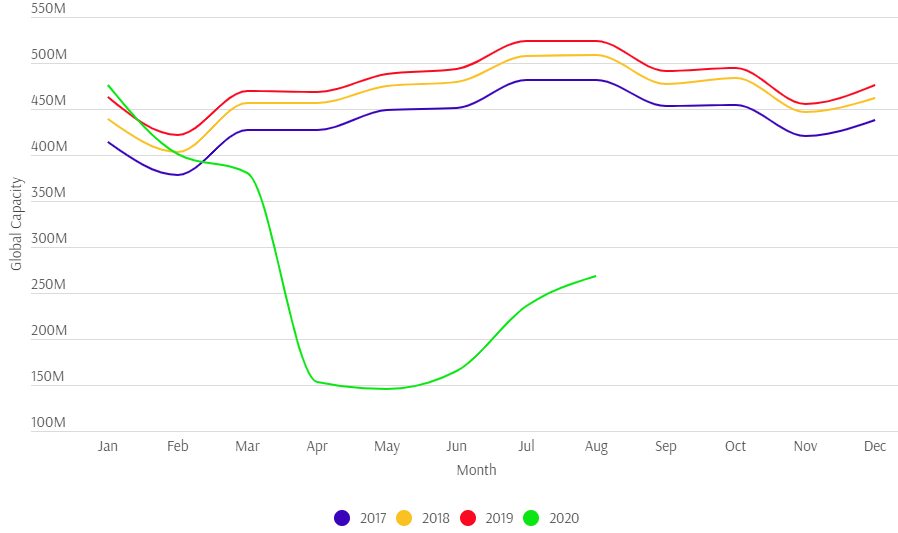 Source: The Blue Swan Daily and OAG (data: 17-Aug-2020)
We are currently in August, traditionally the busiest month of the year and normally we start to see the industry shrink a little through the autumn months. There is certainly mounting uncertainty in the European market as a growing number of nations start requiring travellers to undergo reapplied two-week quarantines after travel from an increasing number of countries. As an example, Ryanair has said bookings have "weakened over the last ten days" and influenced it to cut flight capacity by a fifth through Sep-2020 and Oct-2020.
The budget carrier confirms most cuts would be frequency reductions and not route closures, heavily focused on Spain, France and Sweden, where rising coronavirus cases have led to increased travel restrictions. Ryanair says "proper testing at airports, and effective tracing…is the only realistic and proportionate method of supervising safe intra-EU air travel while effectively limiting the spread of the Covid-19 virus."
CHART – Global air capacity has collapsed as the Covid-19 pandemic has spread across the world and after an initial stabilisation stage we had until this week seen continued steps of recovery, now a plateauing is perhaps evident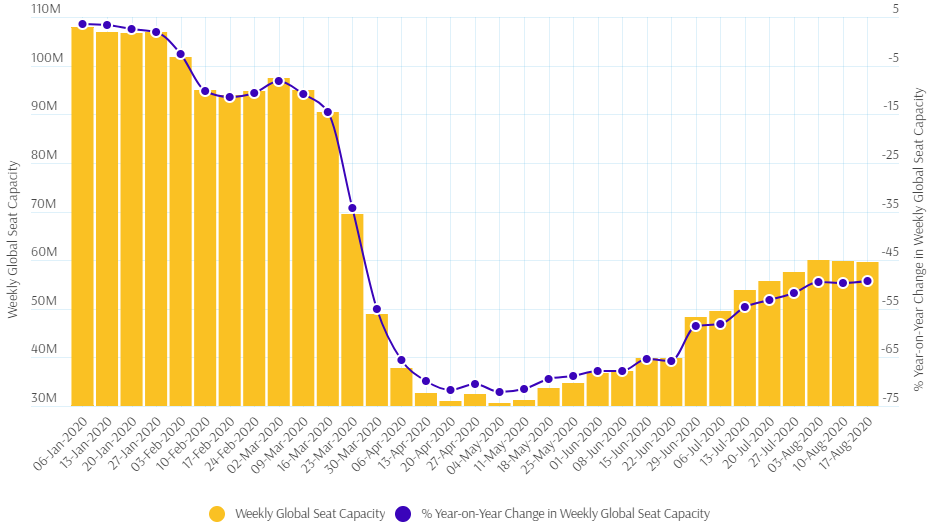 Source: The Blue Swan Daily and OAG (data: 17-Aug-2020)
On a global level, the small changes this week in both flights and capacity means the comparison of this week's schedules with the comparable week last year (week commencing 19-Aug-2019), shows global flight frequencies and seat capacity still sit the right side of the half way mark.
Positively, the small rise in flight frequencies week-on-week translate favourably when compared year-on-year and take them to their highest level of the recovery, down -47.5%, a 0.4 percentage point improvement on last week. There is a similar movement with capacity despite the small week-on-week decline with year-on-year levels rising to -49.4%, a 0.3 percentage gain on last week.
The Covid-19 pandemic has been described by the World Health Organization (WHO) as "a once-in-a-century health crisis," and warns that the effects of it "will be felt for decades to come". Many countries that believed they were past the worst are now grappling with new outbreaks. Some that were less affected in the earliest weeks are now seeing escalating numbers of cases and deaths, while some that had large outbreaks have brought them under control. It appears that right now a little knowledge may prove to be a dangerous thing.