The Blue Swan Daily analysis of OAG schedule data shows that global flight frequencies are up on last week by around 2,350 services to just under 270,000 for the week beginning 08-Jun-2020. On a positive note, frequencies are up on last week in both China and United States of America (USA), at double-digit rates at the later (+10.7%), while among the larger markets Turkey, Germany, New Zealand and Thailand all show notable growth.
This latest analysis highlights how advanced schedules are not a reliable indicator of future plans and are in reality a work of fiction. This time last week they had projected a +11.6% rise in flight frequencies for the current week. Reality, it seems has proved to be very different.
CHART – The reduction in the number of weekly flight departures from each of the 20 largest aviation markets in the world is showing improvements, but still remains significant when compared to the same week last year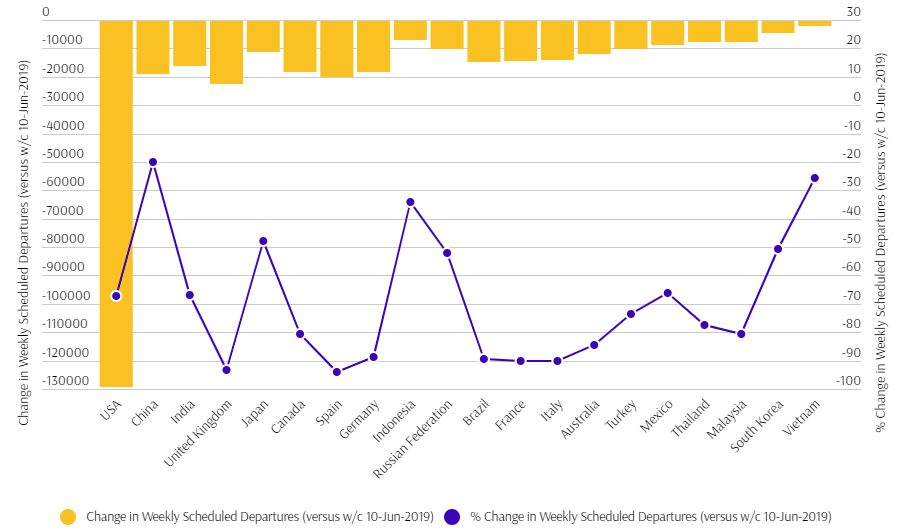 Source: The Blue Swan Daily and OAG (data: 08-Jun-2020)
But, the positive industry vibes remain. Lots of airlines are talking about adding flights, and while that is notably building connectivity, a new trend suggests that may not add up to a similar scale in frequency development.
Earlier this week, The Blue Swan Daily highlighted how easyJet's phased return to operations will see it operating around half of its 1,000+ routes in Jul-2020 and 75% in Aug-2020, but frequencies offered will equate to less than a third (30%) of normal capacity during the period. Similarly, Lufthansa Group executive board chairman and CEO Carsten Spohr revealed the group will "serve many destinations using smaller aircraft and operate lower frequency patterns initially".
https://corporatetravelcommunity.com/the-chicken-or-the-egg-air-capacity-may-be-returning-but-fewer-frequencies-is-becoming-a-common-thread-of-the-recovery-that-could-develop-into-a-new-trend-to-concern-corporate-travellers/
What is encouraging is that it appears that demand growth is beginning to follow in those markets that are leading the recovery. Latest monthly analysis from the airline body shows that traffic volumes likely bottomed in Apr-2020 and will now gradually recover. A closer look at the domestic markets of China, South Korea, Vietnam and New Zealand shows a positive pattern of market recovery in the countries, all of which appear to have contained Covid-19 successfully.
IATA says all these domestic markets are now "showing clear signs of rebound" and the "propagation of the outbreak suggests that we might see domestic markets recovering in Europe in the coming weeks, followed by domestic markets in the rest of the world".
In fact the number of daily passengers carried by airlines in China topped the one million mark in early Jun-2020, according to official data from the Civil Aviation Administration of China (CAAC). The 1.04 million total was the highest level since late Jan-2020 when it first introduced travel restrictions to combat the coronavirus spread.
Comparing this week's schedules with the comparable week last year (week commencing 10-Jun-2019), global flight frequencies remain down less than two-thirds, but despite the slight growth in frequencies versus last week the year-on-year performance has deteriorated versus last week, down from -65.1%, to -65.2%. Similarly, global seat capacity is down -67.8% compared to -67.7% last week.
CHART – Global air capacity has collapsed as the Covid-19 pandemic has spread across the world, but while capacity has risen in six of the last seven weeks, this remains more about stabilisation than recovery
Source: The Blue Swan Daily and OAG (data: 08-Jun-2020)
Year-on-year comparisons highlight that frequencies and capacity in China are down just a fifth, at -20.0% and -21.8%, respectively this week. Also notable is in Vietnam where these figures are -25.7% for frequencies and -27.0% for capacity. Meanwhile, in Europe, Germany may now have come the right side of the -90% flight cut benchmark with an -88.8% reduction for the week, United Kingdom, Spain and France remain on the wrong side.