Meanwhile, scientists believed the lack of strict lockdown measures had helped Sweden avoid a second wave of Covid-19 with some form of 'herd immunity' as cases remained low. Just a day later a big spike in infections suggested this was not the case. It's a real fluid situation and is ultimately why the shackles remain firmly fastened on international air travel.
Corporate Travel Community (CTC) analysis of OAG schedule data for the week commencing 21-Sep-2020 shows that global flight frequencies have again reduced, almost matching the rate seen last week with almost 1,700 less departures, again a decline of less than half of one per cent (-0.4%). Total global weekly departures slip from just over 398,500 to just under 397,000.
Continuing what has been a recent trend, the biggest changes this week are seen in North East Asia and across Europe. In North East Asia around 1,950 additional weekly flights are scheduled this week (+1.7%). In contrast Western Europe records 1,500 less (-2.4%) and Central and Eastern Europe around 1,050 less (-5.7%) than last week. Central Asia (-9.5%) and the Middle East (-9.2%) also see large percentage declines week-on-week.
North America has halted four consecutive weeks of flight reductions with a small increase in frequencies, up +0.3%, but they still remain below the 100,000 figure previously seen through all of Jul-2020 and Aug-2020. Meanwhile, the two opposite ends of Africa see the largest percentage growth and reduction – Southern Africa (+16.0%) and North Africa (-16.1%).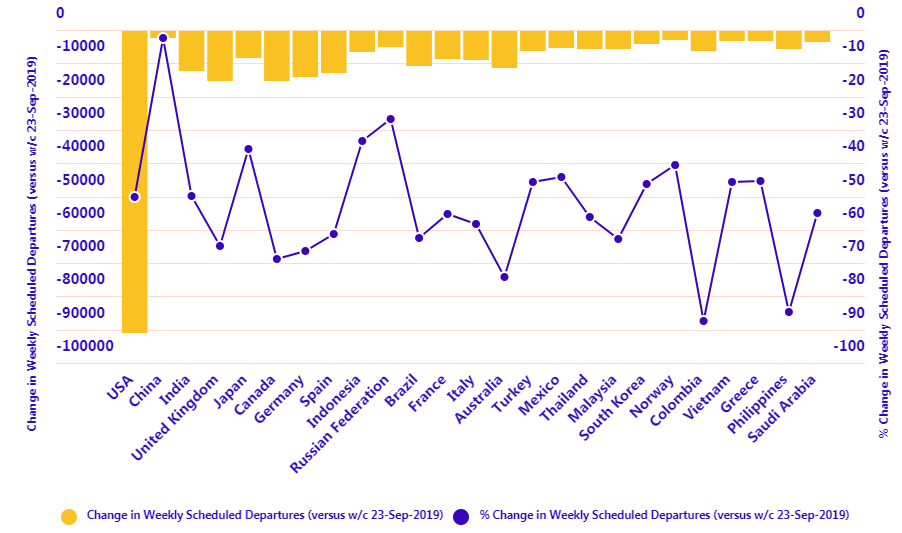 There is a fairly stable performance among the world's leading aviation economies with only three of the top 20 seeing flight levels fluctuate by more than 5% in either direction. The United Kingdom epitomises the stability. Despite major changes in government action to a second wave of Covid-19 infections in the country, flight levels have changed by just one additional departure this week.
An equal number of countries (ten) see growth and declines versus last week. Vietnam's second recovery continues with frequencies up +8.8% as it jumps back into the current tup 20 markets based on departures. Meanwhile, the Russian Federation (-5.0%) and France (-6.5%) see the largest reductions among this group of countries.
Elsewhere, a further opening of air connectivity in South Africa boosts its weekly frequencies back above 1,000 with a +20.2% growth on last week and the largest rate of growth among the world's 100 largest current aviation economies. In fact, it is the only double-digit rise of any nation, with Guatemala, Namibia, El Salvador and Congo among the only nations to see higher growth rates, but each having less than 160 departures during the week – less than 23 per day!
Large declines in departure levels in Algeria (-34.8%) and Morocco (-37.8%) are responsible for North Africa's weaker performance this week, while Macau sees weekly flight levels jump above 100. Of note, the two largest economies – China and USA – account for 46% of all global flight departures (this compares with a 36.2% share this time last year).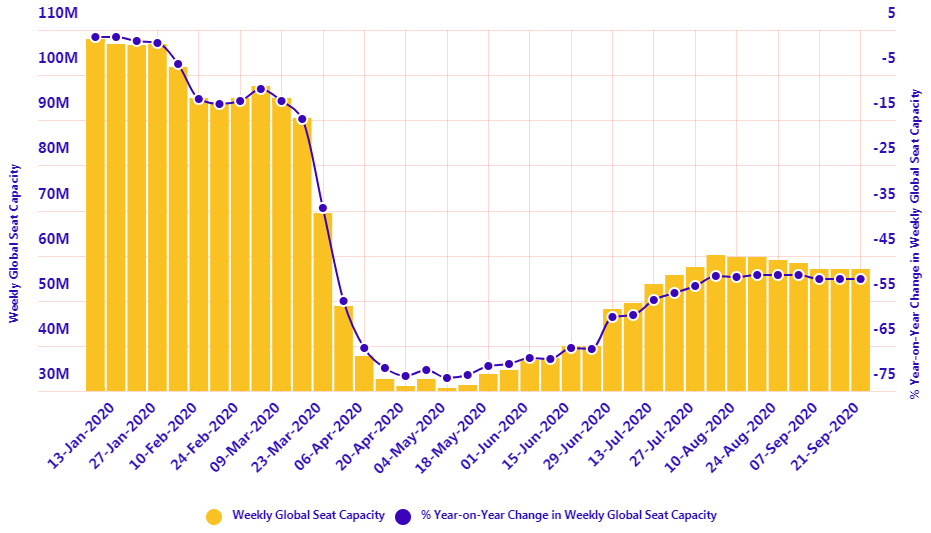 For the second successive week the -0.4% decline in flight frequencies translates into a nominal reduction in capacity, a -0.2% decline. As we highlighted last week, any continuation in the decline would likely see weekly capacity slip below 57 million again, and that is what has happened with seats slipping to 56.9 million, a seventh consecutive week-on-week decline.
Looking at year-on-year performance flight frequencies are down -48.0%, a -0.1 percentage point decline on last week, while capacity levels are down -50.1%, the same as last week. Notably, they remain below the -50% figure for a third successive week.
Among the world's 25 largest aviation economies at this time last week, Colombia (-87.8%), the Philippines (-84.8%) and Australia (-74.1%) still see the largest year-on-year declines in flight levels. At the other end of the scale, Indonesia (-33.4%), the Russian Federation (-26.7%) and China show the strongest level of recovery. The latter sees departures down just -2.3% on the same week last year despite its international activity being almost non-existent.