This is a +6.9% rise and meets our expectations from last week of a high single-digit rise as we pass the 15-Jul-2020 date that sees a further phased rise in many airlines' schedules. An additional 24,000 flights are scheduled for the current week, more than a third of them in China.
There are also four-digit rises in weekly flights in USA, Spain, United Kingdom and Indonesia. In the United Kingdom's case that is a +42.7% uplift seeing it rise up to the 14th largest market by departures. Among the 20 largest country markets this week only Canada (-0.8%) and Australia (-2.7%) show frequency declines on last week.
While the number of flights that are planned continues to grow there remains notable churn and short-notice cancellations continue. At the beginning of last week the planned flight levels for the current week stood at just over 389,000 meaning that 11,500 departures have been removed from schedules in just a seven day period, a -3.0% change. This is more favourable though than the 37,000 departures and -9.4% reduction recorded in the previous week.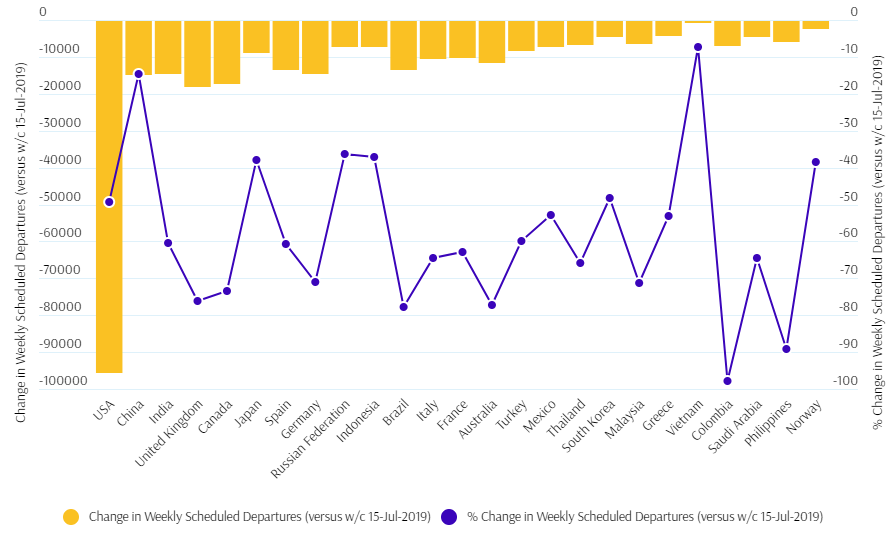 CHART – The reduction in the number of weekly flight departures from each of the 25 largest aviation markets in the world is starting to show some significant improvements, but still remains a long way down on levels seen last yearSource: The Blue Swan Daily and OAG (data: 13-Jul-2020)
The chart, above, follows a similar design to previous weeks, but encouragingly the blue line is much higher than we have seen previously with only the Philippines and Colombia with cuts of over -80%.
There remains a fine balance between building demand and maintaining health measures and potential growth continues to be inhibited by government travel restrictions and quarantine rules, which many argue have very little relevance.
The International Air Transport Association (IATA) recently urged governments in Africa and the Middle East to implement alternatives to quarantine on arrival that would allow their economies to re-start while avoiding the importation of Covid-19 cases.
Government-imposed quarantine measures in 36 countries across the regions actually account for 40% of all quarantine measures globally. With IATA's own survey showing over 80% of travellers are unwilling to travel when quarantine is required, the impact of these measures is that countries remain in lockdown even if their borders are open.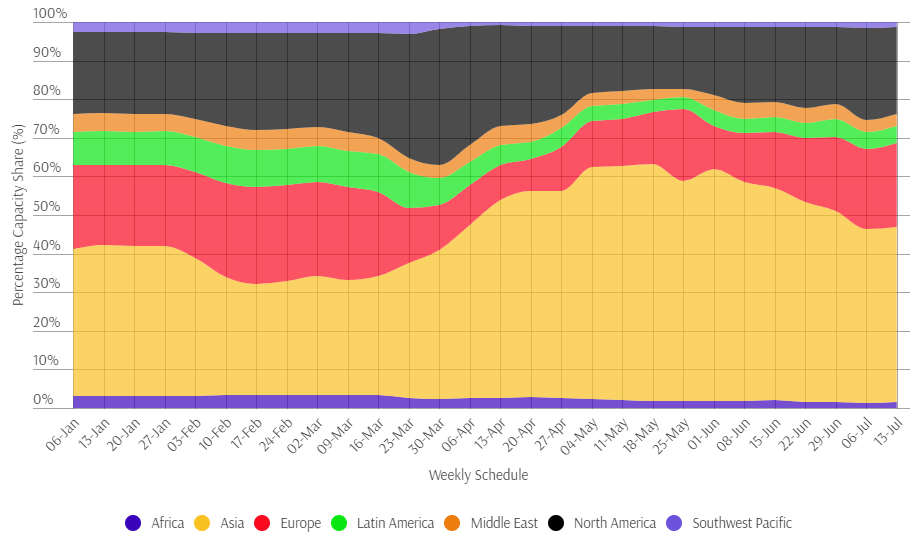 CHART – Asia and in particularly North East Asia has risen in prominence since the start of the year and during May accounted for more than a 60% share of global seats, but that dominance is now shrinking as Europe and North America capacity returnsSource: The Blue Swan Daily and OAG (data: 13-Jul-2020)
Looking geographically at air capacity we see that the North East Asia region has seen the largest rise in its share of global capacity since the start of the year, rising from 23.0% at the start of Jan-2020 to 33.9% this week, a 10.9 percentage point rise.
It is one of just three regions – based on OAG classification – to see their share of capacity increase. The others are Eastern and Central Europe (up +1.3 percentage points) and North America (up +1.2 percentage points). The largest declines have been seen in South East Asia (down -2.0 percentage points) and in Latin America: Lower South America (down -2.5 percentage points).
On a global level, comparing this week's schedules with the comparable week last year (week commencing 15-Jul-2019), global flight frequencies are down -52.5%, a 2.9 percentage point improvement on last week. Global seat capacity also moves closer to 50% of the levels seen at the same time last year, down -54.7%, a 3.5 percentage point improvement on last week.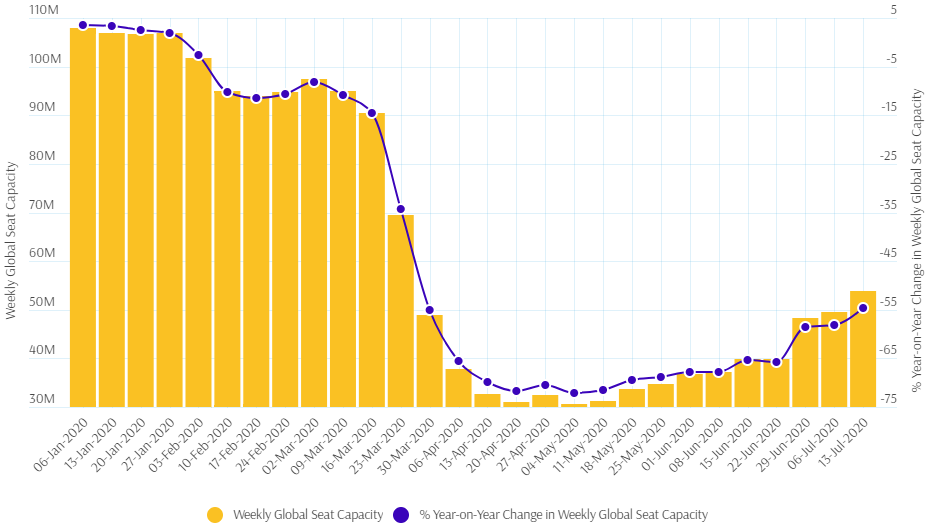 CHART – Global air capacity has collapsed as the Covid-19 pandemic has spread across the world and this week's offering highlights that we have now passed the stabilisation stage and are taking continued steps in the recoverySource: The Blue Swan Daily and OAG (data: 13-Jul-2020)
While we may not be looking back, reports that Qantas will cancel all international flights – with the exception of Trans-Tasman services to New Zealand – until Mar-2021 highlights just how slow the gradient of recovery will be. For now, let's focus on that slow climb that should in the coming weeks see year-on-year flight and capacity declines lift ahead of the 50% milestone – an achievement we certainly never dreamed of being a celebration as we entered the new decade.