What we actually got was a small reduction in frequencies compared with the previous week, down 133 flights to be precise, a negligible -0.05% decline as operators in markets emerging post Covid-19 – particularly across Asia – appear to start realigning capacity from the initial demand levels seen when lockdowns were first lifted.
The Blue Swan Daily analysis of OAG schedule data shows that global flight frequencies remain at just under 288,000 for the second successive week. This is the first decline in seven weeks. There were some clear reasons as activity across Asian regions reduced versus last week, led by South Asia which sees frequencies down -10.5%. South East Asia flights are down -8.1% and North East Asia by -5.2%. Central Asia is the only exception with frequencies up +2.9%.
The concerns over a second wave of infections in China's capital has seen significant week-on-week reductions in flights out of both of Beijing's airport – frequencies from Capital International are down -58.8% while flights from the new Daxing International are down -61.0%. Beijing Capital is only just in the top 20 airports in the country for the week such has been its decline.
China as a whole sees frequencies down -7.3% to their lowest weekly levels recorded in Jun-2020. It still remains the temporary leading aviation economy – but only just – offering just +4.0% more flights than the United States of America, a gap that was 18.4% more last week and influenced by further recovery in the US domestic market; but just how many of the flights that are planned operate is not clear.
As this highlights, encouragingly, the Asian reductions were not universal and the European and North American markets continue their initial recovery. Western European growth has been particularly strong with frequencies up +15.1% this week, almost doubling since the start of the month.
North American flights are up +5.7% and follow +4.9% and +8.0% in the past two weeks. Latin America shows a mixed performance with flights up slightly, but with declines in Upper South America balancing growth across other parts of the region. Africa follows the Asia performance with frequencies down -9.7% and declines across all regions of the Continent.
CHART – The reduction in the number of weekly flight departures from each of the 25 largest aviation markets in the world is showing improvements, but still remains significant when compared to the same week last year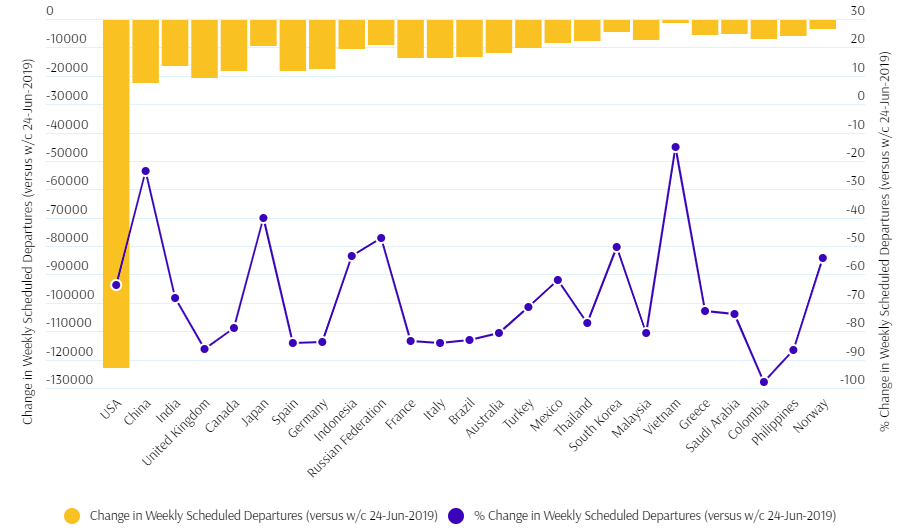 Source: The Blue Swan Daily and OAG (data: 22-Jun-2020)
Most airlines are starting to relaunch some operations but at levels significantly below those seen before the public health crisis. Colombia is now the only major market where year-on-year flights are down more than -90%. The average across the top 25 country markets is -61.3%.
Traffic restrictions in place to avoid continued spread of Covid-19 and potential second waves of infection continue to blunt international recovery, albeit domestic travel shows signs of returning, led by the likes of China and Vietnam, with others following behind as they pass through their individual coronavirus lifecycles.
2020 will not be remembered fondly, but "if you think 2020 was a bad year for aviation – wait till 2021," was the strong warning from CAPA – Centre for Aviation chairman emeritus Peter Harbison during the most recent of the company's Masterclass series. You can learn more in the following link:
https://corporatetravelcommunity.com/if-you-think-2020-was-a-bad-year-for-aviation-wait-till-2021-the-real-crunch-may-be-yet-to-come/
This view was supported by the International Air Transport Association (IATA) which revealed new research showing the impacts on the European aviation industry and on economies caused by the shutdown of air traffic due to the Covid-19 pandemic have worsened over recent weeks. Airlines in Europe are set to lose USD21.5 billion in 2020, with passenger demand declining by over half.
"Europe's economies have been brought to their knees by Covid-19, and the aviation industry has been especially hard-hit. Recent optimism over the opening of the Schengen borders should not obscure the critical seriousness of the situation," says Rafael Schvartzman, IATA's regional vice president for Europe. "I'm afraid the worst may be yet to come."
It is easy to get optimistic when you hear recent regular stories about airlines resuming flights, but OAG data continues to highlight a considerable churn in the weekly data. This time last week its schedule database was reporting some 43.5 million, but in the space of just seven days airlines removed just under 8% of planned capacity.
"Collectively compared to last year, since 20-Jan-2020 some 1.1 billion fewer seats; a 45% reduction in capacity and of course a devastating impact on airline revenues around the globe," highlights the intelligence specialist.
Comparing this week's schedules with the comparable week last year (week commencing 24-Jun-2019), global flight frequencies are down -63.2%, a 0.3 percentage point decline on last week. Global seat capacity remains above a third of the levels seen at the same time last year, down -65.8%, a 0.4 percentage point decline on last week.
CHART – Global air capacity has collapsed as the Covid-19 pandemic has spread across the world and this week's offering highlights that we continue to remain in the stabilisation stage rather than recovery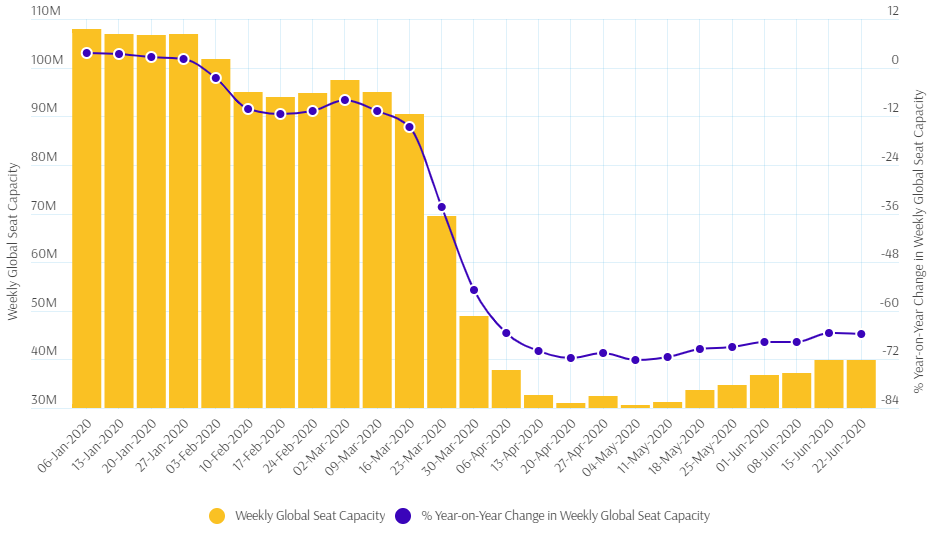 Source: The Blue Swan Daily and OAG (data: 15-Jun-2020)
Our previously identified pattern suggests that we should see another uptick in frequencies next week. As we move until Jul-2020 another tranche of new flights should be commencing and as each week passes we should be better aware of the processes that are planned by Governments for the potential lifting of international travel restrictions through so-called travel bubbles.